A Big Challenge
Tauranga Boys College MX Challenge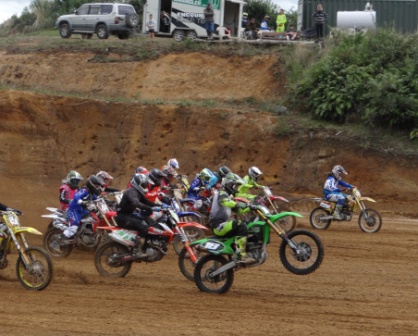 The challenge was a big one - big in numbers, big in competition and big in spirit. And there had also been a big question about the weather. It had been a very wet week so mud and slippery conditions were promised and a couple of track changes were required. However, brilliant sunshine was the welcome news on the Friday morning.
Not so good was the news that the Rescue Response Team had been (understandably) deployed to Edgecumbe. Ambulance staff would be available but no-one to marshall. Many thanks to the parents and co who stepped up to the flags and filled the breach.
The top team, Te Puke High School, was anchored by Tyler Steiner who won all 3 of his races in the 15-19 Yrs 250Fcc class. Able support came from Jayden Pirini, 3rd in the 12-14 yrs 125/250F class, Jack Green, 2nd in the 125/250F Novice class, and from the other members of the 12 strong team. It was a good comfortable day for Tyler and, with none of the high pressure experienced at the recent MX nationals, an enjoyable one as well.
Whakatane's Sam Middleton was one of the key riders who secured second place for Trident High School. "It was great fun", he says." My big achievement was staying on 2 wheels. The track was slippery at the beginning but got better throughout the day with some good ruts". Sam achieved 3rd place in the 15-19 Yrs 250 F class, whilst fellow team members Charlotte Knight and Petri Rautenbach contributed points from their 3rd and 4th places in the Women's competition.
The host school, Tauranga Boys' College, took the third spot. Their team was a large one, obviously, but several riders including Connor Smythe, Madoc Dixon, Dylan Tredinnick, Xavier Anderson, Jacob Hunt and Sam Meredith obtained top 5 finishes and helped their team onto the podium. Madoc thoroughly enjoyed the day, especially his second place behind, and good battle with, Cobie Bourke in race 2. Less productive was race 3 when Madoc came off in a big hole in the holeshot corner and landed in a bush.
Dave Chissell, the parent in charge, was really pleased with the team. "The results were mixed, - only a few on the podium", he says "but we have great team spirit, everyone contributed and it's all very positive."
Cobie Bourke was one of four South Island riders who had made the long haul up for the North Island Secondary School Champs that were to have been held at Patetonga on the Saturday but which have now been postponed until June 3rd. The Tauranga Boys' event was some compensation and proved very successful. And they, the riders, provided some very stiff competition. Cobie from Rangiora, was first in the 12-16 years 85cc class, Marshall Phillips from Christchurch was 1st in the 12-14 Years 125cc class, Reece McBride finished 4th in the 15-19 Years 125cc class and Roma Edwards from Nelson came second in the Women's to Katikati College's Shelby Catley. The presence of these riders gave more than an inkling of the promised intense competition at the upcoming Junior nationals later this month.
Marshall Phillips' rivalry with Brodie Connelly is a case in point. Marshall felt he had Brodie in race one but conditions were greasy, a lapper came off in front of Marshall who then went down himself and Brodie flew past. However, a reversal of fortune saw Brodie come down in the race 3 holeshot corner allowing Marshall to claim the win on the day with 2-2-1 results.
Shelby's win (and two holeshots) in the Women's class was one of several individual successes for riders from more local schools without the required 3 person team. Other high performing riders included Shelby's brother and Katikati College's Kydd Catley who placed 2nd behind sole Hamilton Boys' High student, James Scott, who won the 15-19 Years 125cc group and Sam Cooper, the lone rep from Otumoetai College who consistently rode his heart out, didn't fall off and placed 2nd in the 12-16 Years 85cc category.
Congratulations to all the riders on and off the podium for an event well raced and well run.
Full results can be found on https://speedhive.mylaps.com/Events/1374530.
There are a few photos on https://www.facebook.com/pg/Maddix-Park-335731389127/photos/?ref=page_internal