It's all smiles...
Team 3 twenty 3 Racing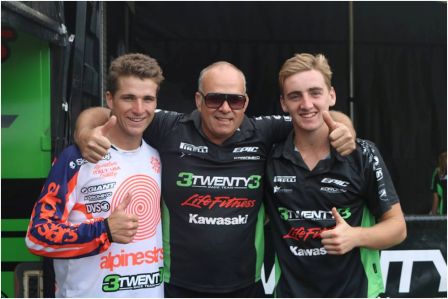 It's all smiles in the 3 Twenty 3 Racing Kawasaki camp. The stated aim of this local motocross team developed by Derek Haywood and Rhys Carter is to "win championships and develop up and coming young NZ racers" and their efforts during the recent 2017 NZ MX Series prove they are well on track.
Team 3 twenty 3 led a very successful campaign throughout the series. Overseas visitors, Goto san (Kawasaki Japan director) and Ken san (Kawasaki Australia director), who visited the team in Taupo were impressed by their set up and professionalism. But it definitely wasn't just for show. Rhys Carter and his young teammate, Josh Tredinnick, pulled out all the stops to get Kawasaki onto the podiums.
Rhys Carter had some highs and some lows on his way to the final round. He went from 3rd overall in Timaru to 5th. It was all or nothing at Taupo. Race 1 was good, so was race 2. There was a little bit of luck when Todd Waters withdrew because of bike issues. However, race 3 was crunch time and crunch it nearly did. Not long into the last race, Rhys had a fall and bent his bars up almost to a right angle. Nothing else to do but complete the race as they were. The tension in the Kawasaki camp was palpable. The spectators were hyped with anticipation. The points were super close. Neil Ritchie was announcing that Rhys needed to pass two riders to claim a podium place. He passed one rider, not two and the race ended. But it wasn't the end. Ritchie had made a mistake. Rhys only needed the one pass. He finished 2nd on the day and third overall in the championship. He had clawed his way back.
Josh Tredinnick (just turned 17) has definitely raised his game, shown massive improvement and met the challenge of his first season in the MX 2 class full on. The competition has been intense but Josh has consistently ridden much more than well and held his own against the older and more established riders who could have proved overwhelming. He may not have been on the podium this time round but he has been rewarded with a well deserved top 10 result in the overall standings. There'll be more to come from this talented young rider. Watch this space.