Round the World to Tauranga with KTM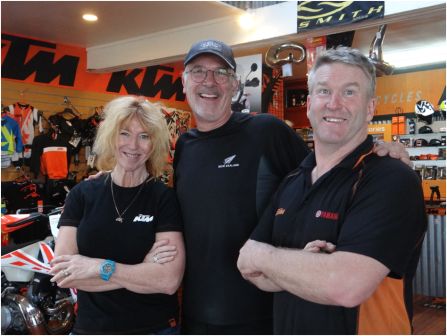 When you pop into Makz Gear nowadays, you'll find a French accent has joined the welcoming but distinctly Kiwi voices of Colin Rhind, Sandy McKinnon and, more recently, Danny Merriman.
It'll be that of Serge Fabre, the new owner of the business. Serge is French and he may be new to this Tauranga business but he's definitely not new to the industry.
He's been involved with bikes and jet ski for over 30 years, firstly in the south of France where he was born and where he had KTM and Kawasaki dealerships and then with Yamaha for 20 years on the Indian Ocean island of Reunion.
However, after two reconnaissance visits to New Zealand, to both the North and South Islands, Serge decided that the culture, lifestyle, scenery and the legendary hospitality of NZ more than lived up to its reputation so the decision was made to immigrate. Serge worked his way through the bureaucratic hassles and with an Entrepreneur Visa finally in pocket, and, guided by his double passion for enduro riding and jetskis, chose Tauranga as the place to settle with his wife and two children (aged 14 and 6). When he saw the KTM bike and Yamaha jetski dealerships up for sale, it was the icing on the cake. He jumped at the opportunity to purchase Makz Gear.
"The Makz Gear team is a fantastic team", says Serge. "It's great working with them. They are extremely competent and give superb advice to our customers. From this strong basis, we are fully intending to develop the dealership, increase the staff and build some fresh, new energy into the business that Matt established".
But the biggest challenge for Serge, he admits himself, will be getting his English up to peak form. "I love it here," he says, "but that Kiwi accent is taking a bit more time and effort than I thought !"
Colin, Sandy and Danny are equally happy with their new boss. "He's a hellava nice guy, fun and approachable, who knows his stuff," says Colin, "but" he adds laughingly, "we're still waiting for the croissants at smoko !"
You'll find the team, opposite the water in Dive Crescent, of course, but you're also highly likely to spot them at various rides and races around the region. Serge, Colin and Sandy are into the trail riding scene while Danny's a MXer.
Don't be afraid to walk up and talk. You won't be able to do anything but when you see what they're riding. From late July, early August onwards, the 2018 KTM models will be here. Serge will be claiming a KTM300 TPI 6 Day, Colin's eyes are on a 450 SXF and Danny's lusting after a 250SX. Sandy's remaining faithful to her 300 EXC.
If you want to secure your own model in the first shipment, give them a ring ! They are taking orders now.
PS: Matt is still building his trailors !