Team Success is a Winner
Rotiorua School MX Challenge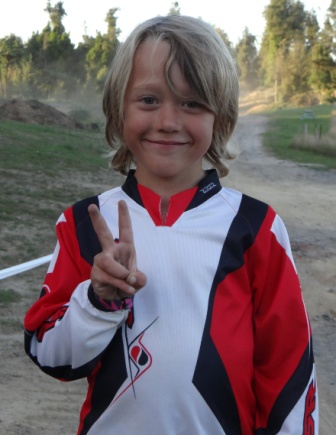 The NZ Primary and Intermediate Schools challenge was held in Rotorua last weekend with the Seniors on the Friday and the Juniors on the Saturday. Over 100 schools were involved and 450 riders. Great riding, with team spirit the order of the day and lots of success stories amongst the usual quota of individual "would have beens" and "should have dones" that make MX so exciting.
The most successful local rider would have to be Arama Te Whetu (pictured left). He loved the new jump, thought the ruts were good, lapped some less experienced riders and won all three races in the 5-6 Years 50cc class. He would have been the perfect asset to any school team but, unfortunately, he was the lone rep from Mount Primary.
Individual success is fantastic, however, in the school challenges, team success is the winner.
Oropi School did have a team and a successful one at that. The pooled results from Cameron Haggie's 1st in the 50cc class, Jaggar Townley's 5th in the 50cc class and Levi Townley's 5th in the 65cc class put the 3 man team onto the Primary School podium in third place overall. Addison Watts and Liam Harrison helped propel Pongakawa School to second behind the first placed Taupo.
All the team results can be found here.
However, everyone enjoyed their day - even those who had been hoping for better. On the main track, Kristian Crane was riding for Tauranga Intermediate. He was in a stacked class with 40 on the gate and would have done well but for a big crash in the last race. Seadon White rode well in his first time on the main track. Jakob Bourne was plagued by bad starts. Dylan Tredinnick was doing well but DNFed his race 2. Madoc Dixon crashed in lap 3 of his first race and had to straighten his bars and play catch up but his 2nd and 4th in the latter races didn't quite compensate for the 12th in race 1. Well done to Brad Cameron who achieved an individual second place.
The school MX events are all about teams. The new year is a time of new beginnings as schools, like Tauranga Boys' (5th overall) and Tauranga Intermediate (9th overall), for example, often find themselves with lots of beginner riders in the lower age groups whereas they have lost their gun riders in the upper levels to other schools or to the workforce. This is great for the events themselves as it means the trophies rotate around the schools more frequently. The riders without a full team race for their pride and can have a huge influence on overall results.
The next School MX is theTauranga Boys High School MX Challenge which will be held at TECT Park on Friday April 7th 2017.