Event Worth Waiting For
Scott 6 and 3 Hour 2017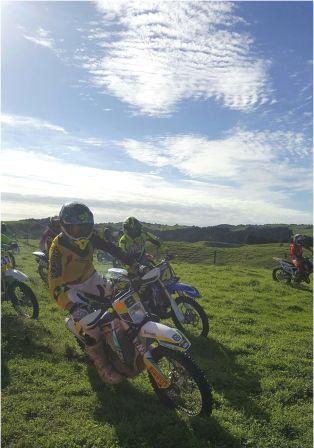 "We don't like doing it but the postponement was inevitable," says Greg Power who organizes the annual Scott 6 and 3 Hour events and claims he's had more cancellations this season than in all the last 10 years. "After last week's weather lashing of the Eastern Bay of Plenty, we needed 2 days, 2 tractors, a dozer and 3 chainsaws to clear and clean up the track.
Special thanks must go to Ricky and Leroy on the machines. They came up trumps when they had no homes to return to because of the flooding. Special thanks also to those who put into the hat and raised $600 plus on the day to help them just a little".
This year, the race start had a new location at the top of a hill which meant much of the well groomed track was visible. This was great for spectators but also for team riders waiting to start their laps – they had at least 2 minutes to get ready to roll.
The track itself was a mix of fast and slow. The event was sponsored by Scotts – they sponsored the "feed" at the end, as well – with spot prizes and Castrol oil giveaways. The 6 Hour Race started first with the 3 Hour riders joining in at the halfway mark. "A small section with a bit of a bog was cut out at the 3 hour point", says Greg. "The good ones were jumping it but others were going straight in".
Adrian Smith and Ashton Grey convincingly won the overall. Ashton, recently home after a stint in the U.S.A was on fire and "crazy fast" through the forest. However it was Adrian who set the fastest lap time of the day although he shared the honour with young James Scott who had teamed up with William Eyre for a second place in the Youth team category and 4th overall. "We had a good race", says James, "We were second in the first lap but crashed on slippery rocks and then worked our way back to 4th." James is currently focusing on his motocross aspirations but cross country events like the 6 Hour make for fantastic bike time and training.
In second place overall were Vets 80+ riders (please note: combined ages, not individual) Phil & Chris Singleton and 3rd went to the first Juniors home, Seaton Head and Logan Shaw. Three junior teams in the top 5 bodes well for the sport !
Dave Molloy rode with his son Adam in the 6 Hour. "We all finished safe and sound," he reports. "The track was good. No dust and just the odd wet spot." Daniel Molloy teamed with Matt Hobbis in Matt's first 6 Hour event. "It was awesome", says Matt. "You certainly need a heap of fitness and you have to make quick decisions all the time. I did 5 laps and got a bit tired near the end. Lost a bit of time helping someone in the bog as well. Yes, I'll definitely do it again".
Richard Marriner rode the Ironman. "The weather and track were both brilliant" he reported, admitting he was lying "shattered" on the couch after the day's effort. "I was in 4th place until just before the end. I just felt right today, took it easy, had some reserves for the finish and came in 3rd". Zane Erickson and Shane Howard finished 1st in the Open Moto2 class and 7th overall.
Simon Lansdaal was the 1st 3 Hour Ironman home, 30 min ahead of Troy Templeton. Zane Steiner & Raymond Wheeler finished 1st in the Clubman Vets 90+ and Todd Edward & Darren McCormack came in 1st in the Open Vets 80+
It has been a few years since Janelle Walker last teamed up with husband Tim Salter and Sunday's 6 hour reminded her why. "Tim brings a curse ", she laughs. "On Sunday I found my way into that one and only bog on the whole track in the first lap. It was the deepest of ruts possible and it took absolutely ages to get out. All Tim's fault, of course". And does she have any advice regarding bogs ? "Don't get into them in the first place. When in doubt, check them out !"
In spite of the initial hiccup, Janelle thoroughly enjoyed the day and together they finished 2nd in the Clubman Mixed category. "It was great fun", she says. "Sometimes you can get very involved with the seriousness of racing - race race race race – and you can lose the enjoyment factor". (Note that Janelle recently won the Women's section of the GNCC 2017 after several years on the lower podium steps. Perseverance, consistency plus a dash of good luck all paid off. Congratulations, Janelle !)
The bog also caught out Charlotte Knight. Rumour has it she and her fluo gear were totally stuck for 1.5 hours !
For full Scott 3 & 6 Hour results: http://www.silver-bullet.co.nz/news.php?id=5186
Thanks to Janelle for the photo.