What the Riders Thought...
2017 NZ MX Championship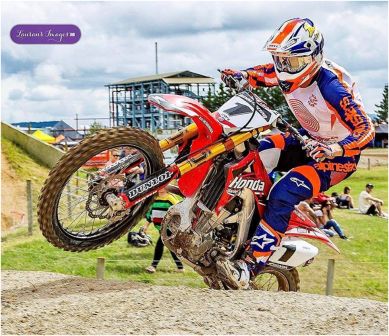 Feedback from the Nationals
The Taupo Track hosted the final round of the 2017 NZ MX Champs on Saturday. Perfect track conditions and weather that brought out the sun block ensured a feast of tight racing, hard swapping, challenges and suspense for riders and spectators alike. Many will have watched the racing or at least seen the results - check them out on MyLaps if you haven't caught up with those yet – but we have caught up with a couple of our local riders to get some feedback on the series.
Cody Cooper: 1st MX 1
Cody Cooper is a machine who knows how to win. One point down isn't a good place to be heading into the final round. However, Cody totally dominated the proceedings and, along with Rhys Carter and Kayne Lamont, made sure that there were no Aussies on the podium for round 4.
"I felt really good starting the series," Cody says. "My fitness was ideal and I was ready to push it. For me, all the rounds were awesome, except for the Manawatu. The fields are deeper now than a few years ago so there were some great battles on the track with Ferris in particular. Great to race and great to watch. In the Manawatu, I struggled. I went with the wrong attitude. The track was deep and needed a lot of power. I just lacked the will. But, man what a day, Taupo was. It's awesome to keep the #1 on the bike for another year and all the support around the track means a lot".
The 2017 title is Cody's fifth consecutive MX1 title and 6th win in the last seven years.
Roydon White: 10th MX1
Roydon achieved his aim of a top 10 finish but was gutted not to be one step higher – he had been tied for 9th going into the last race. This was all in spite of always being tired. "It's pretty challenging working all week, driving down Friday night and then racing," he admits. "There's probably only 3 of us working guys in the top 12. The tracks were all tough and became really rough. Taupo got really gnarly at the end; Rotorua was the toughest with the mud; Manawatu was rough but fun -it's a sand track, my favourite and I had my best finish, a 9th, right there; Timaru was one line riding because of the track watering and the drying out in the 35 degree heat. But the series was great. Nothing went bad and I had great support"
Rhys Carter: 3rd MX1
Rhys charged back from his 5th position at the beginning of the Taupo round and was stoked to snatch 3rd place overall from the Australians in the nail biting final race. "In Taupo, all went well and I had some luck", he reports. "The first round was a good one for me as well. In the middle two, I made some mistakes and crashed". He's pumped with how his whole seasonwent.
Ben Townley
"I had a great time. I really enjoyed it and the good battles with Styke and Waters. The crowds were good and, as usual, Taupo put on a brilliant event." Ben only competed in the last round with 2 good races and 1 crash.
Logan Blackburn: 5th MX2
Logan's results were consistently top 5. "My best results were in the Manawatu", says Logan, " and my worst round was definitely Taupo. In the first two motos, my bike was overheating so in the last moto I rode my practice bike. Unfortunately, the bike had been ridden – and crashed – by a South African rider in earlier races so it wasn't ideal. But I'm happy with my 5th place overall – the top 4 are all pro riders and I'm working 50 hour weeks as an apprentice builder. I'm really lucky to have Jeff Scott and Jared Koningsveld as private sponsors. They're awesome. I had nothing coming into this year after a bad last season and those guys believed in me, we stepped up and smashed it. They've given up their time to make sure everything is clicking and ready to race every weekend. And we've had fun."


Josh Tredinnick: 10th MX2
This was Josh's first season in MX2 and his best moment, obviously, was getting that top 10 finish.
"Rotorua was my most challenging round but my best day," he says. "It was really muddy but I like mud. The worst round was at Timaru. I crashed in the first corner in the last race. I had to get up and start again but I did manage to catch up to 15th. Taupo was my favourite track. It was amazingly prepped and just awesome".
Tyler Steiner: 11th MX2
Tyler was deeply disappointed to be just off the top 10. He had been 10th going into the final Taupo round but it just wasn't his day. The first race didn't go to plan. He went down in the third turn, and was collected by another bike. Result: One banged leg and DNF number one. Despite having to physically lift his "bad" leg up and onto the bike for race 2, Tyler had worked himself up to 16th when his back tyre went flat. Result: DNF number two. A very correct 9th in the final race helped salvage the day but his overall position dropped to 11th.
"There's always next year" as the optimists say.
Jordan Milsom: 5th 125cc MX
Jordan did all the rounds in his first national series since 2011. His favourite round was Taupo. "The competition was harder but it wasn't as muddy as the other tracks had been," he says, "and, there were jumps to scrub." His worst round was Manawatu where he ended up crashing and re-hurting his shoulder and going from 4th to 6th. But "I recover faster now" he adds, "and I'll definitely be there next year".