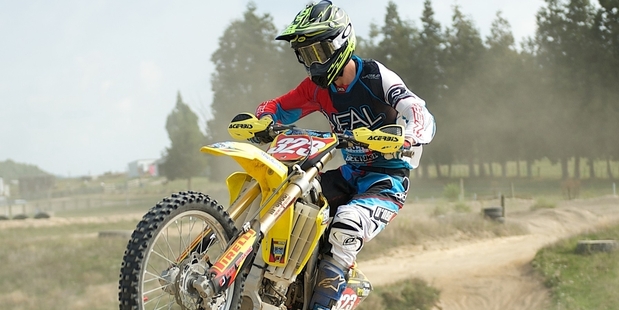 Trent Haywood in action before his death.Photo/Alick Saunders
The father of a Tauranga teen killed during a motocross race urged organisers to carry on with the event after his son's death, telling them it's "what he would have wanted".
Tauranga Boys' College student Trent Haywood, 14, died while competing in the Michael Godfrey MX Memorial in Omihi, near Waipara in north Canterbury on Sunday morning.
Police said the teen suffered head injuries when came off his bike on a 30m jump about 11am.
Officers were unable to say what caused the crash and a health and safety investigation is ongoing
Motorcycle NZ president Jim Tuckerman said organisers shut the event down after the teen's death, despite Trent's father Derek telling them to carry on.
"Trent loved this sport with all his heart, so much so that his father asked organisers of the event to carry on after his death. He told them that's what he [Trent] would have wanted but they decided they had gone through enough races so they stopped."
Mr Tuckerman said he wished he could "shut down social media" after comments calling motocross dangerous following the accident.
"There are people saying kids should not be on motorbikes but that is just rubbish and hurtful to the family," he said.
"Safety is always at the top of our minds and we are always reviewing our sport to make it as safe as possible."
Mr Tuckerman said Motorcycling NZ was helping with the police investigation and would run an independent investigation of its own.
"It would appear so far that the organisers did everything by the book," he said.
"Trent was a very, very good rider, he had heaps of potential and this is a classic example of what we in the industry call a racing incident. They are always possible, no matter how good you are. The reality is when you throw your leg over a bike you put yourself at risk.
"But the reality is people put their lives at risk every day, just by getting out of bed. There is more risk walking across Cameron Rd at 8.30am than there is enjoying this sport."
The Haywood family could not be contacted yesterday but a family friend said they were still coming to terms with the loss of their son.
"He was too young, much too young," he said.
"Everyone is just shocked by this, we are used to the odd broken bone in this sport, a few scratches and bruises but not this. Despite what people think, deaths very rarely happen in this sport and not to a great little rider like Trent.
"He was a real talent, could have been an international rider in the future."
Shelley Dean, who runs his Maddix Park motocross park in Tauranga, described Trent as a "cool little guy" who was passionate about motocross.
"That was all he wanted to do, just ride," she said.
Police said all aspects of the incident, including the track, would be investigated.