10 Things to Watch at Highpoint
US MX
www.racerxonline.com Aaron Hansel and Chase Stallo
Click here for the animated track map.
Second Moto Blues
In Tennessee, MyPlash Metal Mulisha Star Racing Yamaha rookie Cooper Webb continued his impressive streak of excellent first-moto performances by briefly leading before eventually taking another hard-fought top-five finish. Unfortunately, he also continued his streak of bad luck in the second moto by going down early in the race while battling up front. Webb's proven he's fast, and there's no doubt he'll eventually get his second-moto blues squared away, but when? Will it happen this weekend at High Point? –Hansel
Getting Together
Ken Roczen and Eli Tomac won the motos last weekend at Muddy Creek, but they never saw each other in the races. Tomac was too far back to challenge Kenny in moto one, and Kenny was too far back in moto two to see Eli. So far, the duo has proven to be the fastest of the 250 field. Can they start together and wage an epic battle this weekend? – Jason Weigandt
Three in Three
As usual, the action in the 250 ranks has been top notch, with three winners in three rounds. Fast company like Zach Osborne and Blake Baggett have yet to win a moto or an overall, too, which means we could easily have four in four when the dust (or mud) settles at the GEICO High Point National this Saturday. -Hansel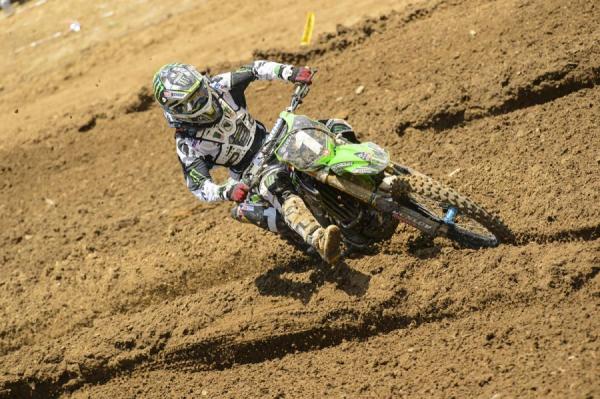 Can Baggett grab his first moto win of the season at High Point?
Simon Cudby photo

Umbrellas and Board Shorts
The High Point locals will be bringing both, as the venue is notorious for packing some of the most unpredictable weather on the circuit. Early morning sun can give way to torrential rains that drench the track, immediately followed by more hot sun that leaves the whole property literally steaming. The weather report is calling for rain today and the possibility of some tomorrow, but, like mail-order brides, you just never know what you're going to get until the action starts. Will the rowdy High Point fans be lining the fences in unrelenting heat, buckets of rain, both or neither? –Hansel
Durham's Up
Most venues have a hometown hero, and at High Point, it's Monster Energy/Pro Circuit Kawasaki's Darryn Durham. Due to injury, the Pennsylvania native hasn't raced at High Point since his outstanding and memorable performance there in 2011 when he led almost the entire first moto before succumbing to the pressure of Blake Baggett, Dean Wilson and Tyla Rattray. Thanks to a crash at Hangtown that left him with an injured leg, Durham's not 100 percent right now, but that isn't going to stop him from lining up to do battle in his back yard. Whether or not the hometown boost will help Durham forget his pain and race like he did in 2011 is uncertain, but one thing is sure: Double D will have a strong contingent of fans screaming encouragement no matter what. -Hansel
Gaining Momentum
A season ago James Stewart ripped off four consecutive moto wins to begin the season. Ryan Dungey shadowed him through most of those races, and some began to wonder what it would take for him to make an attack—and a pass—on Stewart. A round later Stewart injured his wrist, and Dungey reeled off ten straight overalls. Fast-forward a season and talks of 24-0 were ramped as Ryan Villopoto clicked off five straight motos. Dungey put a halt to the streak last weekend and is now just ten points clear of RV. That's two years in a row where Dungey has used round three to stop a rival's momentum. He's also won two of the last three overalls at High Point. Will he make it three of four Saturday? – Chase Stallo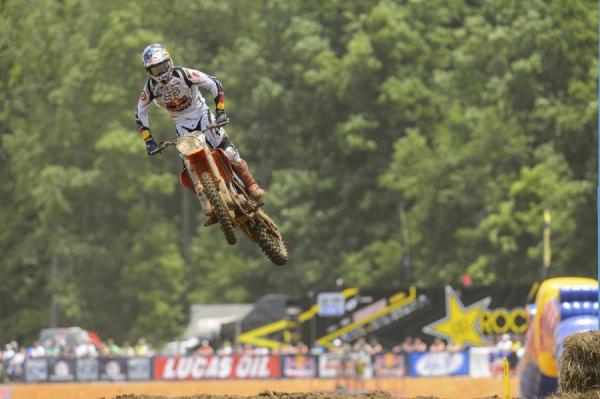 Dungey is carrying momentum into High Point.
Simon Cudby photo
Over the Knife
Injuries, surgeries and rehabilitation have made up the better part of JGR/Toyota Yamaha's Josh Grant career the past few years. Grant's raw speed was back at Muddy Creek as he set the fast times in both practices and overcame a bad start to finish seventh in the first moto. Bike problems cost him a shot at a top ten overall, but speed wise, he was back on form. Grant has had his ups and downs at High Point (remember that time when he bounced off the track and sent his Yamaha right into a track side pickup truck?) but he also won the first national of his career at this track. How will he do on the hillsides this weekend? – Chase Stallo
Waiting on Baggett's Breakout
A nagging wrist injury has hindered defending 250 Class Champion Blake Baggett in the early goings. While Baggett has been consistent with 3-2-9-5-3-3 moto scores through three rounds we have yet to see one of his patented late moto charges. Can Baggett, who was relentless at High Point in 2011 en route to a scintillating come-from-behind overall win, breakthrough this weekend? – Chase Stallo
Bogle Returning to the Mix
Following a highly successful amateur career, which included winning the 2011 Horizon Award, Justin Bogle was tabbed as the next big thing. He had the resources and the team—GEICO Honda—to succeed, but injuries have decimated his chances to grow. Muddy Creek saw the Bogle of old. He led, albeit briefly, in the first moto and ran up front in the second race before finishing sixth. As his growth continues, expect Bogle to make runs at a podium. Will it come as early as High Point? – Chase Stallo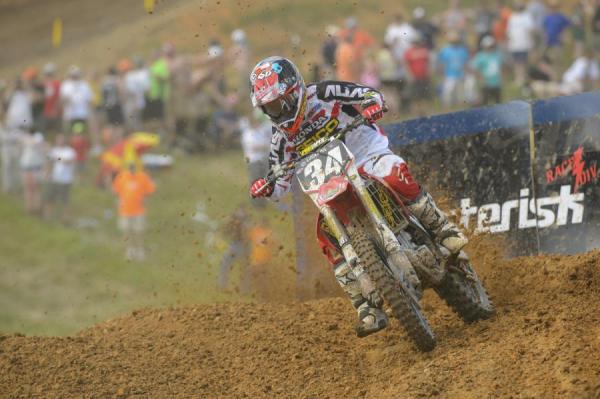 Can Bogle challenge for a podium spot?
Simon Cudby photo
Mr. Consistent
Coming into the 2013 Lucas Oil Pro Motocross Championship Trey Canard had exactly two races under his belt in the 450 Class due to injuries. Excluding a 29th in the first moto at Muddy Creek following a crash, Canard has been solid so far this summer, with five top fives in six motos. A second moto podium in Tennessee proved Canard can run with the lead pack, and he has had success (and heartbreak) at High Point before. Can Canard capture his first overall top three finish of the season on Saturday? – Chase Stallo
Bonus - The Sleeper Leap
Many of tracks have signature jumps or obstacles, such as LaRocco's Leap at RedBud or Henry Hill at Budds Creek, but there's a certain double at High Point that has yet to join the legends of motocross lore. It could be there soon. It's big, off-camber and immediately follows a right-hand turn, making it tough and technical. Unless it rains, the jump may not affect the outcome of the race, but it sure is impressive to watch the best riders in the world float sideways through the air after taking the leap. If you're one of the lucky fans in attendance this weekend, be sure to check it out. If not, have a look at this video to get primed for the television broadcast. -Hansel
Race Stats
High Point will host its 37th Lucas Oil Pro Motocross National.
The GEICO High Point National is the only round in the state of Pennsylvania.
High Point and Hangtown share the distinction of having the most international winners, with six different riders combined across the 450 and 250 Classes.
For the last five seasons, the 450 Class winner at High Point has gone on to win the championship.
Reigning 450 Class Champion Ryan Dungey swept both motos at last year's High Point National, en route to a championship-winning season for KTM.
The last time 450 Class points leader Ryan Villopoto raced at High Point was in 2011, where he went 2-1 for the overall victory.
Ryan Dungey looks to be the first back-to-back winner at High Point since Ricky Carmichael's six-race streak from 2002-2007.
Pennsylvania native Darryn Durham will race in his home state for the first time since 2011. Durham will compete on the Monster Energy/Pro Circuit/Kawasaki team in the 250 Class.
Round 4 of the Lucas Oil Pro Motocross Championship will host Round 2 of the Women's Motocross Triple Crown.
450 Class Stats
The first 450 Class race was held at High Point on May 29, 1977. Tony Distefano won on a Suzuki.
This will be the 37th time the gate will drop for the Lucas Oil Pro Motocross Championship at High Point.
In 2011, Ryan Villopoto became the sixth different rider in history to win in both the 450 Class and 250 Class at High Point.
Chad Reed is the only rider in history to get his first career wins in both the 450 Class and 250 Class at High Point.
The last five High Point winners are all former Lucas Oil Pro Motocross Champions and will be lining up in the 450 Class Saturday.
Kawasaki and Suzuki are the only brands to win at High Point since 2005. Suzuki has five wins, while Kawasaki has two.
Ricky Carmichael is the winningest rider at High Point, with six-consecutive victories from 2002-2007.
250 Class Stats
The first 250 Class race at High Point was held May 29, 1983, exactly six years after the track hosted its inaugural event. Mark Barnett won on a Suzuki.
This will be the 31st season the gate will drop for a 250 Class race at High Point.
Eli Tomac is looking to become the third rider in history to claim back-to-back 250 Class wins at High Point, joining Ricky Carmichael and Micky Dymond.
KTM's first ever Lucas Oil Motocross victory came at High Point, when Kelly Smith took the overall in the 250 Class during the 2000 season.
Monster Energy/Pro Circuit/Kawasaki won four consecutive years in the 250 Class, only to be stopped by GEICO Honda's Eli Tomac in 2012.