10 Things to Watch: Atlanta
USA Supercross 2014
Partying Like It's 2009
You'd have to dig back to the Seattle and St. Louis rounds in 2011 to find the last time James Stewart took back-to-back wins, and you'd have to go all the way back to 2009 to find his last three-win streak. That was part of seven consecutive wins (Phoenix through Atlanta) in 2009 en route to the 450SX Championship. But the three-peat isn't the only thing Stewart will be chasing this weekend. If he takes the win he'll tie his old rival Ricky Carmichael for second on the all-time SX win list with forty-eight. – Aaron Hansel
Partying Like It's 2011
Monster Energy/Pro Circuit kicked off the Eastern Regional 250SX opener with authority by sweeping the podium. Winning is addictive, and the PC crew hasn't had this kind of a high since Josh Hansen, Broc Tickle and Tyla Rattray went one, two and three at Anaheim 1 in 2011. Count on the powerhouse team to be going after another sweep in Atlanta. - Hansel
Partying Like It's 2012
We've all seen the footage of Justin Barcia whipping it flat next to Ken Roczen last Saturday, but it's not the first time Barcia has put a move like that on Roczen. Check outthis clip from the 2012 Red Bull Budds Creek National, where Barcia scrubbed past Roczen with an equal amount of attitude. Roczen probably wasn't happy about it then, and he certainly wasn't happy about the move in Arlington, saying that Barcia nearly killed them both, and that he "isn't the brightest light in the room." Keep an eye on this situation; if the two find each other in Atlanta there could be some fireworks. - Hansel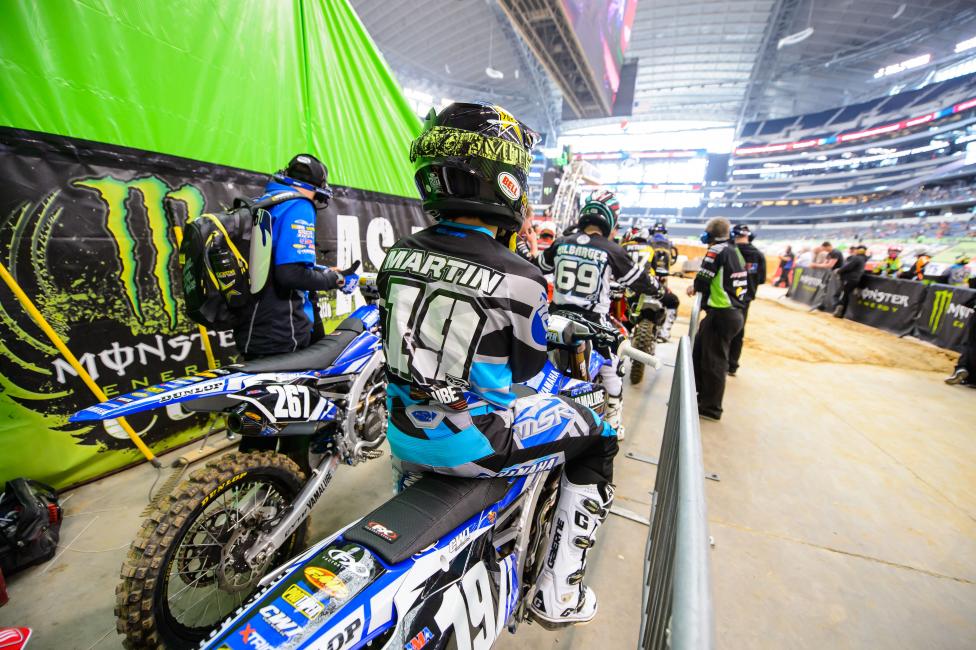 After missing the main in Dallas, Jeremy Martin looks to rebound in Atlanta.
Photo: Simon Cudby

Partying like it's 2013
Unfortunately Jeremy Martin missed the party. For the second year in a row the Yamalube Star Racing Yamaha rider failed to make the main event of the Eastern Regional 250SX season opener. Martin was considered a title threat coming into the season, so to see the gate drop without him on the line was a shocker. Look for the sophomore to bounce back with a solid result in Atlanta. - Hansel
No Leverage
Privateer Gavin Faith nearly had a career night last week. After Martin Davalos and Anthony Rodriguez went down, the TiLube/Storm Lake Honda rider found himself running third for several laps. Unfortunately he crashed on lap nine and broke a lever, which took him out of the fight. Can he rebound and go for another podium this weekend? - Hansel
Backing It Up
Not since Trey Canard rattled off three straight wins in 2008 has a rookie won back-to-back supercross' to begin his career. Monster Energy/Pro Circuit Kawasaki's Adam Cianciarulo was nearly flawless in withstanding pressure from veteran teammate Blake Baggett in his debut. Will AC return to the winner's circle in Atlanta? – Chase Stallo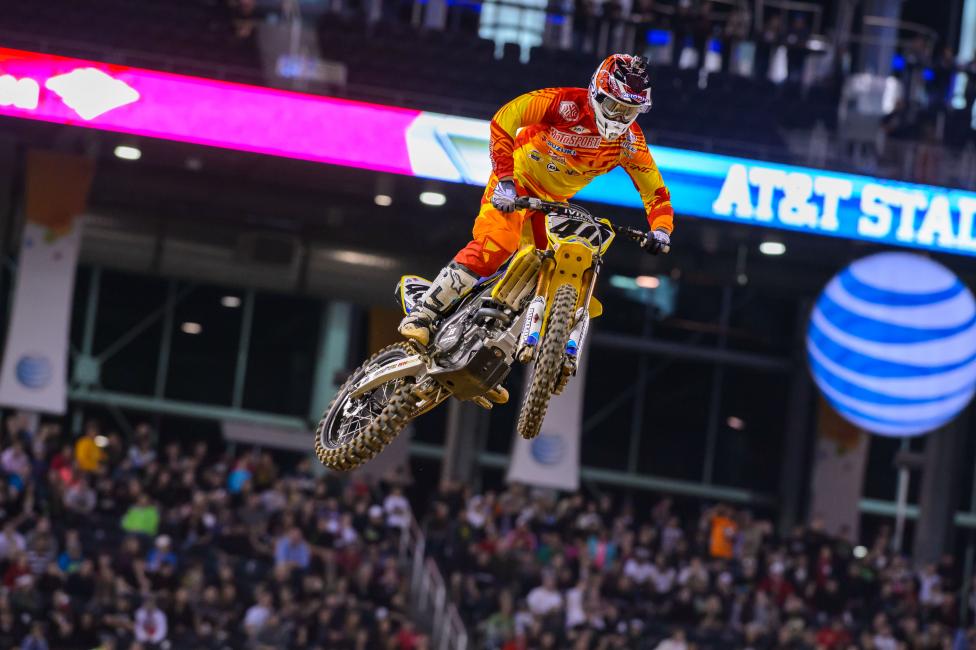 Will Peick found a way back to the top five this weekend?
Photo: Simon Cudby

Up and Down
Weston Peick's 2014 has read like an EKG. Mechanicals and crashes have contributed to a series of ups and downs. Check out Peick's stat line through seven rounds: 16-21-7-22-5-5-20. There's no denying Peick has the ability to run the pace of the leaders, but consistency has been his downfall. Although beaten and bruised from Dallas, look for Peick to rebound in Atlanta. – Stallo
Three's Company
For the first time all season Toyota/JGR Yamaha will feature a three-man squad in Atlanta. Josh Grant is expected to return from a shoulder injury, which would normally push Phil "Fill In" Nicoletti back to the sidelines. But Atlanta is one of the three supercross races Nicoletti is contracted to race regardless. If all goes to plan, JGR will have a full house for the first time in 2014 in Atlanta. – Stallo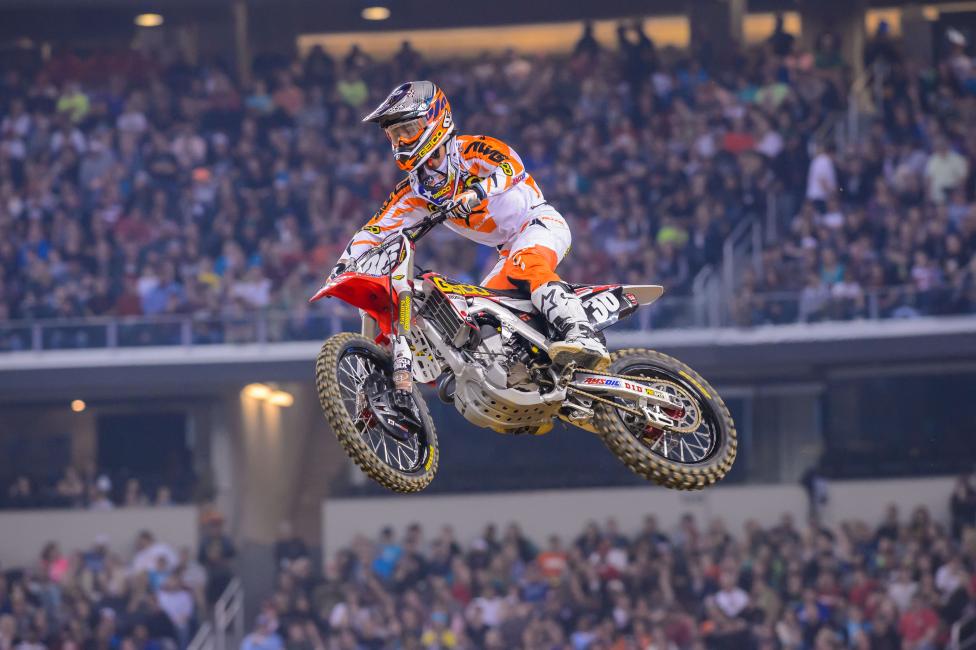 Can Blake Wharton find the podium Saturday?
Photo: Simon Cudby

Regaining Consistency
GEICO Honda's Blake Wharton is as consistent as they come. The veteran has only finished outside the top five twice in 250SX East during the last two seasons—including last year's slide following a last lap crash in Indy while leading. A seventh from Wharton in Dallas was a bit unexpected. While very much still in contention for his first title, Wharton needs to begin picking away at the points lead in Atlanta. – Stallo
Breaking the Streak
It was finally going to happen. After nine long years Martin Davalos was going to break the "Heat Race Hero" moniker and capture his first main event win … well, it looked that way anyways. After not being able to close the door in Texas, Davalos will again be faced with the question, "Can he handle the pressure for 15 laps?" And he will continue to face similar questions until he can prove he can. Will the nine-year drought end in Atlanta? - Stallo