10 Things to Watch: Glen Helen 2015
US MX 2015
By Aaron Hansel and Chase Stallo
What Just Happened Here?
That was the big question on Saturday after GEICO Honda's Eli Tomac blasted his way up and down the steep, choppy hills of Hangtown. It's a dirt bike track, but it's spotless now because Tomac really mopped up! We've seen this before—Hangtown 2010, the 250 Lucas Oil Pro Motocross Championship in 2013, and Phoenix and East Rutherford Supercrosses earlier this year come to mind. However, we've also seen some inconsistencies in Tomac's game—his supercross season featured random brilliance peppered with crashes and bad starts. If he's got those undesirable elements sorted out, it could be a long afternoon for everyone else this weekend, too. –Aaron Hansel
The Sixty-Six
If you say you had Monster Energy/Pro Circuit Kawasaki's Chris Alldredge as one of your podium picks for Hangtown, you've either got a time machine, are lying, or you're his mom or dad. That's not a slight to Alldredge—it's just that this class is stacked and he's coming off a rough supercross season. That said, when you consider his great rides in the three nationals he entered at the end of 2014, his third overall at the opener isn't that much of a shocker. Will you be surprised if he gets it done again at Glen Helen? -Hansel
Forward Motion
After the race on Saturday, Red Bull KTM's Ryan Dungey mentioned that he and the team have yet to find the right setup for motocross, and that they've got a lot of room to improve. They were obviously able to get it dialed for supercross after a few rounds, and you know they'll be able to do the same for motocross. The question is, how much speed did they find during week? We'll get an idea when the gate drops on Saturday. –Hansel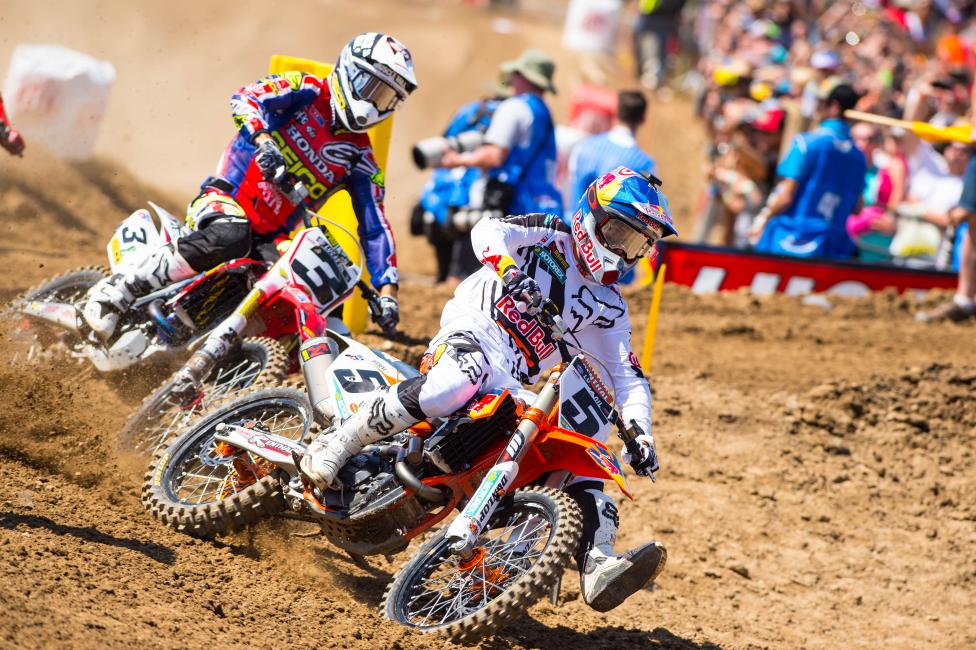 Tie-Breaker
Jeremy Martin won the overall last week, but since he and Marvin Musquin are tied up at 47 points each, they'll both wear the red number plate at Glen Helen. How perfect is it that two of the top title favorites are dead even after two motos? We'll see who walks away with it at the end of the round. If we're lucky, they'll both still be sporting red at Lakewood! –Hansel
Familial Assistance
By this point you know that Alex Martin and Jeremy Martin are brothers. The brothers Martin are now tighter than ever, because Alex moved down to the Carmichael Farm to ride with and train with Jeremy, and at Hangtown it was obvious that Alex's time spent with the reigning National Champion has been quite beneficial. Alex went 6-4 for fourth overall, and just missed the podium after a late-moto duel with Alldredge at the end of the second moto. Any chance we'll see both Martins on the podium at Glen Helen? -Hansel
Managing Pain
In a team press release on Tuesday, RCH co-owner Carey Hart said Ken Roczen was cleared to race but had to manage the pain going forward. "We're evaluating him day by day. He's been cleared to race because it can't really get any worse. It's going to be painful, but it won't get any worse," said Hart in the release. Kenny is dealing with a L5 pars fracture, also called lumbar spondylolysis, which causes low back pain, predominantly on one side. The typical healing process is rest. Most say 2-3 months is required. The pain may only get worse for Roczen. He looked much better in moto two Saturday, but back problems are typically a lingering issue. We'll see if he can solider through the hills of Glen Helen. –Chase Stallo
Rookies
"It's a good start to the season, but we're learning a lot," said GEICO Honda's RJ Hampshire. "I wanted to do a lot better than 19-13, but it's good to build on," added teammate Jordon Smith. Seven rookies made their Hangtown debut last weekend. Most realized that this is a learning process. While Monster Energy/Pro Circuit Kawasaki's Chris Alldredge enjoyed instant success, garnering his first career moto and overall podium, and Yamalube/Star Racing Yamaha's Aaron Plessinger rode to consistent 10-8 finishes for seventh overall (they were the only two rookies to finish inside the top ten), the learning curve was steep for most. Patience should be required. Will we see another rookie surprise this weekend or will the learning process impede their results? -Stallo
Another Debut
Cole Seely made it, oh, about a couple hundred yards in his 450MX debut at Hangtown. Seely got pushed wide at the start of the first moto and hit a bump causing him to high-side right back into traffic. He sustained a bad charley horse on his leg and "hit my head pretty good." The team and Seely made the decision for him to sit out the remainder of the day, but he'll be back for Glen Helen. So, where does Seely fit into the fold outdoors? Top five? Top ten? Top three? It's debatable. Seely claimed his first career podium (in 250MX) last year at Glen Helen, so it will be interesting to see where he sits after Saturday. –Stallo
Finding His Rhythm
Say what you will about Christophe Pourcel—and when it comes to Pourcel, people usually have a lot to say—but his effortless style makes for fine viewing. In his debut with Rockstar Energy Racing Husqvarna, Pourcel, with little testing time, qualified fourth and finished eight overall (5-12) on the day. "It's my first race back in twelve months, so it was tough," he said. "The speed is there." And that's the important part: he feels the speed is there. This relationship could go a lot of different directions, but it started on a positive note, let's see how it progresses at Glen Helen. –Stallo
Podium Performers
If Ken Roczen isn't able to return to podium speed, it opens the door for a plethora of riders to fill in the final podium spot—under the assumption Tomac and Dungey keep garnering the top two spots. At Hangtown, rookie Jason Anderson took his first career moto podium in the first, and also locked it in overall. Weston Peick made a furious late charge to clip Justin Barcia for his first career podium in the second moto. Blake Baggett was close, too. The door is open, with many a riders rushing to jam through it. Who will take the podium this weekend? -Stallo
GLEN HELEN AMA NATIONAL PRESS DAY SNAPSHOTS from
Only 13 riders were invited to Glen Helen Press day. They included Justin Barcia, Weston Peick, Phil Nicoletti, Ken Roczen, Blake Baggett, Jessy Nelson, Justin Hill, Shane McElrath, Sean Collier, Brett Metcalfe, Justin Jones, Chad Reed and Josh Grant (ready to race this weekend after biting his tongue last week).. This is the view of Mt. Saint Helen from the top of the Velodrome turn.
Everybody wants natural terrain—until they get it. This rock-face hill was incredibly steep and included sheer rock walls. Blake Baggett (4) climbs up the hill.
Where are they now? P.J. Larson helped build the Glen Helen National track. The former Australian National Champion has put racing aside.
Ken Roczen surprised everyone by riding Press Day. His back must be feeling better. He was a blur down this downhill (note how high the hill is by how small the media is down below).
Sean Collier rode the first practice session on a Kawasaki KX500 two-stroke, which he intends to race the FMF Two-Stroke Challenge on Saturday. In the second practice he rode his KX450F, which he intends to race in the 450 National on Saturday. That's a full plate.
Believe it or not the Velodrome turn is higher and steeper this year.
The privateers chosen to go to attend Press day at Glen Helen were Justin Jones (429) and Sean Collier (207). Justin is the son of four-time Champion Gary Jones and an ISDT Gold Medallist in his own right. Sean Collier is the two-time World Two-Stroke Champion.