10 Things to Watch + Predictions for Hangtown
US MX 2015
By Aaron Hansel and Chase Stallo
The Champ
We haven't seen Ken Roczen in competition since he bowed out of Monster Energy Supercross after Daytona with an ankle injury. We know he'll be fast—after all, he's the champ—but we don't know if that ankle will give him any trouble at speed on the extremely rough and demanding crucible that is Hangtown. "You can win a championship but defending it is the hard part," he said in a recent team statement. What we do know is that Ryan Dungey is at the peak of his game right now, and if Roczen wants to even the score with Dungey for his final-lap thievery at last year's opener, he's going to need that ankle to be 100 percent. –Aaron Hansel
First Timer
Did you know that Adam Cianciarulo has never raced the opening round of Lucas Oil Pro Motocross? He was supposed to race Hangtown in 2013, but a bout with salmonella poisoning sidelined him until Budds Creek, and in 2014 a shoulder injury kept him out of the entire series. In fact, Cianciarulo has only raced eight nationals in his entire career. The last time he raced an opener was in Monster Energy Supercross in 2014—and he won. Let's see where he finishes in his first opening round of Lucas Oil Pro Motocross. –Hansel
El Chupacabra
That's right, the Nationals are back and so is Blake Baggett's nickname. Baggett's first year on the 450 has been great so far—he finished fifth overall in supercross and even nabbed a podium in Daytona—and it's hard to think he won't keep things rolling during the Nationals. Baggett excels in motocross, and he's especially quick at this track, so don't be surprised if he leaves Hangtown with a top-five, or even a podium finish. –Hansel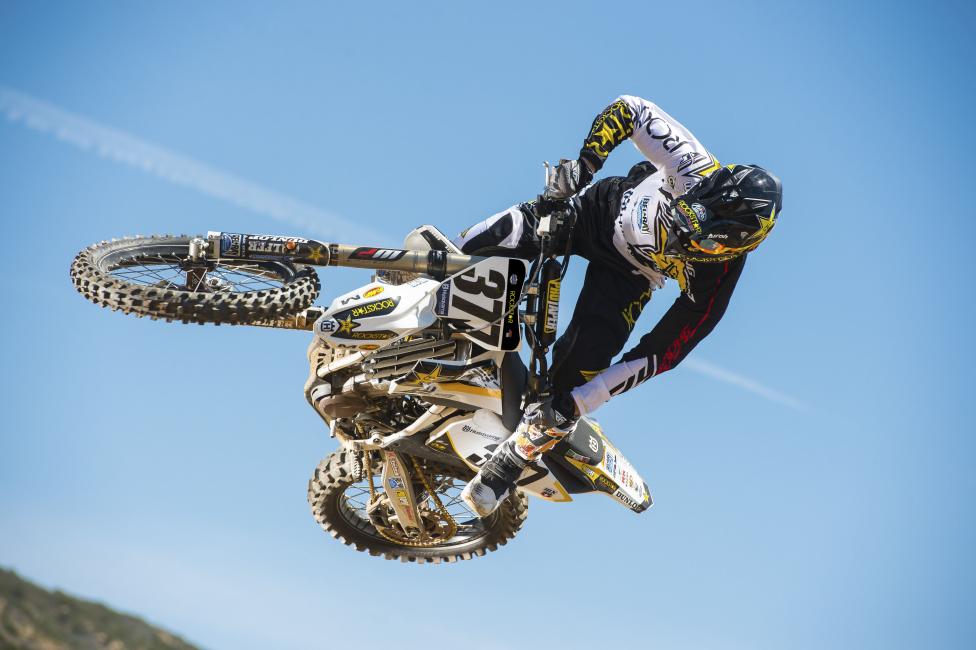 Blue Bruisers
A couple of interesting storylines going on over at Autotrader.com/Toyota/JGR Yamaha. Justin Barcia, who just a couple years ago was the only rider able to temporarily challenge the Ryans during the Nationals, is coming off a supercross season marred by injury. He also only raced the first two Nationals last year before bowing out with an ankle/foot injury. Hangtown could be his opportunity to turn things around. Weston Peick, on the other hand, doesn't want deviate from his current course at all—he closed out supercross by nabbing his second career podium. We'll see if he keeps it rolling at Hangtown. –Hansel
French on Swedish, by way of Austria, in America
Confused? Well, that's just par for the course when it comes to Frenchman Christophe Pourcel, who will be riding a Swedish brand of bike (Husqvarna), which is owned by an Austrian company (KTM), this weekend in northern California. You just never know what's going to happen when the gifted yet enigmatic Pourcel lines up. Will he win? Podium? Finish sixteenth? Pull off the track five laps into the race? The only thing that's certain is that none of the above would be surprising. We'll see what happens when he and the Rockstar Energy Racing Husqvarna Factory team go racing in the 450 Class on Saturday. –Hansel­
The Stars of 250MX
It's still a little strange mentioning Yamalube/Star Racing Yamaha and top team in 250MX in the same sentence. Years of futility finally blended into a winning formula with the combination of a new machine and the signings of Jeremy Martin and Cooper Webb, who have brought the team two of the last three 250 titles—2015 250SX West Region and 2014 250MX. Entering the Lucas Oil Pro Motocross Championship, Star Racing has the deepest group and is a favorite for a third title of four. Martin built a huge cushion early in 2014 that he could fall back on down the stretch, although he didn't really need it. Webb, the new 250SX West Region Champion, was a strong a year ago outdoors,—winning three motos and finishing third overall. Star Racing, an early favorite—get used to saying that. –Chase Stallo
Still Got It?
With the start of every new season, it's required that we ask the age-old question: Does Chad Reed still have "it"? It seems odd we still question a guy that just finished fourth overall in Monster Energy Supercross and was one of only six riders to win a race. I guess when you're 33 years old it comes with the territory. Reed has continued to push away father time with each passing year, but outdoors have taken their toll on him in recent years, and he probably hasn't had the results he's wanted, or expected. But we've doubted Reed before. Let's not start doubting him now—it usually doesn't turn out well. –Stallo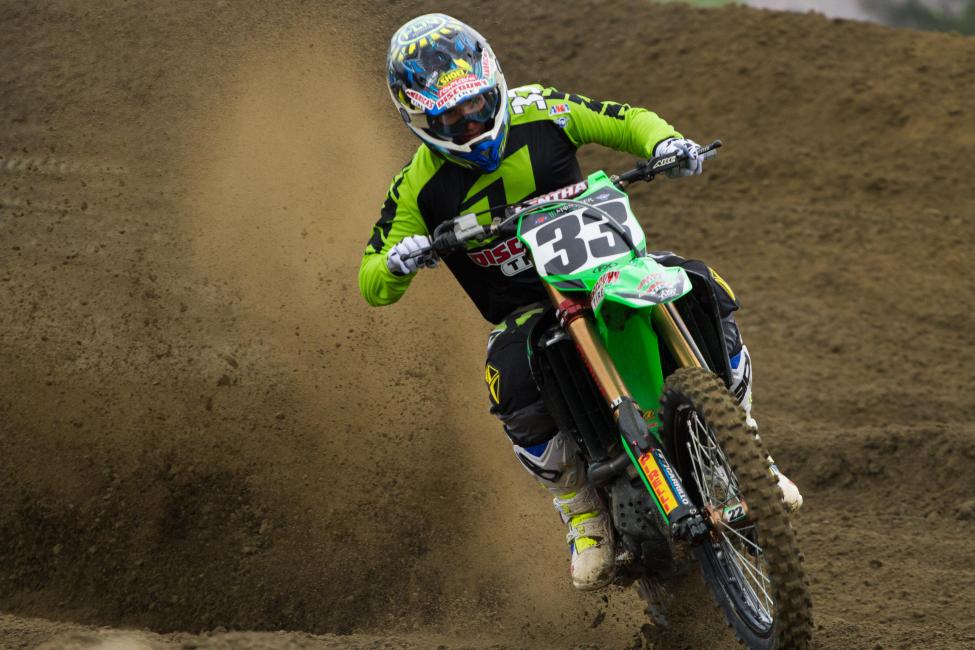 The Underdog
Only four riders had more podiums than GEICO Honda's Justin Bogle a season ago. Jeremy Martin led the group with seventeen, Blake Baggett and Cooper Webb each had eleven, and Christophe Pourcel had ten. (Bogle and Marvin Musquin had seven each.) Two of the aforementioned six riders—Pourcel and Baggett—have left for the 450 Class. A championship will be a challenge, but Bogle has been working hard to become a leader outdoors. "Things are starting to jell, and I feel good about it," Bogle said in a team statement. "I've had seasons in the past where I haven't been super successful outdoors, and I made it a big point in my program to try to improve so I can be a contender for the championship. Ultimately, I want to win the thing." -Stallo
The Difference
What a difference a year makes. At this time last year, Marvin Musquin was entering the season fresh off ACL surgery and less than 100 percent. Then he hurt his shoulder at Glen Helen. His early season results told the story—zero podiums through the first five rounds. At round 6, Musquin, finally healthy, began his end-of-the-year tear, garnering seven moto podiums in seven rounds, and winning two of the last four overalls. This season, Musquin, fresh off his first career 250SX East Region crown, is an early favorite outdoors. A good start will go a long way this season. Will Musquin kick off this season better than last? –Stallo
Healing
Days before the Lucas Oil Pro Motocross season opener, Josh Grant, winner of the opening moto at Glen Helen last year, reportedly had a bad crash at the test track but luckily looks to be okay. "Well I have to say someone was watching over me today! Really sore and beat up got my tongue sewn back on. Hope to be on the hangtown gate!" Grant tweeted earlier this week. We know Grant has the speed outdoors to contend. Will his body let him is the question? -Stallo
Predictions from Jason Thomas
It's time to start over! After seventeen supercross rounds in eighteen weeks, we're able to close the book on that journey and look forward to a brand new summer. Don't get me wrong, everyone loves supercross. But, like everything, it'll be a nice change. Outdoor motocross draws more appeal from the core fan too. Motocross is what we all grew up riding and is much easier for the casual rider to identify with. Even further, most of the fans that line the fences on Saturday afternoons have ridden countless laps on that actual racetrack.
To watch the heroes of the sport blaze around their local track is a pretty unique aspect of professional motocross. As much as die-hard Talladega fans loves their NASCAR, they've probably never gotten to drop the hammer in their Bonneville on that same tarmac. The same goes for all of those Derek Jeter jersey-wearing Yankee fans who will never get to step into a Bronx batter's box. Motocross offers that chance. Fans will get to watch Ryan Dungey come screaming down the High Point stair steps and can pick their way through those same ruts a day later.
There just aren't many sports out there that allow such personal access to its stars as well as the opportunity to participate on the same stage. I did consider that some try to run across baseball fields during games to gain that level of experience, but they usually end up concussed by the elbow of a Wackenhut security guard.
Dirty Little Secrets
The Sacramento suburb of Rancho Cordova plays host to the first round of the 2015 Lucas Oil Pro Motocross Championship. Having raced this and most of the other rounds many, many times, I know all too well what challenges Hangtown presents. The dirt base is hard…very hard. I can remember racing around in the second moto when the turns were full of nothing but black residue from the endless wheel spin. Over the years, the Dirt Diggers have brought in more and more soft dirt to improve traction. Not only does traction improve, but it also makes the course quite a bit safer for the inevitable crashes that motocross sees.
As the day rolls on, the softer dirt will begin to push to the side and the hard base will rear its head. The bumps will get choppy and the edges become square. Being the first race of the year, many will feel every single bump and hole during that second moto as bodies are still adjusting to the grueling demands of outdoor motocross. I can remember coming through sections and going far out of my way just to avoid hitting any bump I didn't have to. Later in the season, I would have blasted right through it, but this first race is tough to feel 100 percent ready for. Even the winners will be sore on Sunday after the first test of the year.
One interesting point I remember about Hangtown was how difficult it was to get the bike to handle properly. All of the testing has been done on practice tracks and race settings aren't available yet, so it's tough to know exactly how the bike will respond. Having smart technicians around can speed up the process, but they can only improve the bike based off of rider feedback. The downhill sections at Hangtown are always a tough proposition as the front end is pressured, freeing up the rear end to get all sorts of unpredictable. Watch the bikes at these early rounds and see who is comfy and who is holding on for dear life. Many times the Hangtown track is a compromise on setup, leaving riders always searching for something better.
The track has been the same basic layout for many years. Of course, there have been minor changes along the way such as the starting line being moved in the opposite direction, but generally it has been the same track since the 1990s or before. Long, gradual up-hills and down-hills are trademarks for the northern California series staple. For 2015, there's a new jump spanning 150 feet called the "FLY 150" to mark Fly Racing's series involvement. It will be interesting to see how this new jump pans out, as reviews are generally mixed on big obstacles on outdoor motocross tracks. As long as it's safe for pro level riders and there's a reasonable alternative to jumping the entire distance, I have no issue with a big jump now and again. Let's just say that I'm in favor of the obstacle's name as well.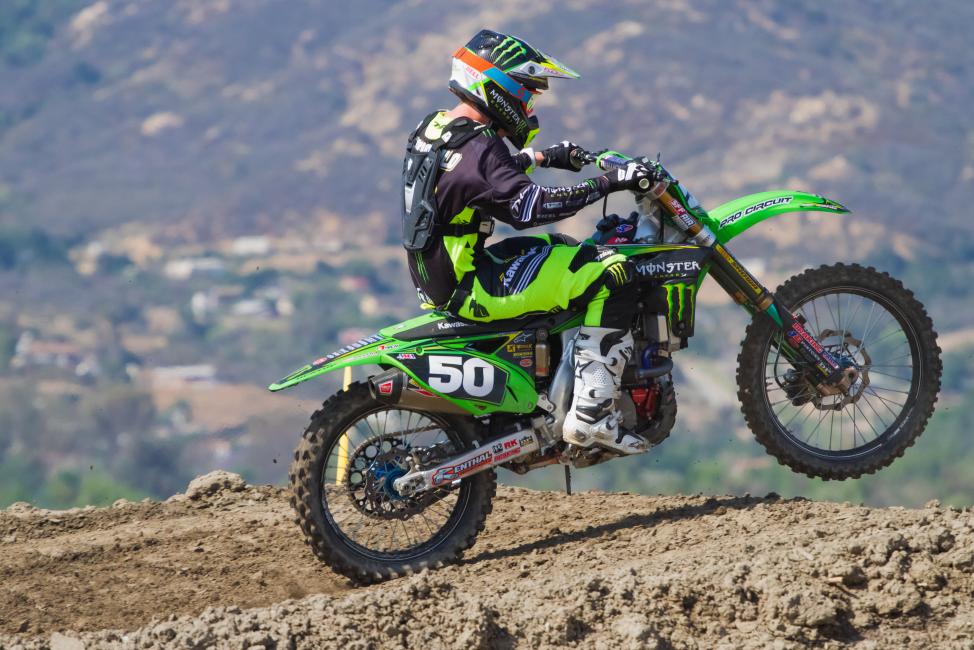 Bold Predictions
Jeremy Martin picks up right where he left off in 2014, winning both of the opening motos of the season.
Hearing that there's a new half-pipe section at Hangtown, snowboard legend Shaun White signs up for the 450 Class. Given the past success of red-haired participants, many experts put White in their top-five predictions. Unfortunately, White doesn't race motocross, probably can't even start a dirt bike, and would end up in the local emergency room if he even daydreamed about racing on Saturday. But I do appreciate you playing along, and for that, I thank you.
Ryan Dungey wins the overall at Hangtown but has his hands full with Eli Tomac and Ken Roczen.
Adam Cianciarulo holeshots his first moto back on the racing circuit.
Blake Baggett leads one of the motos.
My Picks
450
Ryan Dungey
Eli Tomac
Ken Roczen
250
Jeremy Martin
Marvin Musquin
Cooper Webb