10 Things to Watch: High Point
USA MX 2014
Click here for the animated track.
Roczen 2, Dungey 1
Ken Roczen and Ryan Dungey have, for the most part, been overwhelming in the first quarter of the 2014 Lucas Oil Pro Motocross Championship. We've seen challenges from James Stewart and Josh Grant, but it's still the Red Bull KTM boys who hold all the overalls. Right now Roczen leads the slugfest by one win and a few points, but Dungey has a chance to even the score this weekend at High Point. Meanwhile, Roczen has already amassed 30 and 31 point leads over James Stewart (3rd in points) and Trey Canard (4th in points). Will someone make a move, or will Roczen open it up even more? –Hansel
On the Up and Up
By now we all know that Red Bull KTM's Marvin Musquin hadn't recovered completely from a knee injury by the time round one at Glen Helen rolled around. To make matters worse, he hurt his shoulder there during practice. But at Thunder Valley Musquin looked great, especially in the second moto when he almost stole third place from Christophe Pourcel. Musquin won at High Point last year, let's see if he can get back on the podium there this weekend. -Hansel
Jessy Nelson
Last week at Thunder Valley Jessy Nelson challenged the emerging status quo of Yamaha dominance by taking the holeshot and completely checking out. Had he not spun out in a corner, then went off the track a little later, he might have won his first career moto. Who was picking Nelson as the one to end Yamaha's win streak? Well, he nearly did it. Now that we know Nelson's got what it takes to gap the field, let's see if he can pull it off again, sans mistakes, at High Point. -Hansel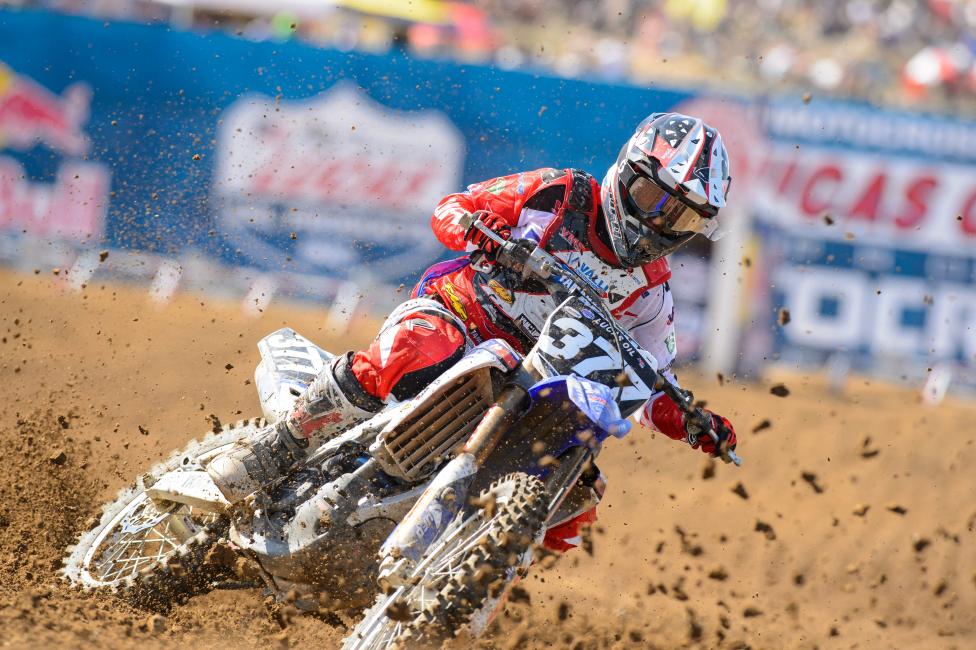 Christophe Pourcel is seeking his fourth straight Oakley Bomb award.
Photo: Simon Cudby

It's Just Weird
We're talking about Christophe Pourcel's practice sessions. For the third round in a row Pourcel somehow set the fastest overall 250 qualifying lap late in the second session, a time when the track is starting to get rough and is slower for most everyone else. We're not sure exactly how he's doing this (team manager Erik Kehoe credits smart line choice), but it sure makes the second half of the second 250 qualifier more fun to watch! Let's see if the crafty Frenchman can make it four in a row at High Point. -Hansel
Back on Top?
You knew it was going to happen sooner or later, and at Thunder Valley Blake Baggett finally broke through for an overall win, via 4-1 moto finishes. The Monster Energy/Pro Circuit Kawasaki rider came into the summer a little unprepared and still feeling the effects of an injury that was causing blurry vision (check out this week's Monday Conversation for more on that very serious injury), but judging by the absolute smoking he gave the competition in the second moto, we'd say things are starting to line up for him. -Hansel
Off-Cambers
High Point's famously technical layout still has roots in 1970s European motocross, as the basic corners were laid out by Euros who were barnstorming across the USA. The numerous off-cambers are unique to the series, and even though the track now boasts plenty of huge jumps, handling the peaks and valleys still marks the key to success. Throw in dirt that's far different than the first three rounds, and things could change in a hurry. – Jason Weigandt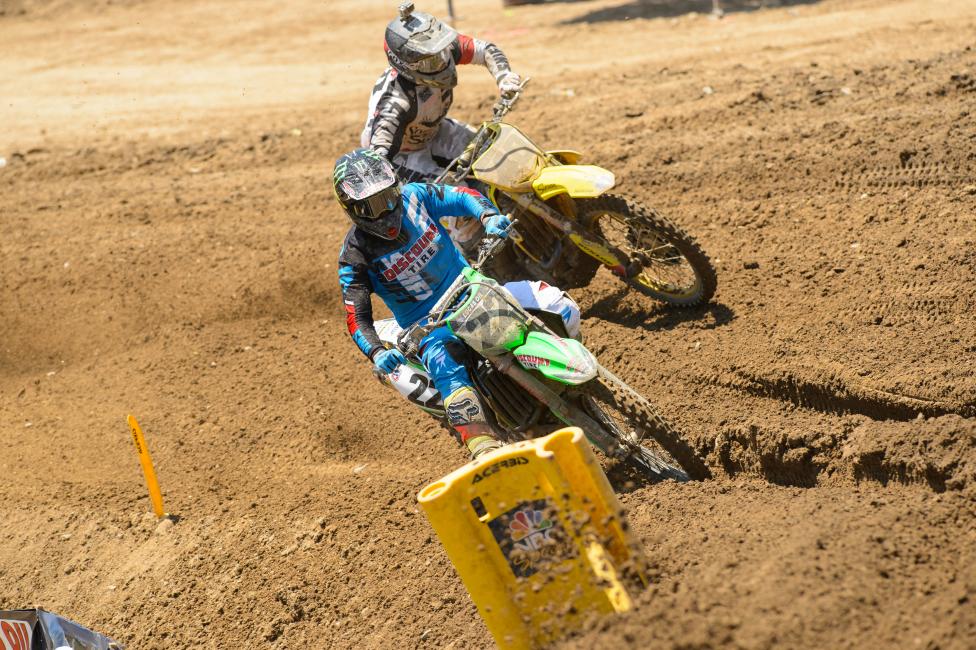 The break will do Chad Reed some good, but can he put it together at High Point?
Photo: Simon Cudby

Bogle Blossoming
In just his third full season, Justin Bogle has moved into a leadership role with GEICO Honda. "Stepping into that role as the kind of the veteran with experience, and the expectations, I guess you could say… is something I've been looking forward to for a couple of years now," said Bogle in a recent feature on NBC Sports Network. And if the on track results are an indication, Bogle is relishing his new position. Already with three podiums through six motos, Bogle, in the absence of Zach Osborne, is suddenly the veteran on a team lined with young talent. Will his new role translate to a win? – Stallo
In the Reed-View
Chad Reed's return from shoulder surgery is progressing slower than some originally thought. He's still not Chad Reed yet. The good news: Reed is having a better year through three rounds a season ago. The bad news: Reed took a giant spill in practice last week that left many on the team thinking the season was over. The upcoming week break after High Point will provide some relief for Reed, but can he muster a challenge before? – Stallo
Yamaha Days
Not much else can be said in regards to the early season success Yamaha has had. The numbers speak for themselves: Five moto wins, eleven podiums and twelve top fives between the trio of Jeremy Martin, Cooper Webb and Christophe Pourcel. Thunder Valley was the first sign of any trouble for Yamaha, as they only managed two top fives between the three. It's hard to stay perfect through an entire season, and if Thunder Valley proves to be their worst day, it's something Yamaha can live with. – Stallo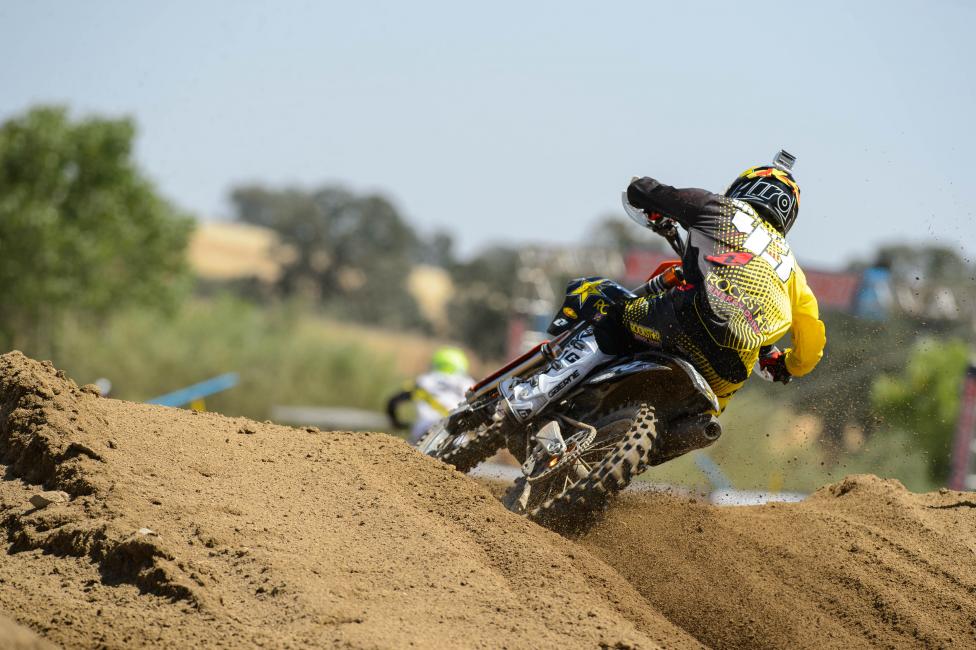 Joey Savagty is looking for a breakout performance in 2014.
Photo: Simon Cudby

Versace Savatgy
A season ago, second year pro Joey Savagty enjoyed a breakout performance at the High Point National. A fourth in the second moto brought Savagty into "best young rider" talks. Injuries have stifled said talks, as Savatgy missed nearly an entire year with injuries. He returned at Hangtown, looked better at Thunder Valley, and could be in contention for a top ten overall this weekend. Keep an eye out on the young Rockstar KTM rider, he could shine again. - Stallo
Bonus: Weather or Not
Back in its old slot on Memorial Day Weekend (ah, the glory days), High Point was often 50/50 rain or shine, with spring showers drenching the track quite often. Surely you still have some sort of muddy souvenir from Damon Bradshaw's epic return in 1995 or win in 1997, both of which were mudders. The move to June has taken some of the rain risk away, but it will never be gone completely. Rain has come down throughout the week, but Saturday's forecast says zero percent chance of rain. Does that mean perfect dirt is in the forecast? – Weigandt
And from Andy Bowyer's REV UP .....
Round four of the 2014 Lucas Oil Pro Motocross Championship charges into historic High Point Raceway in Mt. Morris, PA, this Saturday afternoon. As one of the oldest tracks in the series, High Point is a racer and fan favorite. The off-camber corners and long up and down hills create a challenge for the competitors, and while the scene is about as "American" as it gets, this place has long favored foreign riders. The rolling green hills, technical layout and even that morning fog (and occasional mudder) remind some riders of days in the GPs—and Ben Townley even said it reminded him of life back home in New Zealand! One of the biggest High Point stompings I can recall came from South Africa's Greg Albertyn in 1999. He crushed the 250 field, making passes on the off-cambers and jetting away with 1-1 scores, which would eventually lead to the 250 National Championship.
This is just a cool place in general. One of my favorite memories in the sport was my first trek down the long, twisting road through the thick trees that leads to the track. It seems like you just drive and drive, then BAM, there it is. If it's about 6:30am the clouds will be hanging above the track and all is about as perfect as it gets. There are a lot of characteristics that make High Point special, and ominous rain is one of them. The track has hosted some gnarly races in the past, and a storm already hit last night. The forecast looks clear for Saturday, but the track has already taken on some moisture. Rain or no rain, another storm is coming.
The racing has been awesome. With four different moto winners in the 450 division, and some crazy good battles throughout the top five, things are heating up. Honda Muscle Milk's Trey Canard has steadily been upping his game and could be ready to knock down a moto or an overall win. He'll have to pound the rock hard if he wants to stop the Red Bull KTM duo of Ryan Dungey and series' leader Ken Roczen. Meanwhile, Yoshimura Suzuki's James Stewart let his winning presence be known with a moto win of his own last weekend.
Over in the 250 Class, Yamalube/Star Racing Yamaha's Jeremy Martin and Cooper Webb have been running the show. However, the saying, "It's always the darkest right before light" applied to the Monster Energy/Pro Circuit squad as Blake Baggett notched his first overall win of the summer. The team had been battling all kinds of bad luck up until that point.
It's so good right now. Never been a better time to be heading to High Point. Let's go!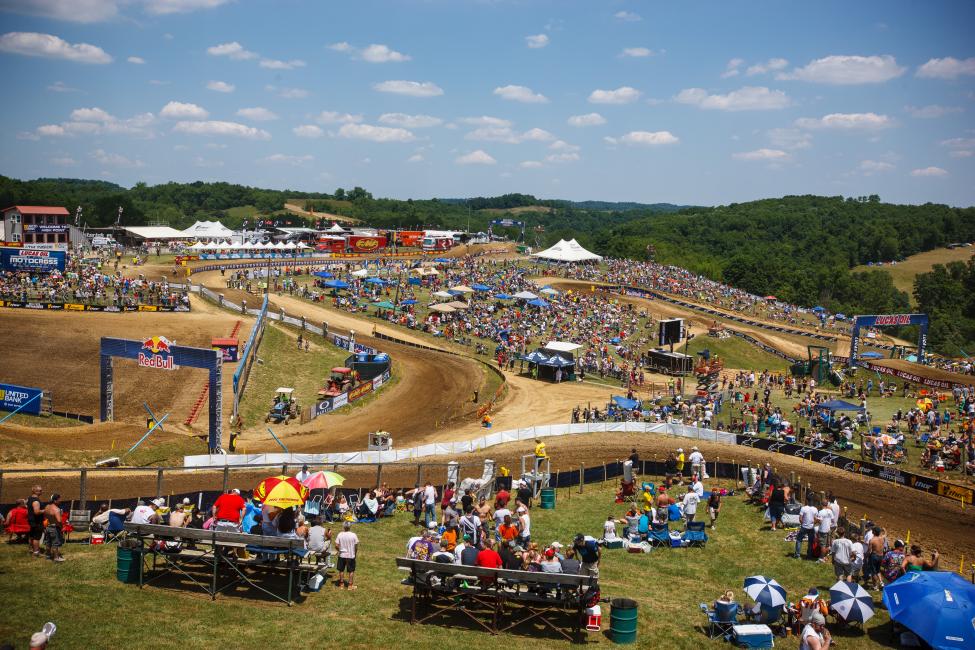 What will High Point bring this weekend?Photo: Simon Cudby

250