10 Things to Watch: Indianapolis
USA MX 2014
www.racerxonline.com By Aaron Hansel
Click here for the animated track map
Is probably what Ken Roczen is saying after giving up 17 points to Ryan Dungey in the last two rounds. With only 7 points now separating the two Red Bull KTM riders, Roczen is in a position where he absolutely must finish in front of Dungey. He doesn't have to beat him every time—even trading moto wins and runner-up spots at a round could be enough—but he has to do it at least once if he wants to have the red plate after Utah.
First in Four
After terrorizing the qualifiers and showing flashes of world-class speed all year, Valli Motorsports Yamaha's Christophe Pourcel finally broke through for a win, his first since the Thunder Valley National in 2010. Sure, Unadilla is a perfect track for Pourcel's style, but this weekend in Indiana he'll be riding another boost, the kind that comes with the confidence of breaking through for a win. Will it propel him to another overall victory?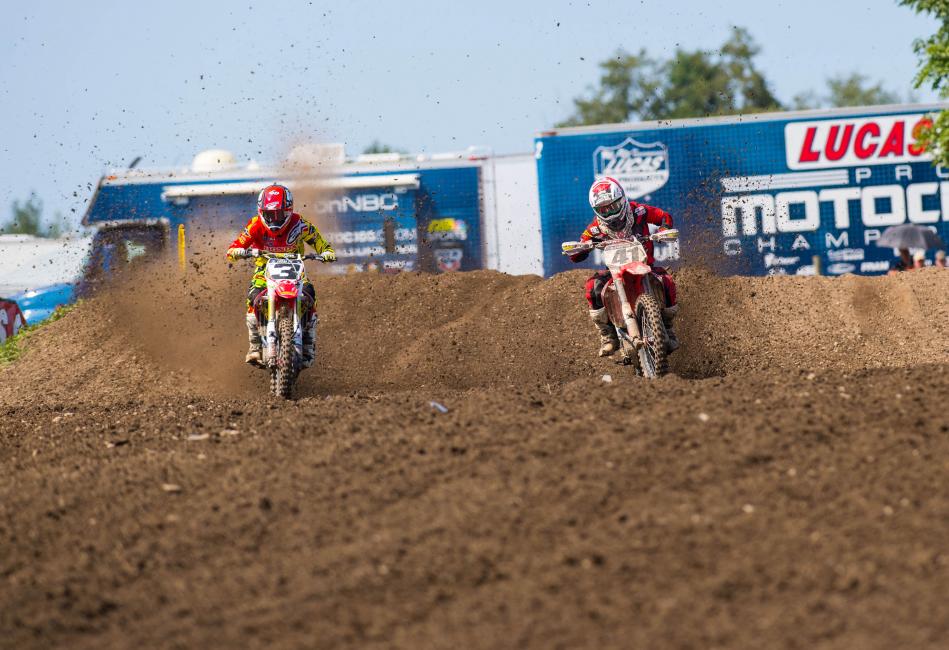 Canard (41) won a great battle to get the lead from Tomac at Unadilla. His second moto win was a breakthrough. Can he do it again?Photo: Simon Cudby
Welcome Back
To the winner's circle, that is. Although he didn't take the overall, Trey Canard stomped the second moto and held tough under immense pressure from Eli Tomac and Ryan Dungey, two of the toughest competitors in the biz. That's no small accomplishment and Canard knows it. Word is there were some big bike changes that helped out too, which, when paired with the boost in confidence that comes with winning a moto, could have Canard sniffing out an overall in Indiana.
Chris Alldredge
What a ride for Monster Energy/Pro Circuit Kawasaki rider Chris Alldredge, who went 13-8 for eighth overall in his very first race as a pro. As guest writer Wil Hahn said in hiscolumn Sunday morning, Unadilla is a tough track to make your debut, but that didn't stop Alldredge from putting in an outstanding ride that will no doubt greatly add to the number of people watching him this weekend in Indiana.
The Venue
Located about an hour west of Indianapolis, Ironman Raceway is new to Lucas Oil Pro Motocross, but not to racing events—the GNCC series has been going there for years. Of course, cross-country racing is different than motocross, and finding a setup that works well here will likely prove to be a moving target. Some teams and riders will nail it, while others will miss the mark. Who will hit the ground running and who will hit the dirt tumbling?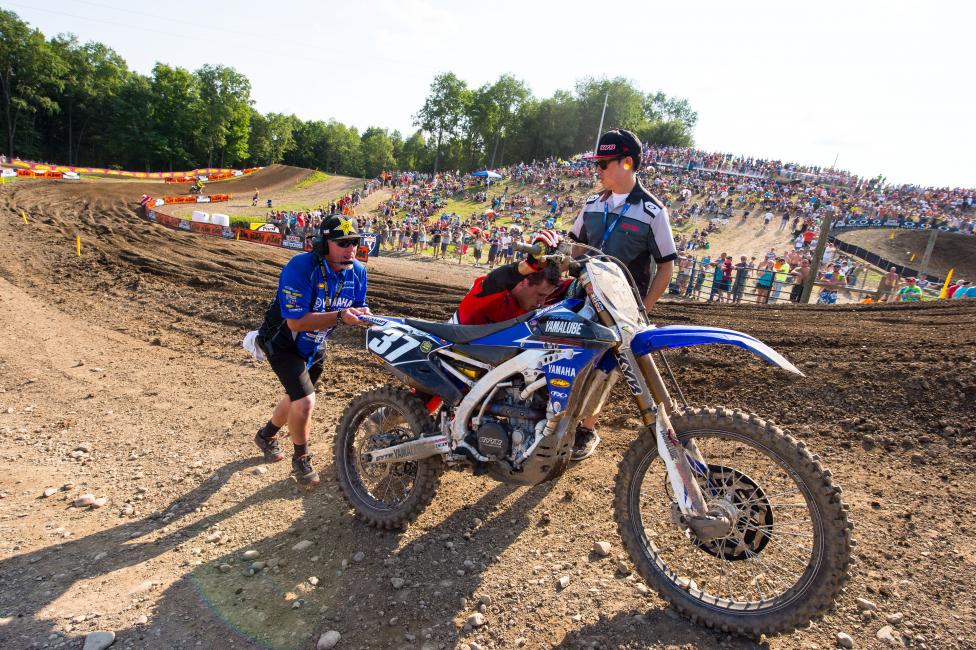 Not a great day at Unadilla for Cooper Webb.Photo: Simon Cudby
Shakeup Factor
If the uncertainty of going to a brand new venue wasn't enough to possibly throw the binders on Dungey's forward motion, the threat of rain could do the trick. Depending on which weather service you check, Saturday's weather is either going to be amazing with temperatures in the mid-80s, or rainy with scattered thunderstorms. We're not saying Dungey is lousy in the mud, but with Roczen's experience in the often-rainy Europe, you'd think he'd be happier to see things get wet than his teammate. Will the weather cause a shakeup at the championship's newest venue?
Cooper Webb
Not a stellar day for Cooper Webb last week at Unadilla. The Yamalube/Star Racing Yamaha rider went 7-DNF in New York, and as a result, now trails Blake Baggett for second by 8 points. The mechanically-induced DNF is partly to blame here, but Webb was running as high as second in the first moto before fading back to seventh. That's not the Webb we're used to seeing. Let's see if he rebounds this weekend and takes second back from Baggett.
Double-D Déjà vu
After a bad crash in supercross, Monster Energy/Pro Circuit Kawasaki's Darryn Durham will race his first national of the year this weekend. Wait a minute; haven't we heard this before? Durham was indeed scheduled to be back at Unadilla, but after hitting his head when he went down during practice, he ended up pulling out for the day. Let's see how he does this weekend in his first national of the year. Again.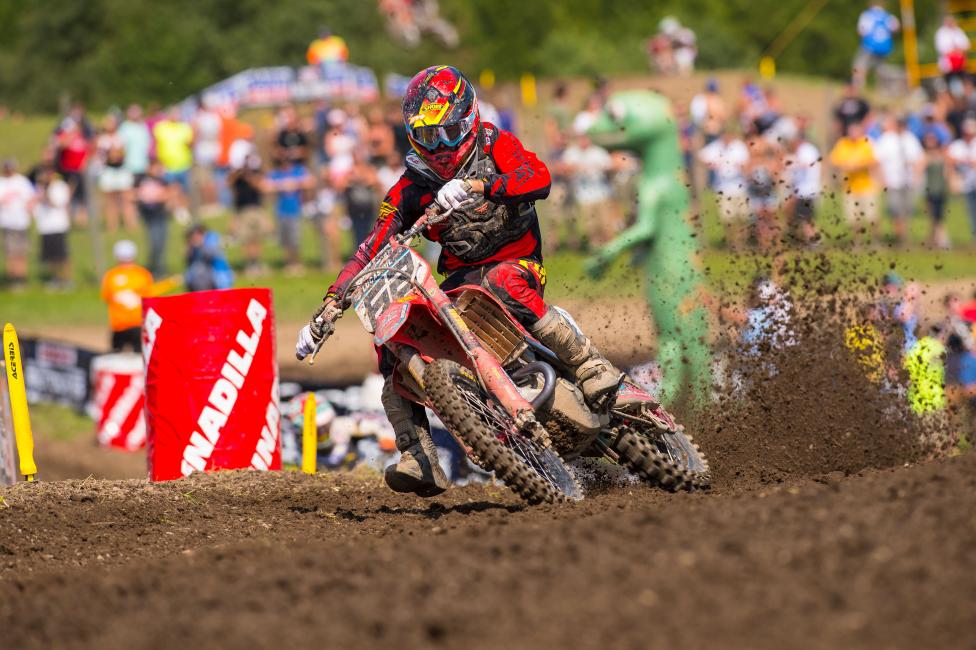 No more searching your programs or jamming through Google searches to figure out who #62 is. It's Mitch Oldenburg and he's fast on a 450.Photo: Simon Cudby
Wilson!!
If the podium could talk, do you think it'd be screaming out for its long lost pal Dean Wilson like Tom Hanks shrieking at that volleyball in Castaway? Wilson's had some nasty luck in the last several seasons, and thanks to a steady stream of injuries, hasn't made the box at a national since winning Pala in 2011, the same year he won the 250 national championship. He did well at Unadilla, though, taking fourth in a moto, and he's got two more rounds to get back in the top three. Will it happen in Indiana?
Mitch Oldenburg
Absolutely fantastic day for full-on privateer Mitch Oldenburg, who went 13-13 for twelfth overall at Unadilla. Even more impressive is that he's only been racing the 450 since Spring Creek (check out this Privateer Profile for more info on that). Earlier in the season there was another privateer named Fredrik Noren putting in these kinds of rides, and look where he is now! Keep your eye on Oldenburg in Indiana. Odds are you won't be the only person watching him.
Bonus! Martin's Time
So Jeremy Martin almost can't not win the 250 national championship this weekend. He's got 66 points on Blake Baggett, so as long as he doesn't give up 16 marks on one day—which would be hard to imagine considering how well he's ridden all summer—he's going to wrap this thing up in Indiana. With that kind of gap, there's probably less pressure than usual on J-Mart. First title for him, first for his team, and Yamaha's first in the class since 1992. Wait, did we just say there's no pressure?