10 Things to Watch: Las Vegas
USA Supercross 2015
www.racerxonline.com By Aaron Hansel and Chase Stallo and jason Thomas
Click here for the animated track map.
The Staging
This year's track map is typical Vegas. It's very long compared to the norm and will feature lots of rhythm sections and lots of whoops. The lap times are usually in the 1:06 region, significantly higher than the 50–54 second lap times at most rounds. There's an interesting section comprised of three step-onto-tabletops in a row that will be tricky for the 250 riders. Their level of difficulty all depends on how they are sloped and shaped.
That leads into what could be a quad, or a 3-1 at minimum. There are two whoops sections, and as with the tabletops, they could be very easy or very difficult. Vegas has been a grab bag on the whoop difficulty. It has almost alternated year to year from big and treacherous to fast and easy. One change this year is the exit strategy on the outer portion. Typically, the exit follows the wall of the stadium, making for a very fast departure and re-entry.
This year, though, there's a switchback and sand section before heading off into the desert darkness (although be warned that we've seen sections like this on a Vegas track map before, only to see that section go poof like something in a magic show on the strip on race day). If that switchback really is there, it won't affect too much, other than slowing the track down and adding to the lap time, both of which are positives. - Jason Thomas
Dave Coombs Sr. East/West Shootout
If you've been looking to book a flight and hotel for the Las Vegas finale of Monster Energy Supercross, you've probably noticed prices are a bit higher than normal this year. Word is, it's due to the big fight that's scheduled to take place in Sin City this weekend. Yes, that's right, the long awaited battle between Yamalube/Star Racing Yamaha's Cooper Webb and Red Bull KTM's Marvin Musquin (we're hearing there's a little boxing match somewhere too, but we're not sure on the details) will finally play out tomorrow night on the Sam Boyd Stadium battlefield. We'll also get a chance to see how the rest of the West stacks up against the East, which should be good. –Aaron Hansel
Going Out on Top
If you're a 450SX rider not named Ryan Dungey, you dealt with a healthy serving of adversity this year. What better way to lessen the sting of the season's struggles by winning the final race of the year? You know guys like Eli Tomac and Cole Seely are foaming at the mouth for another win, while Dungey has made it clear in interviews that winning the championship hasn't reduced his drive to win individual races. We'll see who punctuates his season with victory by snapping up the final win of the year. –Hansel
Sloppy, Messy, and Fully Baked
This just in: Las Vegas is in the middle of the desert, which means there's only so much you can do with the dirt. In an effort to combat the blazing sun and high temperatures, the track is usually soaking wet in the morning, which makes for some pretty slick conditions during practice. As the day wears on, however, the relentless sun dries it out, and the dirt usually gets hard, dusty, and slippery for the mains. This means throttle cable stretchers like Eli Tomac will have to adjust their style if they don't want to be constantly fighting for traction, and smooth sailors, like Cole Seely, just might have a slight advantage on the tricky surface. –Hansel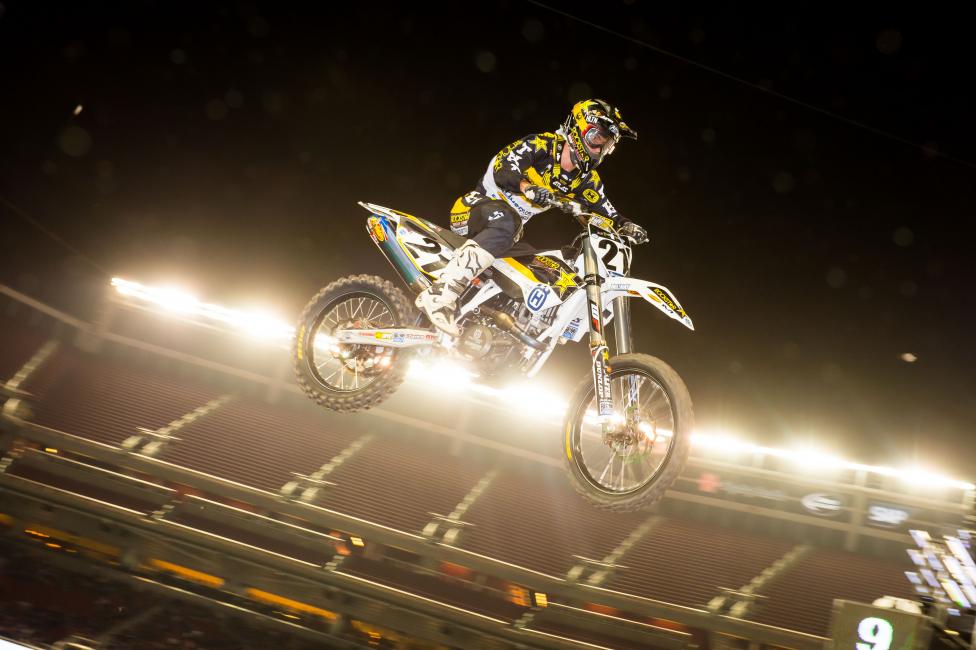 Another Finale
Yes, tomorrow night is the finale of Monster Energy AMA Supercross, an FIM World Championship, but it might also be the final race of Nick Wey's career (Nick hasn't officially announced this, though, but it's a distinct possibility). Wey's first supercross race took place seventeen years ago in Indianapolis in 1998, and ever since he's been entertaining us with his abilities on the track and his sharp wit and hilarious personality off of it. Hit him up on Twitter (@NickWey27) to let him know how much you've enjoyed his career, and if you're at the race this weekend, be sure to stop by the Mafia Moto pits to tell him in person. –Hansel
Three in Five
Before the season there was a lot of speculation about how well 450SX rookies Cole Seely, Blake Baggett, Jason Anderson, and Dean Wilson would do. Unfortunately, Wilson missed the season with injury, but the other three have done very well. In fact, there's even a chance they'll all end up in the top five in points! Seely's a lock for third, Baggett's got fifth, and possibly even fourth, locked up, and if Jason Anderson can make up 13 points on Chad Reed, who's nursing a bum shoulder, he'll sneak into fifth. We thought they'd be good, but nobody expected this. -Hansel
East Leads West
Each year, the West Region tends to get propped on a pedestal for all of us to gawk at. Their season begins when interest in Monster Energy Supercross is at its peak, giving it a reputation as the "best coast." If we're going off paper, that's probably been the case the last few years, as the East as been depleted with injuries. But, if we're looking at it just from a shootout perspective, since 2006 the East has been on par with the west. With Musquin vs. Webb, McElrath vs. Savatgy among others, Vegas should live up to the billing once again. Will the East extend its lead Saturday? – Chase Stallo
Going out with a W
It's hard not to say this hasn't been the best supercross season in Malcolm Stewart's career. For kicks, throw out the three races in which he crashed and Stewart has an average finish of 2.5 in five races. While Stewart can't seem to shake the inconsistent rounds—22-17-21—he's proven that when he stays upright, he's a podium threat week in and week out. "A good weekend would be to go out with a win," Stewart said in a team statement. "The reality is this is going to be more like a fun weekend because there are no points. It'll be fun to ride against the East guys, and Vegas is always one of those fun races where you just kick back and have fun." When the pressure if off and riders are just out to have fun, they typically ride much, much better. Keep an eye on Malcolm this weekend—he could just reel in another win. – Stallo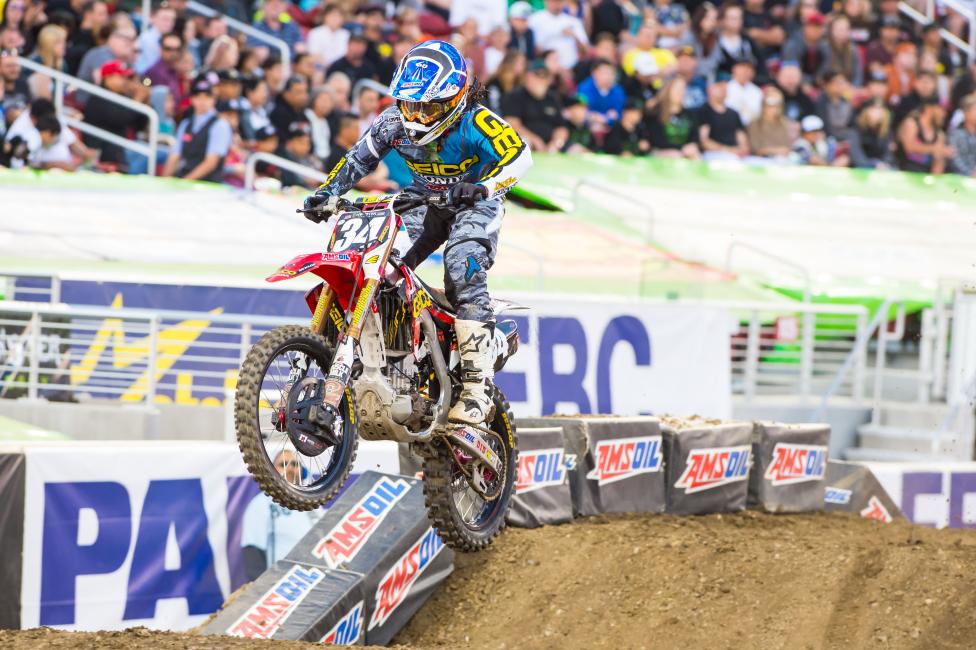 Regroup
Weston Peick personifies toughness. Broken foot? All good, I'll race through it. Torn MCL? Rub some dirt in it. Seriously, watch him stare a hole through you in this interview and tell me he isn't one tough SOB.
But, even Peick couldn't completely shake off a horrific crash in practice last weekend. (Check out Vital MX on Instagram for quick look at it.) Peick started out front, but just didn't have it in him and faded to tenth. Let's see if a week of rest is enough for him to get back on the podium. – Stallo
Sneaky Picks
While Cooper Webb and Marvin Musquin are the prohibitive favorites entering the weekend, if you're looking to pick up points in Racer X MotoDynasty Fantasy Supercross, go out on a limb and considered these guys. Webb's Star Racing teammate, Aaron Plessinger, led for the first time in his career in Santa Clara, and although he made mistakes, his speed was right there. Also consider Shane McElrath. He's been on fire lately and looked fantastic moonlighting in 450SX last weekend. Finally, don't sleep on Justin Hill and Zach Osborne. It's been a rough season for those two, but a win in Vegas isn't out of the question. – Stallo
Who Brings It
For almost the entire field, not much is on the line this weekend. The points are settled, and most are more concerned with hitting the Circle Bar after. Yet, this is a chance for some riders to showcase themselves for rides next year. Potential suitors are not only watching to see how each rider finishes, but who shows up when the cards are down. So, while it may look bleak on the outside, there's still plenty left to fight for this weekend. - Stallo