10 Things to Watch: Monster Energy Cup
US MX
www.racerxonline.com By Aaron Hansel, Chase Stallo, and Jason Weigandt
Two on TwoTwo
A second rider is something that's been in the works over at TwoTwo Motorsports for a while, and they finally made it happen bringing Josh Grant on board this off-season. With riders like Grant and Chad Reed, you just never know what might happen, too. Reed is still a race-time decision after injuring his leg at the Motocross of Nations, but they could bust out wins—both have been known to do just that! – Aaron Hansel
Davi Millsaps
We haven't seen Davi Millsaps in action in three seasons (two motocross, one supercross), but that streak is about to end. Millsaps will be back at it at the MEC aboard his new Monster Energy Kawasaki this weekend, and it's going to be interesting to see how he does. Will he be in the same form that helped him win races and hold the points lead deep into the season in 2013? -Hansel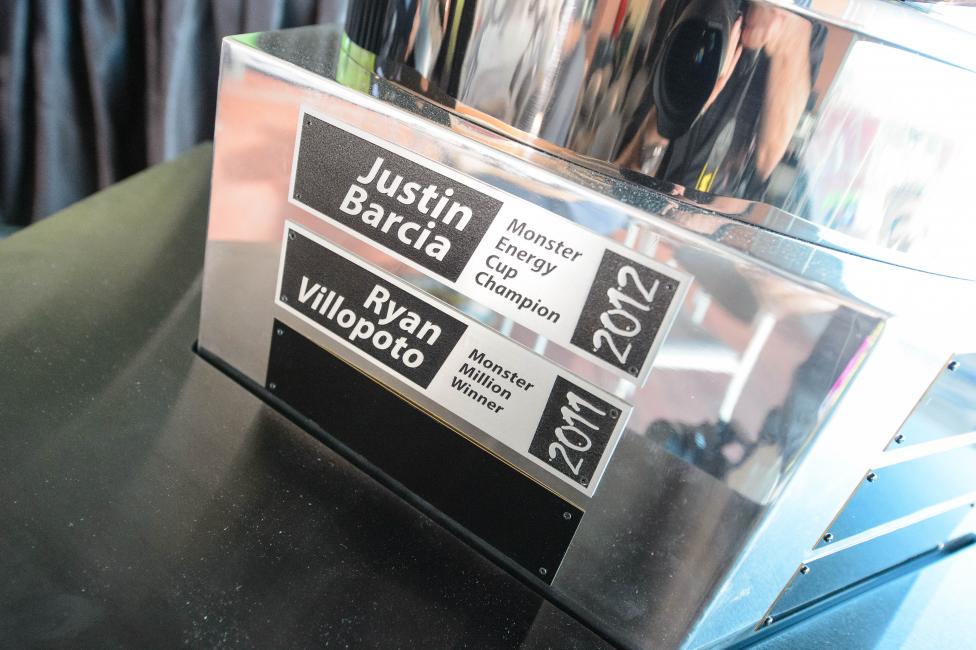 Justin Barcia
Just like with Millsaps, there's plenty to keep an eye on this weekend with Justin Barcia—he's on a brand new team and brand, and he's coming back after missing most of Lucas Oil Pro Motocross with an ankle injury. If you've seen the videos, it's obvious he can do whips and wheelies on the Yamaha, but we have yet to see him in competition. Will JGR/Toyota Yamaha's new rider become the first rider to put his name on the MEC trophy twice? -Hansel
Gen Next
In three short years, the Amateur All-Star event has moved from an interesting novelty act to a must-win on the national amateur schedule—for both riders and brands. Yamaha could have let Aaron Plessinger loose at a few pro motocross nationals after Loretta's, but instead he stayed down so he could race this event. Jordon Smith was once rumored to be turning pro as early as Glen Helen 2014, but injuries held him up, and now he's still eligible for Saturday night's race. There are A LOT of big guns here, because this is a rare race with the fastest big-bike riders who would normally be divided between A and B, stock and mod, and 250 and 450 classes, all lined up against each other. This race is always one of the most entertaining of the night. Who comes out on top this year? – Jason Weigandt
Stewart's Status
Jason Weigandt dropped some huge news late last night on the status of James Stewart for 2015 and beyond. You can read the details here, but the short story is this: Stewart's Therapeutic Use Exemption (TUE) for the banned substance he tested positive for at Seattle Supercross in April has been approved by WADA. This should allow Stewart to avoid a ban and continue to race in 2015. The one hitch is this: Stewart's WADA trial date is not until next week, which leaves his status for the Monster Energy Cup in limbo. The AMA is the governing body this weekend, not the FIM, but the two groups usually try to work together to find some consistency between rules. Which direction will they go on Stewart? – Chase Stallo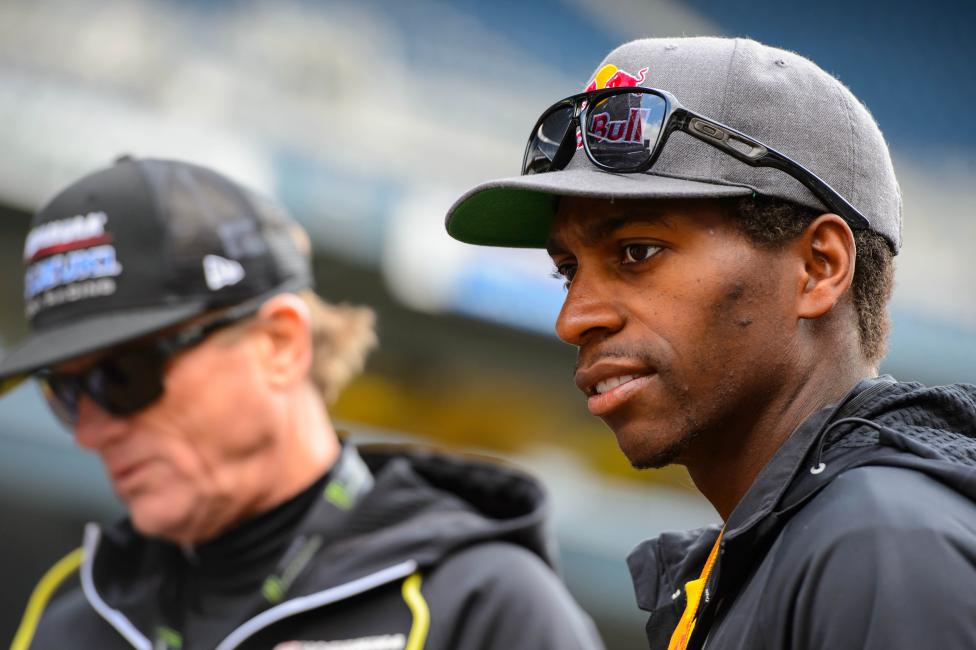 Baggett's Debut
Although Stewart's status is uncertain, his teammate for 2015, Blake Baggett, will make his highly anticipated 450 debut with Yoshimura Suzuki this weekend. Until this deal, Baggett didn't have much 450 experience, as he told Racer X earlier this month: "I rode one two times. I practiced on one and then raced it in Mammoth in 2009. Haven't touched one since, so it's been a while." Baggett has had a few weeks to get accustomed to the bigger bike, but was it enough time for him to make an impact on Saturday? – Stallo
Wilson's Second Debut
Baggett's long-time amateur rival Dean Wilson will make his second appearance donning new colors this weekend. Wilson has more experience on the 450, racing the bigger bike a few rounds outdoors in 2013, supercross this year, and the inaugural Red Bull Straight Rhythm event earlier this month. Arm-pump issues plagued Wilson in his fill-in role aboard the 450 earlier this year, but he appears to have put those issues in the past. How will he do in his second ride aboard the KTM? – Stallo?
MEC Debut
With off-season races, as Jason Weigandt pointed out, there's no real rhyme or reason as to why some riders race them and some don't. It's just the way it is. Team Honda Muscle Milk's Trey Canard is one who, for whatever reason, hasn't raced the Monster Energy Cup before. When asked about his strategy for Joke Lane on Twitter, Canard joked, "Take it every single lap, throwing the other competitors into a serious confusion, leaving them unsure if they took it at all." Canard enters the race with as much confidence of anyone, having won four of the last five motos in Lucas Oil Pro Motocross. Can he carry that momentum to Sin City? – Stallo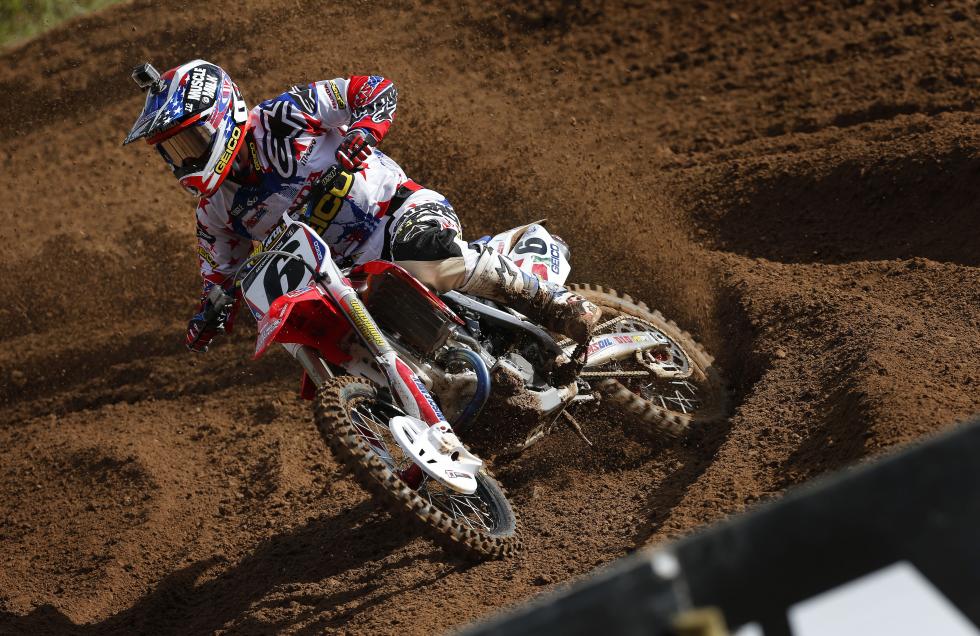 Tomac Attack
"I'm pissed. I don't get on an airplane to come over here twenty hours and to fail like that," Eli Tomac told Racer X following Team USA's loss at the Motocross of Nations. You could tell Tomac took the loss to heart. He wasn't there to lose. Nothing rids you of the sour taste of a loss faster than a win. For Tomac, who made his 450 debut at the race last year and finished fourth overall (5-6-3), he enters the weekend as one of the favorites. Can he put the MXoN loss behind him and leave Vegas with a W? - Stallo
Lucky Dungey
He all too often gets overshadowed, but Ryan Dungey, as always, has a shot at winning this event. He's been in the hunt every year, but something crazy always seems to happen. The first time, he was breaking out his new KTM ride for the first time and finished second. Year two, he smashed a Tuff Block and bent his shift lever two different times. Then last year, there was, ahem, he "forgot to take the Joker Lane." If the dumb stuff doesn't happen, Dungey could walk away the winner. – Jason Weigandt
Bonus!
The Show Before the Show
The Monster Energy Cup is known for crazy racing, but if you've never been there you may not know that the craziness kicks off long before the first gate even drops. The pits and surrounding parking lots explode with extracurricular activities like drifting, FMX, street bike stunts, BMX, and more. They've upped the ante this year, too, by adding MMA fights to the list. If you're heading to the MEC in person, be sure to put the Party in the Pits on your list of things to watch. –Hansel