10 Things to Watch: RedBud
USA MX 2014
Eli Tomac
At Muddy Creek, the GEICO Honda rider kicked off his 450 career with a bang by leading eight laps and eventually going 3-3 for third overall. That's amazing, especially considering that his competition had already been going hard for four rounds. Then again, we are talking about Tomac, who won the very first race of his professional career at Hangtown in 2010. Now that he knows the pace up front, let's see if he can hang onto the leaders the whole way at RedBud. -Hansel
Speeding it Up
Right about now, Jason Anderson is probably wishing his season had clickers so he could speed up the rebound. Although the Rockstar Energy Racing rider has a pair of podium moto-finishes, he's balanced them out with a pair of DNFs and sits over seventy points out of the lead. It's definitely not where the Western Regional 250SX Champ wants to be, and not where most people thought he'd be, either. Fortunately for Anderson, the series is heading to RedBud this weekend, a track he likes a lot. Will his proficiency at RedBud result in an overall podium? -Hansel
Just Win Baby
It's about time for Ryan Dungey to get a win. Yeah, he's been solid all season, and perhaps even a little more aggressive, but he hasn't won an overall since the season opener at Glen Helen. Dungey has always had a reputation for being in the fight until the end, but with Ken Roczen not showing any signs of fading off, consistent podiums aren't going to get the job done. Dungey scored a slew of wins in his championship years (2010 and 2012), and he needs to start stacking them this season, starting at RedBud, if he wants to make 2014 another championship year. -Hansel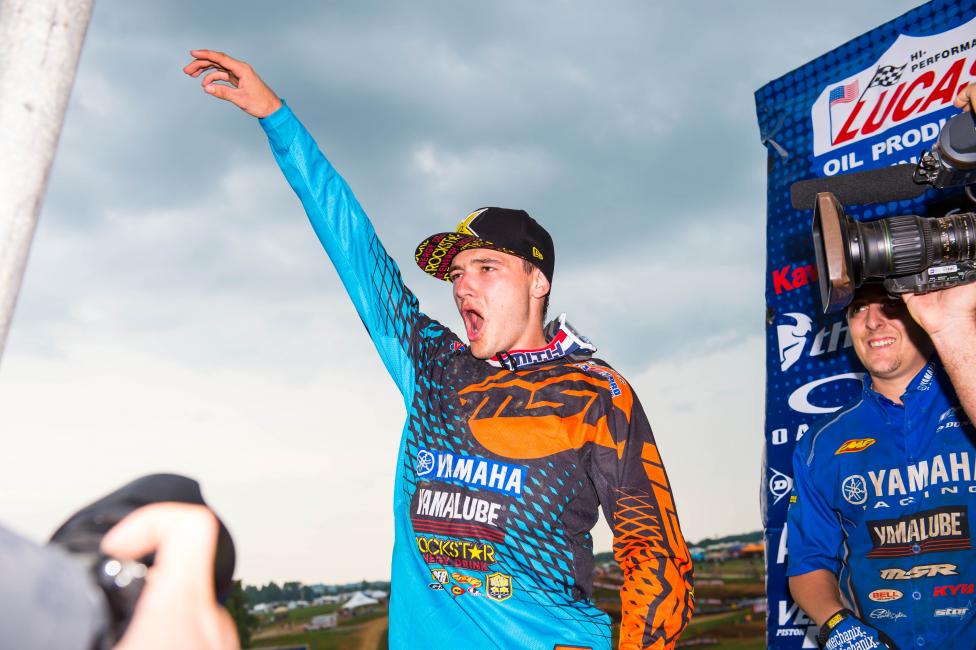 Webb goes for two straight this weekend.
Photo: Simon Cudby

Candles Lit
You knew Cooper Webb was going to get that first win sooner or later, and it finally came last week in Tennessee. After getting beat by a few soul-crushing hundredths of a second in a thriller first moto, the Yamalube/Star Racing Yamaha rider came back strong in moto two to take the win and the overall. Now that he's confirmed that he belongs in the winner's circle, will we see him string together a few more? -Hansel
The Leap
RedBud is home to LaRocco's Leap, the most iconic and easily recognizable obstacle in all of Lucas Oil Pro Motocross. And for good reason, too. Requiring more testicular fortitude than actual skill, the spectacular uphill triple launches riders roughly 130 feet, and coming up short is a punishing affair that can destroy equipment and leave racers talking in high-pitched voices. Even on TV it's impressive, and in person it's downright entertaining. If you're at RedBud this weekend, be sure to walk over and join the hordes of fans cheering on the brave riders who launch The Leap. -Hansel
Stewart Still in the Crosshairs
On the surface, it may appear that James Stewart has been absolved—since he's still racing—but behind the scenes there is still a lot to be determined. By all accounts, Stewart seemed okay during the day. "Today was fun," said Stewart after the race in a team statement. "The results weren't that cool, but I had fun today and want to thank the fans; they were awesome out there." After the race, we spotted him signing autographs and taking photos with fans. He rode well, too (crashes were his undoing). If this situation is having an enormous effect on Stewart, it sure didn't look like it. Can he continue to put this ongoing case behind him and perform? – Chase Stallo
Dean Wilson is looking for a better result in his second race back.
Photo: Simon Cudby

Leaving the Van Behind
One last trip remains for Fredrik Noren and his long used moto van. Noren is en route to RedBud, and leaving behind the struggles of #privateerlife and moving to greener … err, redder … pastures. Honda tabbed the privateer to fill in for the injured Justin Barcia this week, giving the prestigious team a second man to pair with Trey Canard. Noren will only have one ride on the new bike before RedBud, so everyone probably needs to be patient in regards to results this weekend. The Cinderella story begins on Saturday, what should we expect? - Stallo
Take Two
Dean Wilson returned from a deep laceration to the back of his knee last weekend, but it was not the return he expected. He was down in the first turn of moto one. "I wanted to get back into the rhythm of racing and unfortunately I had to do that while fighting my way through the pack," Wilson said in a team release. "The second moto went much better since I was in a battle the whole time. I'm going to keep working to get a win this season." Therein lies the question: How quickly can Wilson return to the front? – Stallo
Shorty Doing What Shorty Does
Is there a better representative of the sport than Andrew short? In what seems like his 1000th season, Short continues to plug away, gets top ten's and top five's, and just is an all-around man beast. "It was one of the toughest tracks this season and to come out and get fifth overall says we are going in the right direction," Short said in a team release after the race. But it always seems Short is going in the right direction. Should it really surprise us anymore? This weekend, look for Short to do what Short does. – Stallo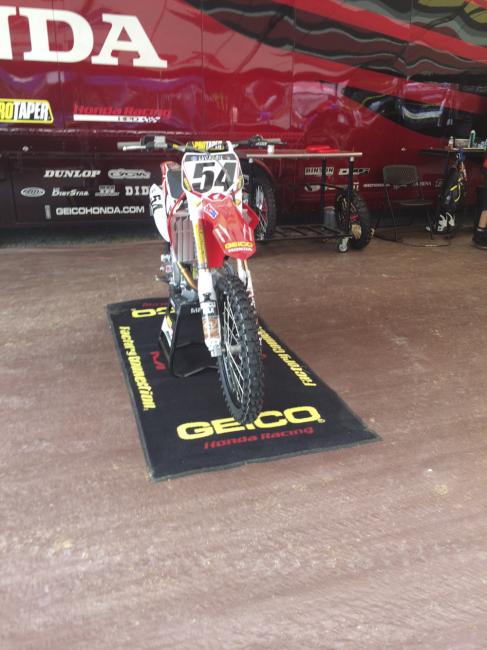 Christian Craig is back!
Photo: Weege
Coming Together
CycleTrader.com Rock River Yamaha's Ben LaMay probably hasn't gotten the credit he deserves this season. He returned from a gruesome injury before supercross, only to get injured again. In his first race back! Now LaMay is finally starting to click off some consistent motos. Through the last five motos his worst result is fifteenth. Can the Alaskan Assassin keep the train moving at RedBud? - Stallo
Bonus!
Return of the Mini-Ray
Christian Craig announced his retirement last fall, but he's back for some fun for a few races. Craig, by the way, is married to the daughter of one of the GEICO Honda team owners, so has some connections. The team set him up with a CRF450R (a stocker with a few mods, not a full-on race bike) and he'll let it rip. What better place to start than RedBud? – Jason Weigandt