10 Things to Watch: San Diego 2
US Supercross 2016
www.racerxonline.com Aaron Hansel
Click for the animated track map
The Handyman
Not many racers, if any, go from nailing frames to winning mains, especially after retiring from the sport several years prior. But that's what GEICO Honda's Christian Craig, who was working construction just a year ago, did last weekend in Glendale. The win helped Craig out in the points too, putting him eleven behind Joey Savatgy and Cooper Webb, who are tied for first place. The not so good news: the 250SX season is short and Craig only has four more races left to close that gap. If he wants his title hopes to stay healthy, he needs to win in San Diego. "I've never had an off-season where I was putting in the hours on the dirt bike and off the bike and had a consistent program," Craig told us last weekend. "I have an awesome mechanic and trainer, a whole family support group. So to be healthy and be strong, that's why I'm up here. We've got to stay that way. We have a championship to win."
Burning Man
After completely crushing the competition in the first three rounds (and let's face it, it would have been four had he not suffered a mechanical DNF in Oakland) Webb finally showed some weakness when he went down in Glendale while pressuring Craig for the lead. If you're anyone else in the class you're pumped at the confirmation that Webb is indeed human. Unfortunately for the 250SX guys, losing two weeks in a row will not demoralize Webb one bit, and the burning anger he's probably feeling this week could lead to a massacre on the weekend. Even though Webb circulates lava instead of blood, he's a cold-blooded killer when he straps on his helmet. He'll be out for some blood in Petco Park.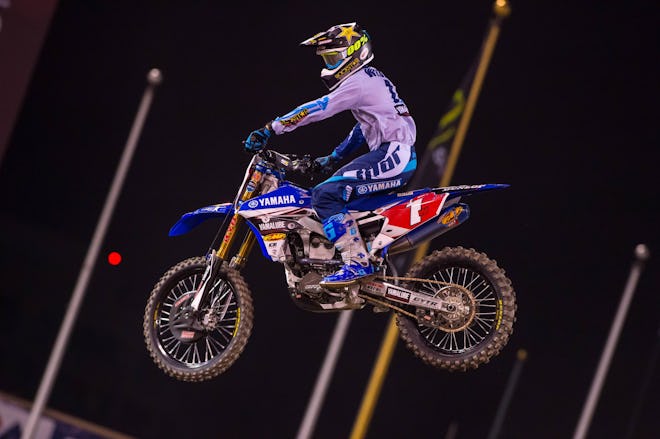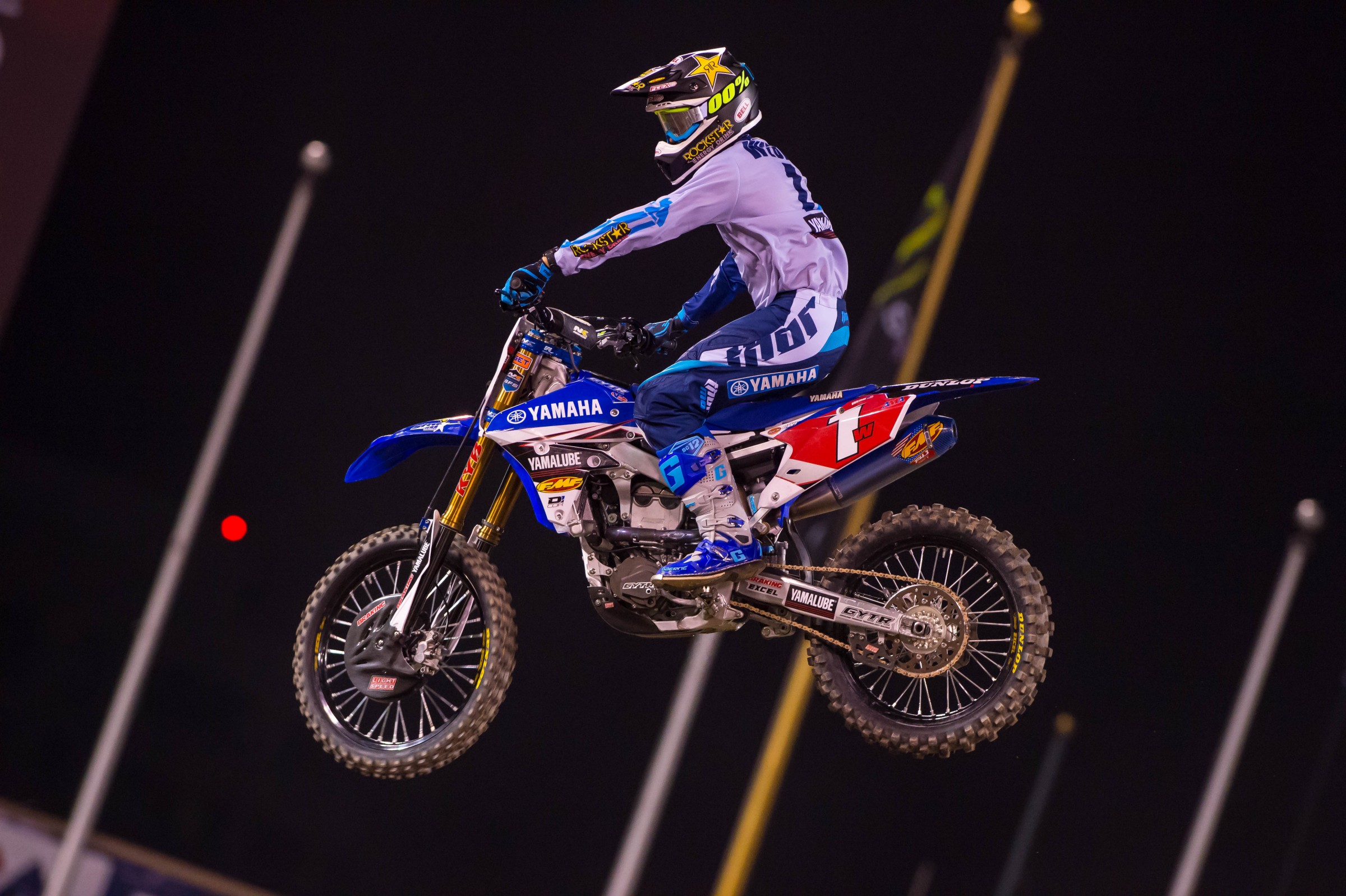 The Bearded Man
Joey Savatgy has plenty of things to be happy about, and a few not-so-great things to think about. He's got a win this season and he's holding the red plate, but so is Webb (the two are tied for first), and he still finished behind Webb in Glendale despite Webb having a small crash. The pressure of the points lead must be immense, especially when you're sharing it with someone as strong as Webb, and it'd be easy to think the stress would have a negative effect on Savatgy. But it could be a healthy driving force all week. Only Savatgy really knows right now, but we'll get a better idea when the gate drops on Saturday night.
Right-Hand Man
This entry literally refers to every single rider who will be racing in San Diego. This week's track features a right-hand first turn, which greatly restricts access to the rear brake pedal, located on the right side of the bike. Save your rants and recreational outrage regarding this matter for punching the steering wheel during your morning commute—these guys are pros and they know how to turn right just fine. Of course, that doesn't mean this rare directional variance won't make things interesting this weekend, and if there's any bumping off the gate we could see guys, including championship leaders, end up with horrible starts.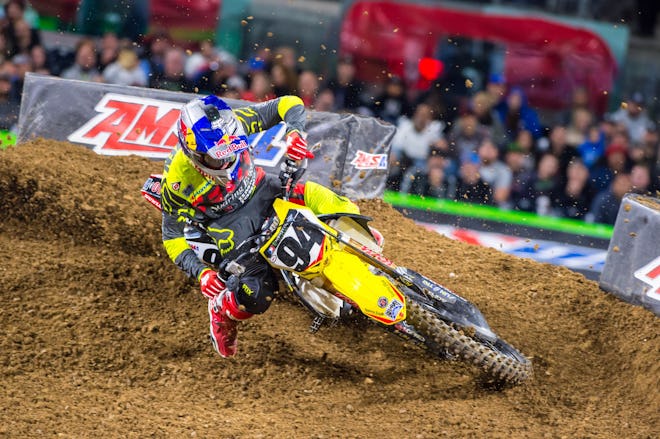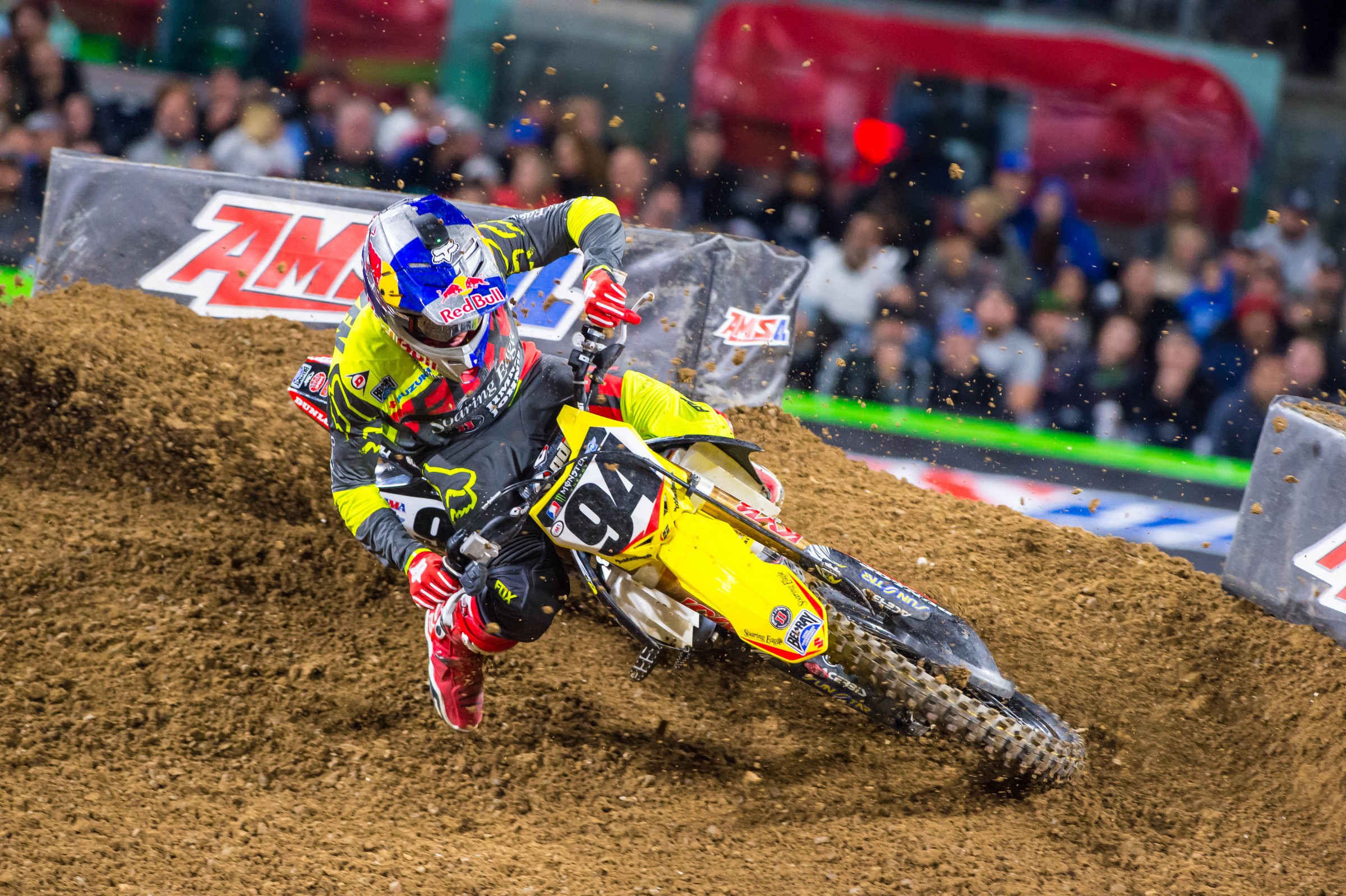 Winning Man
Second-place Ken Roczen still has a long way to go (21 points, to be exact) to catch Ryan Dungey, but he took a step in the right direction by getting his first win of the season last week. Trouble is, Dungey is riding better than ever, and nobody is going to break off big chunks of his lead at any given time. That means Roczen is going to have to win a whole lot more races this season to pose a serious threat to our current leader. We'll see if he can maintain his current trajectory this weekend.
Betting Man
Sometimes it can be tough to know when you should ride through an injury or to take time off to let it heal. If you're Justin Bogle, who only has a one-year contract with GEICO Honda and no doubt wants to use every opportunity he has to audition for a good ride for 2017, the decision to sit out the last three races (after racing the first two) to let a foot broken during the preseason get back to 100 percent couldn't have been easy. Bogle's no slouch, but he's likely not going into Saturday with a win on his mind. Expect him to ease back into the swing of things this weekend.
Red Man
Bogle isn't the only Honda rider who's missed races lately due to injury—Trey Canard missed Oakland and Phoenix due to a cut hand that required stitches. He considered racing last week, but after riding press day it was clear the wise choice was to wait until he regained enough strength in his hand to race safely. Fortunately that happened sooner than later, and Canard is scheduled to line up in San Diego. He hasn't missed much time, but he's also coming off a pulled groin. If he lines up he'll be solid, as Trey won in this building last year, but after missing a few weeks, a win probably isn't in the cards.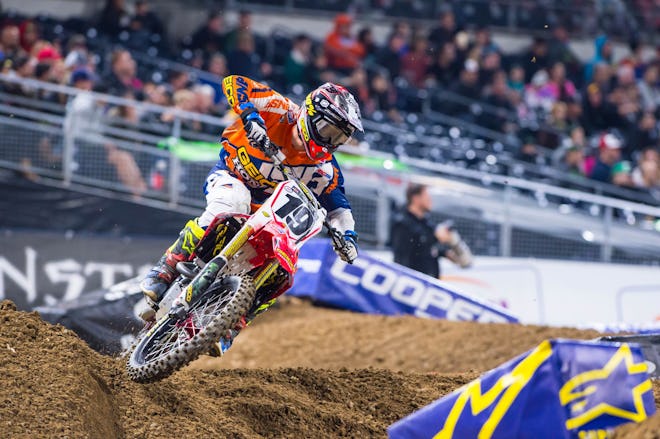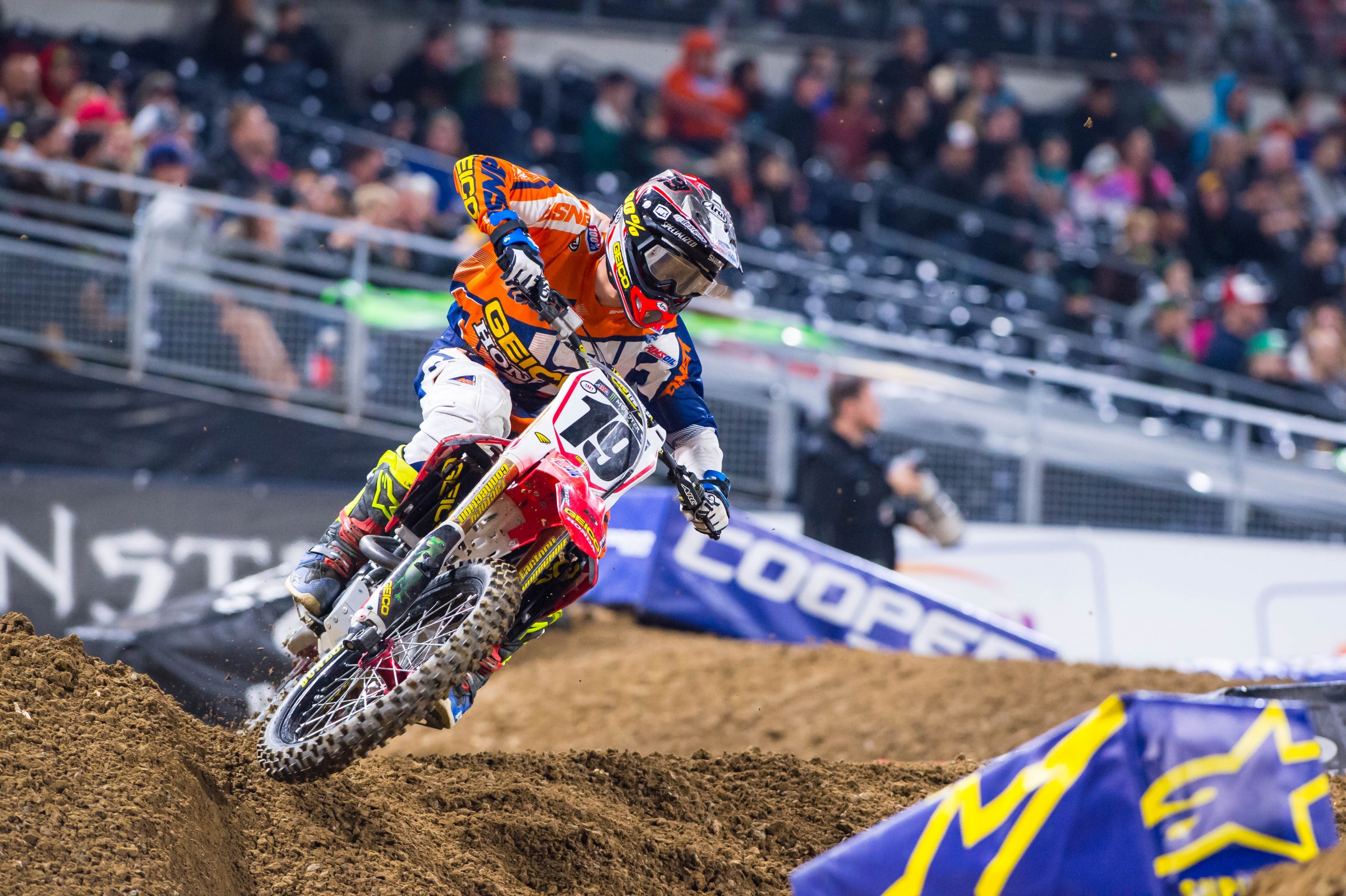 Method Man
The method of aggressively getting to the front early, pulling a big gap in the opening laps, and managing the lead for the remainder of the race isn't new, but it's not something we've seen Ryan Dungey do regularly until this season. He finally didn't get the start in Glendale and it cost him dearly. When Dungey executes properly, his methods are deadly, and unless the contenders like losing, it's imperative they prevent Dungey from establishing a lead in the early stages of the race.
The Old Man
Thirty-three-year-old Chad Reed is definitely the oldest rider on the track, but you'd never know it just by looking at his results. He's podiumed twice, hasn't finished outside the top six, and sits fourth in points. Those are some pretty good numbers no matter what it says on your birth certificate! You know it's only a matter of time before he wins one of these things, and with the race taking place in San Diego, a town that historically has been very good to him, Reed just might find the top of the box on Saturday night.
Blake Baggett returned to action in Oakland after breaking his scapula, collarbone, and a few ribs in the pre-season, and then ended up going down and landing on the same shoulder he had surgically repaired. The result was a deep bruise and another missed race in Glendale. Thankfully he's back for San Diego, and while he probably isn't focusing on getting the win just yet, we're hearing he was going very fast and setting some personal records before Oakland. Expect him to be solid on Saturday night.