10 Things to Watch: Spring Creek
USA MX 2014
www.racerxonl;ine.com By Aaron Hansel, Chase Stallo, and Jason Weigandt
Click here for the Spring Creek Millville animated track map.
Home Team
If your name is Ryan Dungey, Alex Martin, or Jeremy Martin, you've got to be happy about the weekend's venue. Spring Creek is owned by the Martin family, and Dungey is from Belle Plaine, just under two hours away (the Dunge raced there plenty in his younger days). If there's a home field advantage to be had it's undoubtedly theirs. Both Dungey and Jeremy are in the thick of title fights, too. Will they be closer to, or farther from, National Championships at the end of the day? - Aaron Hansel
Launch Failure
News flash: Blake Baggett is not good off the line. The Monster Energy/Pro Circuit Kawasaki ace can't buy holeshots, which is absolutely costing him points. Last week he was extremely fast, but had trouble getting through traffic in the first moto. By the time he'd caught up to Jeremy Martin and Jason Anderson up front, the checkered flag was out. If he wants to beat Martin in his own back yard (literally), he's going to have to get off the gate better. -Hansel
Multiple Personalities
Every National track has a few features that make it unique. Spring Creek is full of many different types of terrain, making it both unique and dangerous. Hardpack? Yeah it's got that. Treacherous sand whoops? Yup. And we can't forget the big, steep uphill and downhill sections, off-camber turns, and huge jumps either. Throw in a right-handed first turn and you've got yourself a track that throws all sorts of curveballs at riders and teams trying to dial in a winning setup. -Hansel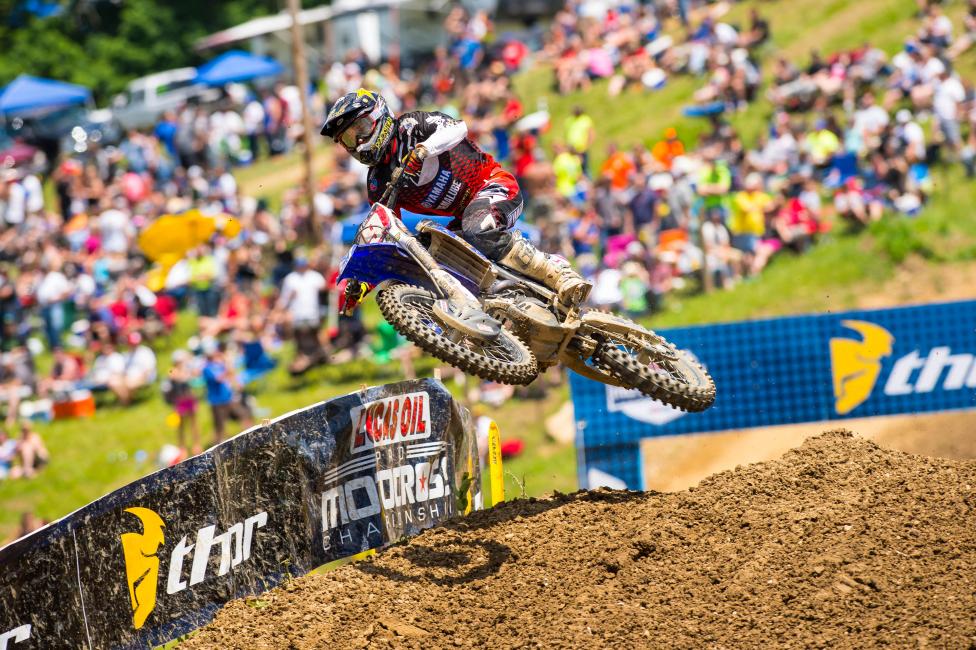 Can home cooking help Martin open up an even bigger points lead this weekend?Photo: Simon Cudby
Ken Roczen
Big race for Ken Roczen this weekend. The German has been amazingly strong this season, but he's also got a history of second-half fades. Worse yet, Spring Creek is the track that pretty much took him out of the 250 National Championship last year, when he went down hard in the sand whoops and DNF'd. Will the track bite him again, or will he get it done like he's been doing for most of the year? -Hansel
Tuck Job
Who knew all Jason Anderson had to do to win a moto was to keep his jersey tucked in? Before the first moto at Budds Creek, Anderson had not even led a lap at a National, but after his jersey stayed tucked in last week, he led fifteen of them, including the all-important final lap. Coincidence? Most likely. But we'll be keeping an eye on Anderson's tuck job this weekend! -Hansel
The Fever Has Cooled
It's been a tale of two seasons for Lucas Oil/Troy Lee Designs Honda's Malcolm Stewart. Through three rounds, Stewart had six top tens in six motos. Since that time, he has had just three. The telling stat, though, is this: he has three finishes outside the top thirty. Stewart is now hanging on for dear life for tenth in points—the ultra hot Eli Tomac is just ten back. Can Mookie turn it around this weekend in Millville? – Chase Stallo
[Update 2:35 p.m Eastern: Lucas Oil/TLD has announced that Malcolm will miss Millville this weekend.]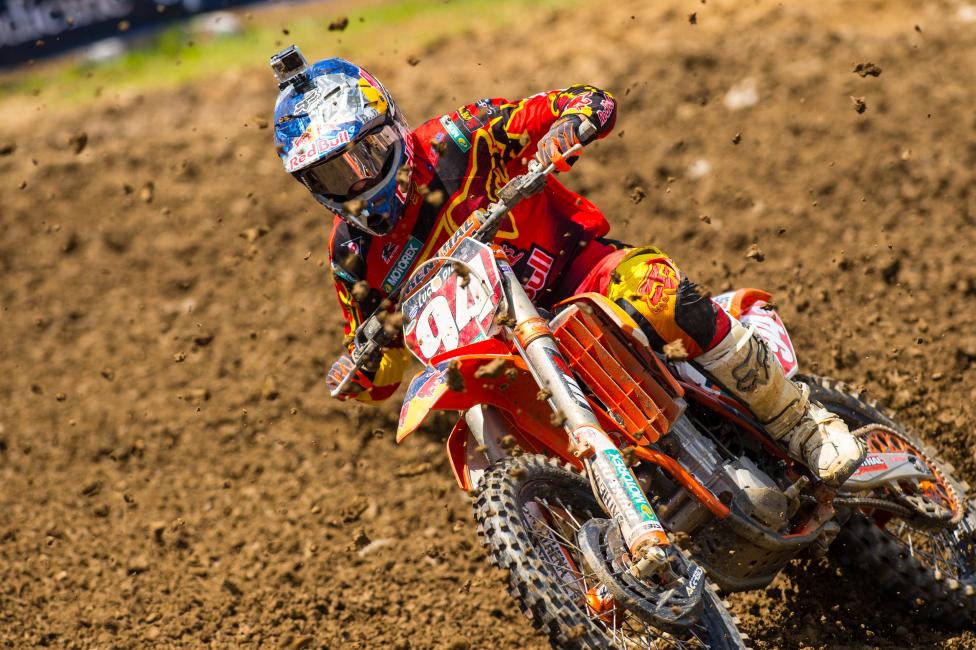 Millville really hurt Kenny last year. Will he feel better this time?Photo: Simon Cudby
The Trio
Following his first completed (he got injured at Glen Helen) Lucas Oil Pro Motocross race of his career at Muddy Creek, Yamalube/Star Racing Yamaha's Anthony Rodriguez told Racer X, "To be honest I had to cut myself down a little bit." The Venezuelan had the sheer speed, but was unable to harness it. Since his return, A-Rod has pumped the brakes a bit and enjoyed consistent results— 13-9-15-13-9-10. His first career top ten overall last weekend at Budds Creek gave Star three riders inside the top ten—four for Yamaha when you include Christophe Pourcel. After years of being the red headed stepchild to GEICO and Pro Circuit, Star is becoming a formidable threat to their reign with their three young stars. Will they enjoy another banner weekend in Minnesota? - Stallo
Back to the Front
Even a nagging back injury couldn't stop Eli Tomac from rolling to a third straight podium at Budds Creek. "Momentum and confidence is everything. I think I'm on it right now," he said in a team release earlier this week. Tomac will play a pivotal role down the stretch. At some point, with nothing to lose, he could take points away from Ken Roczen or Ryan Dungey in their sprint to the title. Will he do it this weekend? – Stallo
Where's the Beef?
A multitude of injuries in 2014 have impeded BTOSports KTM's Matt Goerke. It's a crucial time for Goerke, who is rumored to be looking for a 2015 ride. He came alive at Budds Creek with a hard fought tenth overall, and stated after the race that he "rode better than his results." Will it translate to good performance this weekend? - Stallo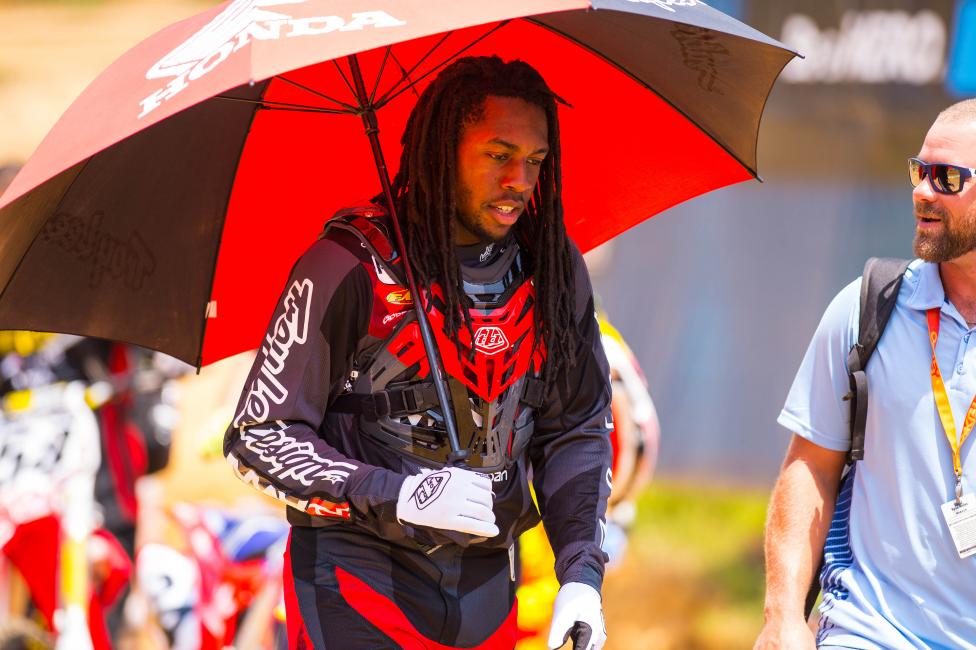 Mookie started the season with solid consistency, but the last few rounds have been rough. Will he bounce back?Photo: Simon Cudby
Spiral Webb
Entering RedBud, Cooper Webb trailed teammate Jeremy Martin by just 8 points. Two rounds later, Martin is 33 points clear of Webb. With Martin's home race next on the schedule, it's going to be tough for Webb to stop the bleeding this weekend. If Webb were able to find a way to win Saturday, it could boost his confidence for the stretch run. Can Webb spin out of his downward spiral this weekend? - Stallo
Bonus! New Section
The Martin family has been working hard to revise a section of the Spring Creek track. After clearing trees and brush for over a year, the big, steep down and uphill section in the center of the track climbs much higher, all the way up to the ridgeline. We'd guess that's probably 25 percent higher than before. Now this up and down can rival Glen Helen's Mt. St. Helen, and give the riders an even bigger challenge than before. – Jason Weigandt