10 Things to Watch: Toronto
USA Supercross 2014
Click here for the animated track map
Just Win, Baby
If James Stewart's shot at a championship was a long one before Daytona, it became all but impossible after his header pipe was smashed by Mike Alessi's downed bike. Then, Stewart came out and soundly stomped everyone in Detroit. James really had nothing left to do but try to win as many races as possible. Could he break that tie for second all-time in career SX wins as soon as this weekend? – Aaron Hansel
Legit
You can only blame mistakes from other riders for so long before admitting that Adam Cianciarulo is simply a bad dude on a bike. Sure, he's benefitted from crashes from Martin Davalos, but being in a position to capitalize is a big part of a successful championship run. And when he hasn't won, his worst finish has been second place! At this point we have no choice but to expect more of the same this weekend in Toronto. -Hansel
Green Streak
In case you hadn't noticed, Monster Energy/Pro Circuit Kawasaki has been killing it out East this year. They've won every main event and are responsible for 80 percent of the podiums. In fact, the only non-PC rider to podium is Justin Bogle, who has a pair of thirds to go with his second place in Detroit. Right now it seems that if anyone is going to steal a win from Pro Circuit it's going to be Bogle. Let's see if he gets it done in Toronto. -Hansel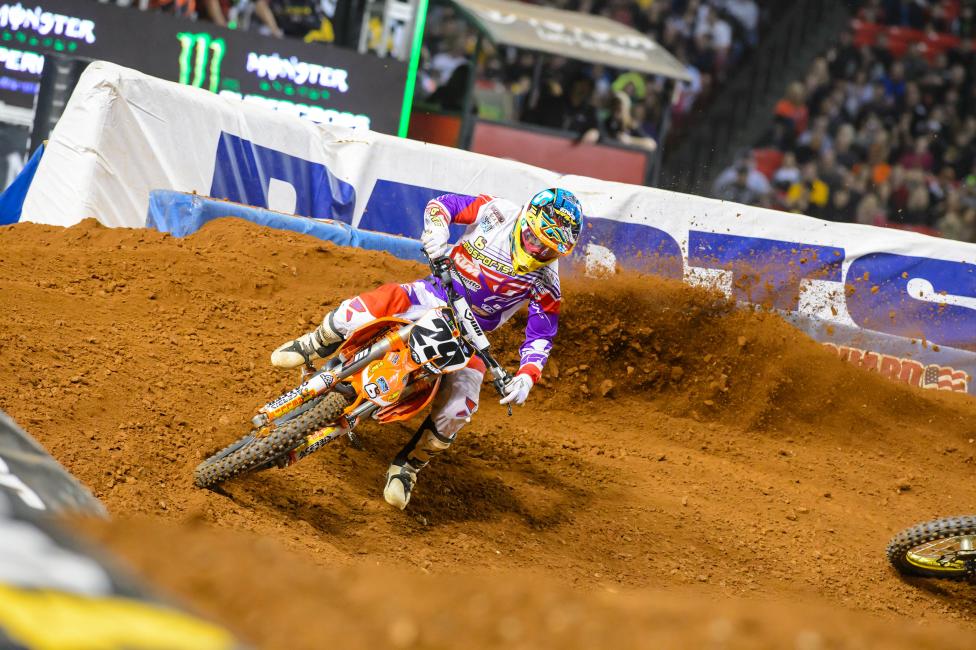 Andrew Short look to keep rolling in Toronto.
Photo: Simon Cudby

The Strong, Silent Type
What a year so far for Andrew Short, who kept his season-long streak of top-ten finishes more than alive in Detroit with a fourth place. It's the best 450SX finish ever for his BTOSports.com KTM team. Short battled hard with Cole Seely, Justin Barcia, Broc Tickle, Josh Hill, Dean Wilson and Weston Peick, beating them all without the help of any weird luck. In fact, Short even got Barcia back after the Team Honda Muscle Milk rider passed him late in the race. If he can keep this upward trend going, a podium is possible. -Hansel
Trending
Red Bull KTM's Ken Roczen has developed a trend of alternating good and bad races. He won Atlanta only to DNF at Indy, and was able to bounce back for second in Daytona, only to finish twentieth in Detroit after a rock got stuck in his rear brake. The good news? He's due for a dazzling weekend in Toronto. -Hansel
Barcia's Struggles
After a 2013 season featuring five podiums, including two wins, Honda Muscle Milk's Justin Barcia has just one podium appearance (Arlington) in 2014. His aggressive riding—sometimes valid, sometimes not—has gained more attention than his results, and talks of a sophomore slump have begun. Can Barcia turn things around as the series heads north? – Chase Stallo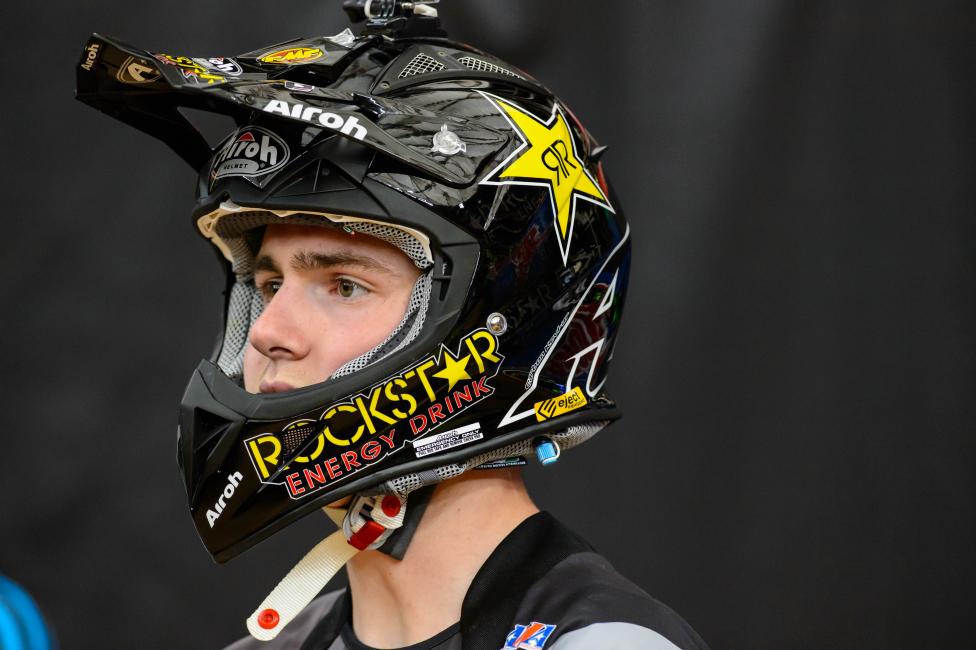 Cole Thompson is looking for a podium in his return home.
Photo: Simon Cudby

Homecoming
The actual Canadian race on the calendar is usually devoid of top Canadian riders. It doesn't really make sense for the guys who follow the motocross-only Canadian Nationals to just jump into one round of U.S.-style supercross. Canadians won't be shut out this weekend, though. Rockstar Energy KTM's Cole Thompson will return to the Motherland in hopes of capturing his first career podium in front of the home crowd. Also, Canadian moto regular David Fraser is going to give it a shot. Something to cheer for, eh. – Stallo
Down the Stretch
Severe arm pump issues have led to Dean Wilson fading down the stretch in Daytona and Detroit. No one is questioning Wilson's speed—fastest in practice in Daytona, fastest in second practice in Detroit—but for whatever reason, he just does not have 20 laps in him at the moment. Can Wilson hold on for twenty in his return to Canada? – Stallo
Under the Radar Points Battle
Sure, there is still a championship battle in play in the 250SX East Region that will garner headlines, but an under the radar a battle for sixth is one to watch. Just ten points separate sixth place Kyle Cunningham from ninth place Matt Lemoine. Cole Thompson and Jimmy Decotis are sandwiched between the two. Both Lemoine and Cunningham are coming off season highs, while a crash took Jimmy D out of podium contention in Detroit. These dudes have been mixing it up every week, who will be the best on Saturday? – Stallo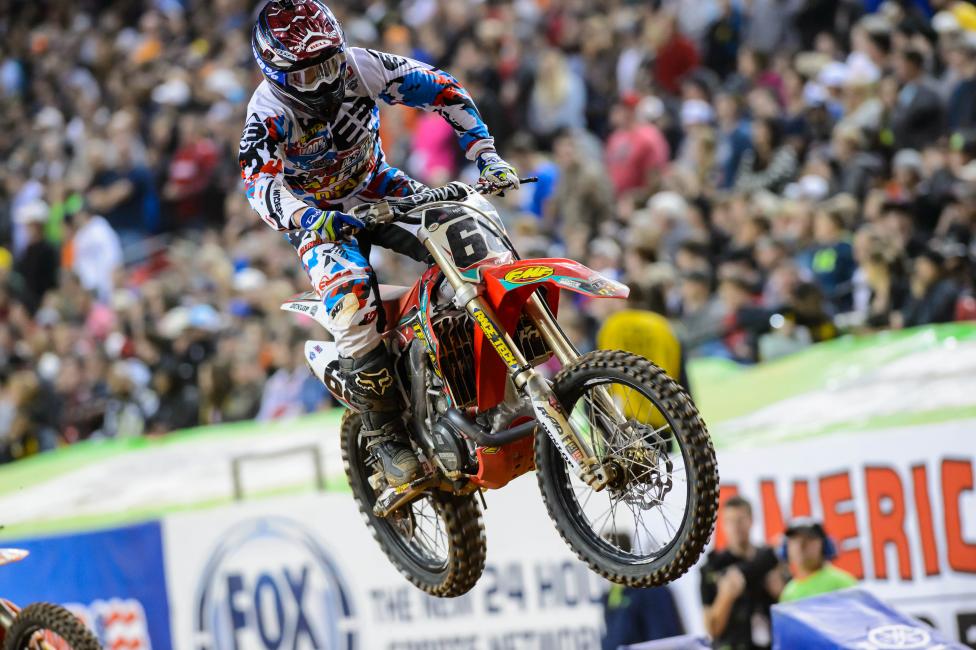 Can Chris Blose keep his main event streak going?
Photo: Simon Cudby

On the Move
Dirt Candy Graphic's backed privateer Ronnie Stewart has now gone from not making any mains this season to making the last three in a row. Testa Motorsports, N-FAB backed Chris Blose made two of the first four races, but now has seven straight. Weston Peick bounced back from a few bad weeks for a solid seventh in Detroit. Broc Tickle and Josh Hill are much better than they were early in the season on their Soaring Eagle RCH Suzukis. Can these boys keep it going? – Jason Weigandt
Bonus! Dirt Talk
We've now learned the new secret to track conditions in Monster Energy Supercross—study the events that took place in the stadium leading up to the event. In Indy, the NFL combine stayed in Lucas Oil Stadium until Tuesday, leaving a short amount of time to get the wet, cold supercross dirt into the building. It was still wet on Saturday, which led to crazy ruts. In Detroit, the dirt sat in the building for over as week, as Monster Jam visited Ford Field on the previous weekend. The dirt was hard and dry as a result.
What about the Rogers Centre? A Feld Entertainment production just wrapped up, but it's way different than supercross—it's Disney on Ice's Let's Party! Now, I personally went to see this show a few months ago with my daughter when it came to our town, she especially liked the part where Mickey Mouse had to battle the cast of villains on Halloween … wait, where was I? Oh yeah, the show wrapped on Sunday so supercross gets a regular schedule of dirt storage and maintenance. If Indy was too soft and Detroit was too dry, Toronto could be just right. – Weigandt