15 Things to Watch For: Atlanta 2
USA Supercross 2015
Click here for the animated track map
Monster Energy Supercross is back in the Georgia Dome for the second straight weekend, but this one has a twist: it's a retro night. Lots of teams and gear brands getting in on the act, stay tuned to our Instapics to get the flavor of the event. Or, just find that buddy of yours that's "stuck in the 80's" and set him loose. There's a nice variety going here, Yamaha, for example, telling the JGR men to go 1990 style white/red on their 450s, the Star Racing squad to go late 1970s early 1980s yellow/black, and the Rock River team the even older early '70s red/white. Chad Reed and Josh Grant have mid-90's Kawasaki graphics, Blake Baggett is way old-school on his Suzuki....we'll let the pictures tell the story but suffice to say there's more retro participation here than at the last few of these throwback events.
Hey and the track has an old-school element with the over/under bridge, and a generally tighter layout than last week. The whoops are super gnarly, there's a cool sand turn section after the bridge, and four solid 180 degree bowl berms to do some passing. The dirt also was pretty wet this morning, more so than last week's very dry surface, but most think it will end up about the same once the night show begins.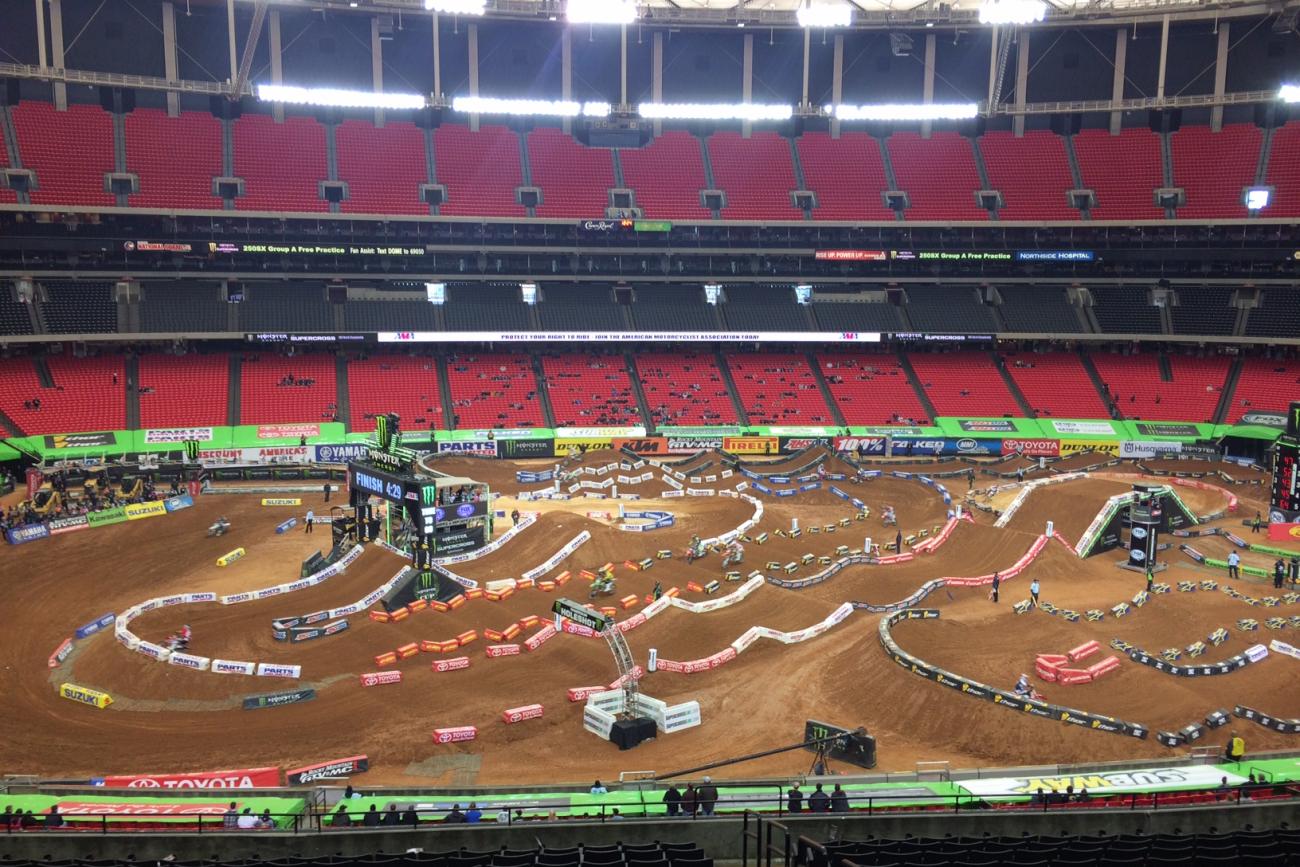 As for the racers part, Chad Reed is riding the momentum from his win last weekend. He looked frisky in the untimed practice--which although not timed officially, he was second fastest in it. That's good for Reed, who is never a highlight guy during practice. The usual players like Eli Tomac, Ryan Dungey and Trey Canard were quick, too. With Dungey holding a 25-point lead in the championship, it's go time for anyone looking to stay alive in the championship. They need to beat Dungey consistently, which is a tall order the way he's riding right now.
By Aaron Hansel and Chase Stallo
Eli's Escapades
It's hard to believe the rider who trounced the field five races ago in Phoenix hasn't won since, but that's exactly what's happened. In fact, the closest Eli Tomac has been was a pair of thirds at A2 and A3. That doesn't mean his nights have been uneventful—he's crashed a few times and has had several encounters with Chad Reed, the latest leaving Reed on the ground when Tomac, in his own words, gave "him a little bit of love back" in Arlington. We'll see if Tomac crashes, wins, or gets together with Reed again in Atlanta. –Aaron Hansel
Happy Hour
Has Ryan Dungey found his happy place aboard his KTM? It certainly looks that way. The Red Bull KTM rider leads Ken Roczen by 12 points, has been on the podium at every race except the opener (where he finished fourth), and has won two of the last three. The latest win was literally perfect—Dungey holeshot and led every single lap! Dungey has a habit of getting stronger as the season progresses, so if you're Eli Tomac, Trey Canard, or Roczen, you need to figure out a way to throw some sugar in The Diesel's tank, starting in Atlanta. –Hansel
Perfect to the Second Power
Dungey wasn't the only rider to log a perfect night in Arlington. Teammate Marvin Musquin provided the first half of the Red Bull KTM sweep by holeshotting and leading every single lap after missing every supercross race of 2014 with injury. One win does not make a championship, but Musquin looked damned fast in Arlington and it's hard not to think that the win isn't the first of many this season. Let's see if he makes it two in a row this weekend. –Hansel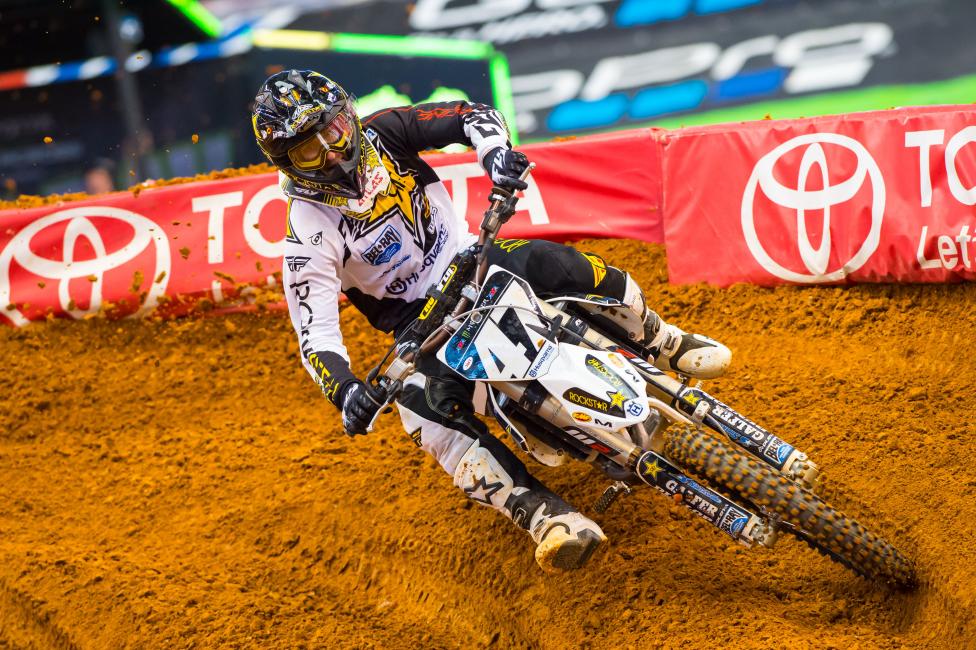 Beginner's Luck
Unfortunately for Arnaud Tonus, we're not talking about the good kind here. After battling for the fastest time during qualifying with Marvin Musquin, the Monster Energy/Pro Circuit Kawasaki rider was claimed in a chain reaction that started when Martin Davalos went down early in the 250SX main. He still managed to claw his way back to eighth, which all things considered, isn't too bad. We'll see if he can avoid carnage and do better in Atlanta. –Hansel
Martin Davalos
Tough night for Martin Davalos, who was very much on the championship radar coming into the season. Unfortunately a crash two turns into the main translated into a ninth-place finish and a 13-point deficit for Davalos. His championship hopes aren't gone, but with only eight more races left to earn points he's going to have to start clicking off wins if he wants to keep it that way. -Hansel
New Digs
You have to rewind all the way back to 2012 to find the last time Cole Seely raced in Atlanta. In fact, his sixth that year as a fill-in at Honda was the only time he's raced there. But it was a memorable ride, as the then 450SX fill-in holeshot and led for a bit. "It's been a while since I've been to Atlanta, but I always look forward to it," said Seely in a team statement. "The stadium is so big and is usually sold out. That makes the racing really fun when the fans get into it." Atlanta, like Dallas a week ago, features a long start—which Seely struggled with last weekend. "I didn't get the greatest start last week on our first longer start, and this start is long again," he said. "So I need to make sure I'm up there battling and try to make it to the main event from the heat [race]." How will Seely do in his return to the ATL? – Chase Stallo
Success Down South
Although his track record isn't long in Atlanta, GEICO Honda's Justin Bogle has enjoyed success. He recorded his first career podium there in 2012, and followed it with another podium last year. (He missed all of 2013.) "For whatever reason, I just ride real well there, so to have two races is perfect for me," he said in a team statement. Although Bogle, coming off off-season surgery, was a tick off Marvin Musquin at the opener he said he's sticking to his plan. "Me and my trainer, Ryan Federow, laid out a plan for the season and we're going to stick to that plan. We know nothing will be given to us and that everyone will be taking their shots to take that #1 plate. We wouldn't want it any other way." Can Bogle pull even with Musquin this weekend? – Stallo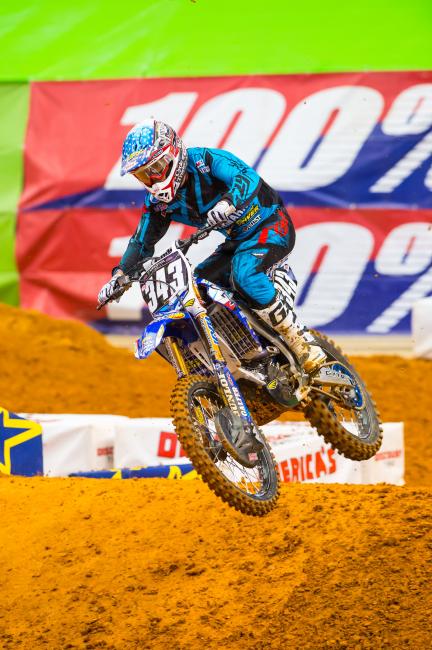 Hill of a Time
It's been an adventurous road getting to the main event for Josh Hill this year. While his qualifying times have been there—14-9-10-13 the last four rounds—he's only made three of seven main events. "Even though I didn't make the main events for a couple weekends, it wasn't because I didn't belong in them; I just had little things that were happening—I keep crashing in the qualifiers, I got caught in a first turn pileup in the LCQ and in Oakland I just got a terrible start in the LCQ and just ran out of time," he told us recently. With a few weeks of testing under his belt with his new team—CycleTrader.com/Rock River Yamaha—can Hill make life easier on himself this weekend? – Stallo
Rookies Shine
Nerves aside, the 2015 rookie class made quite an impression at the opener. Five, very nearly six (Nick Gaines crashed leading the LCQ), rookies—Luke Renzland, Dakota Alix, RJ Hampshire, Colt Nichols, and Arnaud Tonus—made the main event last Saturday. That's probably some kind of record or something. Or not. Either way, it's an impressive feat. Hampshire led the way last week with a seventh; can another rookie take top honors this week? – Stallo
Peick Pain
Weston Peick has been fast all year, but he hurt his foot in Phoenix and missed a month, then came back faster again last weekend only to tear the MCL in his knee in a first turn crash. The ever-tough Peick rode this week and declared the knee good to go, so he's racing Atlanta. Peick's displayed podium speed this year. If he can keep the bad luck away, he's going to be in the mix at the front of the pack this weekend. –Jason Weigandt
Bonus:
Back in the Winners' Circle?
After winning two of the first three rounds, Ken Roczen has gone winless. It's hard to tell how much his Oakland crash affected him—Roczen told our Steve Matthes this after A3: "I had never made a mistake and then there was that dumb one brain fart. But it is what it is. I'm just trying to come back from that, really. Trying to get confidence back." He's gone 4-2-2 since, so it's not like he's been terrible, but he hasn't won either. Roczen recently pointed to his starts in a team statement. "With the exception of Oakland, we've had really good results. Starts and holeshots have played such a big part in the outcome of these races that we know getting out of the starting gate third or fourth isn't going to work." Can Roczen get his third win of the season and cut into Ryan Dungey's point lead? - Stallo