That dream was finally realised after 45 years of trying when he won the Australian 250 Post Classic Historical Championship last month. Keenan, 65, never wavered from his lifetime goal, despite numerous setbacks and some heart-breaking close finishes that saw him second on the podium five times at the Australian nationals.
But even more remarkable is how Keenan won the title on the same Yamaha TD2 250 bike he bought brand new in Tauranga in 1970 when he was 20.
"I won quite often at Baypark, being my local race track, but never a title. Still racing the TD2 Yamaha, I returned to Aussie and by the time classic racing had started I was in with a second chance.
"I won the Queensland title in 1996, winning all classes in the post classic races and beating bigger bikes on my Yamaha TD2 250, but a national title is what I was after. I contested the Australian Championships for many years and came second five times. Always someone else would take it, but I just kept at it."
Last month at Mallala in South Australia, Keenan struck glory at last. He had three straight wins in the heats which gave him the Australian Championship for 2015.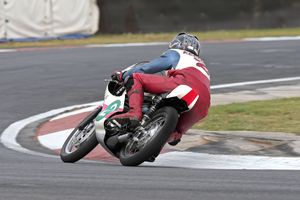 News of Keenan's lifetime loyalty reached Yamaha's head office in Japan.
At last year's nationals held at Lakeside Park, Queensland, Yamaha Japan acknowledged his achievement in racing the same TD2 bike for 44 years. They sent a representative to Australia to present him with a Team Factory Yamaha Racing shirt signed by Valentino Rossi and Jorge Lorenzo, and a certificate stating his unique achievement. It is hard to think of anyone who deserves the accolade more than Dave Keenan, who would never settle for second best.
Photos: Dave Keenan on his way to winning the Australian 250 Post Classic Historical Championship last month. Photo/Russell Tovey