Arlington Race Report
US Supercross 2016
The Dallas Supercross offered up what fans have wanted to see all season long—an epic slugfest for the win between two trained, prepared, fast and fierce combatents. Soaring Eagle/Jimmy John's RCH Suzuki's Ken Roczen and Red Bull KTM's Ryan Dungey squared off toe-to-toe for twenty laps, gating 1-2 off the line and chasing each other around the tight, twisting Texas track. In the end, Roczen came out on top, a huge win because it shakes the aura of invincibility Dungey was beginning to build. Even in Kenny's previous win a few weeks ago in Phoenix, Dungey had gotten a bad start, and Kenny gave Dungey credit for closing in on him a bit. This time it was a duel the whole way. Kenny got the early lead, Dungey passed him, Kenny came back, and then led Dungey the whole way to the checkers. Kenny is still down a full 23 points, but this win was certainly significant.
Just last week Kenny said he wasn't comfortable and struggled a bit in route to a third. What changed? He says a few bike changes made the bike feel more balanced, but mostly he just felt positive and confident, and he carried those vibes around all day. This is all proof, again, of how mental this sport is. But will it make any difference to Dungey, who has been bulletproof lately? We'll see over the next few weeks.
Dungey rode well as usual, by the way, for the close runner-up finish. This is 23-straight podiums for Dungey. The all-time record is 25, held by Chad Reed. Also, Roczen and Dungey topped the rest of the field by nearly twenty seconds.
That third place, some 19 seconds back, went to Rockstar Energy Husqvarna's Jason Anderson, who finally made some gains with his starts. He told us everyone has been asking him about them all the way up to the head of Husqvarna! He started well in his heat, getting off right behind Mike Alessi and then taking the lead and the win. Anderson told us he normally screws up his heats, so he was happy to get this one. His main event start was better than usual-about fifth—and he pulled up to fourth behind Cole Seely. Anderson eventually got Seely but by then Roczen and Dungey were gone.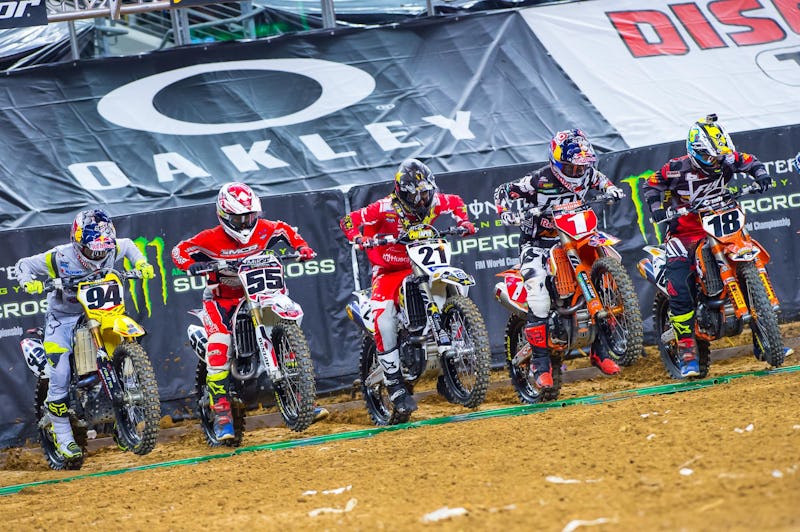 Honda HRC's Seely started slowly during the night, having to go to the semi to make the main. But he gated well in the main and held third for the first half of the race. The track was rough and according to his team, Seely's shoulder started to get weak and when Anderson caught him, he couldn't put up much of a fight. Seely had shoulder surgery during the off-season.
Eli Tomac was fifth on his Monster Energy Kawasaki. That probably sounds okay but he wasn't his normal speedy self, as Seely and Anderson got away from him after they were close early in the race. He ended up about eight seconds back of Anderson.
Oh Marvin Musquin. What could have been! The Frenchman loved the track and was fastest in the first timed practice session, and second to Dungey in the second one. But in the main Tomac bumped him in turn one, and Marvin got up in last. He rode incredible after that, passing up to sixth on a track that wasn't easy to pass on. Impressive. Another Frenchman rode well. Christophe Pourcel told us early in the year that it would take about seven races to get back in the groove after missing six seasons of supercross. At round seven, he rode much better than he has at any time this year, fighting for positions and holding on for eighth, his first top ten.
Davi Millsaps told us he hurt his thumb a little bit in a crash last week, but it didn't seem to impact the BTOSports.com KTM rider much. He was aggressive in the main and took seventh.
It was a forgettable day for Chad Reed and Trey Canard. Reed was well off the pace in practice and not much of a factor during the race. Canard crashed while coming through traffic and had to settled for tenth.
Justin Bogle caught some headlines in his second race back from a broken foot. He started third and ran up front early in the main, then fell into a huge battle. Vince Friese made a mistake and came off his SmarTop MotoConcepts machine and it launched into Bogle, taking them both down. Considering Friese's rep for rough passes, Bogle thought it was a takeout, and tempers got heated. We heard Friese even paid a visit to Bogle's GEICO Honda truck when it was over.
The GEICO truck was also the center of some drama in the 250 class. Christian Craig was leading the race just in front of points leader Joey Savatgy. Craig moved over in the whoops and took Savatgy down. Savatgy had already left the track by the time we got to his Monster Energy/Pro Circuit Kawasaki rig, but his team owner Mitch Payton wasn't happy. Savatgy got up in last and finished tenth, handing over the points lead. Craig said he was just trying to protect the inside for the corner ahead, and called it a racing incident.
Once Savatgy was down, Craig was free to lead, but Cooper Webb was never too far away. Then Craig made a few mistakes, Webb was on him and then around. This was a huge swing for Webb, who had lost the points lead due to a mechanical and two weeks of small crashes. Webb now carries an 11 point lead as the 250SX Western Region goes into a break. Webb was far from his old dominant self, though, as Savatgy was fastest in qualifying, and Webb even got stuck in the gate in his heat and finished sixth. Things were not trending in the right direction for him, but this really helps stop the bleeding.
450 MAIN
Roczen grabbed the holeshot, much needed in a season with sub-par starts for him. But the new "I make moves on the first lap" Ryan Dungey was right there to make a move on the first lap, putting heat on Roczen and then making the pass. Roczen struck back immediately to repass Dungey for the lead, and the battle was on. For 18 laps, Dungey stayed within 1.5 seconds, and at times rolled right onto Roczen's rear tire. It was close, it was a battle, Dungey put serious heat on, but Roczen never faltered, even through thick lapped traffic. Roczen scored his sixth career win, and this one was big.
"This track was tricky, some of the spots were slick, some were tacky, and the ruts, if you tried to square up early it would slow you down," said Roczen. "Ryan rode great."
Dungey took second, while Jason Anderson managed to slip past Cole Seely late to get the podium. Seely and Eli Tomac rounded out the top five. Marvin Musquin was fast all day, but like Joey Savatgy in the 250s, was struck by the racing Gods, and Eli Tomac, in turn one and ended up down and in last. He rode very well, coming all the way back for sixth. Millsaps was seventh, Christophe Pourcel, who said he would be better at round seven, indeed was with his first top ten of the season. He held off Chad Reed. Trey Canard went down while in front of Pourcel, and picked himself up to get tenth.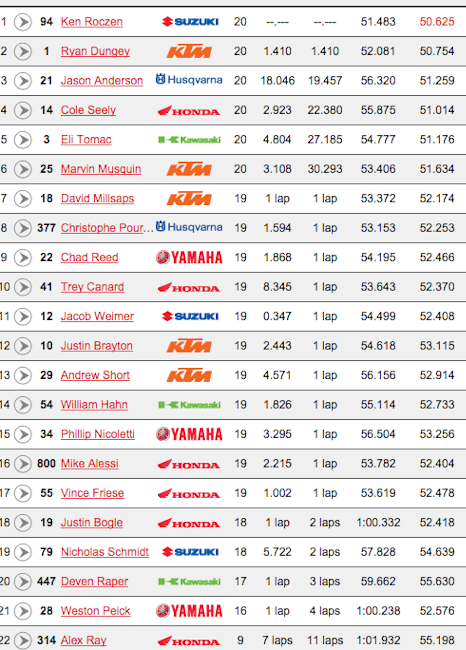 250 MAIN
As we said earlier, everything was rolling for Joey Savatgy today. He was fastest in both timed practices, he holeshot and won his heat. He held the points lead. But racing has a strange ways of treating riders just when it appears to be their night, and that strange racing luck zapped Savatgy—and his series points lead—this time.
Christian Craig just edged out Savatgy for the lead off the start, and on the second lap they were battling through the whoops. In the whoops, Craig moved to his left, ran right into Savatgy, and Savatgy went down violently. The discussion over if this was dirty or not will go on for quite some time—Craig could have simply miscalculated, he could have made a mistake, or maybe he was just trying to block Savatgy in a terrible spot to do it. Either way, it has a huge impact on the championship. The collision that Craig started resulted in a disaster for Savatgy, who got up in last but was lucky to get away unhurt. Cooper Webb hopped over Savatgy's head in the whoops.
Craig held steady in the lead for quite some time, with Webb circulating about two seconds back for most of the race. Zach Osborne was close behind in third at one point. By lap ten, Webb started closing the gap on Craig, and then Craig made a bunch of bobbles on one lap, and suddenly Webb was on him. Webb wasted no time, slicing inside in the next turn, sealing Craig off, and taking the lead. From there, he went on to a pressure-reducing win. Savatgy fought back valiantly to get to tenth, but that's 14 points less than Webb's win, giving Webb an 11-point edge (unofficially) as the 250SX West Region heads into a break.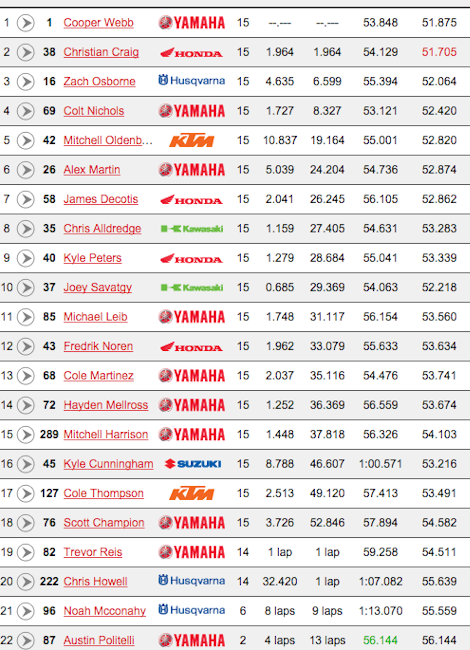 HEATS
450 Heat 2: At round two of this series, back in January, Christophe Pourcel told us he would start to ride well at round seven. Tonight is round seven. And? Filthy Phil Nicoletti the holeshot, but Pourcel got a good start and moved around him to take the lead. Soon Ken Roczen and Ryan Dungey showed up to challenge him, but Pourcel, showing much more fight than he had at any race previously, battled tooth and nail to hold the spot. Roczen eventually got through in a bowl berm, and the Soaring Eagle/Jimmy John's RCH Suzuki man pulled through to grab the heat race win. Dungey tried to get Pourcel, but the Frenchman held him at bay. Meanwhile Nicoletti was trying to hang on for the final transfer spot, but Vince Friese made the move late to take it. Between Alessi and Friese, the SmarTop MotoConcepts team is on it tonight.
450 heat 1: Mike Alessi's starts are back! Another holeshot, but Jason Anderson got a rare good start and challenged him for the lead on lap one. Anderson got around, but Alessi held strong, seriously strong, in second, as Justin Brayton and Eli Tomac were battling hard for third but not making up a ton of ground. Finally Tomac started to pick it up once he cleared Brayton and made a run at Alessi, but then Tomac crashed! Davi Millsaps and Trey Canard got around Brayton to get to third and fourth, and battled right to the end. That wrapped up the qualifying spots--Anderson, Alessi, Millsaps and Canard. Tough break for Tomac and also Marvin Musquin, who was fast in practice but went down in this heat. They're both semi bound. As for Anderson, he's been struggling bad with his starts and has to feel good about gating well in this one, and also giving himself a good gate pick for the main.
"We've been working on a few things and making a few bike changes (for the starts) but mostly it's about me just pulling my head out of my butt and actually making it happen," said Anderson.
250 Heat 1: How are things trending for Cooper Webb right now? He got stuck in the gate in this one and had to come back from last. Meanwhile Chris All-Dr-Edge took the early lead, only to be passed by Zach Osborne, who went on to take the heat race win. Zach told us he gets 5k from the Rockstar Energy Husqvarna team per heat race win. Nice! Colt Nichols pulled through for second, Alldredge was third. Webb put together a strong charge to get sixth, but he'll be working with a bad gate pick for the main.
250 Heat 2: Joey Savatgy is rolling tonight. Fastest in practice, holeshot in this heat, and then a win as well. Plus he had a real challenge with Christian Craig starting right behind him and trying to make a quick pass, but Savatgy pulled away on his Monster Energy/Pro Circuit Kawasaki to snag it. Craig was second—right now it's all Savatgy, which can be a weird situation. Sometimes when it appears to be your night, it puts the pressure on and things fall apart. Other times, well, when you're hot you're hot. We'll see later tonight.
Second practices
Ryan Dungey stands for truth, justice and honor. In both timed sessions, riders were cutting inside in the final turn so they could get to the base of the finish and trip the timing transponder as quickly as possible. They could not jump the finish if they did this, so their next lap was ruined. This line will not be used in the actual races, but gate picks are critical, so riders are using it to get a good qualifying lap. Marvin Musquin's mechanic Frank Latham told us it's worth about a half second, and Musquin used it to top the first qualifying session.
Perhaps the only top rider not using the line was Dungey, who just clicked off laps on the real racing line. He didn't use the inside shortcut in this final session, either, but yet he went so fast he STILL ended up with the fastest time. That's a real psyche out for the rest of the riders!
Couple riders to watch here besides Dunge. Musquin was second quickest, so he's legit tonight. He looked so smooth out there. And Christophe Pourcel. Yes, Pourcel has been a practice hero all season so it's hard to get excited about his main event prospects just because he was third quickest in this final session. But, way back at San Diego 1 he told us he will show what he really has by about round seven. Well, here we are. We talked to Pourcel's mechanic and he said Christophe was pushing hard during the week and making some bike changes--he could be good tonight. But with Pourcel, you never know...
That's the good side. The bad end is Chad Reed, who was 18th and 15th in the two timed sessions. There's a double-quad-double combo that nearly all the 450 riders are using, most doing it every single lap. Reed didn't jump it until the final lap of the final session.
Davi Millsaps is also struggling a bit, he told us he hurt his thumb last weekend. We'll see if it impacts his riding in the main event.
Two cheers for Joey Savatgy, who ends up fastest in both 250 sessions today. What was interesting was how the lead group kept upping their pace as the session went on. Craig was actually fastest for a lot of the session until Savatgy logged a fast one, then Webb went fast on the last lap...but so did Savatgy! Their last laps ended up being the fastest ones, and Craig also logged his best, which was third in the session, on the last lap.
First practices
As expected, the dirt is softer and tackier than usual Dallas--the new dirt brought in for last year made a big difference. There are ruts in the corners, and riders are able to slice inside in some of the turns because they can actually find traction. Expect it to dry out and change a big by tonight, but by then some of the ruts, holes and bumps will be permanent.
One rider who seems to like it is Marvin Musquin, who held the fastest time in the untimed session (well, the times don't count for anything, but they do time the laps) until the very last lap when his Red Bull KTM teammate Ryan Dungey took the top spot away. Musquin jumped right back to the top in the second practice. The Frenchman looked very smooth and was able to use inside lines in most of the corners. Ken Roczen and Eli Tomac eventually logged some fast times and got ahead of Marvin, but then Marvin got it back to top the session.
"I really like that track," said Musquin.
There's one thing to keep in mind with these 450 times, though. The riders figured out it was faster to roll the inside of the final corner and get to the base of the finish line jump, where the transponder pickup is located. This gave them a fast time, but it also prevented them from jumping the finishline double, which made their next lap very slow. In other words, they won't be using that line in the actual races, because jumping the finish is a must. So, these times are somewhat unrealistic. You know who didn't use that inside line at all? Dungey.
There's one rhythm lane that seemed like a challenge, with a few riders quadding from a single, over a table, and then another single. But it wasn't much of a challenge in the second practice, where nearly every rider got the jump down. Notably missing from the jumper list was Chad Reed, who didn't jump it and ended up with the 18th fastest time. We'll have to keep an eye on Chad and see if he picks it up in the next session.
450 times. Dungey didn't use the inside-roll-the-finish trick to get a faster time. So he might actually be the fastest guy once they actually have to log real laps in the races and have to jump the finish.
In the 250s, Joey Savatgy came to play. He held court with the fastest time for most of the first timed session until Cooper Webb took it--two laps later Joey responded with an even faster time to take the spot back. Joey said he really liked the track, and it shows.
Morning Report
We can get two easy phrases out of the way right here. 1.) Everything is bigger in Texas. 2.) Monster Energy Supercross is headed east.
Expect to hear those cliches a lot, as the series makes its first stop outside of the Pacific time zone today, and the massive AT&T Stadium still draws your attention, even though it's now seven years old. But some recent Texas traditions have gone away. First, this event will host the 250SX West Region for the first time in awhile--it had been an East race, but the schedule addition in Foxboro, Massachusetts opened up the need for an extra West race. Also, the Dallas/Arlington/Northern Texas race was always known for dry, hard, slippery dirt. Last year some new dirt showed up, and it's tackier than the old days. Expect to even see a few ruts in corners, and while it will dry out by the night show, it won't be as slick as things used to be.
The rest of the series is the same. Ryan Dungey still dominating the 450s, Joey Savatgy holding a small lead over Cooper Webb in 250SX West.