Cairoli & Prado Carry the Torch
FIM MX World Champs 2016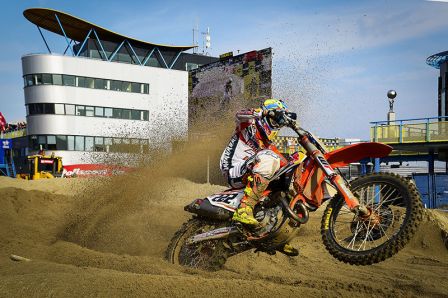 ASSEN (The Netherlands), 27 August 2016 – The MXGP of The Netherlands had an epic summer vibe to it today as that fiery ball in the sky, people normally refer to as 'the sun', lit up the clear blue skies and added a sparkle to the 25,000 tons of beach-like sand that was imported into the Dutch TT Circuit this week in order to make a world-class circuit for the sixteenth round of the FIM Motocross World Championship.
The track built here in Assen provided a new challenge, one that got the better of some of the most talented riders in the world as they struggled to come to grips, quite literally, with the super soft and shifty sand. In MXGP, Red Bull KTM Factory Racing's Antonio Cairoli reminded us why he is one of the greatest ever as he took the new surface in his stride and went pole for the third time this season. Meanwhile, the most impressive rider today wasRed Bull KTM Factory Racing's Jorge Prado, who went pole in MX2 class.
The final round of the FIM Women's Motocross World Championship also got underway today with JCR Altherm Yamaha's Courtney Duncan taking her fifth race win of the season while Team One One Four's Livia Lancelot wrapped up the title with her fourth place finish. In addition to the premier classes, the FIM Veteran's Motocross World Cup had their first race of the weekend with the defending champion Mats Nilsson taking the win.
Heading into this weekend Honda Gariboldi's Tim Gajser has a 99-point lead over Red Bull KTM Factory Racing's Antonio Cairoli. If Gajser can finish this grand prix with 1 point more than Cairoli, he will be crowned world champion. If not, the championship will live another week. With that said, the pressure is on the eight-time champ, Cairoli, to keep the championship alive, which looks pretty promising after watching him demolish the field for his third qualifying heat win of the season. It should also be said that the last two times he went pole, in Germany and in Switzerland, he went on to win the grand prix.
Experiencing déjà vu is a weird feeling, and one that quite a few people would have had to deal with this weekend when the Dutchman, Glenn Coldenhoff ripped the holeshot, just like he did last year. Maybe it has something to do with the Dutch fans because while it is his home grand prix this weekend, he hardly has a home soil advantage on a track that is made out of imported sand, and only exists seven days a year. Anyway, he rode the wheels off of his Red Bull KTM to keep Clement Desalle at bay for second place.
One of the biggest stereotypes in Europe is that Belgian's are fast in the sand. There is some truth in that statement, although two of the fastest Belgian's in the world, Monster Energy Kawasaki Racing Team's Clement Desalle and Monster Energy Yamaha Factory Racing's Jeremy Van Horebeek both say that they prefer hard-pack. Regardless of what they say, they would have fooled you today with their brilliant rides for third and fourth respectively.
Rounding out the top five was Monster Energy Kawasaki Racing Team's Jordi Tixier who is rapidly improving on the big four-fifty. As for the other guys you may have expected to be up front, Rockstar Energy Husqvarna Factory Racing's Max Nagl crashed on the opening lap with last years grand prix winner Wilvo Virus Performance KTM's Shaun Simpson right on him. Simpson had nowhere to go but right into him with Team HRC's Evgeny Bobryshev finishing them both off. Nagl managed to come home in twelfth, while Simpson put his incredible speed in the sand to good use and finished ninth. Bobby, on the other hand, pulled into pit-lane a few laps later and didn't finish the race. And on the topic of DNF's, Monster Energy Yamaha Factory Racing's Romain Febvre didn't finish either because his electric start let him down after he tagged fellow Frenchman, Tixier, in a battle for fifth and tipped over.
As for Honda Gariboldi's rookie sensation Tim Gajser, he stalled his momentum on the 'corner of Struggle Street and Victory Lane' this morning when he didn't even crack the top ten in Timed Practice. His uncharacteristic twelfth place in the timed session meant he didn't have the greatest of starts, which only saw things go from bad to worse when he buried the front in the soft sand and went over the 'bars. He didn't take too long to regroup though, and managed to salvage seventh place.
MXGP Qualifying Race Top Ten: 1. Antonio Cairoli (ITA, KTM), 24:04.630; 2. Glenn Coldenhoff (NED, KTM), +0:14.120; 3. Clement Desalle (BEL, Kawasaki), +0:14.777; 4. Jeremy Van Horebeek (BEL, Yamaha), +0:22.430; 5. Jordi Tixier (FRA, Kawasaki), +0:30.784; 6. Tanel Leok (EST, KTM), +0:34.839; 7. Tim Gajser (SLO, Honda), +0:35.474; 8. Gautier Paulin (FRA, Honda), +0:42.625; 9. Shaun Simpson (GBR, KTM), +0:44.463; 10. Jose Butron (ESP, KTM), +0:52.965
You probably would have expected this race report to start with Red Bull KTM Factory Racing, although you would never have guessed that the name that is about to follow is Jorge Prado. Yes, that's right! The fifteen-year-old Spaniard pulled a massive holeshot and led every single lap to take the checkers on his MX2 debut. It was jaw dropping.
The next question is bound to be 'what happened to Jeffrey Herlings? Well, after putting everybody to shame in the timed session, as expected in sand this deep, The Bullet got off to an 'okay' start, around fifth. He picked off a couple of guys but it was his pass on HSF Logistic Motorsport's Calvin Vlaanderen for second, that made you rub your eyes and think 'wait a minute, did that just happen?' Basically, he swapped his way through the waves but stayed hard on the throttle and just railed around the outside of him, on a hair pin turn! You don't see moves like that every day. After that epic pass, he chased his teammate, Prado, for about eight laps before his bike let go.
While Herlings had a disappointing start to his home grand prix, it was the polar opposite for the two other Dutchmen on the line, Calvin Vlaanderen and Brian Bogers. Both riders also ride for a Dutch team, HSF Logistics Motorsport KTM. Vlaanderen technically isn't Dutch. He was born in South Africa but rides with a Dutch license and lives in Holland, anyway, the Dutch fans are likely to adopt him as one of their own after his epic performance for second place in front of his teammate, and 'real' Dutchman, Bogers.
As if those results weren't crazy enough, the recently crowned European EMX250 Champion, Thomas Kjer Olsen seems to know how to keep his Bodo Scmidt Husqvarna light in the sand as he sailed to fourth place ahead of Suzuki World MX2's Jeremy Seewer.
MX2 Qualifying Race Top Ten: 1. Jorge Prado Garcia (ESP, KTM), 24:22.263; 2. Calvin Vlaanderen (NED, KTM), +0:01.111; 3. Brian Bogers (NED, KTM), +0:16.067; 4. Thomas Kjer Olsen (DEN, Husqvarna), +0:20.633; 5. Jeremy Seewer (SUI, Suzuki), +0:26.455; 6. Adam Sterry (GBR, KTM), +0:28.923; 7. Benoit Paturel (FRA, Yamaha), +0:30.657; 8. Bas Vaessen (NED, Suzuki), +0:31.500; 9. Petar Petrov (BUL, Kawasaki), +0:33.094; 10. Max Anstie (GBR, Husqvarna), +0:40.847.
Click here to obtain the complete result
All the photos of the MXGP of The Netherlands will be available HERE
MXGP of The Netherlands – QUICK FACTS
Circuit length: 1500m
Type of ground: Sand
Temperature: 29°C
Weather conditions: Sunny
MXGP will be available across the board in high definition and is also globally available to view live and in HD onMXGP-TV.com. Click here for the complete list of countries and cooperating MXGP broadcasting networks.
TIMETABLE
Sunday: VMX Warm-up 08:45; WMX Warm-up 09:00; EMX150 Race 2 09:35; MX2 Warm up 10:10; MXGP Warm up 10:30; VMX Race 2 11:00; WMX Race 2 11:50; MX2 Race 1 13:15; MXGP Race 1 14:15; MX2 Race 2 16:10; MXGP Race 2 17:10.