Cairoli & Seewer Sew Up Swiss Qualifying
FIM MX World Champs 2016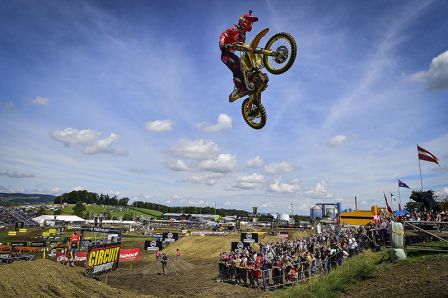 www.mxgp.com FRAUENFELD-GACHNANG (Switzerland), 06 August 2016 – The fifteenth round of the FIM Motocross World Championship has presented the best motocross riders in the world with a completely new and unique challenge this weekend at Frauenfeld-Gachnang where a purpose built track surrounded by grand stands is the battlefield provided for the MXGP of Switzerland presented by iXS.
Everything is intriguing at a new track; it's hard to choose who will excel or how the track will shape up, and that alone makes for an interesting challenge and a refreshing change. Today, thousands of fans packed into the grand stands that mill around the venue where they were treated to some excellent racing, particularly in MX2 with the hometown hero, Jeremy Seewer, lighting the candles onboard his Team Suzuki World MX2 machine for the second time on the bounce. Meanwhile, in the premier class, Red Bull KTM Factory Racing's Antonio Cairoli made a statement with his emphatic Qualifying Race win, which was also his second of the season.
In addition to the FIM Motocross World Championship, the sixth round of the FIM Women's Motocross World Championship also got underway with JCR Altherm Yamaha's Courtney Duncan returning from injury in winning style, while the final rounds of the European Championships EMX125 presented by FMF Racing, and EMX250, also took place with Sahkar KTM's Jago Geerts and Bud Racing Monster Energy Kawasaki's Darian Sanayei lighting the candles in their respective classes. Josiah Natzke took 2nd place in the EMX250.
The holeshot king is back; Marchetti Racing KTM's Jose Butron got off to a blistering start ahead of Red Bull KTM Factory Racing's Antonio Cairoli, who was quick to use that extra 100cc. Extra 100cc? Yes, after changing back to the KTM350SX-F at the MXGP of Czech Republic, the Italian legend has rolled out the 450 this weekend for the MXGP of Switzerland presented by iXS.
Behind the Italian star, Monster Energy Kawasaki Racing Team's Clement Desalle was up to old tricks as he passed Cairoli for second and then Butron for the lead. Butron struggled to run the pace, although he did put up a decent fight for the first half of the race, before dropping back to tenth.
Meanwhile, the ruts that were formed in the mud this morning had dried up nice and crispy, which made the track really technical, and tricky, conditions that suit riders like Desalle and Cairoli down to the ground. Both of the 'old dogs', that aren't really that old, but they've been around a while, battled for the lead. After a good tussle, it was Cairoli who prevailed when he set Desalle up heading into the waves and held a lower line over the two double jumps that followed.
As Cairoli inched away for his second Qualifying Race win of the season, Honda Gariboldi's Tim Gajser used his insane ability to think ahead and pick good lines, to pass approximately half a dozen riders on his way to second place. After being passed by the championship leader, Desalle lost almost ten seconds but still finished third ahead of Team HRC's Evgeny Bobryshev who had his throttle twisted all race long for fourth.
Monster Energy Yamaha Racing Team's Jeremy Van Horebeek held off Monster Energy Kawasaki Racing Team's rookie, Jordi Tixier for fifth, while Rockstar Energy Husqvarna Factory Racing's Max Nagl came from Struggle Street, well outside of the top fifteen, to seventh.
MXGP Qualifying Race Top Ten: 1. Antonio Cairoli (ITA, KTM), 23:54.804; 2. Tim Gajser (SLO, Honda), +0:06.361; 3. Clement Desalle (BEL, Kawasaki), +0:15.281; 4. Evgeny Bobryshev (RUS, Honda), +0:19.126; 5. Jeremy Van Horebeek (BEL, Yamaha), +0:19.676; 6. Jordi Tixier (FRA, Kawasaki), +0:21.440; 7. Maximilian Nagl (GER, Husqvarna), +0:22.859; 8. Tommy Searle (GBR, Kawasaki), +0:24.953; 9. Romain Febvre (FRA, Yamaha), +0:26.282; 10. Jose Butron (ESP, KTM), +0:28.379.
Rockstar Energy Husqvarna Factory Racing's Conrad Mewse had his thumb firmly on the boost button at gate drop as he pulled away for a massive holeshot ahead of Marchetti Racing KTM's Ivo Moticelli and the Swiss sensation Team Suzuki World MX2's Jeremy Seewer.
The rookie, Mewse, was loving the purpose built track out here in Frauenfeld and managed to pull a slight gap on the opening lap before a technical problem put an abrupt end to what could have been the race of a life time. It was heartbreak for the Brit, who is the fastest rookie in the class right now, while in contrast it was a career highlight for Monticelli who inherited the lead for the first time in his life.
Seewer wasn't phased by Monticelli's bubble of happiness, and he took a massive pin and popped it almost immediately by whizzing around the outside of him a few turns later. The Swiss fans lost the plot and made a whole lot of noise for Seewer who charged away for a massive race win, the second of his career.
Meanwhile, Rockstar Energy Husqvarna Factory Racing's Thomas Covington had moved into third and was right on Monticelli for a couple of laps before he made a mistake and lost a bunch of time. The American, who tangled with Monster Energy Kawasaki Kawasaki Racing Team's Dylan Ferrandis in Timed Practice, which resulted in Kawasaki rider pulling out with a suspected broken arm, made a mistake in the early phases of the race, but kept it together to maintain third.
Behind the top three, there was a breakout of craziness as a mixed bag of less familiar names duked it out for fourth. At one stage it was the Austrian wild card Pascal Rauchenecker who had it, but the recently crownedEuropean EMX250 Champion, Thomas Kjer Olsen, who is making his MX2 debut this weekend, passed him.
No one was more pumped to be back on the hard-pack than Samuele Bernardini. The Italian TM Factory Racing star loves clay and excels on it, as he proved when he blitzed past the fresh faces of Rauchenecker and Kjer Olsen to take fourth with five minutes to go.
At the two lap board, the pressure of running up front got the better of Monticelli who still managed to achieve his best ever result in MX2 with a fourth place finish behind the Swiss star, Jeremy Seewer, Thomas Covington and Samuele Bernardini.
Kemea Yamaha Official MX Team's Brent Van Doninck was buried ten feet deep on the opening lap, but kept his head down and charged hard to pass Bodo Schmidt Motorsports Thomas Kjer Olsen on the final lap.
MX2 Qualifying Race Top Ten: 1. Jeremy Seewer (SUI, Suzuki), 24:30.437; 2. Thomas Covington (USA, Husqvarna), +0:13.221; 3. Samuele Bernardini (ITA, TM), +0:18.721; 4. Ivo Monticelli (ITA, KTM), +0:20.202; 5. Brent Van doninck (BEL, Yamaha), +0:21.015; 6. Thomas Kjer Olsen (DEN, Husqvarna), +0:24.072; 7. Pascal Rauchenecker (AUT, Husqvarna), +0:26.844; 8. Iker Larranaga Olano (ESP, KTM), +0:27.572; 9. Benoit Paturel (FRA, Yamaha), +0:28.403; 10. Calvin Vlaanderen (NED, KTM), +0:30.153.
Click here to obtain the complete result
All the photos of the MXGP of Switzerland presented by iXS will be available HERE
MXGP of Switzerland presented by iXS – QUICK FACTS
Circuit length: 1560m
Type of ground: Hard Pack
Temperature: 23°C
Weather conditions: Sunny