Charlotte - A Success !!!!
MX Large Viewpoint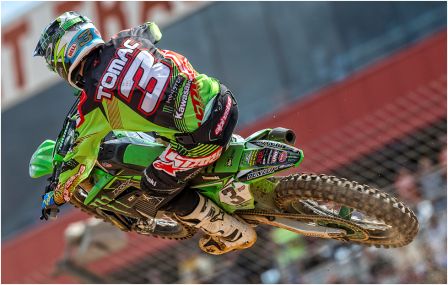 I still can't believe what I saw yesterday at the magnificent Charlotte Motor Speedway. For the American public in attendance, and watching online around the world, it was just what was needed to cement this event into the American calendar.
For the Grand Prix diehards, it was a lesson in humility, but one that makes our sport worth watching. If this was the Motocross of Nations Team USA would have been standing on top of the podium, no doubt about it. Then again, we all expected it at a little.
When people asked me who I thought would win the MX2 class I wasn't about to say Jeffrey Herlings hands down. Now I am one of Herlings biggest fans, but as shown in 2015 when Ryan Villopoto came to the MXGP series, or when Ken Roczen moved to America a handful of years ago, riding away from home, isn't easy.
Eli Tomac gave the best motocross riders in the world a lesson in speed. His races were very different, but his level of speed was way too much for the likes of Tim Gajser and the other MXGP riders.
Cooper Webb just fought it out, never wanted to give up and rode the perfect come from behind second moto you are going to see. Down in 20th place early on, the AMA 250 champion found something he couldn't find in the opening MX2 moto and reeled off lap times nobody else come compete with. His 2-1 victory was just what this event needed and it assured this event is a big success. That fighting quality is pretty much what we all expected to see. Maybe Herlings is quicker, but nobody fights for a win like the American.
Herlings relishes the battle in Glen Helen in a weeks' time and adding Jeremy Martin to the event, expect a huge crowd to turn out to see if the US riders can duplicate their Charlotte efforts. Believe me, Herlings will want to end his 250 career just as Cooper Webb did in Charlotte.
As an event, I couldn't find a single person who didn't love the track, and enjoy the experience. Many of the American riders complimented the circuit and the format. Cooper Webb and Justin Barcia both feeling like it was something special, and surprised at how good the circuit was.
Of course as a GP guy, it wasn't great watching Tomac decimate the leading MXGP riders, but everyone knows on his day, when the stars align, nobody can beat Tomac, not Tim Gajser and not Ken Roczen. Today, the stars were aligned and the Monster Energy Kawasaki rider put on as good a performance as you could expect.
The 15,000 or so that filled the grandstands, and stood along the fence line will be back in 2017, there is no doubt about it, and as for a future MXoN at this facility, that should happen as well. It's too good a motor racing facility to not be rewarded with that special event.
Comment Geoff Meyer ; Ray Archer image
And as for the rider comments .....
It was a Grand Prix that means a lot more than just one single day. The USGP is alive and kicking and what happened last night at the Charlotte Motor Speedway makes it clear that the United States of America is back on the MXGP calendar as a perminant event, and will be here for as long as Youthstream, Monster Energy and Charlotte Motor Speedway want it to be. Here is what the riders thought of their Saturday in the sun.
Eli Tomac: "It was an awesome day. Already in practice I got some clean laps in, and did what I needed to in both motos. The race track was a kind of mixture between motocross and the Monster Cup, and it was a different challenge to be racing the guys I normally only see once a year at the Nations. Conditions weren't easy in either race; we had the sun in our eyes in the first race and it was tough to see the ruts under the floodlights in race two. I almost tipped over on two laps in race two; it was a tough track to stay on."
Cooper Webb: "I had a terrible start (in the second moto), I was way back, and made passes. I was going to settle for third, but the crowd pulled for me, and I couldn't settle. I gave it everything, my last 250 race and I had a terrible start and just kept coming and got the win."
Jeffrey Herlings: "I am super, super happy, especially after everything we've been going through with a broken femur, a dislocated hip, two broken collarbones and almost losing my little finger. It's number three and hopefully many more to come." Asked to comment about racing against leading Americans, he added: "The two strongest guys from America Webb and Forkner were here. Webb is the national champion and I beat him straight up in the first race and then he beat me in the second. I think the competition is stronger in the US, but we won the championship and that's what it's all about." Speaking about the final round next weekend: "I like the track at Glenn Helen and it should be better than this track. Like always, we will do our best to make it happen."
Tim Gajser: "It feels amazing. It's unbelievable to have won this title – I still cannot really take it all in. Last weekend in Assen we had a horrible weekend and two horrible races, and I was getting down. I had to regroup in these last few days and keep really believing in myself. We have had an amazing season, and I was saying to myself 'we cannot finish the season like this.' We had to finish it like we have been for most of the season – get back on track, and to win the title here and stand back on the podium again here in Charlotte is just perfect. I want to thank so much Honda, HRC, the team, my family, my Dad – we've been working so hard for this for all our lives, and now for the second year in a row we've achieved the best possible result – the highest possible win – the World Championship crown. All the fans have been incredible this year – already last year was amazing because we had so much support, but this year it's been even bigger. We make something with the popularity of this sport in Slovenia, and I'm very proud to be that person who is helping the sport to grow. It's an honour and a pleasure. Starting the season with two wins in Qatar was of course an amazing start, but it was just the beginning and the season was still very long at that point. Around the time of the Spanish GP was the point where I really thought this could happen this year. From Spain to Mantova we won seven of the eight motos, and I knew then that this was possible – I knew that if I ride like that for the rest of the season we would again be World Champions. I wanted this so much this year, and I've been training harder than ever and we've been working as a team harder than ever, and less than a year after our MX2 victory we're again champions. I must thank Honda and the team so much for everything they've done and given me this year. The bike has really been fantastic. It becomes so much a part of you that you really have to click with it and have a good relationship with it. We call our bikes our babies – they're like second girlfriends! And this year the Honda CRF has just been perfect. I couldn't ask for better or for more. We believed so hard that we could do it again this year, and I feel so privileged and so fortunate to be in this situation, and after this year I feel better as a rider and better as a person. It hasn't really sunk in yet all of this. It's not easy to realise now, but even tomorrow morning when I wake it will already feel more real. Every dream can come true if you really believe in it and really work for it, and today another dream has come true for me."
Jeremy Van Horebeek: "It's been a long time, and I've worked hard for this together with the team. They've done an awesome job to get the bike ready, and the puzzle pieces are coming together. The starts are better and better after all the things they try, and I'm really happy. This one is for the team."
Antonio Cairoli: "It as been a difficult week, since Monday after the Grand Prix in Assen I started having throat problems and fatigue, then flying to America I did not felt well. Upon my arrival in Charlotte I took drugs which unfortunately have not had the desired effect. Yesterday I realized that my conditions were more serious than expected and this morning I got on the track debilitated with slight fever. In the first free practice, things went well and I thought I could do it, but it did not happen. After a difficult qualifying round of practice, I had problems to get two good starts and that, on a track so fast did not helped me. In race one a crash made me loose some positions that I have not managed to recover, while in race two I just tried to get to the finish. I grate the teeth to end the moto and to make the most points possible and safeguard the second position in the standings, but the fever slowed me and I thought that I had to give up. Luckily I did it to the finish line and it is now important to try to recover during this week before the Grand Prix of Glen Helen. I want to congratulate Tim Gajser for having deservedly won the World MXGP 2016."
Valentin Guillod: "In the first race I was seventh and I made a really small crash in the corner. Not fast, but after I got up I couldn't breathe a lap and a half later, it was like somebody had put a knife in my back. No air anymore, and after I crashed again I had to stop. "I'm not happy, but it could be worse. It could have been a broken arm. Thanks to the physio I was able to take the second start and that's good for me and for the team."
Kevin Strijbos: "I felt pretty good on that track today but I couldn't work out the start and the drop-off out of the gate. I was so fast that I was jumping the drop-off and just lost time compared to the other guys. That roost hurt like hell! My speed was good and especially the second moto where I was having fun on the track. I was riding smooth and it was a bit of a shame with the start; if I could have taken a top -six from the gate then I could have stayed at the front easily. Again not really the results I want but where I came from then it wasn't too bad…you just don't really see that on the paper."
Romain Febvre: "We aren't so used to racing in the dark, but I like it, just like in Qatar. It's a little dark in some of the corners, but it's the same for everybody. The track was really fast, and so the speed was very high, because everyone can ride fast on the flat. My results weren't great, and I'm disappointed. I hope to do better next week at Glen Helen."
Darian Sanayei: "I like the track here for my first GP. They postponed Friday and we had to ride more than normal on Saturday with the practice sessions and both races; that was a lot more than I was used to this season in the European series. The qualifying session was not perfect, but I learnt the track and knew that I could get a good result with a good start; in the first moto I was eight or ninth in the first corner and came back to sixth until two laps to go when Anstie passed me. Seventh was a pretty good result for my first ever MX2 GP moto, but after this race and riding so much I was already feeling some pain in my back. I get a nice holeshot in the second moto, which was good and from there I just tried to survive; I didn't feel so good and I got a thirteenth so overall it was not so bad for my first GP."
Jeremy Seewer: "Really bad luck. I did quite well in Timed Practice and good on the bike, which we adjusted a bit because the track was super-fast. I felt alright but Jeffrey and those two Americans were a little bit on another level today. In the first corner of the first moto a big rock hit my front disc and I had no brake all moto-long. I almost stopped but decided to give my best and still finished ninth and the damage was not so big. In the second moto I could hold the pace near the front for quite a while but then I had a small problem with the bike and it was hesitating slightly. It didn't bother me too much but I had to drop the pace a little bit. Fifth was a solid result. I would like to be nearer the front but I made the best of it today."
Clement Desalle: "Once more the starts were very important here as the track was really fast. It was difficult to make the difference, tough to pass and I just missed better starts to fight for the podium. In the first race I earn one position with three laps to go, but in the second one it was difficult as there was not so much lighting on the track; I had a good start but I lost some positions in the first corner when I slid out wide, and then it was impossible to come back."
Evgeny Bobryshev: "I really enjoyed my day today – the track was great and riding the new 2017 CRF was fantastic. In the first race I needed to understand the bike in a race condition so it took us a little time to get really used to it, but the second race was way better. I had a good start and sat in fourth place for the whole race pushing for third. The speed was the same so I couldn't make a pass unfortunately, but we definitely had podium pace here with the new bike. I really feel comfortable on the bike and I really enjoy to ride it – I know that there are many more positive results coming."
Gautier Paulin: "It was a really good venue and a really good track here in Charlotte, and I enjoyed riding it a lot. They did a lot of hard work since the rain yesterday and the condition of the track today was good. Unfortunately though I had two bad starts today which made it hard. My riding was good but I'm not happy with myself about the starts. The track was really technical and had some nice flow, and I think with good starts we could have been in the mix today. In the second moto, I also twisted my ankle badly which is why I had to stop. On the inside of one corner I got my foot stuck in the mud so I lost the front end because of that, and when I crashed it twisted my ankle. The team have worked on it already tonight and it's feeling better, but at first there was so much pain I couldn't continue."
Jordi Tixier: "It was a pretty good weekend with a good qualifying session; at the first start my jump from the gate was not so good but I rode a very good first corner and came out in the top five; then I lost many positions during the first lap, and I only found a good rhythm after ten minutes to come back from eleventh to seventh. My second start was better; I had a good rhythm and was following Clement for twenty minutes but then I felt tired and settled for eighth position. This event was different to the usual GPs, as we had all the programme on one day and raced the second moto in the evening. They did a good job on the track; when we saw how was the track on Thursday and Friday we were not really optimistic but it turned out OK."
Tommy Searle: "I struggled again with my starts this weekend; the first race was difficult with a bad start and I didn't feel confident with the sun in our eyes. I was happier with my riding in the second moto, but coming from so far back it's difficult to get top ten results. I think that the track was better for the second race, as the sun was down. I just made it difficult for myself this weekend with the starts; let's hope that it will be better next weekend in Glen Helen."
Bas Vaessen: "Qualifying wasn't great, just alright. In the first moto I made too many mistakes on the first lap and then had a huge crash and went fully into the pit lane and twisted my back. I had a lot of pain and couldn't really ride at 100% that moto and just tried to finish. I had physio in between races and some painkillers. In the second moto I wasted too much time behind Prado but once I passed him then my lap-times were good…overall though it wasn't a great GP. I made many mistakes and need to learn from that."
Benoit Paturel: "I had a bad start in the second race, but I came back strong, and it was a better result. I'm really happy about the riding, and I did everything I could to get back in. I'll give everything at Glen Helen for a result. For the championship we will see what happens next week."
Brent Van doninck: Brent Van doninck: "The starts here aren't like in Europe, and we don't see anything like this in the GP. In the second race I had a good start, and for me that was good. "We don't go quite this fast either, so it was a change to see the speeds. This is our second night race after Qatar, and it's strange to do a track in sunlight and under the lights."
Alvin Östlund: "The speed in the second race was better, and so was my start. This was the fastest track I have ever raced on, the straights are long, the corners are fast and the jumps are really big."
Thomas Covington: "It was a really good GP and I'm happy with fourth overall. It feels nice to race in front of friends and family and the fans were awesome too. The track was really high speed without many things to slow you down, so passing wasn't easy. I got a bad start in moto one but made some quick passes. I got fourth pretty quickly and rode the rest of the race by myself. I got a better start in moto two and was battling with Seewer for third, before settling for fourth again. Overall, the bike was working great and my riding was smooth throughout the day. I'm now looking forward to the final GP in Glen Helen. I know this track really well, so hopefully I can run up with the top three."
Max Anstie: "I did my best once again but I guess it just wasn't meant to be. After the cancellation of the qualifying race, we knew everybody would be pushing hard from the get go in the final motos. I got a great start in the opening race, following Forkner in second, but a couple of turns later I lost the front and went over the bars. I got back up and rode really strong to get back to sixth. My start in moto two wasn't that good and as I was battling through the pack I felt intense stomach pain. I guess I got physically drained from trying too hard in moto one. Our focus now is on the following weekend and I'm hoping to end the season on a high note in Glen Helen."
Max Nagl: "It was a difficult weekend for us. Everything got cancelled on Friday due to the rain and the whole schedule got squeezed onto Saturday. In the opening moto I got a great jump out of the gate and was hanging on to fifth for a couple of laps. It was pretty hard to make passes on this track. Five minutes before the end of the race I had a crash and lost a few places to finish 10th. My start was even better in moto two and I ended up getting the holeshot. I did my best to stay close to the top but the guys in front had a really fast pace, so I ended up ninth for ninth overall. We're flying to Glen Helen tomorrow and we'll have some extra time to do some training before the GP. My goal is to battle for a top three finish there to preserve my third position in the championship."