Cody Cooper Injuries
Out for Appin as well
Cody Cooper fractures eye socket and cheekbone
Monday 31 March:
With 12 races behind him in the NZ MX Champs, high hopes were held for the first of the 10 Round Australian Champs - then he's out injured in the Practice,
Penrite Oil Honda Racing's Cody Cooper has suffered a fractured eye socket and cheekbone after crashing during practice at the opening round of the MX Nationals at Broadford Motorcycle Complex yesterday. He will require surgery to his eye socket and cheekbone once he gets back to New Zealand.
Cooper crashed on a section of the track that didn't have a first or second line of protection.
After being tended to at the scene by Racesafe, Cooper was taken to hospital for x-rays and further treatment.
Penrite Oil Honda Racing Team Manager Mike Landman said it was a bitter blow for the team especially as the injury could have been avoided.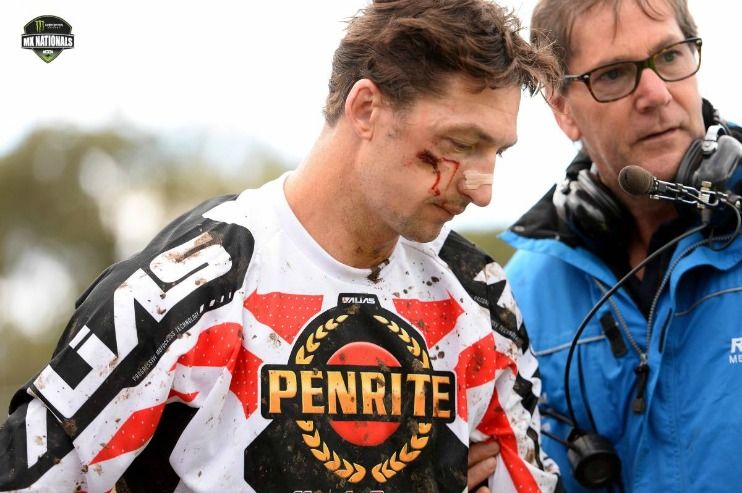 Photo - MX Nationals. Photographer - Jeff Crow/Sport the Library.
"This is absolutely devastating," Landman said. "Every box had been ticked in preparation for this event.
"It is particularly hard to take knowing this could have been avoided if there had been haybales or some other first line of protection in place.
"At this stage we know he will definitely miss Appin." he added.
The Penrite Oil Honda Racing Team will provide another update once Cooper has undergone surgery this week.

Courtesy of Martine Cousins from Fluid PR
Top Photo: Cody Cooper during Broadford Practice. Photo courtesy of Penrite Oil Honda Racing Team.