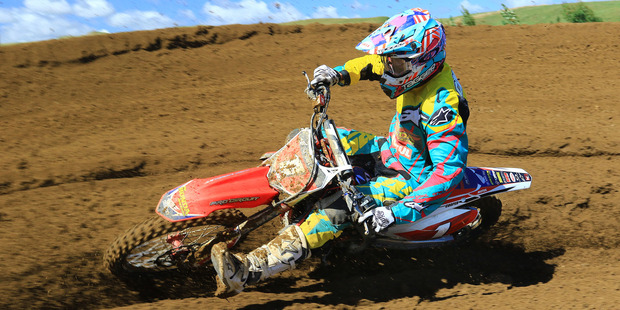 Defending New Zealand motocross champion Cody Cooper (Papamoa) delivered a strong third-round performance at Rotorua on Sunday to extend his 2015 title lead.
Cooper rode his Honda Shop Racing CRF450 to third placing in the opening MX1 moto and later achieved two wins on a demanding Rotorua Motorcycle Club track at Horohoro.
The round win puts Cooper 19 points clear of Australian rider Kirk Gibbs (KTM) following another mix-up of the leader board in a tightly contested series. Cooper said it was a very demanding track. "It was really technical and gnarly," said Cooper.
"There was no way you could use the same lines all day. And sometimes the good lines crossed over each other so you had to always be searching for something better.
"I think I could have won all three races, but I mucked up at the start of the first moto. I got the holeshot but moved out wide to block Ben [Townley] a little and I lost a few places."
The Sunday afternoon victories give Cooper five wins from nine starts as his title defence has gained momentum since he departed from the New Plymouth opening round in fourth place.
The MX1 racing was close with Honda riders John Phillips (Rotorua) and Ben Townley (Mt Maunganui), Taupo's Brad Groombridge (Suzuki) and the Australian trio of Kirk Gibbs (KTM), Luke Styke (KTM) and Kade Mosig (Yamaha) among the front runners at different times.
Gibbs won the first moto and followed up with two fourths to finish runner-up for the day and move to second in the championship.
Showing that experience is invaluable in the tough conditions, Townley's one-off appearance in the series was rewarded with third overall. The former MX2 world champion rode to a close second behind Gibbs in the opening moto and then third behind Cooper and Styke after leading the opening laps of the second moto.
"It was very physically demanding but the track was right up my alley," said Townley.
"It was extremely technical and in those conditions you have to ride slower to go faster."
After another strong start in the third moto, Townley was bundled off his bike by John Phillips attempting a first lap passing move Townley said was never realistic.
"It was just a bonehead move and he [Phillips] has lost a lot of points in his championship," said Townley.
Townley may have turned his fun ride into a podium result but he was quick to rule out another ride at the Pukekohe final round this weekend.
Mosig was second in the final moto which lifted him to fourth ahead of Mt Maunganui's Rhys Carter (Suzuki) who was fifth in each race and fifth overall for the day.
Cooper leads the MX1 standings with 194 points from Gibbs on 175. Phillips has slipped to third on 168 with Mosig on 153.
In the MX2 (250cc) class Australian Jay Wilson (Yamaha) tightened his grip on the series. He won all three races - taking his win tally for the series to seven - and won the day from compatriot Geran Stapleton (Honda). Wilson heads to Pukekohe with a comfortable lead of 37 points over Takaka's Hamish Harwood (KTM).
Likewise Hamilton teenager Josiah Natzke (KTM) remained the class of the 125cc two-stoke field with three clear wins, extending his series lead to 37 points over Ngatea's Benjamin Broad (KTM).
Results
JT Racing NZ Motocross Championship (after round 3):
MX1 (450cc): 1 Cody Cooper (Papamoa) Honda, 194pts; 2 Kirk Gibbs (Australia) KTM, 175pts; 3 John Phillips (Rotorua) Honda, 168pts; 4 Kade Mosig (Australia) Yamaha, 153pts; 5 Brad Groombridge (Taupo) Suzuki, 138pts; 6 Ethan Martens (Auckland) Yamaha, 123pts.
MX2 (250cc): 1 Jay Wilson (Australia) Yamaha, 215pts; 2 Hamish Harwood (Takaka) KTM, 178pts; 3 Micah McGoldrick (Amberley) Honda, 157pts; 4 Scotty Canham (Rotorua) Kawasaki, 128pts; 5 Hadleigh Knight (Reporoa) Husqvarna, 124pts; 6 Logan Blackburn (Te Puke) Suzuki, 103pts.
125cc 2-stroke: 1 Josiah Natzke (Hamilton) KTM, 213pts; 2 Benjamin Broad (Ngatea) KTM, 176pts; 3 Cohen Chase (Taupo) Yamaha, 175pts; 4 Courtney Duncan (Palmerston) Yamaha, 159pts; 5 Kurtis Lilly (Papakura) Husqvarna, 152pts; 6 Liam Draper (Auckland) Husqvarna, 125pts.
By Colin Smith Bay of Plenty Times