Cooper Still Leader of the Pack
Auckland MX Champs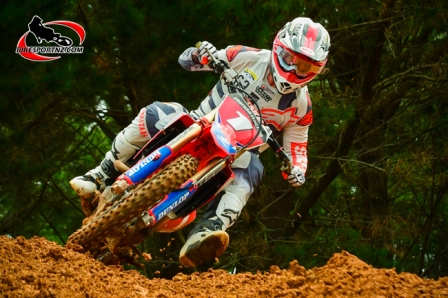 CAPTION: Mount Maunganui's Cody Cooper (Honda Racing Team CRF450), untouchable at the annual Auckland Motocross Championships on Sunday. Photo by Andy McGechan, BikesportNZ.com
Check out all the results here : https://www.pmcc.co.nz/results
NOVEMBER 20, 2017: Bay of Plenty man Cody Cooper could never be accused of being boring, but the ease with which he won again at the weekend does make the Honda Racing Team crew very relaxed indeed.
The 34-year-old national MX1 champion from Mount Maunganui showed once again why he has the big No.1 emblazoned on his Honda CRF450 bike, his riding faultless as he romped to three convincing MX1 class wins at Tuakau on Sunday.
The fastest out of the starting gate each time, Kiwi international Cooper seemed barely to raise a sweat as he stretched out his advantage in front, each time eventually crossing the finish line a long way ahead of the three separate individuals who finished runner-up to him on Sunday.
Mangakino's Kayne Lamont was second to Cooper in race one, crossing the line 26.7 seconds behind the Honda star; Takapuna-based Takaka rider Hamish Harwood was runner-up in race two, finishing 21.6 seconds adrift of Cooper and Beachlands rider Blake Gillard was runner-up in race three, 18.6 seconds behind the unruffled and untroubled Cooper.
"It was a really good weekend for the team," said Cooper afterwards. "We were using this event as part of our build-up for the main part of the season.
"The bike felt really good and we now have settled on some great suspension settings. The bike feels a lot better than it did at MX Fest (in Taupo over Labour Weekend). It's all coming together pretty well now," said Cooper, who also dominated the MX1 class at the recent Waikato Motocross Championships near Te Kuiti.
"My body is feeling better now too after having a break from the sport in the early part of October. It doesn't feel sore when I go to the gym, he laughed.
"I'm right back into my training again now and, in fact, I will be riding a bicycle at the Round The Lake marathon at Rotorua this coming weekend.
"It's just for fun but also good for my fitness to do this event. I say it's for fun, but the last 40 kilometres probably won't be fun at all. At least I know I will feel the benefits afterwards on the motocross track."
Preparation for his national MX1 title defence in February and March will continue with the big annual Honda Summercross event at Whakatane, just after Christmas, followed by the Honda New Zealand Motocross Grand Prix at Woodville in late January.
Credit: Words and photo by Andy McGechan, www.BikesportNZ.com