Cooper Wraps Up NZ SuperX Title
Winton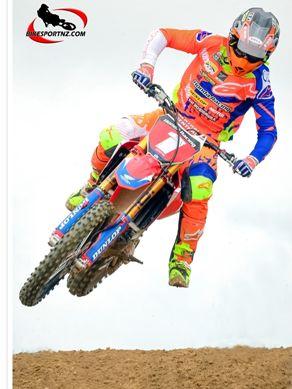 CAPTION: Mount Maunganui's Cody Cooper (Honda Racing Team CRF450), who wrapped up the SX1 title at the weekend. Photo by Andy McGechan, BikesportNZ.com
Credit: Words and photo by Andy McGechan, www.BikesportNZ.com
OCTOBER 29, 2017: It's a long way to go from the Bay of Plenty to race in Southland, especially when you're supposed to be on holiday.
But Mount Maunganui rider Cody Cooper can switch on pretty quickly and that's what he did when he arrived at Winton, just north of Invercargill, for the second and final round of this season's New Zealand Supercross Championships on Saturday.
The Honda Racing Team hero had "awoken" from holiday mode to race at the first of two rounds of the national series six days earlier (at Tokoroa on Labour Weekend Monday), taking his Honda CRF450 to score a hat-trick of wins and dominate the SX1 (450cc) class.
The scene had been set for a thrilling conclusion to the championship after close racing at a rain-drenched and muddy round Tokoroa and this time around there were no downpours to ruin the party.
A good-sized crowd was certainly entertained at the Brent Scammell Honda-supported, TransDiesel, Mainstream Global Logistics and DRD magazine-sponsored series finale at the "world's southernmost supercross track" at Winton, just north of Invercargill.
Cooper was again in sensational form and, although he didn't manage another clean-sweep of wins in the premier SX1 (450cc) class, as he had at a damp Tokoroa six days earlier, the 34-year-old's 1-1-2 score-card at Winton meant he still emerged as the top man at the event and wrapped up the title by 12 points from Mangakino's Kayne Lamont.
Eventual third overall in the SX1 class this season was Ngatea's Ben Broad.
"I couldn't quite win them all again at round two," conceded the 34-year-old Cooper afterwards, although five wins from six starts, and one runner-up finish, was impressive nonetheless.
"I made an attempt to pass Kayne (Lamont) in the last race, but it didn't quite work out. The organisers had watered the track and it was a little bit slippery, so I just settled for second place in the end.
"I knew that I had done enough already to win the championship title and I didn't really need to win that last race anyway.
"The supercross nationals were my first ride after having a month off and, officially, I'm still on holiday."
Cooper's SX2 (250cc) class team-mate, Tauranga-based former Rangiora rider Micah McGoldrick, put on a brave show after crashing out of racing at Tokoroa, winning one of the SX2 races at Winton, but it was always going to be mission impossible if he hoped to catch up to points leader Josh Coppins, of Motueka, and repeat the first-equal ranking he achieved at the supercross nationals last season.
McGoldrick (Honda Racing Team CRF250) had to settle for overall runner-up in the championship, a creditable performance considering that he could finish only five of the series' six races.
Third overall in the SX2 class this year was Kotemaori cross-country ace Reece Lister.
Full results of the round are on MyLaps
Credit: Words and photo by Andy McGechan, www.BikesportNZ.com