Ferris Fabulous at Toowoomba
Australian MX Champs 2016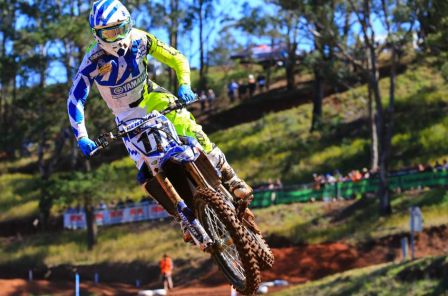 CDR Yamaha's Dean Ferris has kept his Thor MX1 championship hopes alive, after snatching up valuable points across two hard fought races, at Round 9 of the Motul MX Nationals at Toowoomba in Queensland today.
It was an action packed day of racing from the minute the Thor MX1 machines hit the pristine Echo Valley circuit this morning, and with a championship on the line, riders went all out in a bid to bring home the results.
Tensions were high during the opening practice and qualifying session this morning, with GoPro Superpole providing an additional opportunity for riders to add to their points tally. And when the qualifying session wrapped up, it was CDR Yamaha's Dean Ferris, NPE Monster Energy Kawasaki's Kyle Peters, points leader Kirk Gibbs, Wilson Coolair Motul Factory Suzuki's Todd Waters, and Crankt Protein Honda Racing Team's Dylan Long who were the top five riders given the chance to put down their quickest individual laps.
And when Superpole wrapped up, it was American Peters who shook things up, taking the GoPro Superpole victory, and collecting his first championship points of the season, with a flying lap of 1:46.174, followed by Gibbs (1:46.730) and Long (1:47.227).
When the Thor MX1 class headed to the line for their first race of the day, thousands of spectators watched on, ready to watch the fastest riders in the country go to battle at Echo Valley. And when gates dropped, Peters carried his undeniable speed in to race one, taking the first MXStore holeshot and moving in to the lead ahead of Ferris, Gibbs, Mosig and Waters.
With Peters out in front, spectators couldn't peel their eyes away from Gibbs and Ferris in second and third positions – with points more valuable than ever at Round 9, the pair were leaving nothing on the track.
But before long, Gibbs broke away, and began to creep closer to Peters' Kawasaki, showing spectators that he's got the speed to rival some of the fastest in the world – unfortunately, Gibbs' charge was cut short – a crash forcing the KTM rider to drop back to fourth, allowing Ferris to slot up to second position.
By the halfway mark in moto one, American Peters continued to lead from CDR Yamaha's Ferris in second, Waters had inherited third place thanks to Gibbs' crash, while Gibbs was back in fourth position. Kawasaki's Mosig continued to maintain fifth, followed by Long, DPH Motorsport's Jacob Wright and Jesse Dobson (KTM).
As moto one reached its final stages, Gibbs began clawing his way to the front of the pack, the points leader managing to get by Suzuki's Waters to snatch up third position behind Peters, and closest rival Ferris.
But it was the battle for first position that kept spectators on the edge of their seats this morning. With only two laps to go in moto one, Ferris and Peters were going head to head, and by the time the pair were given the last lap board, it was anyone's guess as to who would take the race one victory.
But when the chequered flag flew, it was the American import who had plenty of reason to celebrate, Peters taking his first Thor MX1 race victory, from Ferris and Gibbs who crossed the finish line in second and third.
Waters wrapped up race one in fourth position, followed by Mosig in fifth. Long, Wright, Jay Wilson, Kurt Gow and Michael Menchi completed the top ten.
When race two kicked off for the Thor MX1 class, it was KTM's Gibbs who edged out Honda mounted Long to take the second MXStore holeshot of the day, but after only a few turns CDR Yamaha's Ferris took control of moto two.
With two laps in the books, Ferris looked comfortable out in front, allowing the battle for positions to happen behind him.
As race one progressed, riders had settled in to their respective positions – Ferris leading by only a small margin, from Gibbs and Peters in second and third. Waters who was back in fourth place began to close in on Peters' rear wheel, while Crankt Protein Honda racing duo Long and Wilson completed the top six riders in the lead group.
After nine laps on track, despite some brief challenges, there had been no change to the running order, but by lap ten, things began to heat up.
With Peters on a charge, Gibbs came under fire, and as riders headed in to lap 11, Peters had snatched up second position, relegating Gibbs to third.
But it was on the final lap for the Thor MX1 class, that all of the action played out. With a championship on his mind, Gibbs was not going down without a fight, and in the closing stages made the move on Peters for second position, in a last ditch effort for additional points.
And it was in those positions that riders stayed – CDR Yamaha's Ferris collecting his first race win for the weekend, ahead of Gibbs in second and Peters in third.
Waters wrapped up the final moto of the day in fourth position, followed by Long, Wilson, Wright, Mosig, Gow and Suzuki's Luke Wilson.
With a win in the final moto, Ferris was awarded with the round victory at Toowoomba, followed by Peters who took second at his debut MX Nationals appearance, while red plate holder Gibbs concluded round nine in third.
Gibbs now holds a six-point lead as the Motul MX Nationals heads to Coolum for the final round next weekend.
Dean Ferris – CDR Yamaha – Round 9 Overall Winner
"It's been a good day, 2,1 for the overall gives me solid points. I messed up qualifying a bit which I don't often do, but I made up some points and I'm in striking distance of this championship," Ferris said.
"It's good that Kyle Peters is here, because obviously it puts some of those points between myself and Kirk Gibbs. We know he's here, so I've just got to be the best that I can be.
"I've won a lot more motos than the other guys, so hopefully that points towards me being able to win the championship. Either way, I'm going to put down two solid motos at Coolum and hopefully that's enough."
Thor MX1 round nine results
1) Dean Ferris – 67 points
2) Kyle Peters – 65 points
3) Kirk Gibbs – 62 points
4) Todd Waters – 56 points
5) Dylan Long – 51 points
6) Kade Mosig – 49 points
7) Jay Wilson – 48 points
8) Jacob Wright – 48 points
9) Kurt Gow – 44 points
10) Brendan Duck – 39 points
Thor MX1 Championship Standings
1) Kirk Gibbs – 602 points
2) Dean Ferris – 596 points
3) Todd Waters – 578 points
4) Kade Mosig – 486 points
5) Dylan Long – 411 points
6) Jacob Wright – 388 points
7) Matt Moss – 381 points
8) Jay Wilson – 368 points
9) Michael Menchi– 338 points
10) Daniel Banks – 335 points
Amd from www.fullnoise.com.au
Crawford leaves Toowoomba With Round Win And Motul MX2 red plate
Australia's Nathan Crawford has reclaimed the Motul MX2 red plate, and will head in to the final round at Coolum as the championship leader, after a successful outing at Round 9 of the Motul MX Nationals at Toowoomba in Queensland today.

With both Crawford and DPH Motorsport's Jed Beaton tied on points for the Motul MX2 championship heading in to Round 9, it was a war on track from the minute bikes left the start straight at Echo Valley today.

In qualifying this morning, Crawford had something to prove, taking the number one gate pick with a 1:49.189, and being the only rider to record a sub 1:50 second lap time. Crawford's time was followed by KTM's Caleb Ward (1:50.477) and Serco Yamaha's Wilson Todd (1:50.519).

When riders lined up for race one, the Motul MX2 competitors were treated to a venue jam packed with spectators, and when gates dropped for the first time, it was Davey Motorsport's Jayden Rykers who took the first MXStore holeshot, however CRF Honda Racing's Kyle Webster took no time in taking control of the race lead.

After only two laps though, it was a familiar sight with Crawford making his way to the front - proving that he was prepared to do whatever he needed to in order to fight for points at Toowoomba. Unfortunately for Webster, despite leading for a period of time, the Honda rider was forced to push his bike back to the mechanic's area, recording a DNF.

With Crawford out in front with a healthy gap on the field, the attention on track shifted to the fight for second position behind him, with Rykers attempting to hold off Serco Yamaha duo Todd and Wade Hunter, while Ward was also applying significant pressure behind them. But it was Ward's pressure which eventually paid off – by lap six the KTM rider had made his way by Hunter and Todd to slot in to third position, where he began to eye off Rykers rear wheel.

A notable absentee from the lead group was red plate holder Beaton, who at the seven lap mark was back in seventh position, and on a mission to make up time if he was to keep his championship hopes alive.

Unfortunately for Ward, a crash at the halfway mark in moto one forced him to drop from second back to fifth position, allowing Rykers and Todd to inherit a position each.

With less than half the moto remaining, Crawford continued to hold on to his lead from Todd who had gotten by Rykers, while privateer Tomas Ravenhorst had made his way up to an impressive fourth position. Despite his earlier charge to the front, Ward was back in fifth, followed by Raceline Pirelli KTM's Dylan Wills and Beaton who were in sixth and seventh positions respectively.

As moto two progressed, Ward and Beaton began to find their flow, and with only five minutes remaining, both championship contenders had made their way inside the top five.

But the man of the moment was Crawford, and when the chequered flag flew on race one for the Motul MX2 Class, the Husqvarna rider had not only won the first moto by eleven seconds, but had reclaimed the MX1 championship lead. Crossing the line in second position was Serco Yamaha's Todd, followed by Rykers in third.

Ward and Beaton wrapped up the opening MX2 race in fourth and fifth places respectively, while Wills, Kale Makeham, Ravenhorst, Keiron Hall and Joel Wightman completed the top ten in race one.

When race two kicked off after lunch, all eyes were on Crawford who was looking to go undefeated at Tooowoomba, but when gates dropped it was Raceline Pirelli KTM's Wills who snatched up the second MXStore holeshot for the day. However, Wills' lead was short lived, the KTM rider going down in the top section of the track, and the top spot was then handed to Serco Yamaha's Todd, followed by points leader Crawford.

After three laps, Todd, Crawford and KTM's Ward began to separate themselves from the rest of the field, forcing DPH Motorsport's Beaton who was back in fourth position to ride hard in order to make up time and minimise the damage from moto one.

By the seven lap mark, the running order saw Todd continuing to lead from Crawford and Ward, DPH Motorsport's Beaton maintained fourth position, followed by Webster, KTM's Hamish Harwood and Makeham.

As race two reached its closing stages, Ward began to close in on Crawford's rear wheel, the KTM rider using every inch of the track in an attempt to make up ground. And it was as riders headed in to lap ten, that Ward made the pass on Crawford for second position.

In what was a huge upset for Serco Yamaha's Todd, the race leader's bike stopped with only one lap remaining, the Northern Queenslander unable to finish the race and handing the lead over to KTM's Ward.

And from there, all Ward needed to do was keep it on two wheels to cruise to victory, taking the final race win from Crawford, who finished second, followed by Beaton who inherited third. Webster wrapped up the final moto in fourth position, followed by Proformance Yamaha's Makeham in fifth.

Harwood, Hall, Wills, Tanti and Wightman all finished in positions inside the top ten in the final moto of the day.

But it was Crawford's consistency that paid off at Toowoomba, his 1,2 results seeing him awarded with the round overall as well as the Motul MX2 red plate. Second place on the podium was taken by KTM's Ward, while Beaton managed to salvage third overall for the round.

Husqvarna's Crawford now carries an 11-point lead in the Motul MX2 Championship with one round at Coolum next weekend remaining.

"I'm feeling so good after today. I'm loving being up here in Queensland racing in front of all my friends and family, and it was a really solid day for me," Crawford shared.

"I qualified fastest and won the first moto then got second in the second moto, so it was a pretty perfect weekend.

"If someone had of told me at the first round that this is where I'd be at Toowoomba I wouldn't have believed you – I'd only been on the bike a couple of weeks after injury so that makes this feel even better.

"Coming in to the final round now, I love Coolum, its one of my favourite tracks so I'm just really excited, and looking forward to next weekend."

Motul MX2 round nine results
1) Nathan Crawford – 67 points
2) Caleb Ward - 63 points
3) Jed Beaton – 56 points
4) Kale Makeham – 50 points
5) Dylan Wills – 48 points
6) Keiron Hall – 46 points
7) Hamish Harwood – 45 points
8) Tomas Ravenhorst – 43 points
9) Joel Wightman – 42 points
10) Aaron Tanti – 38 points
15) Hadleigh Knight

Motul MX2 Championship Standings
1) Nathan Crawford – 574 points
2) Jed Beaton – 563 points
3) Caleb Ward – 555 points
4) Jayden Rykers – 479 points
5) Wilson Todd – 444 points
6) Dylan Wills – 429 points
7) Hamish Harwood – 398 points
8) Joel Wightman – 383 points
9) Kyle Webster – 324 points
10) Wade Hunter – 324 points

For full round results from the 9th round of the 2016 Motul MX Nationals CLICK HERE

Top Image Credit: MXN Image