Groombridge Chasing a Three-peat
NZ Motorcycle TT Championships 2016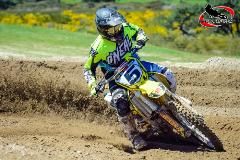 Taupo's Brad Groombridge will be chasing a three-peat of national title wins this weekend.
He successfully defended both his national enduro class and MX1 class crowns at the annual New Zealand Motorcycle TT Championships near Kuratau last year and will be aiming to make it a consecutive hat-trick of wins in both classes at the 17th edition of the event this Saturday and Sunday (October 1-2).
"I love racing this event," said title favourite Groombridge, who earlier this season also won the New Zealand Enduro Championships in the expert grade and won the New Zealand Cross-country Championships in the open grade as well. He is also currently national MX1 class No.5 in the motocross rankings.
TT racing is like superbike racing on soil instead of tarmac – the racing is off-road and the competitors use dirt bikes or quad bikes, but, unlike motocross, there are no steep hills or skyward launch ramps to slow things down.
The entry list for the two-day event includes the stars of motocross, cross-country, enduro and even road-racing, All Terrain Vehicle (ATV) and super motard and they hit eye-watering speeds as they chase national glory at the Bike Torque Yamaha-sponsored event.
Groombridge was in scintillating form last season and will obviously be hard to beat again this year, despite the fact that he plans to contest three separate categories this time around – MX1 the enduro class and the MX2 (250cc) class as well.
He was even more impressive winning the MX1 and enduro titles in 2015 than when he collected those same two TT trophies the previous year, at a slightly different venue, about 15 kilometres further down the road.
Groombridge won all five races from five starts in the enduro bike class last year, ending the championship comfortably ahead of Howick's Liam Draper (Husqvarna).
Groombridge also won an MX1 class that was laden with heavy-hitters such as 2014's runner-up Ethan Martens (Yamaha), Motueka's former world motocross No.2 Josh Coppins (Yamaha), Mangakino's former national MX2 champion Kayne Lamont (Yamaha) and leading national superbike road-racer Sloan Frost (Suzuki).
It is interesting to note that, although the multi-talented Frost missed out on collecting silverware at this iconic TT event last year, he immediately climbed back on board his GSX-R1000 road bike and went on to collect his first national superbike crown just a few months later.
Lamont finished runner-up to Groombridge in the MX1 class at the TT nationals and, as another dual-class campaigner, he took his Yamaha YZ250F bike to win the all-capacities feature final race that weekend.
With a staggered start – 125cc bike riders set away first, 250cc bike riders in a second wave, about 20 seconds later, and the 450ccc bike campaigners let loose after another 20 seconds – Lamont had a timing advantage over Groombridge.
And that's how the feature final finished, Lamont winning that stand-alone race ahead of Groombridge.
Tauranga's Aaron Wiltshier (on a Honda) showed consistency to win the MX2 (250cc) class title last year, finishing ahead of Taupo's Cohen Chase, while Otorohanga's Aaron King won the 125cc title ahead of Pukekohe's Kurtis Lilly.
Christchurch's Ian Ffitch won the ATV open class, while other stand-out performances came from Taihape's Sarah Elwin, Kotemaori's Reece Lister, Oparau's James Scott, Matamata's Brodie Connolly, Kaiwaka's Cullen Curtis and Auckland's Levi Nairn, to name a few.
All of these riders will again rate among the favourites to win their respective bike or ATV classes this weekend.
The venue is Moerangi Station, Tuatahi, off State Highway 41, near Kuratau.
Credit: Words and photo by Andy McGechan, BikeSportNZ