Groombridge Clocks Up Win Number Five
4 hour Cross Country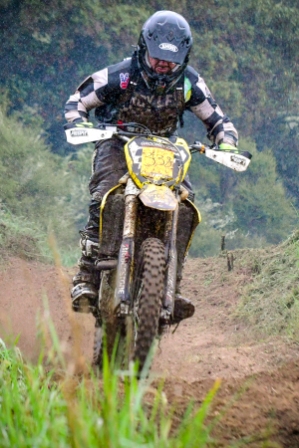 Bay of Plenty motorcycling ace Brad Groombridge has notched up yet another win at the popular annual Acerbis Four-Hour cross-country race near Taupo.
The Suzuki man from Taupo was the pre-race favourite to win this popular stand-alone event on Saturday and he didn't disappoint.
He is now a record five-time outright winner of the marathon dirt bike race, an incredible four times now as a solo (ironman) rider.
Although he admits this year's victory was probably his hardest-fought, he took the chequered flag a solid 23 seconds ahead of main rival Paul Whibley.
Third overall was the two-rider Rotorua combination of Barry Morris and Cam Negus, finishing 15 minutes further back.
Groombridge had found himself stuck in traffic soon after the shot-gun blast signalled the start at 11.30am and he was faced with the mission of trying to slice through the congestion before the leaders opened up too much of a gap over him.
He swiftly weaved between riders and trees in an attempt to put himself into contention for the win and, although a four-hour race is never won on the opening lap, he managed to take the lead at the start of lap two, surprising Whibley with a quick pass as they exited the pit zone.
"Soon after that a lapper was ahead of me and, when I yelled at him to move over, he panicked and collided with me. Paul (Whibley) took the lead, but I soon caught back up to him," the 27-year-old Groombridge explained.
"I had trouble with my goggles fogging up and so I ditched them. I couldn't really see that well and I ended up doing about five of the seven laps without goggles.
"It was tough trying to work out a spot where I could pass Paul without getting filled in by the dirt roost from his rear tyre. I managed to make that happen.
"It's a tough race to ride solo, but I've been doing a lot of riding lately to build up my fitness. I will also be racing the motocross nationals in two classes this year, the MX1 and the MX2 as well. This should set me up well for defending my national cross-country title later in 2018."
A special Richie Ebbett Memorial Trophy was presented at the event for the first time this year, given to a "deserving rider" and Taupo's Dan Harris was this year's inaugural recipient.
The 90-minute Motomuck Junior 90 race again acted as a "curtain-raiser" to the main race and that was won by Cambridge rider Seton Head, with Cambridge's Callum Paterson runner-up and Napier's Bryn Codd claiming the third podium spot. The top 85cc bike rider in this 90-minute race was Taupo's Wil Yeoman.
Words and photo by Andy McGechan, BikesportNZ.com