Groombridge Does It Again
NZ Cross-Country Championship 2017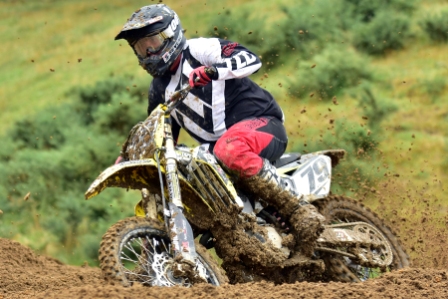 Bay of Plenty's Brad Groombridge has done it again and now he is New Zealand Cross-country Champion for a second consecutive term.
Words and photo by Andy McGechan, BikesportNZ.com
The 26-year-old from Taupo took his Suzuki RM-Z450 motocross bike to make it three wins from three starts in the cross-country nationals this season and, if he manages to win the final round too, near Cambridge in a fortnight, then it will also be two years in a row that he's been unbeatable on the national scene.
With only three of the four rounds to be counted, as riders discard their one worst result, it means Groombridge can now not be beaten for the 2017 crown.
The Suzuki rider managed only a mediocre start to the round three event in Marlborough on Sunday, but quickly moved up from fifth position to engage in a three-way battle for the lead with arch rival Sam Greenslade, of Coatesville, and Nelson's Ethan Bruce.
"I had to refuel at the end of lap two, while Sam (Greenslade) didn't need to, and this gave him a bit of a gap over me," Groombridge explained.
Groombridge soon caught up, however, passing Greenslade for the lead when the Auckland man crashed on lap three and Groombridge did not look back from there as he steadily increased his advantage to the finish.
Groombridge entered the timing zone with a handful of seconds still left on the three-hour clock and so he was commanded to complete an extra lap. In the end, he was the only rider required to traverse a seventh 28-kilometre lap.
"I wasn't sure if Sam had been close enough behind me to have to do a seventh lap too, so I continued to push hard. I only backed off near the end when I realised I was alone on the track."
Greenslade finished runner-up on Sunday, the third time consecutively that he's had to follow Groombridge across the finish line this season, and he looks safe to finish the championships in the runner-up spot.
Third overall in the senior standings after three rounds is Taupo's Nathan Tesselaar, while Raglan's Jason Dickey and Te Kauwhata's Jacob Brown round out the top five.
"The Suzuki RM-Z450 worked like a charm and has not let me down all season," said Groombridge. "It's fantastic to win back-to-back cross-country titles, but my focus now switches to the enduro nationals."
Groombridge is also the New Zealand enduro champion and, with three of six rounds now completed in that parallel series, he finds himself locked in a fierce battle with Christchurch brothers Angus and Hamish Macdonald, Mokau's Adrian Smith and Helensville's Tom Buxton.
The enduro nationals resume with round four near Christchurch this coming weekend.
The fourth and final round of the cross-country nationals is set for Cambridge a week later, on May 13.