Indianapolis Race Report
US Supercross 2016
Patience. It was a requirement on this night. On a track that felt more like a Lucas Oil Pro Motocross event than a Monster Energy Supercross one. It was probably a good thing that Lucas Oil Stadium in Indianapolis didn't feature a track with the toughest obstacles of the year (that isn't to say it was an easy track; it wasn't), because the dirt, or to be precise, the ruts, more than made up for it. As one 250 rider put it after the race: "God bless those 450 guys." It was also a night that featured the greatest of battles between two elite athletes—a night that everyone will say they attended, even if they didn't.
"It's a challenging track," said Ryan Dungey after the race. "The obstacles were tough, as well as the ruts, they just develop and the whole track starts to deteriorate."
This wasn't the first time that Ryan Dungey had to keep cool under the pressure of Ken Roczen. He faced the same challenge just a week earlier in Santa Clara (albeit on a much different track) for 20 laps to claim his sixth win of the season. It helped on this night, as Dungey fought constant pressure from Roczen. Dungey wasn't his normal immaculate self, though—this track wouldn't allow it.
"A track like this isn't going to be mistake free," said Dungey. "I think I had my fair share of mistakes, but I tried to minimize the damage."
At this point—after nearly forty laps of trying to force Dungey into mistakes—Ken Roczen has to be thinking: what more can I do? On this night, Ken was aggressive from the start, jumping all over Eli Tomac for second after he started around sixth. He seemingly came out of nowhere to pass Tomac, and then set his sights on Dungey, reeling the points leader in before taking him high in the corner prior to the whoops. Dungey responded—quickly and with authority—not wanting Roczen to sniff any confidence. Roczen continued to force the issue, keeping Dungey within striking distance at all times. By lap 15, lappers became an issue—each rider dealing with their fair share. Dungey struggled to get around Mike Alessi (who was running inside the top ten) and when he did, he made a mistake in a tough first rhythm section. The following lap, he made another in the same section—this time Roczen was able to capitalize and took the lead for the first time.
"When you triple onto the table you got soft ruts—not only is it ruts and deep but they pull you left and right. So you get pulled and then you have to land onto a tabletop, which isn't hard, it's soft, so when your bike lands it sucks up all your travel and the only thing it wants to do is go left or right .. well, it's your job to muscle the bike and keep it in line," Dungey said of the tough rhythm section that was giving him trouble.
It wouldn't last, as Roczen soon made his mistake on the dragon's back before the finish—a section that claimed a number of riders throughout the day and night—allowing Dungey to get back around. It didn't faze Roczen, he continued to push the issue until the checkers. But Dungey was steadfast, holding strong for his seventh win on the season and his 29th straight podium finish.
"It's been forty laps of no breathing room," said Dungey. "At the end of the day, I have to do the best that I can do and I'm gonna give it my all."
"Ultimately I wish the race kept going for another five laps. The track was really rough out there, but we kept fighting the whole way," said Roczen. "I was able to make a pass for the lead but I made a mistake right before the finish and couldn't make the jump, so that gave [Dungey] back the lead. I made another mistake later and that pretty much ended it."
How fast was the pace Roczen and Dungey were setting? They finished an incredible 27 seconds (!!!!) ahead of third place Jason Anderson.
After the race, Anderson said the track required a lot of patience and that he was happy with a podium. "These type of tracks bite me, so I'm happy with what I was able to do." The podium was the third straight for Anderson, who now sits 18 points behind Ken Roczen for second. Behind Anderson was HRC Honda's Trey Canard, who had his best finish of the season in fourth.
His ride will get overshadowed by the epic battle up front, but Yoshimura Suzuki's Blake Baggett was strong with his first top five of the season. His teammate, James Stewart, pulled out prior to the main event citing an ankle injury.
Chad Reed, Christophe Pourcel, Justin Brayton, Eli Tomac and Mike Alessi would round out the top ten.
Can the 250SX East Region get any crazier? A series that's featured a points leader unable to race due to visa issues, multi crashes from contenders and five different winners in five rounds delivered another night that will be talked about for days.
We said after his heat race win—where he held points leader Malcolm Stewart at bay—that we may have seen a signature moment from Aaron Plessinger. And it came to fruition, in the same state he claimed his first ever win, at last year's Lucas Oil Pro Motocross' Ironman National. Plessinger grew up a few hours away in Ohio and raced GNCC events in the area. He feels comfortable here—on this dirt and in front of what he says were nearly 100 family and friends (you could literally hear an entire section cheer for him on the podium).
"I've raced in Indiana quite a bit," he said. "The dirt, the ruts, everything, they are pretty good to me and I like ruts, coming from GNCC. I love rough, rutted tracks and that combined with a little skill (laughs)"
---
It was a night of highs and lows for the Yamalube/Star Racing team. On one hand, they got a win and are still in title contention with Plessinger just 10 back of Malcolm Stewart after his win. On the other, Jermey Martin, who was second in points coming into the night, crashed in the tricky rhythm section that was giving fellow Minnesotan Ryan Dungey trouble. We spoke with Jeremy after the race and he said he was fine, that it wasn't an ankle or leg, but that he hit his stomach hard. He wanted to continue racing, but his bike was messed up from the crash.
The beneficiary of his crash was Malcolm Stewart, who finished second and holds a 10-point lead in the standings. Stewart held Plessinger in his sights, but mistakes on this tough track cost him a chance for the win.
"Hats off to Aaron. Now he knows what it feels like to win," said Stewart. "I'm happy with second. I can't take anything negative from this. I'm going to keep doing what I'm doing and hopefully I keep the red plate [as the points leader] and win this championship. We only have four races left, so we'll keep trying to get those points."
Martin Davalos was in line for third but made a mistake on the dragon's back, giving Gannon Audette his first podium—in his first ride as a fill-in for Monster Energy/Pro Circuit Kawasaki.
"Coming into the weekend, I knew what I wanted to do, but I didn't really have any expectations and to land on the podium was awesome," said Audette, who couldn't wipe the smile off his face, after the race.
Davalos would rebound for fifth, one spot behind Shane McElrath. RJ Hampshire, Anthony Rodriguez, Tyler Bowers, Luke Renzland and Cedric Soubeyras would round out the top ten.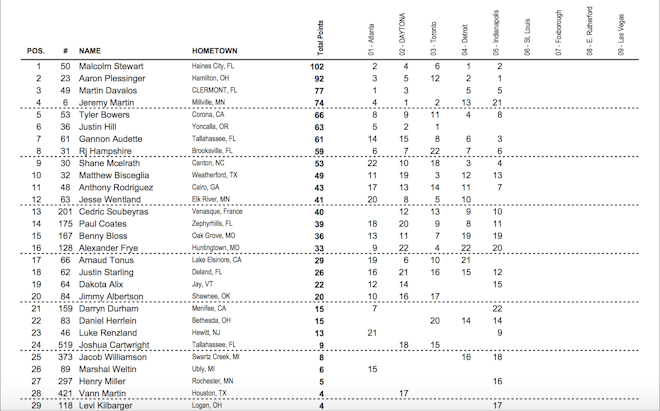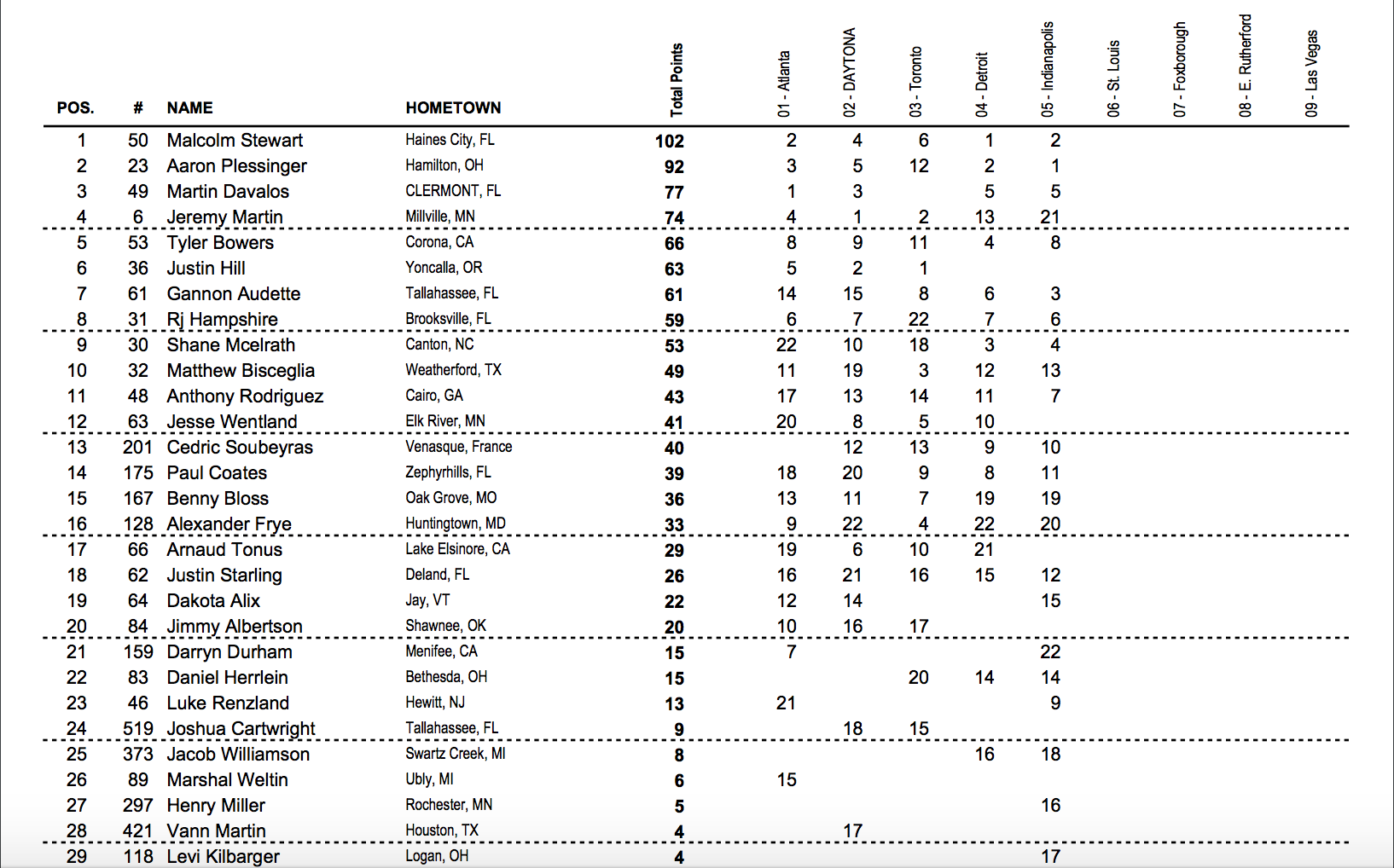 Morning Report
The 2016 Monster Energy AMA Supercross Championship rolls into Indianapolis for Round 13 (of 17). It's a chilly 34 degrees outside, which feels more like 25 when you factor in the wind chill. The return to the Midwest also means the 250SX East Region is back in action for the first time since Detroit on March 19. On the heels of his first win of 2016 in Detroit, GEICO Honda's Malcolm Stewart enters the weekend with the red plate and a seven point lead over Yamalube/Star Racing Yamaha's Jeremy Martin. Martin's teammate Aaron Plessinger is third, thirteen points behind Stewart.
KTM announced late yesterday that Marvin Musquin would miss this weekend after injuring his wrist in a practice crash in Santa Clara last weekend. Team manager Roger DeCoster said the team "hopes" he will only miss a race or two. "Marvin was doing so good this year and it's a bummer that the crash last weekend happened," he said. "We hope that it will be kept short, to one or two races, and then he can resume racing." Musquin underwent surgery last off-season on his wrist, and was behind schedule entering the season. He's been rolling lately, though, racking up four straight podiums before his crash in Santa Clara.
Troy Lee Designs/Red Bull KTM's Justin Hill will miss his second straight race due to a concussion sustained in Detroit when he crashed in the second 250 timed practice session at the end of a fast rhythm section. TLD said that Hill tried to ride this week before deciding to sit out the weekend. A return date has yet to be determined.
In good news for KTM, Ryan Dungey enters the weekend forty-two points clear of Ken Roczen. Dungey's podium streak has reached twenty-eight straight dating back to Round 2 at Phoenix last year, and he needs two more wins over the next five rounds to tie his career-high of eight set in 2015.