Is Cody Cooper the "X Factor" ?
Battle of the Clubs 2016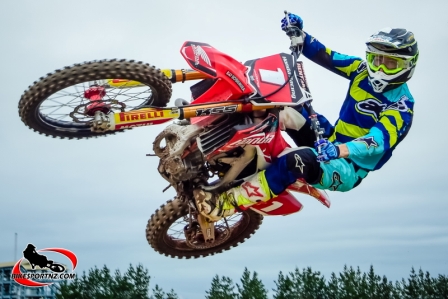 CAPTION: Mount Maunganui's Cody Cooper, riding this year for the Cambridge Motorcycle Club at the annual Battle of the Clubs fundraiser motocross in Taupo. Photo by Andy McGechan, BikesportNZ.com
JUNE 27, 2016: Perhaps you could call Bay of Plenty's Cody Cooper the "X Factor".
The Honda ace was once again one of the key riders to determine where the honours would go in the popular Battle of The Clubs (BOTC) motocross in Taupo, the annual event a fundraiser to help send a three-rider New Zealand team to contest the big annual Motocross of Nations (MXoN) – the Olympic Games of motocross – this year to be held in Italy on the weekend of September 24-25.
Many times a member of the New Zealand team to race overseas at the MXoN, Cooper raced for the Tauranga Motorcycle Club when it won the BOTC fundraiser event last year and this year he was wearing Cambridge Motorcycle Club colours when that club won the seventh annual BOTC event outright for the first time on Saturday.
This made it a sixth different club that has won the event outright over the event's seven-year history and twice now that the Honda Racing Team star has been a determining factor.
While he has not always been a part of a winning club team, Cooper – also then riding for the Tauranga Motorcycle Club – was one of the stand-out individual riders at the event in 2012 and also in 2013, although injury prevented him from racing at the event in 2014.
With Cooper convincingly winning the MX1 class qualifying race on Saturday and then finishing 1-2 in the two points races that followed, he was the best-performed individual at this year's BOTC.
"I was really using today as a test session, so that I could get my bike suspension set up for the coming season," said Cooper afterwards.
"I'm pretty happy with how the bike feels and we've found some great settings.
"This event has a different vibe to most motocross meetings because it's not really about the winning, but all about raising funds to get the New Zealand squad to the Motocross of Nations in September."
Cooper is one of seven riders who are making themselves available for selection for Team New Zealand and the squad that will eventually go to Italy will be named within the next month.
"I've seen video footage of the track in Italy, and, if I'm selected, I think I'll go well there."
Cooper's Cambridge Motorcycle Club team-mates on Saturday finished 10-18 (Jacob Steel, MX2), 10-8 (Michael Cotter, veterans), 6-12 (Jayden Wells-Dally, junior 250cc), 6-9 (Reef Wheki, junior 125cc) and 9-13 (Brodie Connolly, junior 85cc).
The runner-up six-rider squad was the Taupo Blue Team, with the Nelson Motorcycle Club contingent claiming the third step on the podium.
Each team was able to discard their two worst scores – one from the junior ranks and one from the seniors – so that only 10 of their 12 scores were eventually to be counted.
Some of the other outstanding individuals on Saturday included Taupo Blue Team riders Hadleigh Knight (2-5, MX2 class) and Brad Groombridge (2-3, MX1 class), Nelson Motorcycle Club riders Bailey Banks (4-2, junior 250cc class), Grason Veitch (7-5, junior 250cc class) and Clayton Roeseke (4-10, junior 125cc class), as well as Manawatu Orion's Tony Cvitanovich (5-1, junior 250cc class), South Waikato's Ollie Ayre (9-3, junior 250cc class), Tauranga pair Rhys Carter (3-1, MX1) and Jye Deacon (3-8, junior 125cc); Rotorua's Cameron Vaughan (6-8, MX2), Taranaki's Riley Campbell (2-6, junior 250cc), Rodney's Claude Griffith (5-7, MX1), Kapi Mana's Adam Moss (3-13, junior 250cc) and Taumarunui pair Xavier Dalziel (2-7, junior 125) and Roydon White (6-9, MX1).
Credit: Words and photo by Andy McGechan, www.BikesportNZ.com
FOR FURTHER INFORMATION CONTACT:
Andy McGechan
BikesportNZ.com Ltd
Phone 06-758-5182