Jake Moss Suspension
4 Year Ban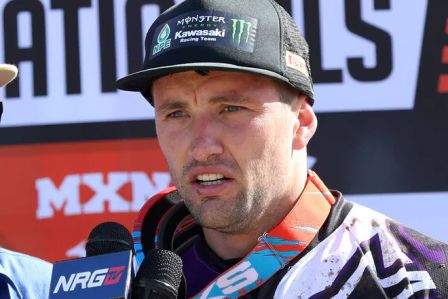 MA Imposes Four-Year Ban on Jake Moss for Positive Drug Test
Australia's sports-governing body, Motorcycling Australia (MA), has imposed a four-year ban on Jake Moss as a result of a positive drug test administered on May 22 in Murray Bridge, South Australia.
According to the statement, Moss violated Articles 2.1 and 2.2 of the policy "for the presence of prohibited substances in an athlete's sample and the use of a prohibited substance" and will not be allowed to participate, as an athlete or support person (including coaching or officiating), until he has completed his four-year sanction and the ban includes using member facilities. Moss will not be eligible to return until July 15, 2020.
In the May test, conducted by Australian Sports Anti-doping Authority (ASADA), Moss tested positive for Ostarine, a SARM (Selective Androgen Receptor Modulator) that mimics the effects of anabolic steroids.
In August, Jake announced he was resigning from the National Pump/Monster Energy Kawasaki team "deciding to focus on his family and career away from competitive motocross and supercross racing."
After announcing his decision to retire, Jake issued a statement on social media regarding his absence from racing:
"As you may know, I recently announced my retirement from racing. As I said at the time, this decision to retire was based upon my decision to focus on my family and career away from competitive motocross and supercross racing. I have recently been advised through Motorcycling Australia and ASADA that I have allegedly tested positive to Ostarine, which is prohibited substance under the World Anti-Doping Code. I do not accept the results of the test and I am in the process of challenging those results through the appropriate processes."
According to a statement released yesterday by MA, Moss "did not apply for a hearing in the Court of Arbitration for Sport and accordingly the mandatory four year sanction has been imposed." The suspension is retroactive to the MA mandatory suspension imposed on July 15, 2016.
Jake, 28, is a former champion in supercross and motocross in his native Australia. He also raced in the United States from 2007-10, including a stint with Troy Lee Designs.
There have been no updates in regards to Jake's twin brother, Matt Moss, who has also been provisionally suspended from competition due to a potential anti-doping rule violation.