Jarvis Wins Romaniacs
Record 6th Time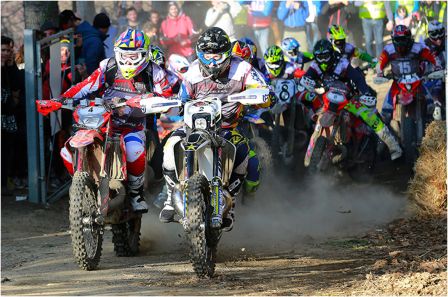 Putting in a dominant race-long performance in the mountains around Sibiu, Rockstar Energy Husqvarna Factory Racing's Graham Jarvis has secured a record sixth career victory at the 14th edition of the Red Bull Romaniacs. Enjoying a strong week of racing in Romania, his young teammate Billy Bolt reached the finish in sixth overall.
With only victory in his mind, Jarvis got off to a great start by securing a strong fourth place result in the short Sibiu city Prologue. With the race entering its hardest part right after the start of the first offroad day, the TE 300 mounted rider was able to show more of his extreme enduro prowess.
Successfully battling his way through a long and challenging day of extreme enduro racing, Jarvis topped the opening day in the mountains to open up a gap of 10 minutes over his closest rival.
Continuing his strong run of form by winning days two and three, the Rockstar Energy Husqvarna Factory Racing rider entered the final day of racing with a 26-minute advantage at the top of the provisional overall standings.
Putting in a cautious ride to earn fifth on day four, he eased his way to the finish line and into the record books as a six-time Romaniacs champion.
Wrapping up a successful outing for the Rockstar Energy Husqvarna Factory Racing team, Jarvis' teammate Billy Bolt rounded out the top six in the event's final standings. Following an unsuccessful attempt to reach the finish during his debut appearance in the event last year, the young Brit came back stronger this year to bring his TE 300 home in sixth place.
Graham Jarvis: "It's an incredible feeling to win Romaniacs for the sixth time. When I started racing the event almost ten years ago I couldn't even dream of winning it six times. It's a fantastic race that has been growing and growing over the last few years. This time it's been a battle of survival and I was really happy to get to the finish. Day one was pretty tough and it seemed to go on forever. It was difficult to navigate as well. Day two was a bit of an easier one and not so technical. Jonny Walker caught me but after the service point I managed to pull a gap. Overall, it was a good day for me. We knew day three was going to be tough. There was a lot of pushing before the service point and that was the hardest bit. It was a very long day and the tiredness kept building. On the last day I did my best to stay focused on the track. I was tired so I decided to play it safe and ride my bike to the finish. It's been a huge team effort to get this winning result."
Billy Bolt: "I'm so happy to have finished the event. We've had some ups and downs during the last few days so the feeling of crossing the finish line is fantastic. Getting it done brings a smile to my face. We all struggled a lot during the first three days and then day four was nowhere as difficult as the rest of them. Overall, I'm really happy with the way I rode throughout the event. My plan was to take one day at a time and this was exactly what I did. I feel that I've learned so much over the last couple of days and I'm sure this will be beneficial for the future. I want to get back here next year even stronger and show what I'm capable of."
Final Results – Red Bull Romaniacs 2017
1. Graham Jarvis (Husqvarna)
2. Mario Roman (Sherco)
3. Paul Bolton (KTM)
4. Manuel Lettenbichler (KTM)
5. Travis Teasdale (KTM)
6. Billy Bolt (Husqvarna)