Kailub Russell Closes the Gap
US GNCC 2014
Following a day's worth of rainfall in Morganton, N.C., Round 3 of the 2014 AMSOIL Grand National Cross Country Series presented by Maxxis, an AMA National Championship, showcased another challenging mud race at the 15th running of the FMF Steele Creek GNCC on Sunday. It was the 2013 GNCC Champion Kailub Russell who prevailed in the end, closing the gap to only three points behind his teammate Charlie Mullins in the overall championship chase.
Baylor grabbed the XC1 Holeshot, but was immediately met by Russell out frontPhoto: Ken Hill
It was a Factory FMF/KTM sweep on the opening lap as Steward Baylor grabbed the $250 All Balls Racing XC1 Holeshot Award before immediately hooking up with Russell out front. By the time Mullins was settled in the second place spot, Russell had put over one minute on his teammate and the rest of the field and the reigning champ never looked back.
Mullins would hold tight for the second place position, despite heavy pressure from Australian native Josh Strang on the final lap.
"I tried to ride good and charge but I wasn't really making up any ground," Mullins said. "I rode as hard as I could. On the second to last lap I had a pretty good crash in the sand and Strang caught up to me. He kept me honest that last lap and I had to push pretty hard to keep him back."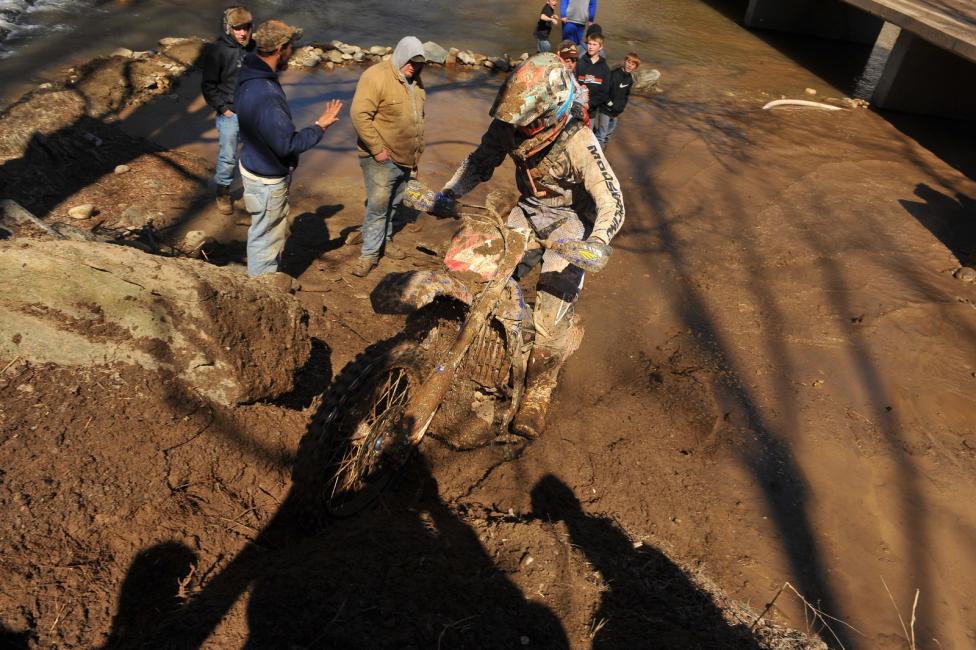 Strang quickly fought his way through the pack at Steele CreekPhoto: Ken Hill
Rocky Mountain ATV*MC/N-Fab Am Pro Yamaha's Josh Strang began the afternoon just inside the top 10 but the 2011 Steele Creek winner quickly pushed his way through the pack. Strang caught Mullins just after the two-lap card fell, and after a hard fought attempt at claiming second place, Strang came through the finish just 20 seconds behind Mullins to capture third place overall for the day.
"It took a while to get going out there," Strang said. "The last couple of laps felt pretty good. I caught up to Charlie on the last lap but I just couldn't get by him. But all in all it was a good day. Podiums are always nice but it's been two years since I've won a GNCC, I'm ready for a win!"
NZ's Paul Whibley suffered from bike issues and had a DNF.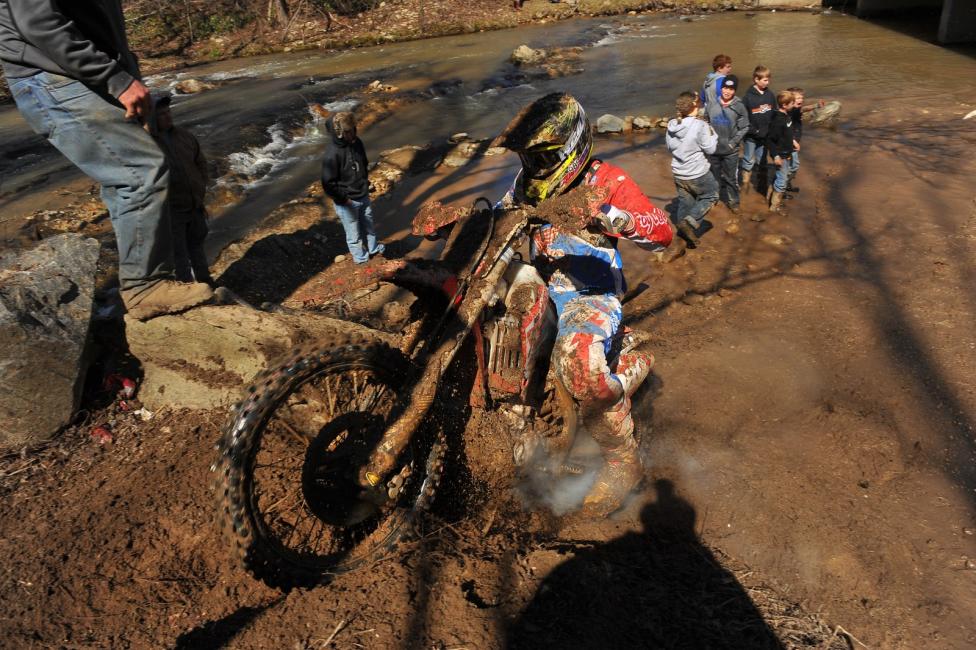 DuVall threw down the KR4 Performance Fastest Lap on his final lap of the dayPhoto: Ken Hill
RideMPS.com/AMSOIL/Honda's Thad DuVall didn't get the most desirable start but the West Virginia native put his head down and charged his way through the pack early on. Duvall commented after the race, "I lost my front brakes right off the bat, I don't know if there was a bubble in the line or what." Despite not having front brakes throughout the first half of the race, Duvall managed to work his way into the top five. On the final lap, Duvall made the pass on FMF/KTM's Steward Baylor, where he threw down the $150 KR4 Performance Fastest Lap on the sixth and final lap.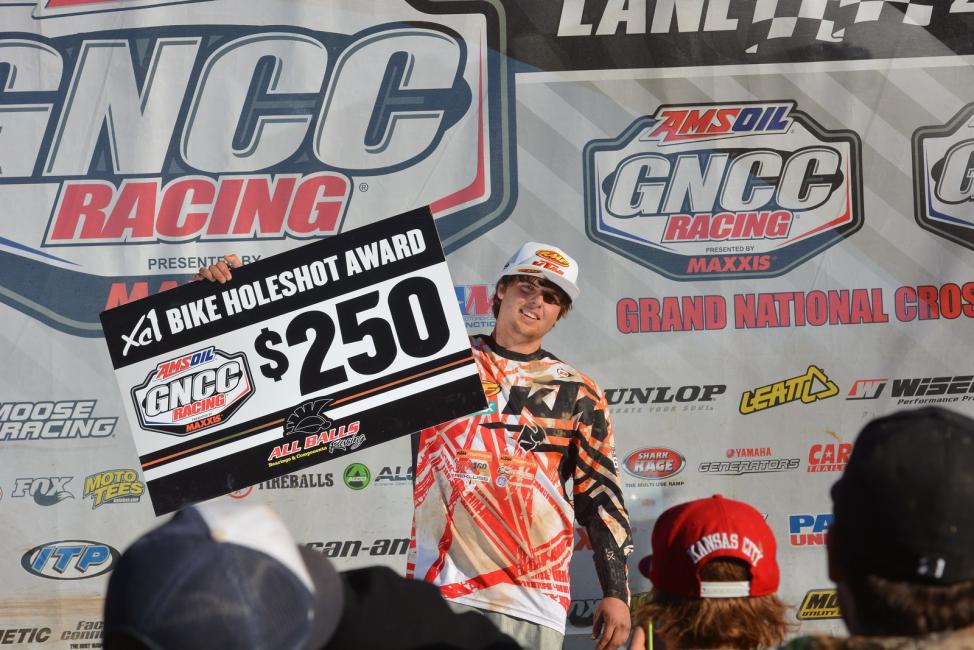 Steward Baylor not only earned the XC1 Holeshot Award, but he earned his best finish of the season coming in fifth placePhoto: Ken Hill
Factory FMF/KTM's Steward Baylor earned his best finish of the season with fifth overall for the day, as well as fifth place in the XC1 Pro Class. Another minute behind was N-Fab AmPro Yamaha's Jordan Ashburn in the sixth place spot.
Factory Husqvarna's Andrew Delong captured seventh place for the day, followed by Johnny Campbell Racing (JCR) Honda's Chris Bach in eighth, Rockstar Energy/WMR/KTM's Ryan Sipes in ninth and Takeshi Koikeda in tenth.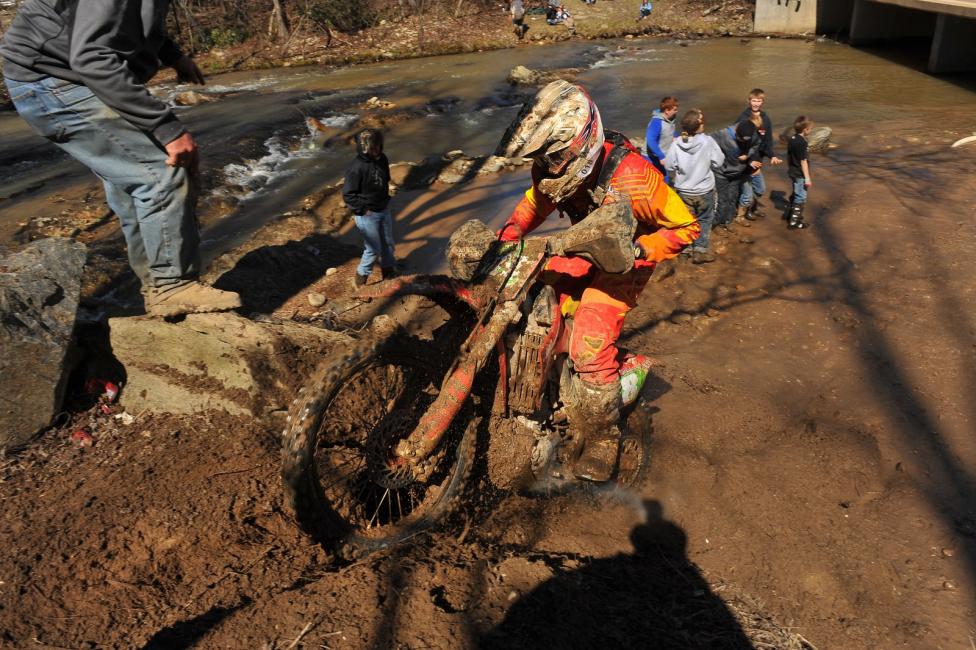 Bollinger earned his first career XC2 Pro Lites victory in his home state
Photo: Ken Hill
It was a big day for North Carolina's very own Trevor Bollinger who earned his first career XC2 Pro Lites victory in front of his home state friends and family. Bollinger, an XC2 rookie, was elated to take the class win after an impressive ride in the not-so-favorable conditions. Bollinger led every moment of the six-lap race.
"This is a dream come true," Bollinger said. "This is what I've been working toward for so many years and I still can't believe I finally proved to myself that I could do it and that I belong here."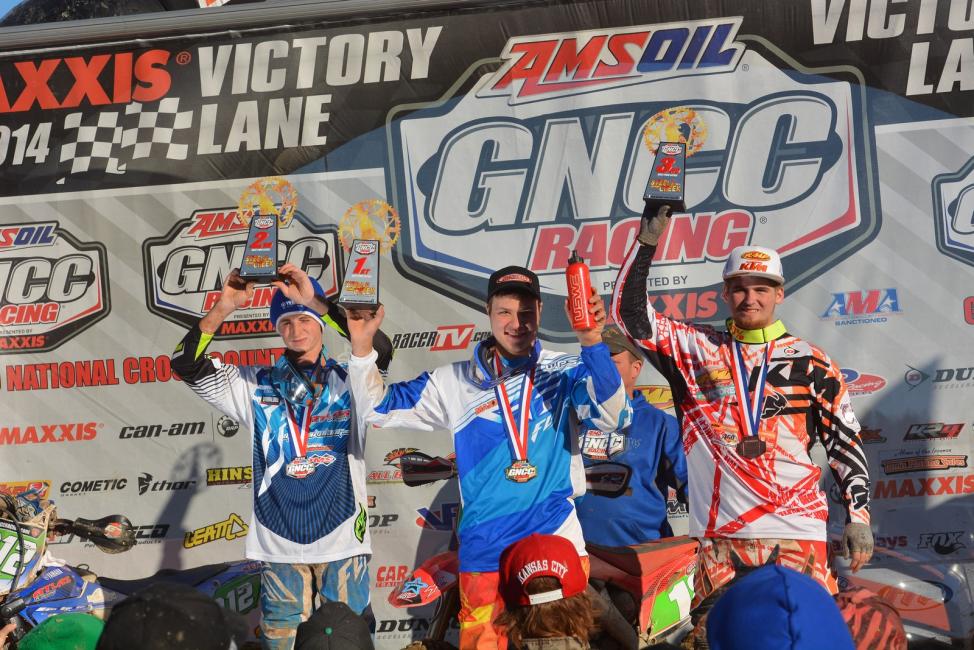 Trevor Bollinger (center), Ricky Russell (left) and Grant Baylor (right) rounded out the XC2 Pro Lites class podium at Steele Creek.Photo: Ken Hill
The battle for second in the XC2 Pro Lites Class was between Raines Riding University/Yamaha-backed Ricky Russell, Factory FMF/KTM's Grant Baylor and Maxxis/KLIM/DirtWise KTM Race Team's Rory Mead. Mead held the second place position until the final lap when the New Zealand native was reportedly involved in a single rider accident. Rory was airlifted to a local hospital and GNCC personnel are currently awaiting an update on his condition as of Sunday evening. Our thoughts and prayers go out to Rory and his loved ones at this time.
Ricky Russell secured the second place position in XC2, while Grant Baylor rounded out the top three and Layne Michael came in fourth. Imperium Bicycles-backed Chris Douglas secured the $100 DigitalOffroad.com XC2 Holeshot Award and eventually finished fifth in the class.
Callan May, the 3rd NZer competing, reports "The track was filled with bogs and ruts. I didn't get a good start at all but once I shook the arm pump, I managed to put my head down and start picking guys off. I was in 9th going into the last lap with 2 guys ahead in sight. I managed to pass them and came in 7th overall in XC2 so was happy with that."
Indiana's Austin Lee grabbed the $125 American Kargo Top Amateur Award with twentieth overall for the day, while also topping the 250 A Class by about three minutes.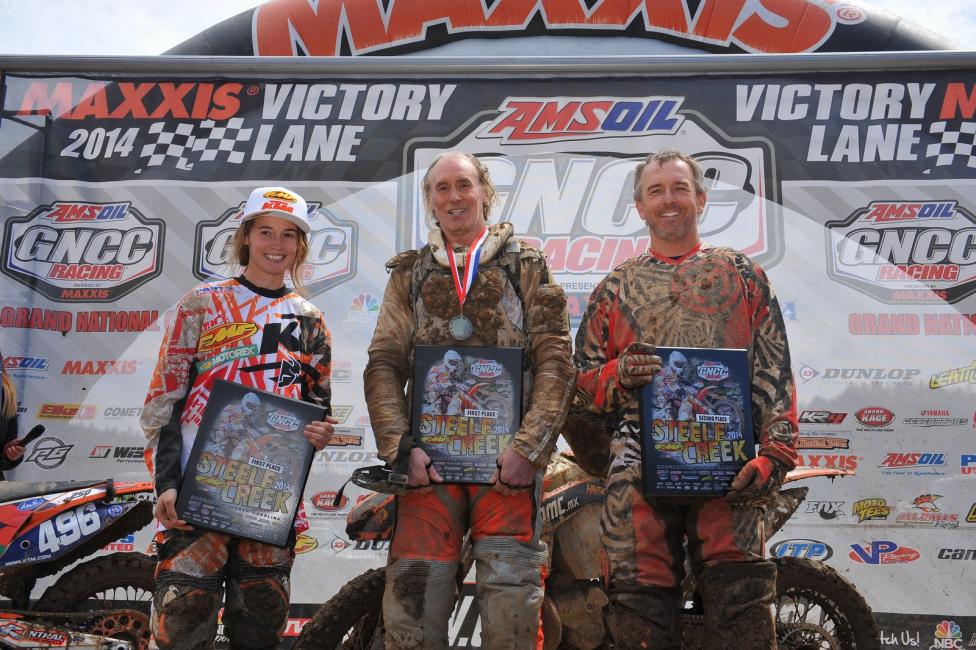 Thaxton (center) grabbed the AM overall victory, and was joined by WXC winner Kacy Martinez (left), and Super Senior A runner-up Ghearing (right) on the podium
Photo: Ken HIll
Super Senior A (45+) winner Stephen Thaxton once again grabbed the morning overall victory after a grueling two-hour competition. Thaxton was joined on the overall podium by WXC winner Kacy Martinez and Super Senior A runner-up Todd Ghearing rounded out the overall podium.
Factory FMF/KTM's Martinez grabbed her third consecutive victory in the WXC Premier Women's Class, while N-Fab/AmPro Yamaha's Becca Sheets took second and Sara Baldwin rounded out the WXC podium.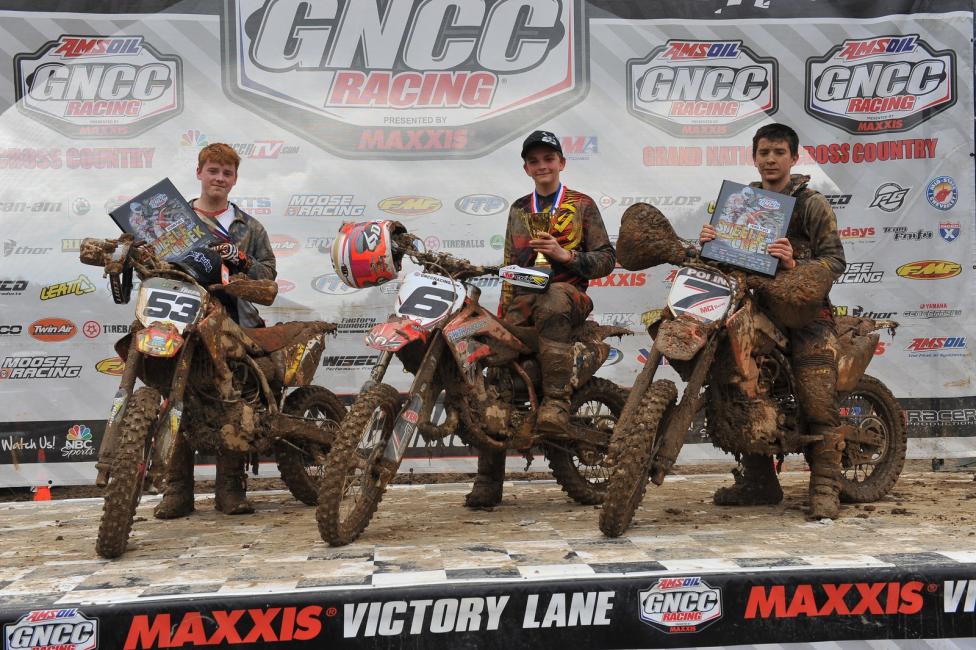 Connor Smith (center) captured his first overall victory in the Youth race, Sam Thurman took second and Brendan Poling took home a thirdPhoto: Ken Hill
In the 8 a.m. Youth race, the Super Mini (14-15) riders once again prevailed through the muddy track conditions. North Carolina's very own Conner Smith captured his first ever overall victory, with Tennessee's Sam Thurman in second and West Virginia's Brendan Poling rounded out the podium.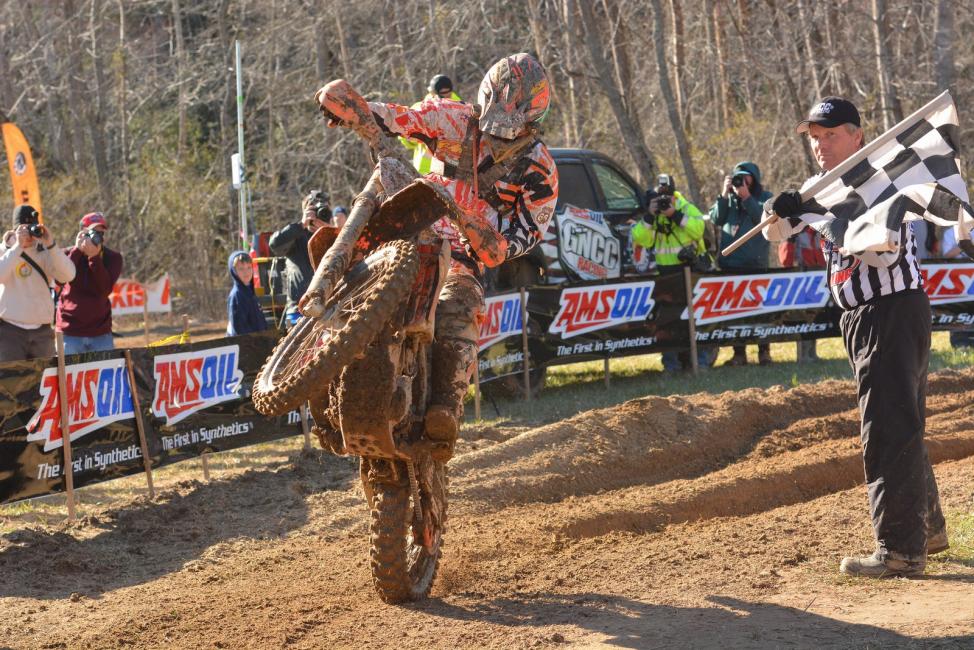 Russell had his second straight victory at Steele Creek, closing the points gap to only three behind his teammate Charlie Mullins
Photo: Ken Hill
The 2014 AMSOIL Grand National Cross Country Series resumes April 12 and 13 with the VP Racing Fuels Big Buck GNCC in Union, S.C. For more information on the series, visit www.gnccracing.com.
XC1 Event Results:
Kailub Russell (KTM)
Charlie Mullins (KTM)
Josh Strang (YAM)
Thad Duvall (HON)
Steward Baylor (KTM)
Jordan Ashburn (YAM)
Andrew Delong (HSQ)
Chris Bach (HON)
Ryan Sipes (KTM)
Takeshi Koikeda (HON)
*Overall National Championship Standings:
Charlie Mullins (70)
Kailub Russell (67)
Josh Strang (58)
Jordan Ashburn (50)
Steward Baylor (44)
Paul Whibley (43)
Grant Baylor (38)
Thad Duvall (36)
Trevor Bollinger (34)
Ricky Russell (33)
*Indicates that the Overall National Championship Standings will determine the 2014 National Champion.
XC2 Event Results:
Trevor Bollinger (HON)
Ricky Russell (YAM)
Grant Baylor (KTM)
Layne Michael (HON)
Chris Douglas (KTM)
Shane Hufford Jr (KTM)

Callan May (YAM)

Ryan Lojak (YAM)
Jesse Groemm (KTM)
Sam Evans (YAM)
XC2 Series Standings:
Trevor Bollinger (69)
Ricky Russell (68)
Grant Baylor (66)
Rory Mead (56)
Shane Hufford Jr (52)

Callan May (41)

Layne Michael (33)
Chris Douglas (32)
Sam Evans (31)
Ryan Lojak (28)