Moss & Faith Clinch Titles
Australian Supercross 2014
Motul Suzuki's Matt Moss completed his perfect season on Friday at Brisbane Entertainment Centre. Moss, who won the MX1 Australian Motocross Championship earlier in the year, clinched his second straight Penrite Australian SUpercross Championship after qualifying for the main. Moss went on to win the main event over Adam Monea and Sam Martin.
In SX2, American Gavin Faith won his second career championship, his first since 2012, with his second place finish. Taylor Potter won the main event Friday ahead of Faith and Hayden Mellross. Fellow American Kyle Peters finished eighth on Friday.
Our friends at MotoOnline.com.au have the full report:
Team Motul Suzuki's Matt Moss made it a perfect season in the 2014 Penrite Australian Supercross Championship to clinch back-to-back SX1 titles tonight at Brisbane Entertainment Centre.
Moss, who earlier this year claimed a second MX1 title in succession outdoors, stormed from the back-half of the field in the 12-rider main event to take a defining victory.
In one of the most dominant seasons on record, Moss sewed up the series earlier in the night by qualifying for the main event and gaining an unbeatable points advantage.
"I want to say thanks to Brisbane fans for coming, but for me it's been a great year and I can't ask for any better – a clean-sweep," Moss said.
"This is a surreal feeling, I feel like I'm in the peak of my career and I want to go race in America to do Australia proud.
"I got hit in the first corner, but then I could see the leaders, put the hammer down and got going. I saw Jess [Foreman] waving me on, I knew I could win this and we got there in the end."
Behind Moss was Adam Monea (NPS Monster Energy Kawasaki), who led the mid-stages before Moss made his way through, and sealed second in the championship after entering the weekend tied with Lawson Bopping (Team Motul Suzuki).
Rounding out the podium was Victorian privateer Sam Martin (Suzuki) in what was his second-career SX1 podium following Phillip Island last season. He edged out early leader Daniel McCoy – who was a fast starter all evening on his private Yamaha – and teenager Jesse Dobson (KTM Motocross Racing Team).
Another rider to run up front in the early laps was Josh Cachia (Husqvarna Motocross Racing Team), eventually finishing sixth, with Bopping, Kirk Gibbs (KTM Motocross Racing Team), Kade Mosig (DPH Motorsport Yamaha) and Robbie Marshall (Honda) rounding out the top 10.
In the championship it was Moss who topped the podium over Monea and Bopping, who was battling for position until a mid-race mistake set him back down the order.
In his final professional appearance Jay Marmont (Penrite Honda) had a night to forget, crashing before struggling to restart and eventually dropping out of the race.
The SX2 championship went to American Gavin Faith, who added the 2014 title to his previous championship captured in 2012 for Penrite Honda.
"I got out of shape a couple of times and went down on the first lap, but I'm super-pumped to wrap it up for Penrite Honda and for all the fans who came out tonight," Faith commented.
Faith led the opening lap but soon went down, which handed Ryan Marmont (Husqvarna Motocross Racing Team) the lead for the opening five laps before he went down shortly after, handing Taylor Potter (Boardstix Motorsport Honda) the lead in the process.
From there Potter charged to an unchallenged victory, leading home Faith and Hayden Mellross (Raceline Suzuki), who made it two podiums in a row before he heads to the US for competition next week.
"This is unbelievable – the first win of my whole career," Potter said. "I gave it my all, went to the States and here I am now. Hopefully I can go back and give it another good crack for 2015 with this win under my belt!"
Behind the podium it was Dylan Long (BBF Motorsport KTM) who charged to fourth, ahead of Geran Stapleton (Raceline Pirelli Suzuki).
Marmont remounted for sixth in what could be his last fulltime outing, the field rounded out by Jackson Richardson (Honda), Kyle Peters (Wilson MX Honda), his teammate Luke Wilson and Kale Makeham (Tunetech Racing KTM).
Brenden Harrison (Instant Security KTM) exited with a broken leg, while heat race pace-setter Luke Arbon (SD3 Husqvarna) – debuting a 250F – was also a non-finisher after he was forced over a berm in the early stages.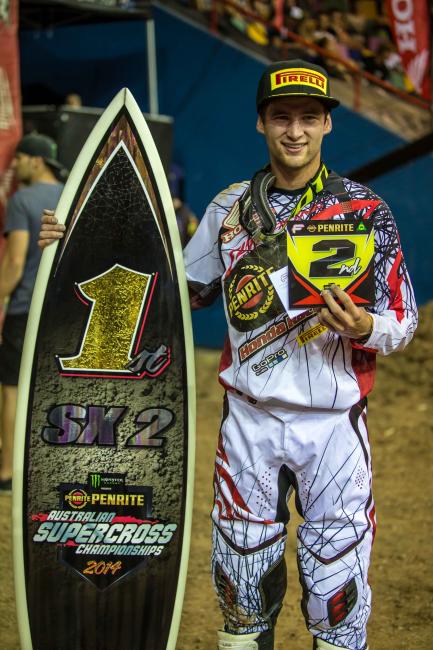 Potter's win saw him sneak past Peters for second in the championship behind Faith, making it a Honda sweep for the CRF250R this season.
In the SXD category Dylan Wills (KTM Newcastle) put forward a flawless performance to clinch the overall and championship, winning the opening two races and then cruising to second in the final race of the season.
"It's unbelievable to think six months ago I was sitting on the lounge with a broken leg, but we pushed through and here we are," Wills said. "Thank you to everyone that helps us – I'm ecstatic, it's so good and I'm just really happy."
Wills won the overall from Tom Ravenhorst (KTM), winner of the final race in another strong showing, while Aaron Tanti (Sutto's/SS Racing KTM) completed the overall podium.
Previous red plate holder Jack Simpson (Davey Motorsport KTM) had a disastrous night, falling victim to a number of first turn incidents in an untimely off-night and eventually ending up fifth overall for the round.
Jordan Hill wrapped up the Junior Lites title for Yamaha Junior Racing with the overall from Kaleb Barham and Lachlan Barham. In the series it was Hill over Lachlan Holroyd and Travis Silk completing the top three.
2014 Penrite Australian Supercross Championship
Round five – Brisbane, QLD
SX1 main event results:
1. Matt MOSS
2. Adam MONEA
3. Sam MARTIN
4. Daniel McCOY
5. Jesse DOBSON
6. Josh CACHIA
7. Lawson BOPPING
8. Kirk GIBBS
9. Kade MOSIG
10. Robbie MARSHALL
11. Kieren TISDALE
DNF. Jay MARMONT
SX1 championship standings:
1. Matt MOSS 175
2. Adam MONEA 150
3. Lawson BOPPING 142
4. Kirk GIBBS 137
5. Jesse DOBSON 121
6. Josh CACHIA 113
7. Kade MOSIG 111
8. Jay MARMONT 104
9. Justin CARAFA 94
10. Chris CAMILLERI 81
11. Sam MARTIN 74
12. Daniel McCOY 70
13. Jake MOSS 68
14. Kieren TISDALE 56
15. Keith TUCKER 53
16. Tim VARE 49
17. James BOOTH-ELLIOT 43
18. Joel NEWTON 36
19. Sam MARTIN 30
20. Robbie MARSHALL 21
SX2 main event results:
1. Taylor POTTER
2. Gavin FAITH
3. Hayden MELLROSS
4. Dylan LONG
5. Geran STAPLETON
6. Ryan MARMONT
7. Jackson RICHARDSON
8. Kyle PETERS
9. Luke WILSON
10. Kale MAKEHAM
DNF. Brenden Harrison
DNF. Luke Arbon
SX2 championship standings:
1. Gavin FAITH 167
2. Taylor POTTER 144
3. Kyle PETERS 140
4. Hayden MELLROSS 137
5. Kale MAKEHAM 125
6. Ryan MARMONT 118
7. Brendan HARRISON 112
8. Geran STAPLETON 103
9. Luke WILSON 99
10. Jackson RICHARDSON 96
11. Luke ARBON 95
12. John PRUTTI 91
13. Boyd HOCKING 79
14. Tristan DUNCAN 75
15. Jake WILLIAMS 70
16. Jake VELLA 50
17. Dylan LONG 43
18. Nick SUTHERLAND 43
19. Dylan LONG 28
20. Lewis WOODS 26
SXD overall results:
1. Dylan WILLS 102
2. Tomas RAVENHORST 97
3. Aaron TANTI 88
4. Izak MAULE 84
5. Jack SIMPSON 82
6. Brock McLEARY 75
7. Connor RICE 69
8. Miles CLISSOLD 68
9. Dylan WILSON 48
SXD championship standings:
1. Dylan WILLS 475
2. Jack SIMPSON 459
3. Brock McLEARY 436
4. Tomas RAVENHORST 431
5. Aaron TANTI 396
6. Izak MAULE 388
7. Trent WHEATLEY 290
8. Blake SOLA 119
9. Tim O'BRIEN 118
10. Connor RICE 69
11. Miles CLISSOLD 68
12. Dylan WILSON 48
Junior Lites overall results:
1. Jordan HILL 95
2. Kaleb BARHAM 94
3. Lachlan HOLROYD 89
4. Anthony REGINA 82
5. Travis SILK 77
6. Jesse BISHOP 76
7. Joel CIGLIANO 75
8. Drew CIGLIANO 72
9. Fraser HIGLETT 69
10. Jacob BUCKMAN 69
Junior Lites championship standings:
1. Jordan HILL 503
2. Lachlan HOLROYD 464
3. Travis SILK 431
4. Drew CIGLIANO 375
5. Joel CIGLIANO 372
6. Dylan DUKES 352
7. Kaleb GROTHUES 158
8. Bradley CAIN 144
9. Kaleb BARHAM 94
10. Jacob BUCKMAN 92
11. Anthony REGINA 82
12. Jesse BISHOP 76
13. Jimmy GRIFFIN 76
14. Fraser HIGLETT 69
15. Dylan WAKARTSCHUK 69
16. Tyler DERBY 68