Only in New Zealand
An American's view....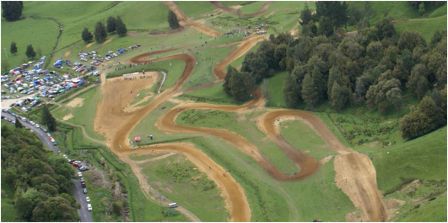 This weekend I had the chance to attend a New Zealand "regional" race, just to check out things and remind myself what motocross was like having not attended a race for almost a month now.
Obviously being on the other side of the world, they do things slightly differently...
There is a 125cc class...


Yup, that's right. 125s are alive and kicking in New Zealand and used as a stepping stone before the 250/450 classes.
Oh, and the National Champ runs in it.... on a Honda CR125!


Cody Cooper decided to bust out his 2001 (I think) Honda CR125 with a few modifications, taking on youngsters over half his age. And guess what, it produced the best racing of the day. Who'd have thunk it?
Zero GoPros...


For reasons best known to the MNZ (the Kiwi AMA), riders aren't allowed to wear GoPros. The rule has recently come into place, as apparently they only just received the report from that stupid French journalist that said the GoPro caused Schmacher's injury. I'm sure in a couple of months the MNZ will learn that he actually recanted his statement over 2 years ago.
They have awesome tracks that you've never heard of...

See.
And most of the spectators are sheep...

Motorhomes aren't really an "in" thing


Got a ute and a trailer. That'll do.
You receive updates on rugby scores from the track announcer


The All Blacks lost. Shame.
MXGP stars race these things


It may have only been a regional event but there were at least 5 riders who have competed at the very top level of their class in the MXGP paddock. From Cody Cooper who rode so well for NZ at the MXoN, to youngsters like James Scott and the Wyatt and Cohen Chase who have ridden in the Junior classes at the GPs.
Boys get beaten by a girl


WMX star Courtney Duncan was also there... beating everyone in the 250 class, in one of the motos anyway, with Trent Collins taking the overall.
.....
And how did I get to this race? World motocross and SX champ Ben Townley gave me a lift of course. Only in New Zealand, bro.
By David Bulmer