Podium for Paulin & Herlings
MX GP Bulgaria
www.racerxonline.com By Adam Wheeler
Click here for Highlights from the MXGP Bulgaria

The Jeffrey Herlings MX2 freight train rolls on to almost runaway status after his fifth Grand Prix victory on the bounce here in Sevlievo, Bulgaria, and while Tony Cairoli was momentarily dethroned by Gautier Paulin in the premier class, the world champion was still able to maintain a record of at least one checkered flag in every GP this season. The tour has now visited Qatar, Thailand, Holland, Italy and Eastern Europe, and this weekend's event featured a venue that ticks every box for a 21st century motocross event. Something of an irony then that the fast, wide and mostly flat Sevlievo hard-pack is pretty much old-school, featuring a natural setting (long uphill and downhills) and a layout that many of the riders were calling "easy".
The Bulgarians and fans from countries in this region of the continent obviously care more for their racing than practice and qualification judging by the disparity in the attendance from Saturday to Sunday. A reasonably good turnout for the motos cured a subdued atmosphere on the first day and the significance of only 20 riders being able to travel this far to make the MX1 gate was not lost on people in the paddock. Grand Prix is on the edge of transition, and the signs that an overhaul of some sorts is required has been recognised by the powers-that-be. The FIM Motocross World Championship presents a cosmopolitan, diverse and slick show but the time is ripe for bosses to meet around a table to decide the next path from the crossroads to try and help this series kick-on.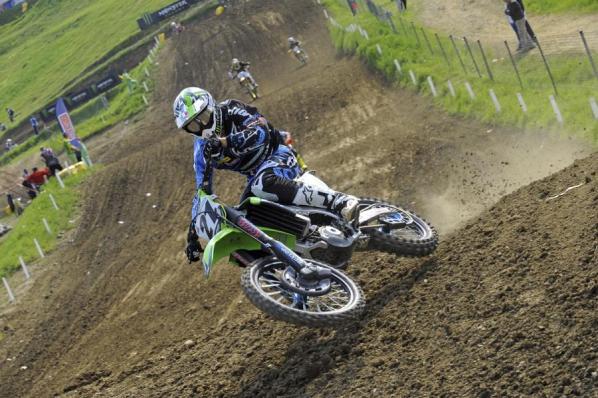 Paulin was able to repeat in Bulgaria for his first overall of 2013.
Monster Energy photo
What to take from Bulgaria? On this tapped-out circuit there was always a risk of procession with the lap-times so close. The track was a playground for some and a world of frustration for others.
Paulin had already taken victories here in MX2 and scored his first-ever MX1 victory here last year on his Kawasaki. His dominance of the practice and qualification, and then a first moto where he flew around the hills—seemingly with the minimum of effort—suggested another roll-over. Where was Cairoli? A bad start and previous form at Sevlievo (only one win, taken in 2007) meant fourth place was the best the champion could record on that feisty 350SX-F. The Sicilian challenged Paulin in the second race and after trying to offer some initial resistance Paulin sensibly saw the bigger prize and instead maintained a three second gap to the rear wheel of 222. "I've won motos and GPs but never the double" he said, although still happy with the overall win. "I made some good starts today. Tony passed me and showed me a really good line! It was cool to ride with him and for me it was a lot of fun. I tried to come back but it was difficult. It was nice to win the GP and to fight with Tony. I'm in good shape and will try to achieve my goal and get back on top of the box more."
With the first two steps of the podium set, the last trophy was decided from the best piece of action of the day. Rockstar Suzuki teammates Clement Desalle and Kevin Strijbos duelled in the first moto (going 3-2 respectively) and then again in the second (3-4) to tie on points and allowing Desalle his first champagne spray since the overseas meetings. Strijbos is five years older than his countryman but his sprightly speed all weekend at Sevlievo and a meaty counter-attack in the first moto indicated that the veteran still has plenty to offer this MX1 collective.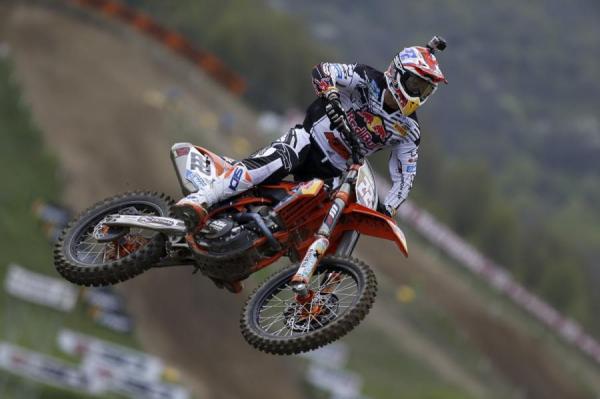 Cairoli finished second and still commands the points lead in MX1.
Ray Archer / KTM Images photo
The contingent that didn't gel so well with the terrain included Ken de Dycker, who couldn't find a start and was relatively anonymous after his starring role in the previous two rounds. Honda's Max Nagl was also frustrated by his attempts to overtake Rui Goncalves for seventh and would crash late into Moto2. Tommy Searle was also set back by crashes but the 2012 MX2GP winner in Bulgaria was quick again on the Monster Energy/Pro Circuit Kawasaki and there is hope the MX1 rookie can keep his spirits high and aim for the top three in the near future. Outside of the strong quartet of Cairoli, Paulin, Desalle and Bobryshev (recovering from a fractured right fibula but expected back for Portugal in two weeks) Searle is the next most exciting prospect and many onlookers know we haven't seen the best of the Brit yet.
Searle had defeated Herlings here twelve months ago, but he's not in MX2 any longer. The Dutchman went 1-1 again without competition in MX2, but it was a breakthrough of sorts, as this was his first victory at Sevlievo. "It's taken me nine years to win! In 2004 I was in the Europeans and didn't do it in the 65s, 85s or 125s and then four years in GPs!" He then chatted about some of his motivation for a campaign that already seems to have a road map. "To try and stay undefeated will be almost impossible but I'm going to keep trying for that dream. I'm just looking at the MX1 lap-times at the moment and trying to get as close as possible. Maybe there is less competition this year without guys like Searle or Roczen around but winning is never easy. I'm not getting bored but I like to try as hard as I can to make things nicer for me out there."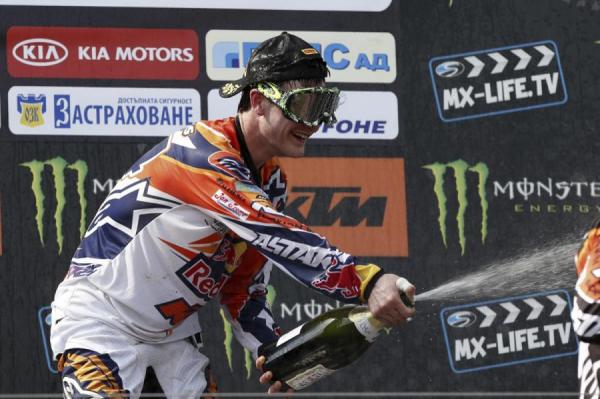 Herlings celebrates another win in MX2.
Ray Archer / KTM Images photo
Jordi Tixier again filled the vacuum between his teammate and the rest of the field that is starting to see some entertaining squabbles between the likes of Jose Butron (Spain), Max Anstie (UK), Christophe Charlier (France), Dean Ferris (Australia) and now Alessandro Lupino (Italy) who came into MX2 as a squeaky teenager in 2007. Through injury, confidence issues and several years on an uncompetitive Husqvarna Lupino finally made his podium breakthrough after emerging victorious from a close fight with Anstie. Lupino achieved this with two broken ribs, courtesy of a crash last week at his home GP: "If I needed two broken ribs to be on the podium then I would have broken them much earlier," he commented. "I have improved a lot over the last year with my fitness and speed and although Jeffrey [Herlings] is the fastest in MX2 there are six or seven guys going for the podium so it is pretty tough. I'm so happy with this."
Jimmy Decotis received another unusual taste of FIM Motocross World Championship and although he got very close to a holeshot in the first MX2 moto on the CLS Pro Circuit Kawi the New Englander still isn't up to the pace to be able to register points in the top twenty. Check in with Racer X in the next day or two to read an interview with the youngster on his European mission.
There will be a double dose of the Portuguese tongue next for the Grand Prix paddock with a trip to Agueda on the furthest west coast of Europe and then the long haul to Brazil in the middle of next month.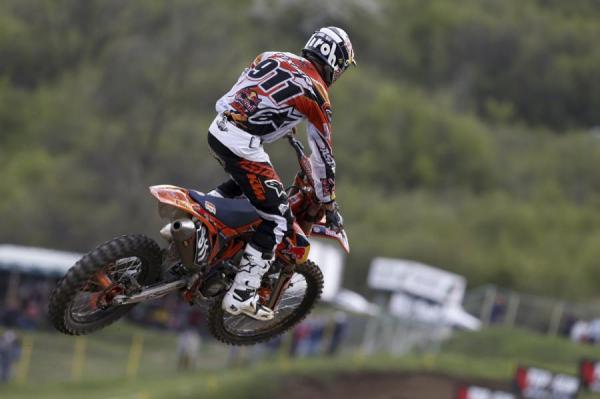 Jordi Tixier finished second behind teammate Herlings.
Ray Archer / KTM Images photo
MX1 Moto1
1. Gautier Paulin (FRA, Kawasaki), 40:14.945;
2. Kevin Strijbos (BEL, Suzuki), +0:04.689;
3. Clement Desalle (BEL, Suzuki), +0:06.006;
4. Antonio Cairoli (ITA, KTM), +0:30.205;
5. Tommy Searle (GBR, Kawasaki), +0:35.733;
6. Maximilian Nagl (GER, Honda), +0:40.606;
7. Jeremy van Horebeek (BEL, Kawasaki), +0:45.322;
8. David Philippaerts (ITA, Honda), +0:52.735;
9. Ken de Dycker (BEL, KTM), +1:05.573;
10. Davide Guarneri (ITA, KTM), +1:14.625;
MX1 Moto2
1. Antonio Cairoli (ITA, KTM), 40:00.784;
2. Gautier Paulin (FRA, Kawasaki), +0:02.888;
3. Clement Desalle (BEL, Suzuki), +0:07.415;
4. Kevin Strijbos (BEL, Suzuki), +0:08.501;
5. Ken de Dycker (BEL, KTM), +0:40.876;
6. Jeremy van Horebeek (BEL, Kawasaki), +0:44.408;
7. Rui Goncalves (POR, KTM), +0:47.683;
8. Tommy Searle (GBR, Kawasaki), +0:48.078;
9. David Philippaerts (ITA, Honda), +0:56.418;
10. Davide Guarneri (ITA, KTM), +1:01.838;
MX1 Overall
1. Gautier Paulin (FRA, Kawasaki), 47 points;
2. Antonio Cairoli (ITA, KTM), 43 p.;
3. Clement Desalle (BEL, Suzuki), 40 p.;
4. Kevin Strijbos (BEL, Suzuki), 40 p.;
5. Jeremy van Horebeek (BEL, Kawasaki), 29 p.;
6. Tommy Searle (GBR, Kawasaki), 29 p.;
7. Ken de Dycker (BEL, KTM), 28 p.;
8. David Philippaerts (ITA, Honda), 25 p.;
9. Maximilian Nagl (GER, Honda), 25 p.;
10. Davide Guarneri (ITA, KTM), 22 p.;
MX1 World Championship standings after 5 of 17
1. Antonio Cairoli (ITA, KTM), 235 points;
2. Gautier Paulin (FRA, Kawasaki), 195 p.;
3. Clement Desalle (BEL, Suzuki), 189 p.;
4. Ken de Dycker (BEL, KTM), 183 p.;
5. Kevin Strijbos (BEL, Suzuki), 160 p.;
6. Tommy Searle (GBR, Kawasaki), 147 p.;
7. Rui Goncalves (POR, KTM), 109 p.;
8. Maximilian Nagl (GER, Honda), 100 p.;
9. Xavier Boog (FRA, KTM), 90 p.;
10. Evgeny Bobryshev (RUS, Honda), 87 p.;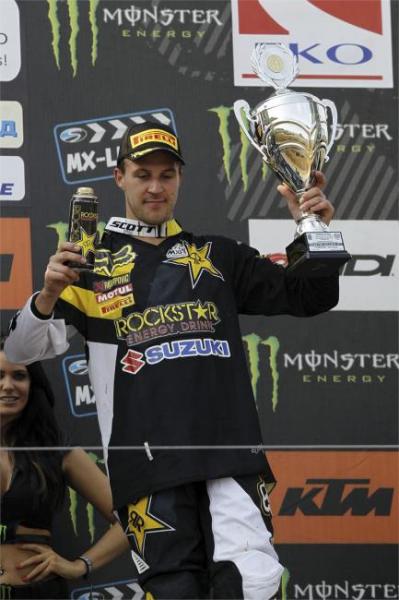 Clement Desalle would round out the MX1 podium.
Suzuki photo
MX2 Moto1
1. Jeffrey Herlings (NED, KTM), 39:21.965;
2. Jordi Tixier (FRA, KTM), +0:25.397;
3. Valentin Teillet (FRA, Kawasaki), +0:36.700;
4. Jose Butron (ESP, KTM), +0:42.217;
5. Glenn Coldenhoff (NED, KTM), +0:44.519;
6. Jake Nicholls (GBR, KTM), +0:47.745;
7. Christophe Charlier (FRA, Yamaha), +0:55.354;
8. Alessandro Lupino (ITA, Kawasaki), +0:56.889;
9. Max Anstie (GBR, Suzuki), +0:57.451;
10. Dean Ferris (AUS, Yamaha), +1:10.358;
MX2 Moto2
1. Jeffrey Herlings (NED, KTM), 40:29.060;
2. Jordi Tixier (FRA, KTM), +0:40.387;
3. Alessandro Lupino (ITA, Kawasaki), +0:44.302;
4. Max Anstie (GBR, Suzuki), +0:47.967;
5. Christophe Charlier (FRA, Yamaha), +1:02.871;
6. Dean Ferris (AUS, Yamaha), +1:10.192;
7. Jose Butron (ESP, KTM), +1:11.042;
8. Glenn Coldenhoff (NED, KTM), +1:23.777;
9. Dylan Ferrandis (FRA, Kawasaki), +1:24.743;
10. Pascal Rauchenecker (AUT, KTM), +1:36.000;
MX2 Overall
1. Jeffrey Herlings (NED, KTM), 50 points;
2. Jordi Tixier (FRA, KTM), 44 p.;
3. Alessandro Lupino (ITA, Kawasaki), 33 p.;
4. Jose Butron (ESP, KTM), 32 p.;
5. Max Anstie (GBR, Suzuki), 30 p.;
6. Christophe Charlier (FRA, Yamaha), 30 p.;
7. Glenn Coldenhoff (NED, KTM), 29 p.;
8. Dean Ferris (AUS, Yamaha), 26 p.;
9. Jake Nicholls (GBR, KTM), 22 p.;
10. Valentin Teillet (FRA, Kawasaki), 20 p.;
MX2 World Championship standings after 5 of 17
1. Jeffrey Herlings (NED, KTM), 250 points;
2. Jordi Tixier (FRA, KTM), 185 p.;
3. Glenn Coldenhoff (NED, KTM), 157 p.;
4. Jose Butron (ESP, KTM), 143 p.;
5. Christophe Charlier (FRA, Yamaha), 137 p.;
6. Max Anstie (GBR, Suzuki), 128 p.;
7. Dean Ferris (AUS, Yamaha), 115 p.;
8. Alessandro Lupino (ITA, Kawasaki), 109 p.;
9. Jake Nicholls (GBR, KTM), 104 p.;
10. Romain Febvre (FRA, KTM), 98 p.;
11. Mel Pocock (GBR, Yamaha), 87 p.;
12. Petar Petrov (BUL, Yamaha), 80 p.;
13. Julien Lieber (BEL, Suzuki), 71 p.;