Race Day Glen Helen
US MX 2015
Click here for race highlights
The second round of the Lucas Oil Pro Motocross Championship has come and gone in the form of the FMF Glen Helen National in Southern California. Before the first gate dropped there were plenty of hanging questions from Hangtown, and the biggest was definitely whether or not Eli Tomac's utter domination was a fluke, or if he could back it up. To see how the answer to that question played out, start at the bottom for chronological updates. To skip straight to the motos, just start at the paragraph below.
450 Moto 1
Can Ken Roczen catch a break? After rebounding from last week's struggles to qualify fastest here at Glen Helen, the champ got together with Jason Anderson on the start of this moto and went down, with the two of them remounting way, way back. Roczen fought back though and clawed his way back up to eighth.
Up front was Justin Barcia, but Ryan Dungey passed him like he was standing still by taking a different line after the finish. A lap later, Eli Tomac did the same thing and went after Dungey for the lead. The two went at it for a long time, with the battle coming to an unexciting end when Dungey stalled the bike, giving the lead, and a big gap, to Tomac. Tomac would disappear for the win, beating second place by 37 seconds.
Tomac's lead got big immediately.


Photo: Cudby
Speaking of second place, it should have gone to Dungey, but it didn't. Dungey had it wrapped up but stalled in the same place, again, on the final lap and finished sixth. Barcia took second, followed by teammate Phil Nicoletti, who nabbed his first career podium.
Brett Metcalfe retired early from this one with what looked like a front wheel problem, and Josh Grant lost a ton of time when he had to have a front wheel changed due to a broken wheel.
450 Moto 2
The good news for Ryan Dungey is that he didn't lose the second moto this week by 90 seconds. The bad news is that he still lost the second moto to Eli Tomac—this time by 23 seconds after starting with Tomac and watching him slowly creep away, lap after lap. Tomac's 1-1 leaves him with a 19-point lead. Dungey rode to a very lonely second ahead of Roczen, who also finished all by himself.
Ken Roczen bounced back for third in the second moto. He now faces a daunting 49-point deficit to Eli Tomac after just two rounds.


Photo: Cudby
Justin Barcia was fourth, and about halfway through the race it looked like Chad Reed was going to get him, but Reed ended up fading a little, losing spots to Weston Peick (who eventually lost fifth to Jason Anderson), Anderson, and Blake Baggett. Anderson made a run on Barcia on the last lap, but he just wasn't close enough to get him. The two shared a thumbs up after they both crossed the line. Other than that, there wasn't much battling—the guys were pretty spread out.
This just in, Tomac's not bad at riding dirt bikes.
250 Moto 1
The drama started before the gate even dropped in this moto. Jeremy Martin's Yamaha developed some kind of problem on the line, and as the clock ticked down the team couldn't get the bike started. When the pack took off, Martin wasn't with them. Instead, he was on the receiving end of a push start, which worked. He rejoined the race about five seconds back of the pack and went to work. Halfway through he was in the top ten, and by race's end he'd salvaged fifth.
Jeremy Martin was on fire in the first moto.


Photo: Cudby
Up front early was Jessy Nelson with Marvin Musquin close behind. The two put on a fantastic battle, trading spots, with Musquin finally getting by and sprinting away. Nelson held down second for quite a while, only to fall Justin Hill, then Joey Savatgy, late in the race. Had he held off Savatgy, it would have been all orange in the top three.
Chris Alldredge had a decent race going but he crashed on a steep downhill, got trapped under his bike, and took forever to get going again. Zach Osborne also lost some spots when he stalled in a corner.
Thanks to Martin's problems, Musquin rode relatively unchallenged to perfect moto scores.


Photo: Cudby
250 Moto 2
After bike problems made him start behind everyone in the first moto, Jeremy Martin got together with Matt Bisceglia in moto two and went down on the start, forcing him to once again slice through the pack. The crowd was definitely behind him, and if you lost sight of him all you had to do was look for the white rally towels being waved. His charge ended with him in sixth, but if he had just one more lap he probably would have gotten third. Not the result he wanted, but still an amazing one, all things considered.
Up front it was Marvin Musquin, who holeshot and led wire to wire and took the checkers with another heel-clicker one-hander. Behind him there just wasn't much going on. Alex Martin held it down for the Martin family name in second, and that's where he ended up in his best career finish ever to net fifth overall. If you're Cycle Trader Rock River Yamaha, you're completely over the top with how well Martin has started out the season.
Jessy Nelson held third most of the race, but teammate Shane McElrath clipped him at the very end, which handed second overall to Justin Hill. Nelson ended up third overall for an all-orange podium.
The big winner in the 250 Class was KTM. The orange company swept the podium!
Practice Report
We'd usually use the term, sunny Southern California when reporting from this race, but this morning that's not the case. A thick cloud cover currently hovers over the racetrack and surrounding areas, and there was even a smattering of rain that came through yesterday and this morning, although it wasn't much. Enough to make the dirt in the infield squishy, but not enough to create any standing water on the track.
Speaking of the track, it's already starting to get nasty and the first gate hasn't even dropped! It's as if the two California tracks, northern and southern, are sports teams competing for the title of roughest, gnarliest course of the series. The track also features plenty of Glen Helen's signature up and downhill sections, which should be a challenge for riders trying to maintain speed going downhill and still make the deep, tight turn at the bottom. Miss the turn, get out of the racing line, and you'll be spinning for days as the competition motors away.
As far as bike setup goes, the general consensus here is that most everyone made the mistake of starting out too soft last week. For the most part, guys are going stiffer and mapping is getting more aggressive. Expect the racing to tighten up a bit after last week's beat down.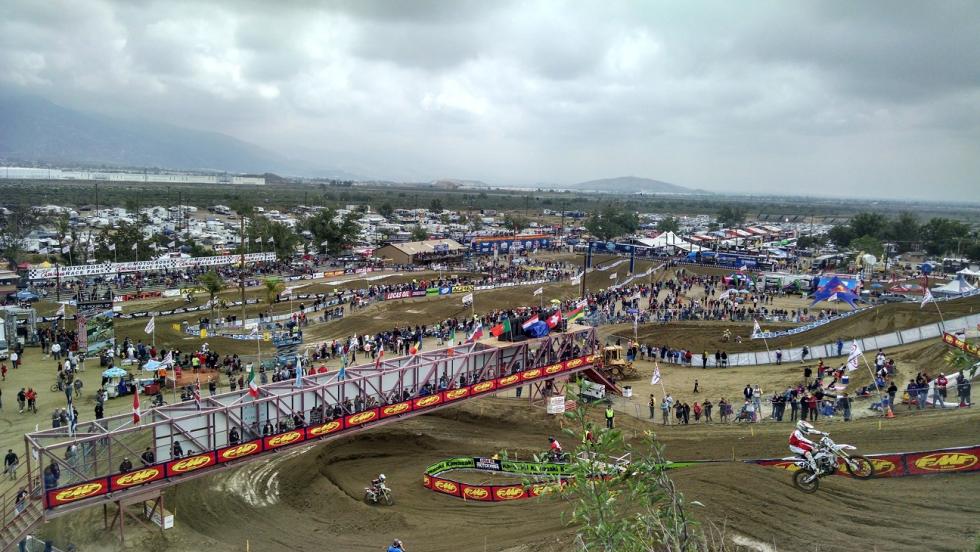 Eli Tomac was fastest in the first 450 session, but the good news for everyone else is that he wasn't three seconds faster than the closest competitor like last week—he had about half a second on Ryan Dungey's fastest time. Things were different in the second qualifier, however. The track had broken in and times were dramatically faster, with Ken Roczen topping the field. He was over a second faster than Tomac, who was sixth-fastest. To be fair, Tomac didn't look like he was hustling at all in the second qualifier, and when he did try to get a fast lap in it seemed like he always ran into traffic and slowed down. We're guessing he won't be quite as polite in the motos.
In 250 action it was all Jeremy Martin, who was faster than everyone in both qualifiers. Justin Hill looks to have rebounded from last week's woes by qualifying second-fastest, with Marvin Musquin rounding out the top three. If you're wondering how Cooper Webb did, he didn't—he's out today after re-aggravating a high-ankle sprain last week at Hangtown. His teammate Anthony Rodriguez is also out today after crashing earlier in the week.