Race feed from Hangtown
USA MX 2014
After a pair of teams dominated the Lucas Oil Pro Motocross opener at Glen Helen last weekend, so a host of other teams and riders were hoping the script would flip at round two, the GoPro Hangtown National in Northern California. Well, those folks can keep dreaming, because the same 1-2 punches in the 250 class (that's blue punch, if you're keeping score) and the 450s (orange) pounded right through Hangtown. Here's how it all went down.
Photos by Simon Cudby
250MX Moto 2 Report
Another moto, another display of sheer domination by Jeremy Martin, who took the holeshot and disappeared. Behind him finished teammate Cooper Webb, but Webb didn't didn't have it easy early on when Christophe Pourcel went around him and pulled a gap and went after Martin. But it wasn't to be, as Webb came back strong, reeled Pourcel in and rode to a lonely second. Pourcel followed suit in third.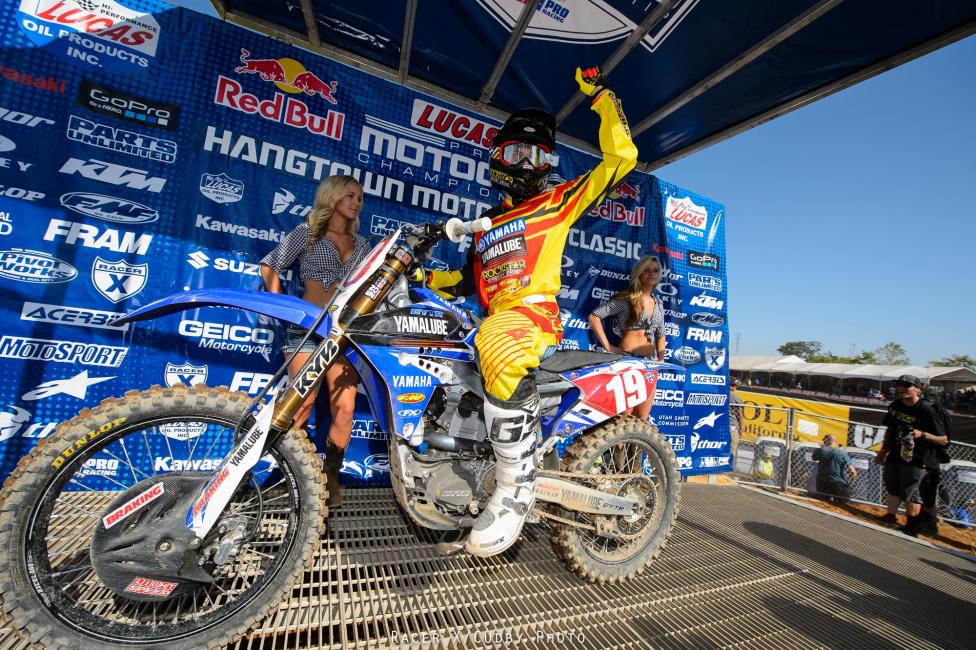 Another perfect day for Jeremy MartinPhoto: Cudby
Justin Bogle was running a strong fourth but had a big crash that resulted in a DNF. And speaking of DNFs, Blake Baggett suffered one too, mechanically induced. No word yet on exactly what happened, but we'll report on it when we find out. In other crash news Alex Martin was having a great ride, well within the top ten, but went down. Credit to the Cycle Trader.com Rock River Yamaha rider for charging back up to thirteenth.
Elsewhere Justin Hill and Jason Anderson, who both got so-so starts, were aggressively ripping forward. Hill made it into fourth and was in line to score an overall podium, but he crashed and dropped a few positions. He reloaded late in the moto and went after Jessy Nelson, but it was just barely too little too late, and he took sixth behind Nelson by less than half a second. Had he made the pass he would have been third overall. -Aaron Hansel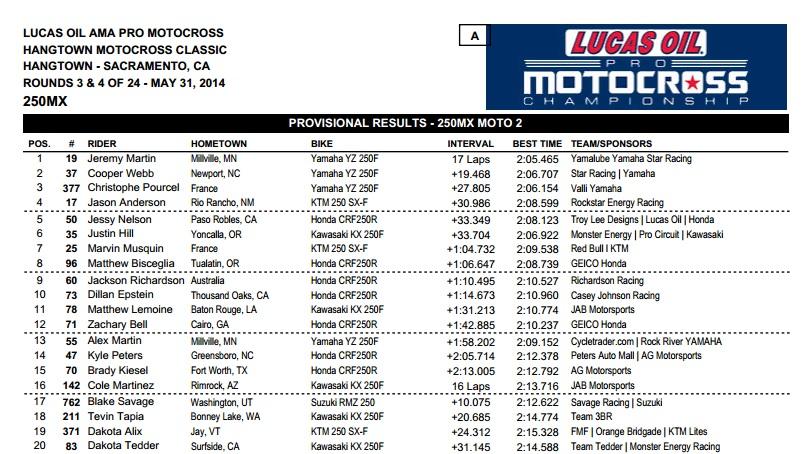 450MX Moto 2 Report
Two teammates were once again out front early in the second 450MX moto—this time it was Monster Energy Kawasaki's Jake Weimer and Brett Metcalfe. Weimer secured the holeshot, but Metcalfe seized the lead shortly after and steadily held on to the front-runner position. Weimer lost momentum in the exchange and began to fall back through the lead pack.
Justin Barcia moved right in behind Metcalfe and applied more pressure as they clicked off laps. In close proximity was Ken Roczen, who was studying the lines of the top-two riders. Fourth place Ryan Dungey was also in the hunt and had a comfortable lead over fifth place James Stewart. Stewart clipped a landing going through some downhill rollers in the opening lap and immediately distanced himself from the lead pack.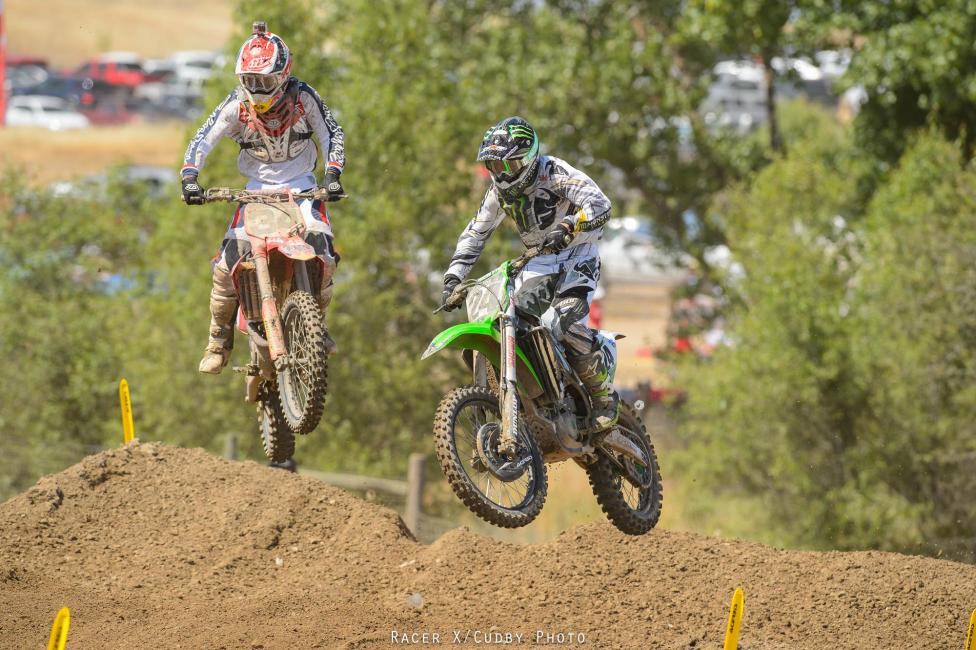 Malcolm Stewart got together with Brett Metcalfe, which resulted in a broken header pipe for Stewart.Photo: Cudby
After shadowing the top-two riders for a handful of laps, Roczen chose an advantageous section to start moving forward. He braked late into a downhill corner to pass Barcia on the outside, then made the pass on Metcalfe over a tabletop in quick succession. Dungey then charged to pass Barcia and then Metcalfe within a full lap to move into second.
Stewart started to close in on the top four as Barcia had passed Metcalfe. He was able to get by Metcalfe coming out of an inside line and through the uphill whoop section. Stewart set his focus on Barcia and was able to reel in and pass him by the next lap.
As if Metcalfe didn't have enough on his hands already, Trey Canard was moving through the pack and made contact with a block pass that put the Kawasaki rider into a dirt wall. Fortunately, Metcalfe was able to stay upright and kept his bike running.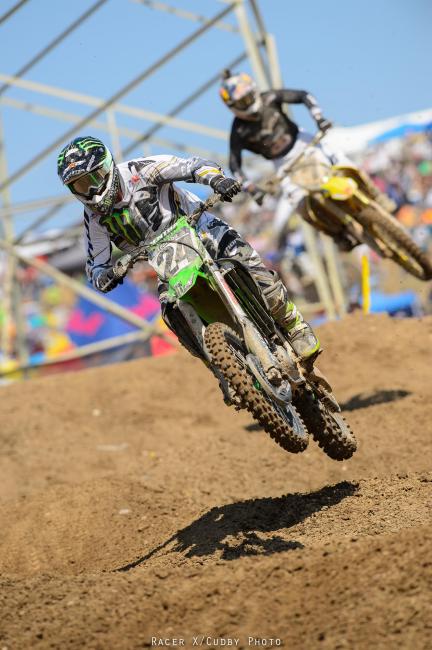 Metcalfe was strong early, leading three laps.Photo: Cudby
The rest of the moto was similar to the first. Roczen had a comfortable lead over second, Dungey had a comfortable lead of third, and the top-five had yarded the rest of the field. It appeared as if nothing would transpire for the remainder of the moto, but Canard was not letting off well into the moto. He passed his Honda Muscle Milk teammate with two laps to go for fourth in the moto and third overall. Roczen swept both motos for first overall, and his Red Bull KTM teammate Ryan Dungey went runner-up in both motos for second overall. James Stewart finished out the moto in third for fourth overall. -Jordan Roberts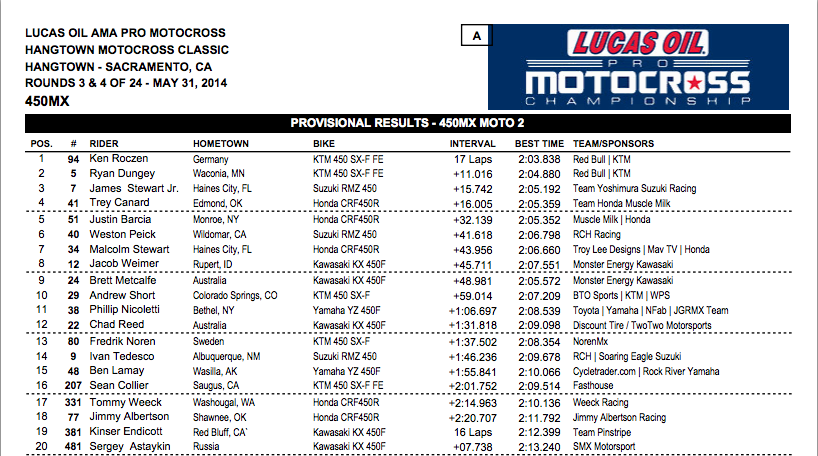 250MX Moto 1 Report
When the gate dropped to the first 250 moto, we had to stop and look around to make sure we weren't at Glen Helen; what was unfolding was nearly a carbon copy of the action from last week. GEICO Honda's Zach Bell took the holeshot, with Yamahalube Star Racing Yamaha's Jeremy Martin taking the lead almost immediately and completely running away with yet another moto win. He even had a small crash which he quickly recovered from and remounted without losing any spots. When the checkers flew, Martin had won by nearly twenty seconds. It was nothing but utter dominance.
Behind him it was Justin Bogle, who held down second place most of the moto, only to come under pressure from a hard charging Cooper Webb. The two battled briefly, but they bumped and Webb went down. No matter, Webb popped back up right away and reeled Bogle in and passed him several laps later. Bogle would later come under pressure again from Justin Hill, who dealt with a flat tire and crashes last week. Hill was less than a bike length behind Bogle at the line, and had he had just one more lap he'd have been third.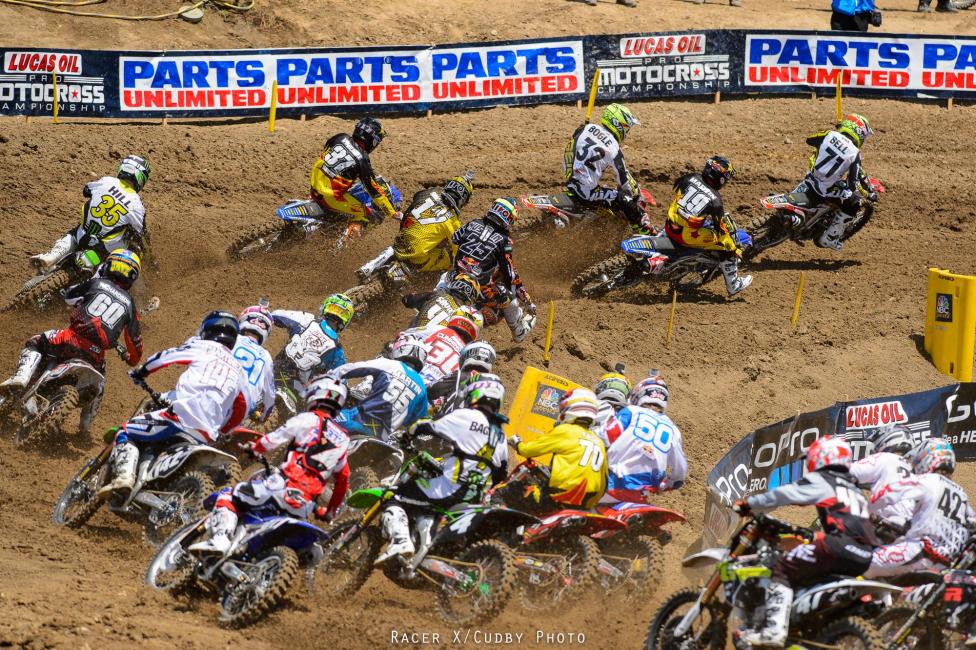 Zach Bell ripped another holeshot at Hangtown.Photo: Cudby
Bad luck for Jason Anderson, who went down on the first lap and got going again in close to dead last. Props to the Rockstar Energy Racing rider though, as he rejoined the race at a furious pace and made his way all the way up to tenth place.
Cole Seely also had some bad luck and went a lap down after experiencing a mechanical problem. Late in the race he found himself behind Martin, and it seemed as though Seely was using the opportunity to pace Martin and check out his lines and speed. If the two start together it could be interesting, as Seely seemed to match Martin's pace more or less at this point.
Blake Baggett got a bad start but busted out his trademark move of turning up the heat in the second half of the moto. Unfortunately that isn't going to work this year, as the leaders are incredibly strong. Baggett was able to make it up to sixth behind Zach Bell, who put in what looked to be a very controlled ride. -Aaron Hansel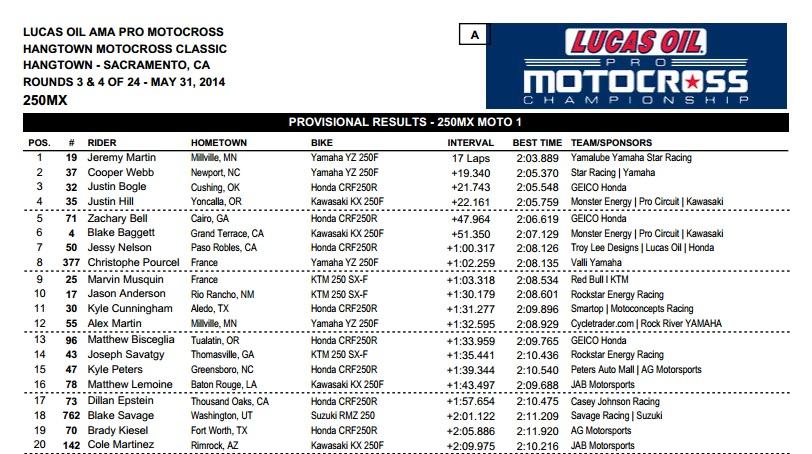 450MX Moto 1 Report
The first 450MX moto picked up exactly where the last one left off at Glen Helen. Red Bull KTM's Ryan Dungey claimed the MotoSport.com holeshot directly in front of his teammate Ken Roczen. After his heartbreaking loss with the checkers in sight, Roczen sought redemption in the opening lap at the Hangtown Motocross Classic. He railed an outside line to pass Dungey and never looked back. Dungey was in striking distance during the first few opening laps, but Roczen gradually inched away to open a comfortable lead.
Trey Canard, Brett Metcalfe, James Stewart and Justin Barcia followed up the Red Bull KTM duo. Metcalfe held strong in the opening laps, but was later shuffled behind charges from Stewart and Barcia. Metcalfe rode the rest of the moto unchallenged once he settled into sixth.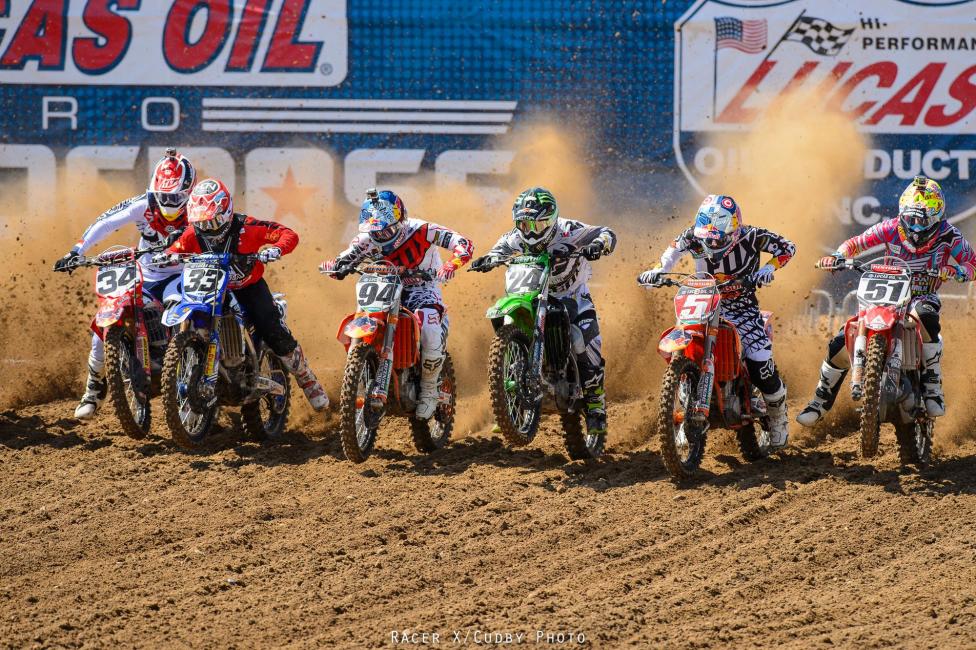 A boring race is always good for one guy, and today that guy was Roczen.Photo: Cudby
Barcia, however, was quickly working on shaking more positions lose once he got that initial pass out of the way. He challenged Stewart for a couple laps before pulling the trigger in the corner just before the finish line. He picked a line just to the outside of Stewart, and the two riders made slight contact and Barcia cased the landing as a result, but he set himself up for the inside line and passing opportunity in the following corner to move into fourth.
Canard, Barcia and Stewart settled into pace and would oftentimes gain time on one another, but nothing significant enough to rearrange the running order. Roczen and Dungey had yarded the field, and the battle for third was also a race in itself. Roczen crossed the checkers for his first moto win with a comfortable lead, while Dungey followed up in second and Canard held onto third. -Jordan Roberts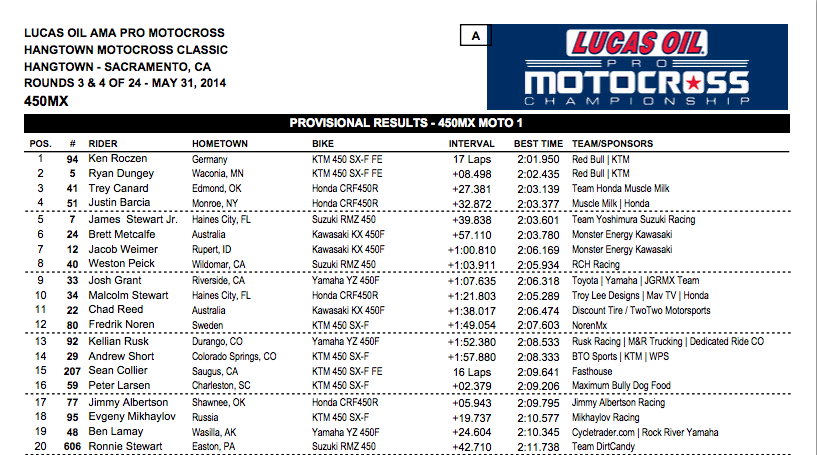 Practice Report
Good afternoon and welcome to the Race Day Feed from the second round of the 2014 Lucas Oil Pro Motocross Championship, coming to you from the GoPro Hangtown Motocross Classic in Northern California. The track has the same basic layout that Hangtown always has, with plenty of ups and downs running the length of Hangtown's hills, and the dirt is deep with plenty of rice hulls (to help retain water) mixed in. What is different is the jump design—most of them seem to be a little smaller than in previous years, and there isn't really anything spectacular, jump-wise. Don't worry though, this track is going to be extremely rough, and there will be plenty of good spectating as the best racers in the world attempt to keep their bikes pointed forward and right-side-up as they blast over one of the roughest tracks on the circuit.
In the first 450 practice it was Ken Roczen who was fastest, but he had company. Trey Canard, James Stewart and Ryan Dungey were all in the same 1:59.00 second range as Roczen. The track was just getting broken in at this point, and for the most part there wasn't a whole lot to separate everyone. The times in the second 450 qualifier reflected just how quickly the track was getting nasty, however, and the bikes were bouncing around considerably more as riders struggled to maintain pace. When it was over it was James Stewart who had thrown down the fastest lap, a 2:01.139, but it wasn't fast enough to rival the times of the first session.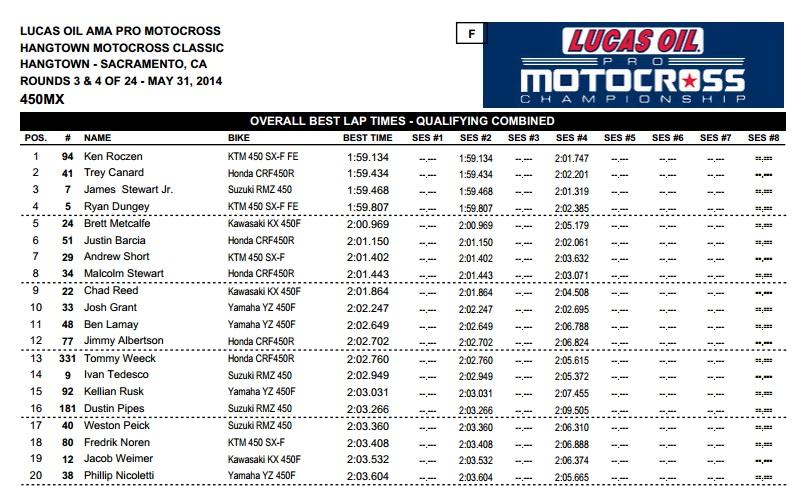 In the 250 qualifiers, it was the same story, with Cole Seely (2:02.194) beating out Cooper Webb, Zach Bell, Jason Anderson and Justin Bogle. Jeremy Martin experienced a high-speed crash in this qualifier, and even though he popped right back up, it looked like his bike was a little twisted and he didn't finish out hard. When 250 field went out for session two, the times were considerably slower, except for the laps posted by Christophe Pourcel. Oddly, the Frenchman was able to post the fastest time of the day on a rough track that slowed most other riders considerably, and he didn't even look like he was riding very aggressively. This bodes well for his chances in the motos, because this track is going to get rougher than a weekend with the in-laws.
Worthy of mention is Justin Hill. He wasn't fastest, but he was riding with all sorts of aggression in the second qualifier. If he can keep that up for thirty plus two, he'll have a much better weekend than he did at Glen Helen. Jason Anderson also looked aggressive and fast. Like last week, expect him to be in the hunt for a podium finish. -Aaron Hansel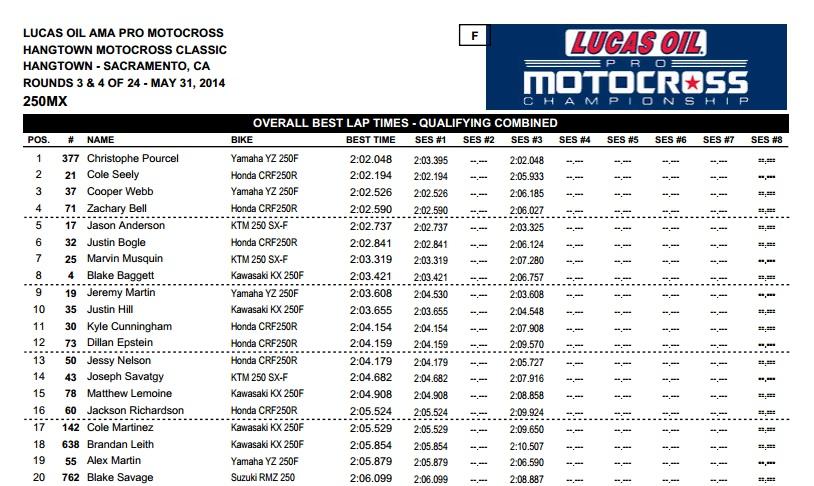 For full results, please visit americanmotocrossresults.com.