MEC Race Feed
Monster Energy Cup 2015
www.racerxonline.com By Chase Stallo
FInal Main Event
All season long, Ken Roczen has been trying to side step the drama that has come from changing and adjusting to a new team in Soaring Eagle/Jimmy John's Suzuki. The season offered a few highs, but several lows, but Ken has kept his head and his spirits up, and the relationship never crumbled.
He needed to avoid the drama one more time in Las Vegas, where he headed into the final main event with a two-point lead over Ryan Dungey and Jason Anderson. The first two main events were wild, with crashes, missed Joker Lanes and great battles throughout. But in the third race, Kenny just shut 'em down.
There was one amazing moment, though, when Anderson nailed the holeshot to sweep the start of all three main events. For that, he gets a brand spankin' new Toyota Tundra. Anderson had admitted he's usually not a great starter, and perhaps all that time at the front messed with him, because he jacked up the first rhythm lane on lap one and had to double a triple, while Roczen, who started second, tripled and sailed right past. Dungey got around Anderson as well, and then Trey Canard tried to get Anderson also. Canard nearly tagged Anderson's rear wheel exciting a corner, though, and couldn't jump the finish line jump. In a scary crash, Canard had to bail off and he and his bike crashed into the Team Manager's Tower next to the finish. Luckily, Canard landed softly and was okay.
Roczen continued to lead and Dungey tried to give him a run, but the German inched away. Dungey took a shot by taking the Joker Lane early and hoping to maybe put in a burner lap and gain time, but before the white flag, Roczen took the Joker Lane and maintained his lead. With 1-4-1 scores, Roczen won his first Monster Energy Cup, and $100,000.
Dungey finished second. Anderson had a great night and took third, although he'll lament missing the Joker Lane in race one. In the end, it wouldn't have mattered, as Roczen had just a little more than everyone when it counted.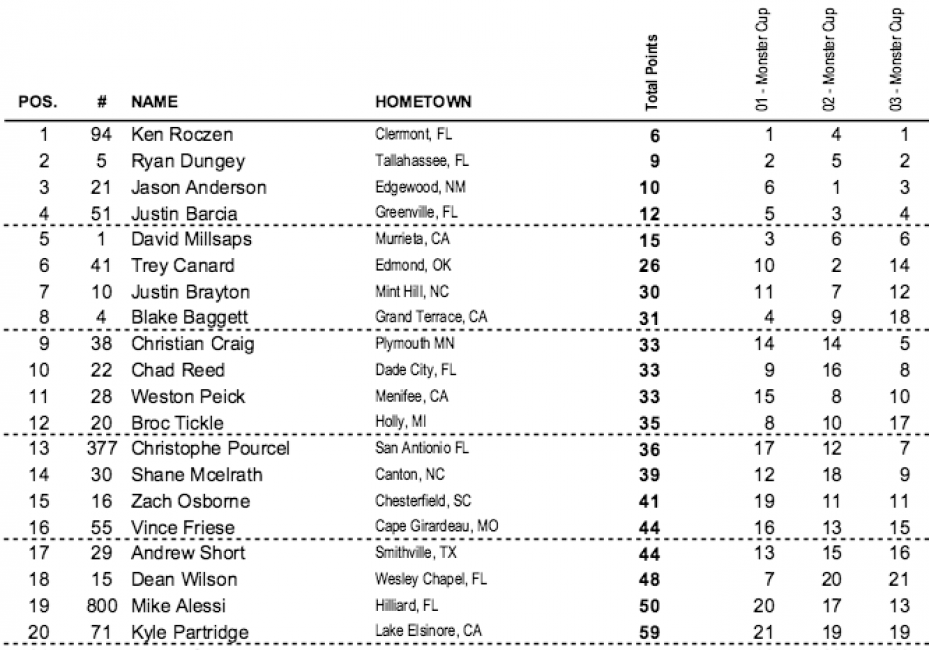 Main Event 2
Jason Anderson's gaffe in race one, where he missed the Joker Lane and was penalized from first to sixth, might prove very costly. He holeshot the second race, just like he did the first one, but once again a rider snuck past him, this time Justin Barcia. But Anderson quickly fought back and retook the lead from Barcia, and from there he was never headed, bringing his Rockstar Husky home with the win. And yes, this time he also took the Joker Lane, so this counts.
Like the Amateur All-Star race, the battle for second was the entertaining one. Barcia had that spot most of the way, but behind him came Dungey, Millsaps, Canard and Roczen. Dungey bobbled and Millsaps got around him for third. Then Roczen raged through, getting Canard for fourth, and then they both cleared Millsaps and Dungey. The Canard and Roczen battle was a good one, Roczen was in third but then Canard passed him back. Then came the Joker Lane. Dungey was right behind Roczen and took it first, then Roczen took it on the next lap. They emerged exactly where they started--with Dungey right behind Roczen. Just ahead, Canard was trying to catch Barcia for second. On the last lap, Anderson and Barcia took the Joker Lane. Anderson escaped with his lead still in tact, but Canard edged ahead of Barcia as Barcia was exiting the section. At the checkers, Anderson took it over Canard and Barcia, and Roczen finished just ahead of Dungey.
That Roczen/Dungey battle is critical, because Roczen now has a two-position edge on Dungey heading into the third and final race (Roczen has a 1-4, Dungey a 2-5). Anderson is tied for second with Dungey, with his 6-1. But, oh, what could have been. Anderson was third for most of the first race, then took the lead when Dungey and Roczen took the Joker Lane, and he didn't. Had he taken it, he probably would have ended up third, and a 3-1 would give him a one-point edge on Roczen heading into the final main. Ouch.
Anderson can win a Toyota Tundra if he gets a third holeshot. And while the Monster Million is off the table, Roczen, Anderson and Dungey still have $100,000 to fight over. Stay tuned.
By the way, James Stewart didn't line up for this second race. He told Fox Sports reporter Jenny Taft that he jammed his wrist in practice.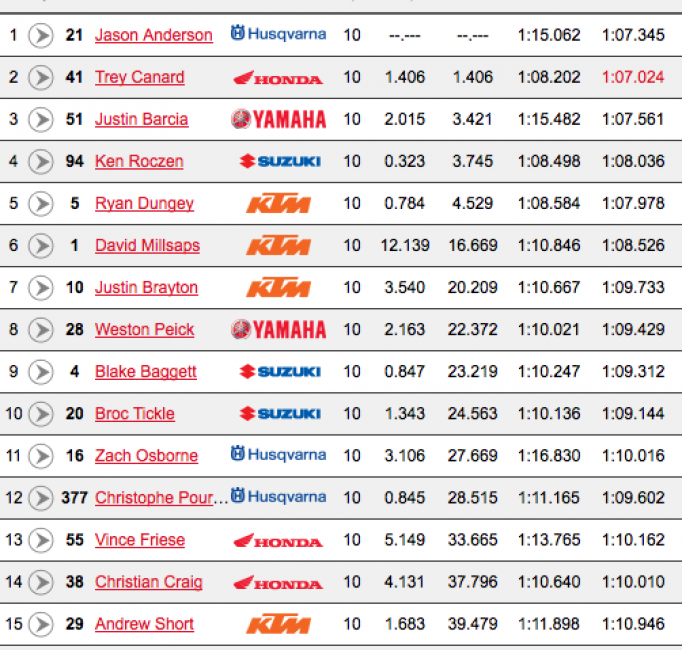 Well, didn't take long for craziness to break loose here in Las Vegas! At the start of the first main event, Rockstar Energy Husqvarna's Jason Anderson and Honda HRC's Trey Canard tussled for the holeshot, with Canard ultimately snagging the lead. Ken Roczen and Ryan Dungey quickly filed in behind Canard by getting inside of Anderson over the over/under bridge. At the end of lap one, Canard washed out in a big bowl berm and crashed. Most of the field snuck by him until James Stewart made a similar error and ended up sliding right into Canard just as he was getting up. Both riders were okay, but Canard, who nearly won last year's race, ended up tenth, while Stewart finished 18th. 10 lap mains don't leave much time for comebacks.This left Roczen leading Dungey, and the Soaring Eagle/Jimmy John's RCH Suzuki rider started to pull away slightly over the first few laps. Five laps in, Dungey decided to take the Joker Lane early, dropping the Red Bull KTM rider back to fourth, behind Anderson and BTOSports.com KTM's Davi Millsaps.Late in the race, Anderson made a charge and got to within 2.2 seconds of Roczen, and then Roczen had to duck into the Joker Lane. Anderson flew past into the lead, and then took the checkered flag first. BUT...he didn't take the Joker Lane. That's a five-position penalty.This gave Roczen the win, and he's the man in position to win the Monster Million if he can take the next two mains."I'm just having fun, so, if it happens, great, but if not, the world doesn't burn down," said Ken in his Fox Sports interview.A few minutes after the race, Anderson ended all the controversy by straight up admitting on his Twitter account that he didn't take the lane:
You can add another dumbass to the missing the joker lane list! Haha #cassicmixup— jason anderson (@elhombre_21) October 18, 2015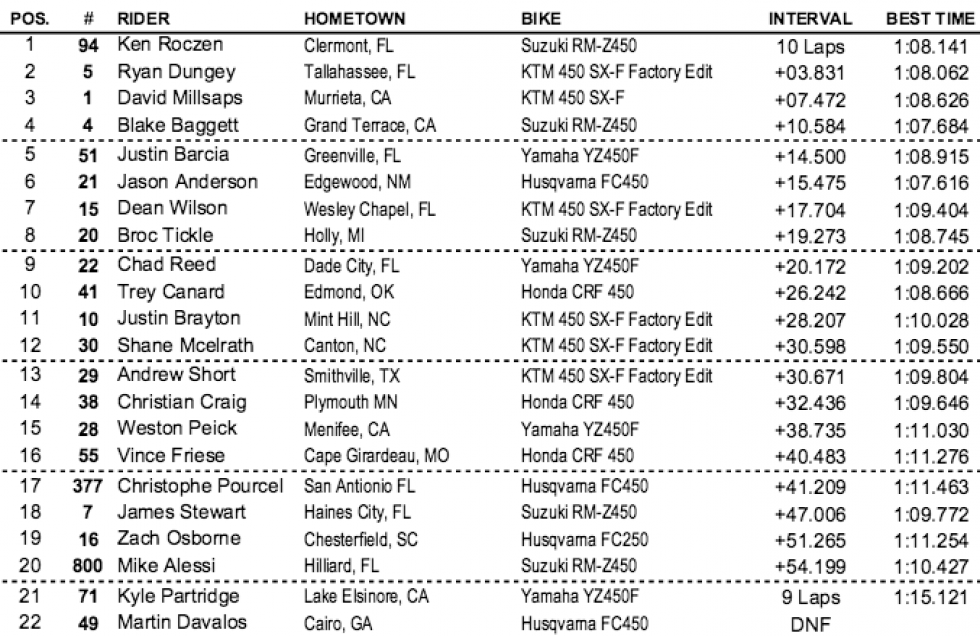 First timed qualifying
The first qualifying session is over and it was Ken Roczen taking the top spot with a 1:08.013. Trey Canard, who was thisclose to winning one million here a year ago, held the top spot for much of the session before finishing second to Roczen with a 1:08.140. Jason Anderson, Christophe Pourcel and Blake Baggett would round out the top five. Ryan Dungey and James Stewart finished sixth and seventh, respectively.
The now retired Ryan Villopoto, who will ride opening ceremonies tonight, participated in practice but was not recorded in the qualifying order. He will not race tonight but will participate in the next practice.
The Morning
Monster Energy Supercross returns to Sam Boyd Stadium in Las Vegas for the fifth annual Monster Energy Cup tonight. The high-profile off-season race, which started back in 2011 with Ryan Villopoto winning the Monster Million (the only rider ever to do so), marks the last race of 2015 for most riders, with a chance at one million to any rider that wins all three main events.
The track is quite a bit different this year. Riders will start inside the stadium for the first time since 2011, as the start will be elevated nearly twelve feet. The starts funnels into a bottleneck first turn, which leads directly into the over-under bridge. Another new edition will be a sand section directly after riders enter back into the stadium.
"I'm really excited about this year's track design, and feel it is quite a bit different than any before it," said Carmichael in a recent press release. "Of course, the elevated start is going to be cool to see and I like that it is back inside the stadium for this year."
Click for the Track map
Following a sixteen month suspension for testing positive for a prohibited substance following the Seattle Supercross in 2014, Yoshimura Suzuki's James Stewart returned last weekend at the Red Bull Straight Rhythm event, defeating Jimmy John's/Soaring Eagle/RCH Suzuki's Ken Roczen in the final for a second consecutive Open Class title. Tonight will be James' first supercross race since Las Vegas 2014, and he admitted after last weekend's win that while winning both races would be nice, his main focus is the Monster Energy Supercross Championship.
"When you don't race, the one thing you lose is that race craft, learning not to make mistakes when a guy is next to you, that speed, all that," he said. "I was kind of worried about that, but at the same time, I knew I was just kind of getting back into this thing, so I felt like whatever happened [here], happens, and the same thing with next weekend, but it's January that counts."
Chad Reed is also back for the first time since shutting the doors to his TwoTwo Motorsports outfit this summer, and he returns to a brand—Yamaha—he rode from 2002-2008 in the States. Reed is rumored to be returning to the brand full-time in 2016, but nothing has been finalized. The Monster Energy Cup will serve as a one-off race for the two.
"Chad and I talked a couple of times during the summer, and he expressed interest in riding a Yamaha YZ450F," commented Keith McCarty, Motorsports Racing Division Manager for Yamaha Motor Corporation, U.S.A. "While he was rehabbing from injuries suffered earlier in the 2015 AMA Supercross season, he wanted to try out a Yamaha. So, we got him a YZ450F to train on, and he really liked the bike. He felt that he could be competitive on it. Well, one thing led to another, and he decided that he wanted to give it a go on the Yamaha at the Monster Energy Cup."
"I'm really excited to take this trip down memory lane with Yamaha," Chad said. "It's great to be working again with a group of guys that I had so much success with many years ago. I'm looking forward to this weekend, and this special opportunity to race a Yamaha at the Monster Energy Cup."
Monster Energy Kawasaki's Wil Hahn was expected to race tonight, but was a late scratch due to an ankle injury preparing for the race.