Race Reports from Houston
USA Supercross 2014
450 Results
Monster Energy Kawasaki's Ryan Villopoto took his fourth win of the year in Houston, beating Team Honda Muscle Milk's Justin Barcia by over 13 seconds at the checkers. Red Bull KTM's Ken Roczen rounded out the podium.
A pile-up off the start claimed a number of riders, such as JGRMX's Josh Grant and Motosport.com's Weston Peick, as well as Roczen's teammate, Ryan Dungey. Villopoto ran to the head of the pack without issue however, scoring the holeshot followed by Barcia, Roczen and Barcia's teammate, Trey Canard.
Running order remained steady out front as RV stretched out his lead over the course of the race. Barcia, Roczen and Canard were unchallenged as well. Yoshimura Suzuki's James Stewart moved past BTO Sports' Andrew Short for fifth mid-race while Dungey, who had dropped to 18th after the early race pile-up, battled his way up the ranks to finish seventh.
Smartop's Mike Alessi took eighth ahead of GEICO Honda's Eli Tomac in ninth and N-Fab's Chris Blose in 10th.
Villopoto retains the points lead and Stewart moved ahead of Dungey for second overall. Roczen sits fourth followed by Barcia in fifth.
www.racerxonline.com 450 Report from Jason Weigandt
Beware of making any assumptions in racing. This year's Houston supercross, round 14 of Monster Energy Supercross, served up a reminder, as James Stewart's three race win streak was in jeapordy as soon as he got sick during the week, and then Ryan Villopoto took on a crash that could have been bad in his heat race. For a moment, it appeared the two riders who have won the last bunch of races were vulnerable. Plus we had a 250 class featuring some riders fresh off 450s and carrying momentum--until Jason Anderson logged his best ride of the season to nail down a wire to wire win.

Then Villopoto bounced back by stealing a semi win and the holeshot the main from a bad gate. From there the Monster Energy Kawasaki rider, like Anderson, returned normalcy to the field, as he delivered his fourth win of the season and further extended his points lead. Now it looks like Villopoto could wrap this up as early as next week at his home race in Seattle—but then again, you should never assume anything in racing.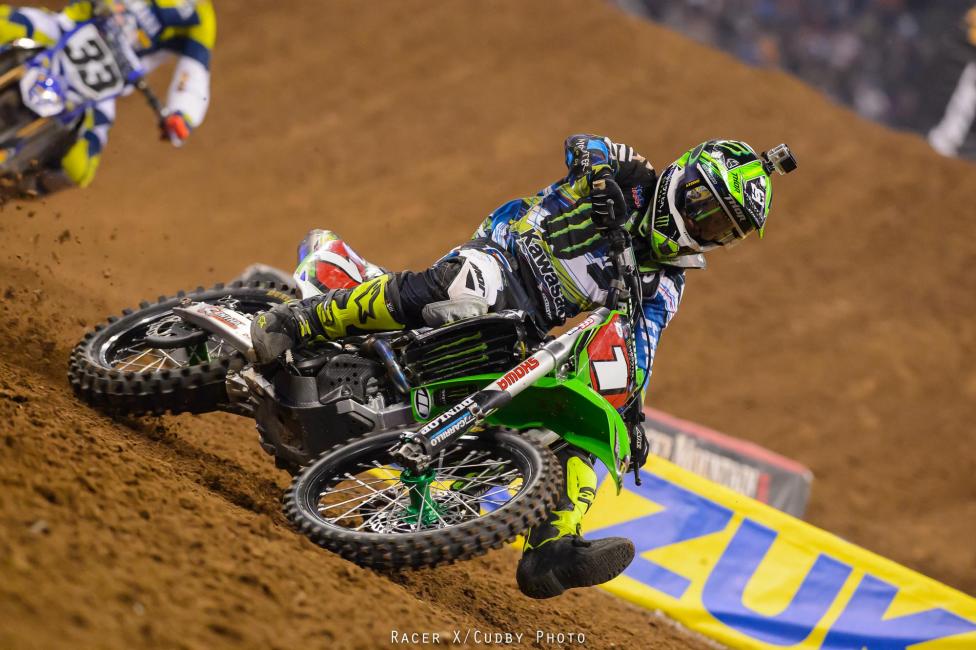 Villopoto's night didn't start well. He was battling for a heat race lead with Josh Hill when he washed out after the whoops entering a turn and hit the ground hard. He landed on his shoulder and head, was slow to get up and had to qualify through the semi. In the main, though, he turned it around with a good start, getting out together with his old rival Mike Alessi and then just out muscling everyone in the first turn.
Photo: Simon Cudby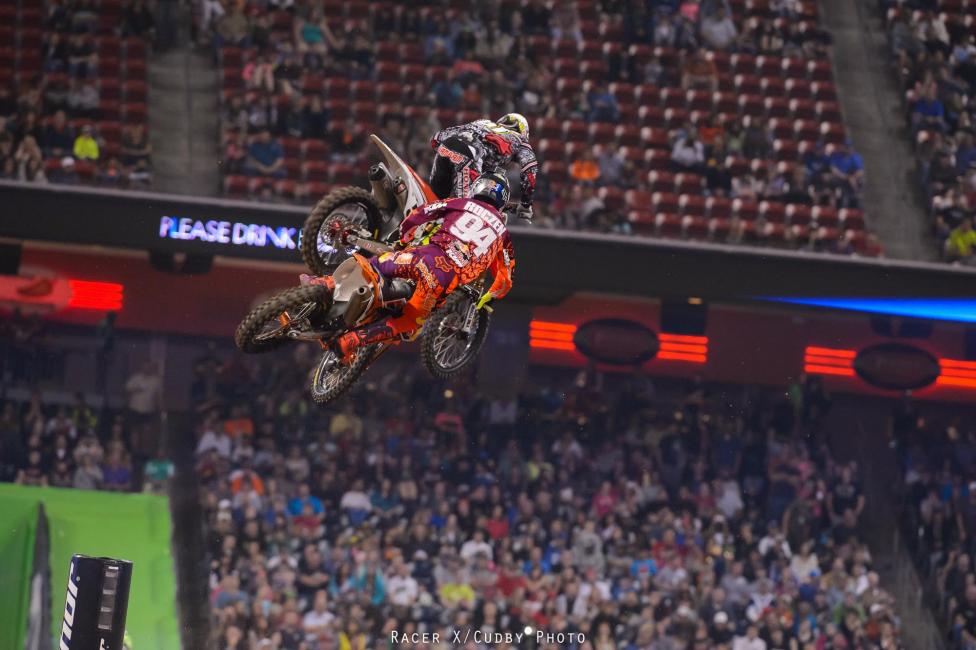 There was a little action early as Honda Muscle Milk's Justin Barcia and Red Bull KTM's Ken Roczen battled.
Photo: Cudby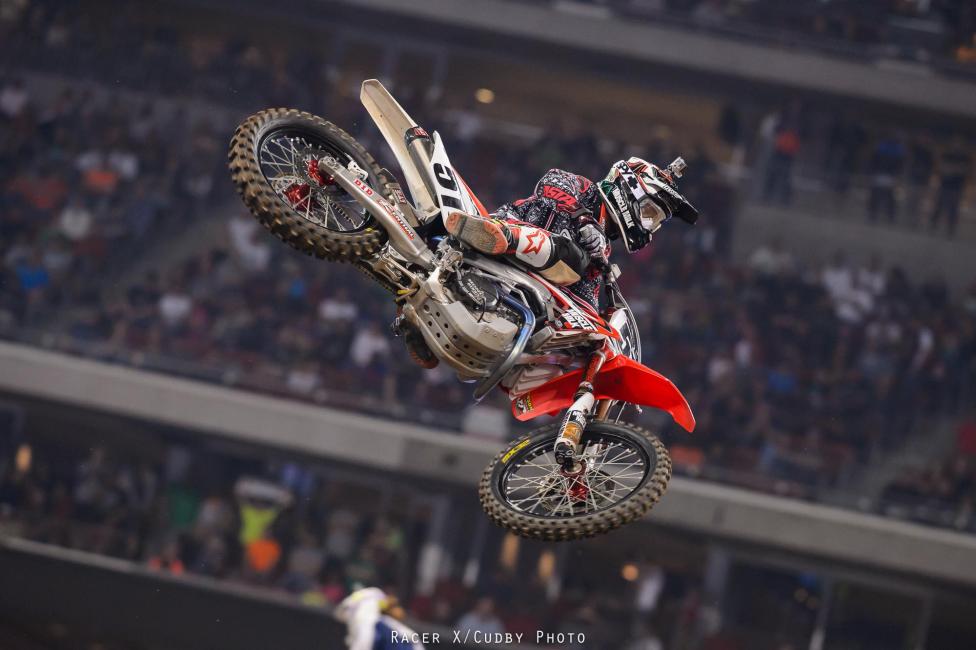 The Barcia we expected to see at the beginning of the year is here now, logging his third-straight podium with a solid second. He got away from Roczen and made a few runs at Villopoto through lapped traffic but couldn't ever mount a real challenge. No one else was close to him, though. Similarly, Roczen was a lonely third.
Photo: Cudby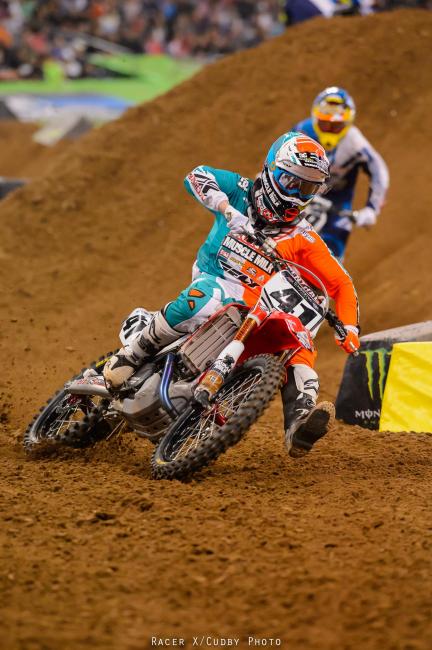 Oh and Trey Canard was fourth and you want to guess how his race went? He was kind of lonely back there, too.
Photo: Cudby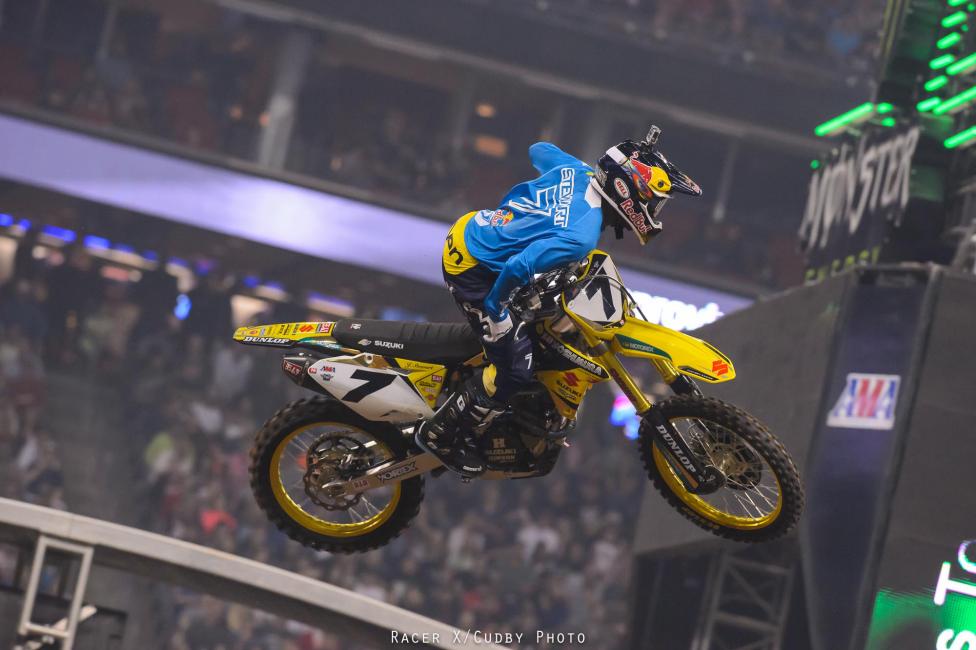 Stewart was sick all day and didn't even ride the final practice. He battled pretty hard to win his heat race, but the Yoshimura Suzuki rider didn't have much in the main and settled for a, wait for it, lonely fifth. Andrew Short was sixth on the BTOSports.com KTM.
Photo: Cudby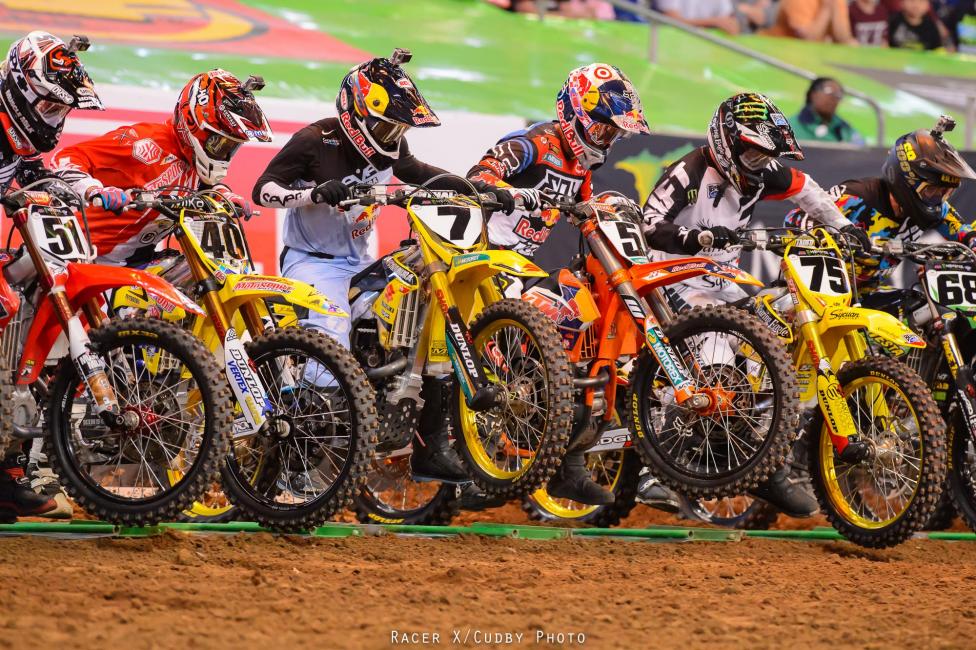 There was carnage off the start of the 450 main. Soaring Eagle Casino/RCH Suzuki's Josh Hill (75) was riding the best he had all season and won his heat, but then crashed. Motosport/Fly's Weston Peick and Red Bull KTM's Ryan Dungey crashed together in the first rhythm lane, JGR Toyota Yamaha's Josh Grant got tangled in it, which ended his night. Grant was also riding well throughout the day--tough one for the Joshes.
Photo: Cudby
Dungey had to come from next-to-last (Hill was even further back) to net seventh. That drops him from second to third in points behind Stewart.
Houston 450 Supercross Results 2014

1. Ryan Villopoto (Kawasaki)
2. Justin Barcia (Honda)
3. Ken Roczen (KTM)
4. Trey Canard (Honda)
5. James Stewart (Suzuki)
6. Andrew Short (KTM)
7. Ryan Dungey (KTM)
8. Mike Alessi (Suzuki)
9. Eli Tomac (Honda)
10. Chris Blose (Honda)
450 Supercross Championship Points 2014
1. Ryan Villopoto, 293
2. James Stewart, 248
3. Ryan Dungey, 247
4. Ken Roczen, 235
5. Justin Barcia, 198
6. Justin Brayton, 196
7. Andrew Short, 181
8. Broc Tickle, 126
9. Wil Hahn, 122
10. Josh Hill, 112
250 Results
The 250 SX West championship returned to action in Houston, and Rockstar Energy's Jason Anderson finished on the top-step. Monster Pro Circuit Kawasaki's Dean Wilson finished in second followed by Troy Lee Designs' Malcolm Stewart in third.
Stewart's teammate, Jessy Nelson, scored the holeshot but Anderson was quick to take over the front. Wilson trailed in second followed by his teammate, Justin Hill, in third. Anderson began to pull away in the opening laps, but Wilson remained steady and never let the KTM rider build too large a gap. Hill looked strong as well until mid-race when he suffered an off that set him back to eighth. He was able to finish after the incident, but dropped one more position to ninth before the checkers.
Stewart move from fourth to third after Hill's off and the top-three riders held strong to the finish. Wilson made a late race push on Anderson and got within striking distance of the lead during the final laps, but was unable to move ahead of Anderson by the finish.
Stewart's teammate, Cole Seely, finished fourth ahead of GEICO Honda's Zach Osborne in fifth. Yamaha's Cooper Webb took sixth followed by Troy Lee Design's Shane Mcelrath in seventh.
Anderson holds on to the points lead, sitting 11 ahead of Seely in second. Wilson is third followed by Hill in fourth and Stewart in fifth.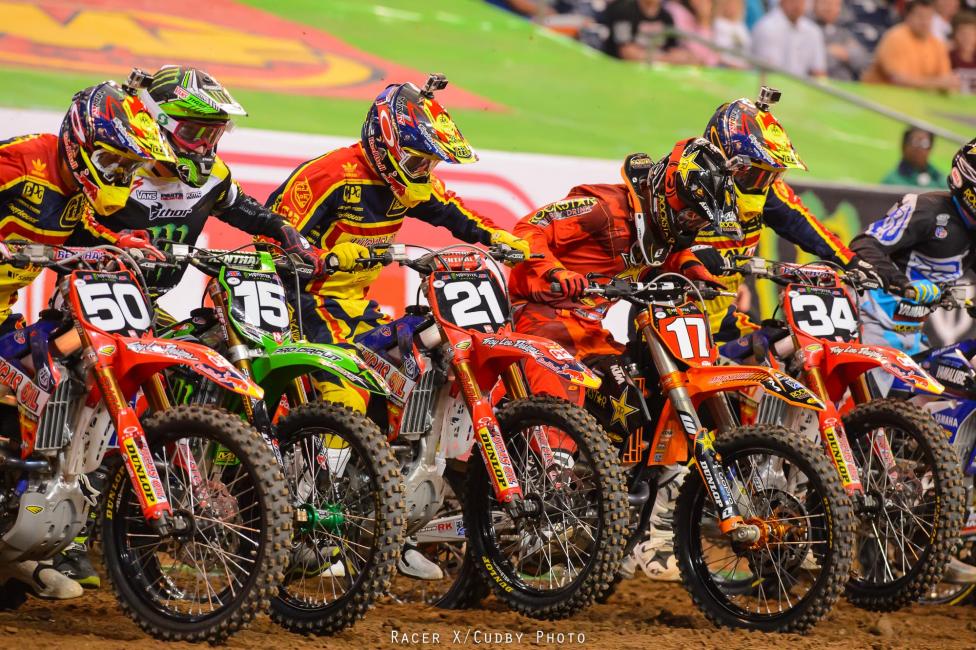 Anderson made life easy on himself by getting the start, and he won wire-to-wire for the first time this year. No last lap heroics needed!
Photo: Cudby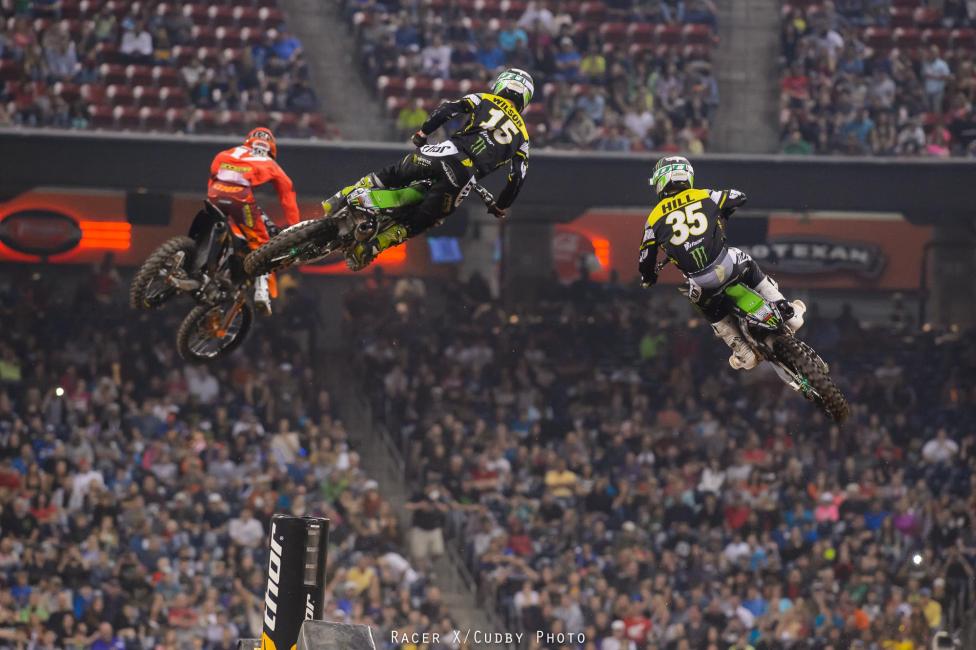 The Monster Energy Pro Circuit Kawasaki duo of Dean Wilson and Justin Hill were ready to challenge Anderson, but then Hill went down. Wilson made a few runs and then got within striking distance on the last lap.
Photo: Cudby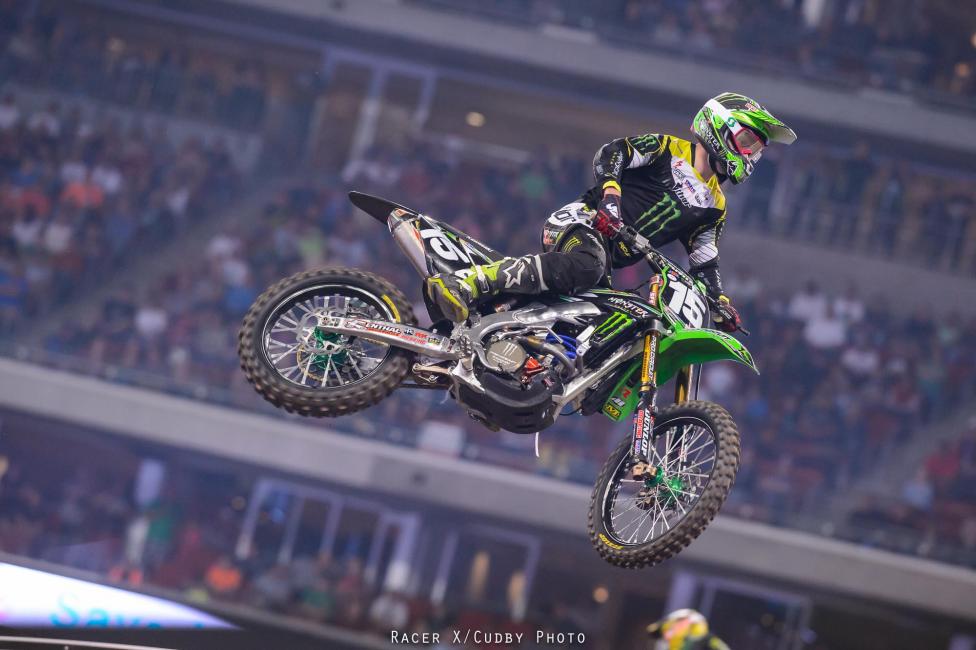 Wilson couldn't get quite close enough on the last lap to pull the trigger, so he took second.
Photo: Cudby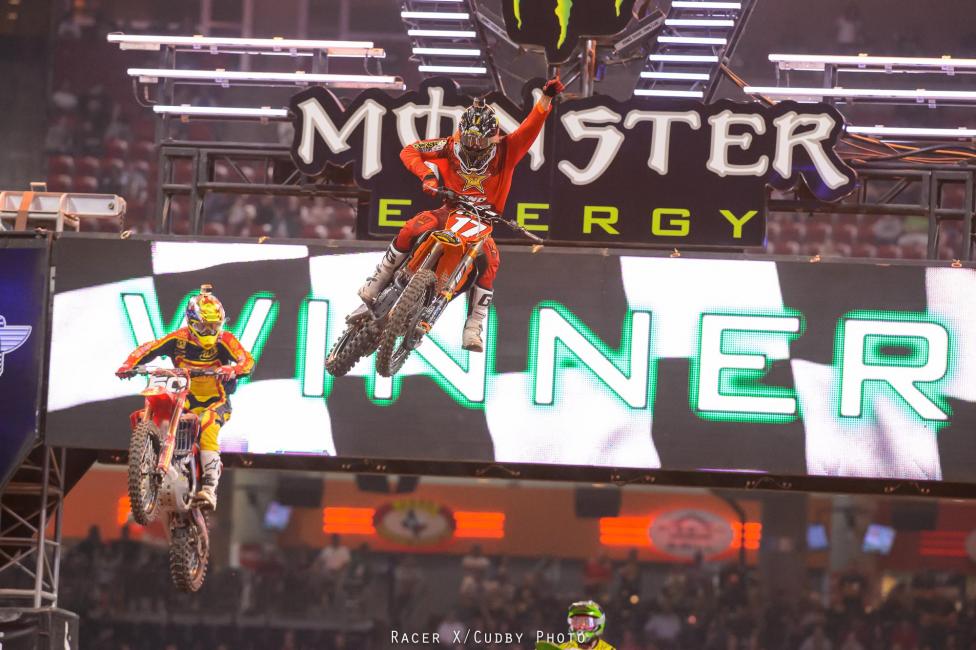 Anderson now has four wins and his points lead is 11. Look at the bottom of the photo--Wilson was close.
Photo: Cudby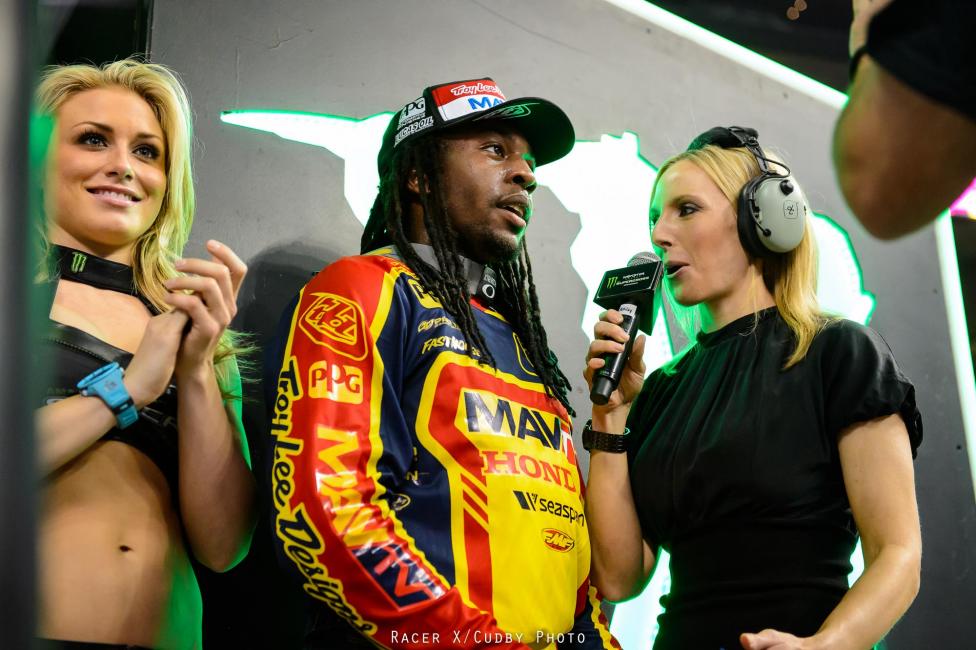 Malcolm Stewart rode well on his Lucas Oil TLD Honda to net third. That's two podiums in a row for him dating back to the last west race.
Photo: Cudby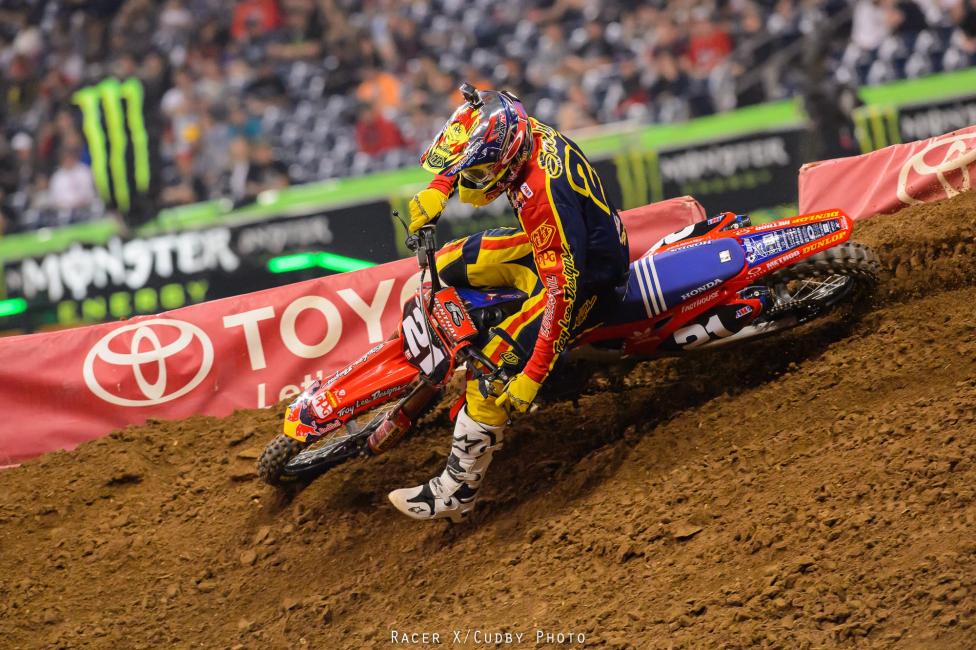 Bummer for title contender Cole Seely. He was buried off the start but made a bunch of slick moves on the first lap to move up. Somewhere through that, though, he tangled with a rider and broke something in his rear brake. That stalled his progress and he took fourth.
Photo: Cudby
Houston 250 Supercross Results 2014

1. Jason Anderson (KTM)
2. Dean Wilson (Kawasaki)
3. Malcolm Stewart (Honda)
4. Cole Seely (Honda)
5. Zach Osborne (Honda)
6. Cooper Webb (Yamaha)
7. Shane Mcelrath (Honda)
8. Jake Canada (Honda)
9. Justin Hill (Kawasaki)
10. Jessy Nelson (Honda)
250 SX West Championship Points 2014
1. Jason Anderson, 156
2. Cole Seely, 145
3. Dean Wilson, 120
4. Justin Hill, 119
5. Malcolm Stewart, 109
6. Cooper Webb, 107
7. Jessy Nelson, 87
8. Zach Osborne, 85
9. Shane Mcelrath, 85
10. Dean Ferris, 63