RacerX Report from St Louis
USA Supercross 2014
www.racerxonline.com Photos: Cudby
Click for the 450 Race Highlights
Click for the 250 Highlights
Podium talk with Stewart , Villopoto , Barcia, Davalos , Bogle & Baggett
As spectacular and dazzling as James Stewart's 49th career win was—placing him second all time in SX wins—his 50th was just as impressive. A near sold out crowd inside the Edward Jones Dome in St. Louis, Missouri, rose to the occasion as Stewart reeled in points leader Ryan Villopoto and made a fascinating move to the inside en route to his third straight win and fifth on the season.
"This is a special night for me," said Stewart. "This year I have been having a lot of fun winning races. Tonight was a great race for me; I was able to make the pass and ride to my 50th win. That is huge for me. I never thought I would win 50 of these races."
With Adam Cianciarulo on the sidelines for three to four months after undergoing surgery to repair his shoulder earlier this week, St. Louis would mark the first time Martin Davalos was in control of the red plate. With chief championship rival Justin Bogle attached to the hip, Davalos withstood the overwhelming pressure to capture his second win on the season and pick up three valuable points on Bogle. The East Region now takes a two round hiatus, and will continue in East Rutherford on April 26.
"This was a tough race tonight," said Davalos. "Again, the start was key, and I was able to get the early lead and hold on. I want to enjoy this win and go back and keep working hard.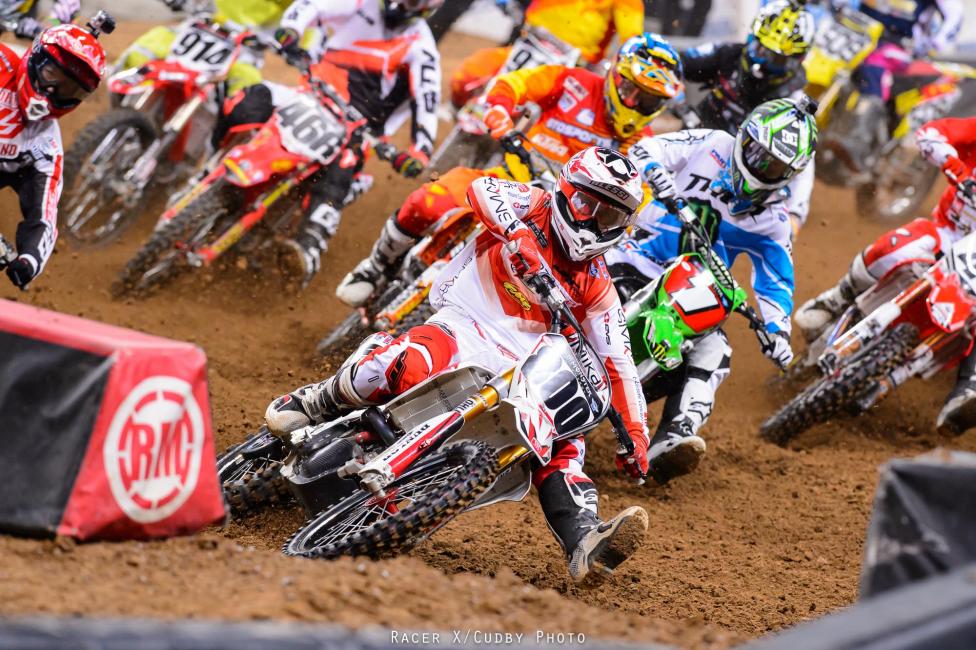 Holeshot artist Mike Alessi would take the early lead, but the night belonged to Villopoto and Stewart.Photo: Cudby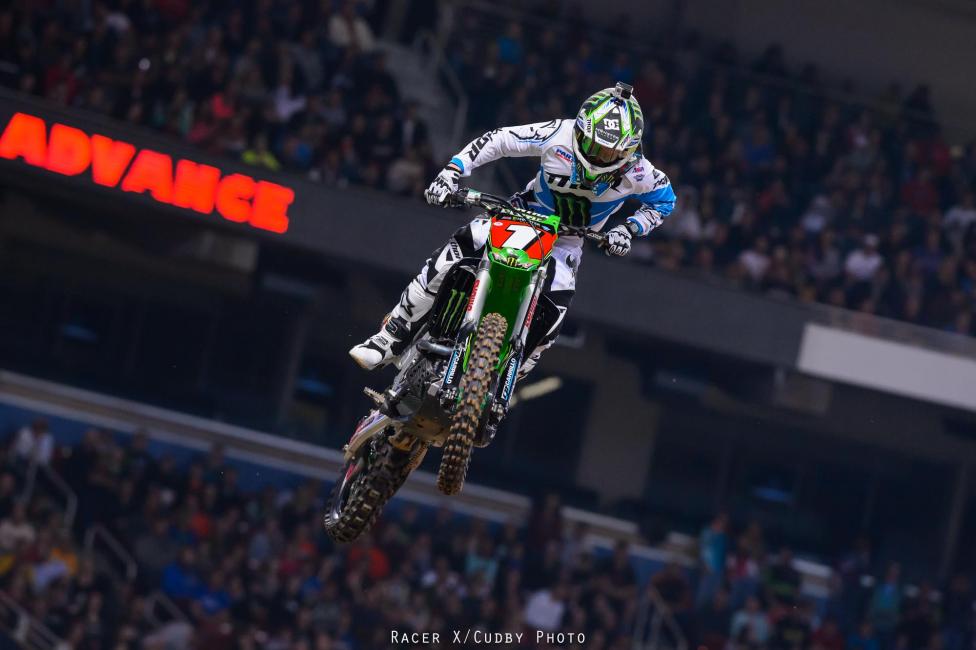 Villopoto would take the reins early, and was able to open a small gap over Stewart. Knowing he couldn't let RV get away, Stewart quickly passed Alessi and began to plan his attack on RV.Photo: Cudby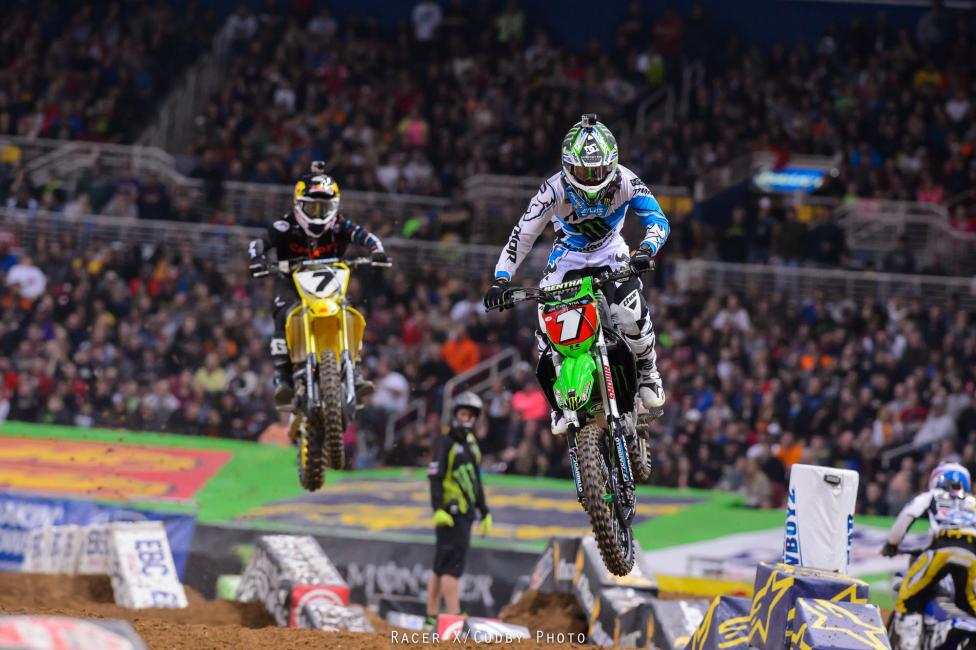 What began as a near three-second gap quickly closed as Stewart made up ground quickly on Villopoto. Before the mid-way point, Stewart had sliced RV's lead to under a second.Photo: Cudby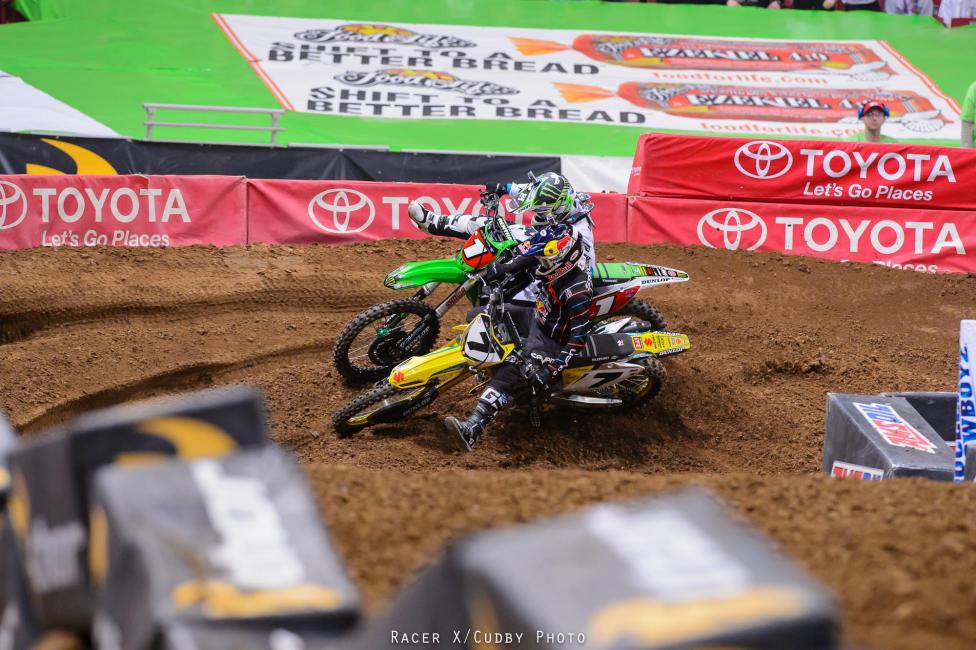 Stewart was patient in his charge, waiting for the right opening to make his move. He found his spot around the mid-way mark, slicing through the rhythm section after the finish before pushing RV high to take the lead. Villopoto was able to keep Stewart within striking distance, but was unable to put anything together late.Photo: Cudby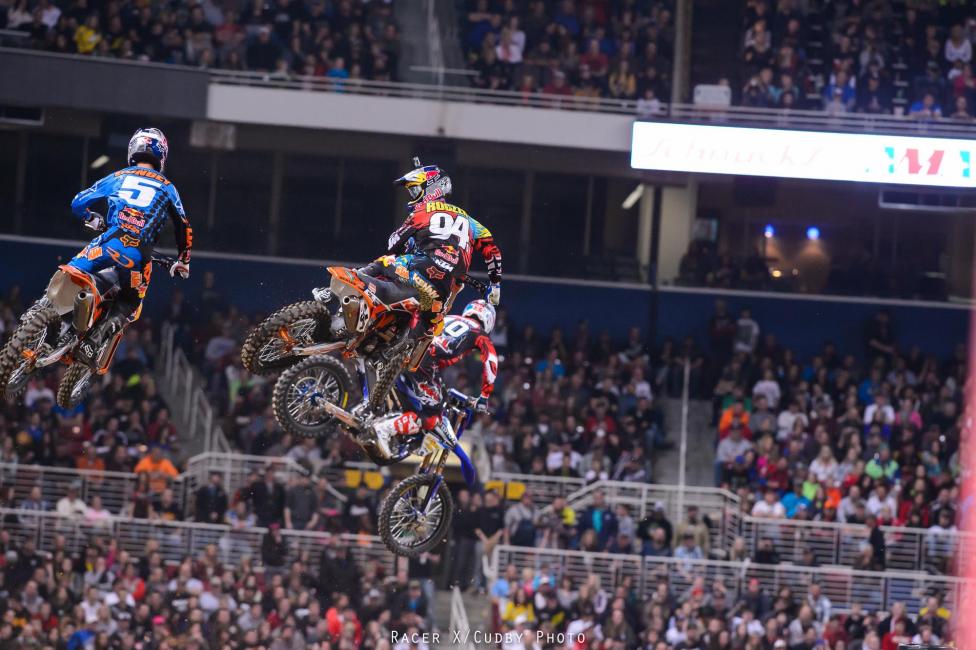 Behind RV and Stewart, Dungey, Roczen and Brayton were left to battle for fourth. The group was able to push their way toward Barcia but was never able to make anything materialize. Dungey crashed on the final lap and had to settle for ninth. Brayton, who broke a bone in his foot during the heat race, was collected in the Dungey crash and finished tenth. Roczen would finish fourth.Photo: Cudby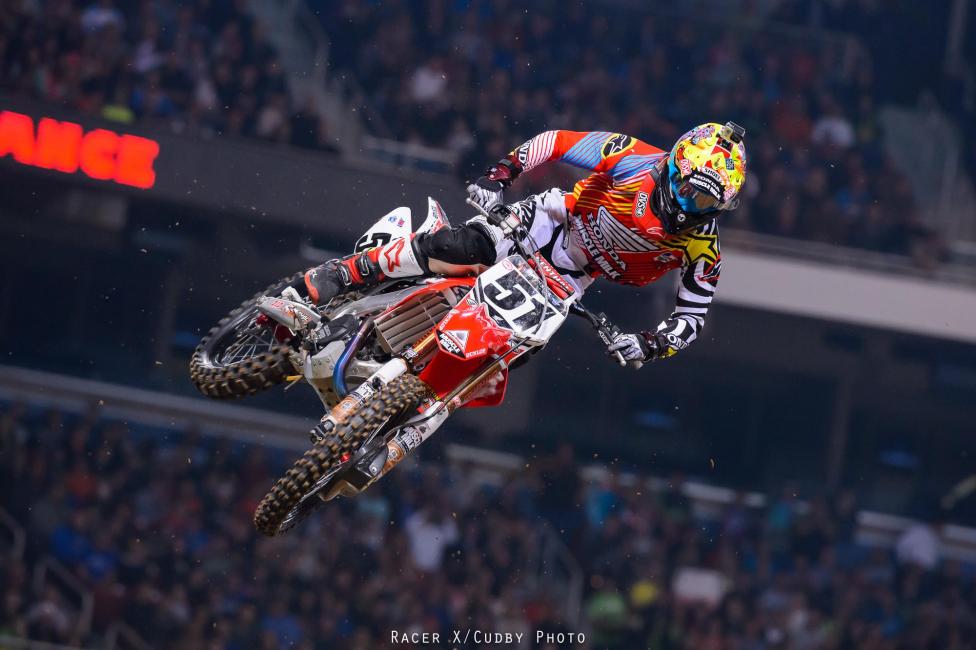 Through eleven rounds, Justin Barcia had one podium, while over the last two rounds he has made consecutive podium appearances.Photo: photographer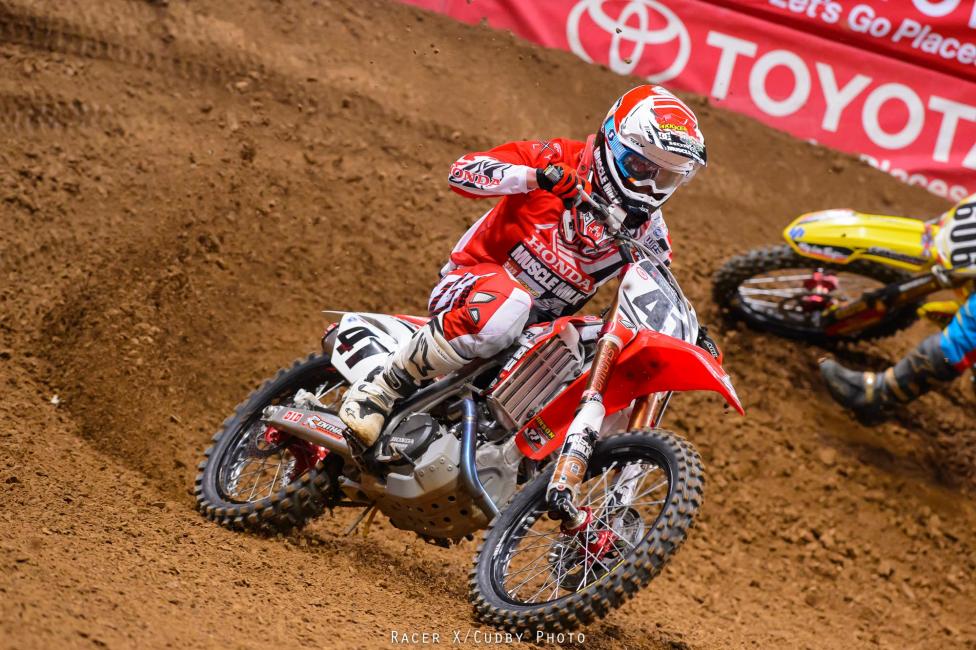 Trey Canard made his 2014 debut in St. Louis and looked like he never missed a beat. He was able to take advantage of the late mistake by Dungey to finish fifth in his return.Photo: Cudby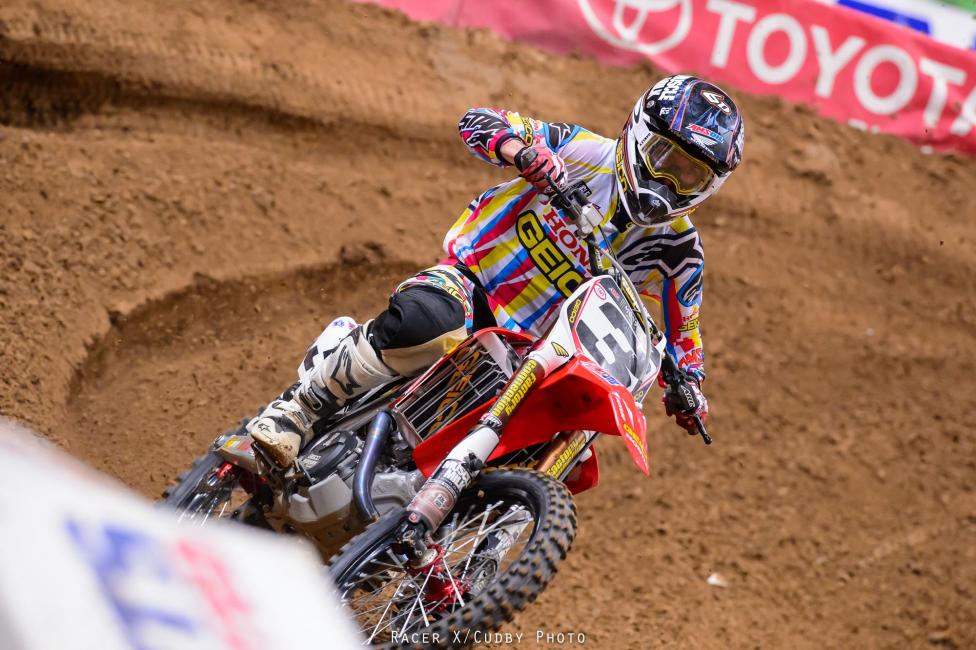 GEICO Honda's Eli Tomac was back after missing the last three round with a shoulder injury. Tomac would finish sixth in his return.Photo: Cudby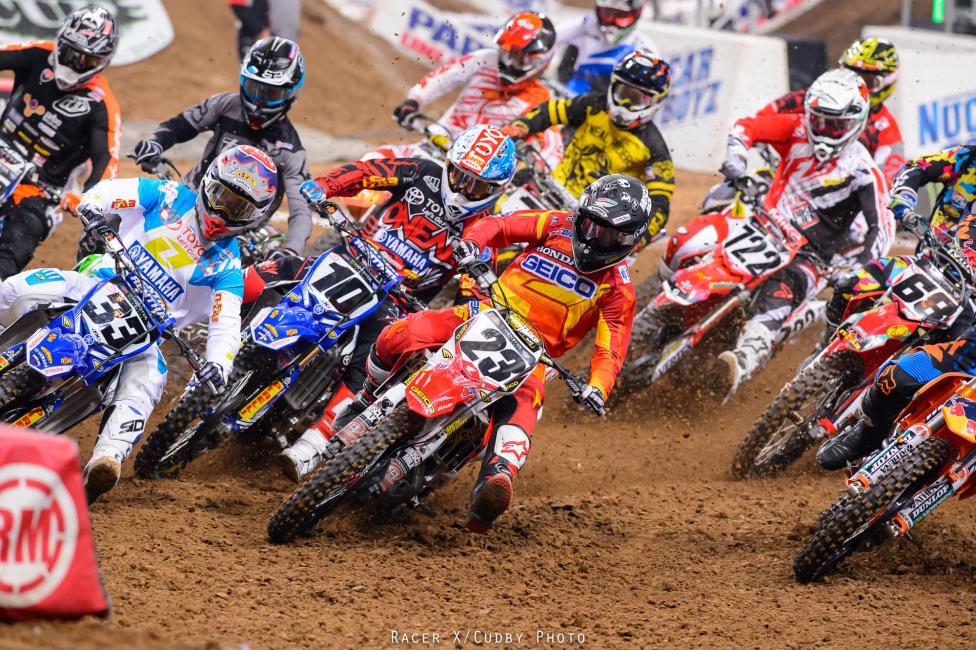 Wil Hahn (23) had a scary moment in his heat race when he went flying over the bars after making a mistake in the far rhythm section. After lying motionless on the track for a few minutes, Hahn was carted off and taken to the hospital. Hahn was diagnosed with a broken right humorous as well as neck and shoulder contusions and is expected to miss several weeks.Photo: Cudby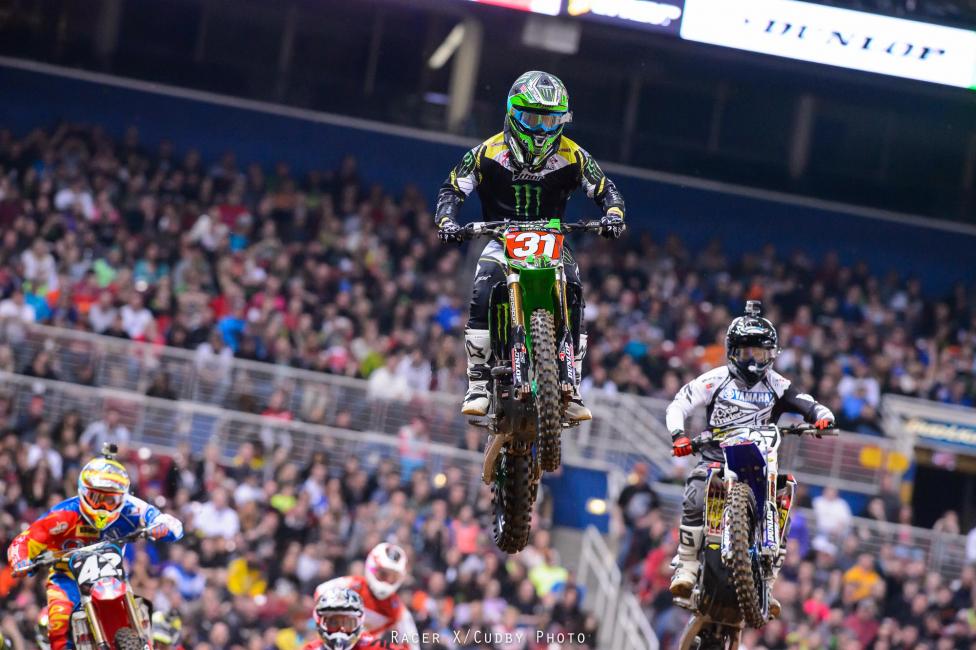 Martin Davalos held the red plate for the first time all season entering St. Louis and got off to a magnificent start, taking control of the race early. Justin Bogle, who entered the race five points back, quickly moved into second, setting up a showdown between the title contenders.Photo: Cudby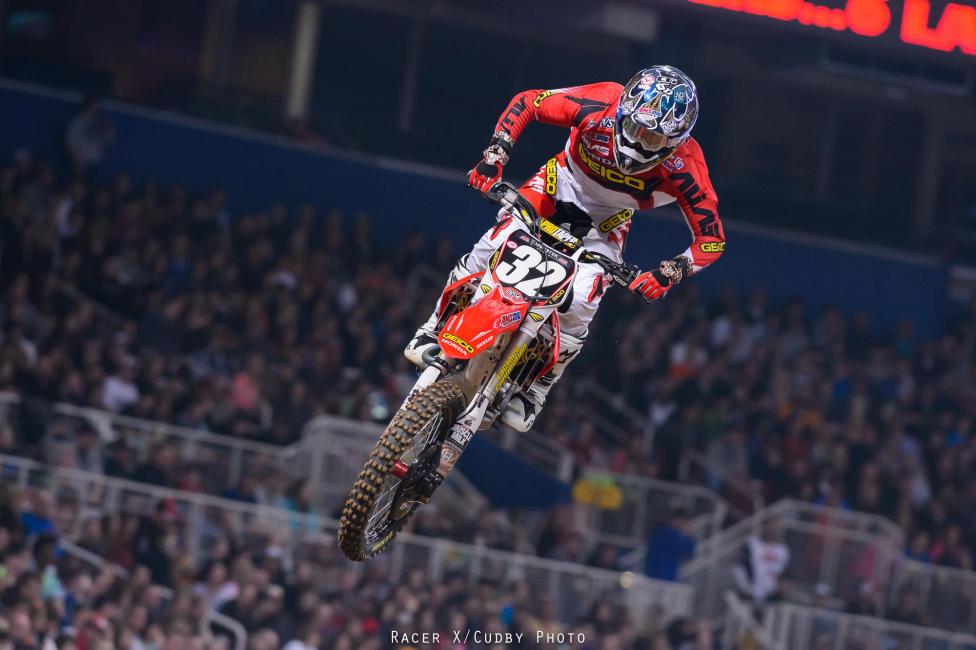 Bogle applied pressure for fifteen consecutive laps, but Davalos never broke. He was able to navigate through lap traffic and hold on for his second win of the season. Bogle now faces an eight point deficit with two races left.Photo: Cudby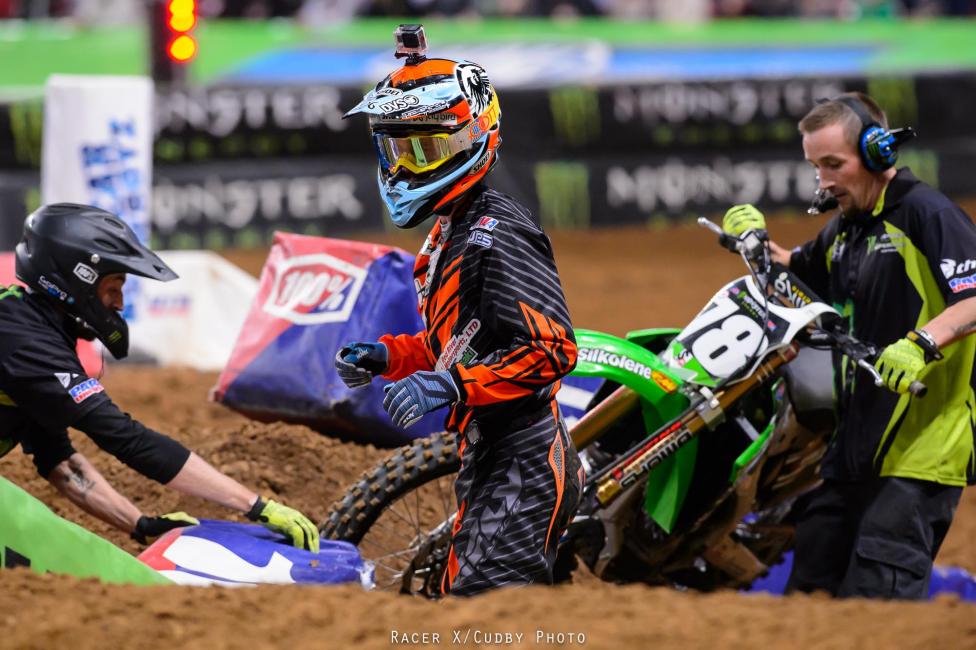 A number of riders had a chance at the final podium spot throughout the night. Alex Martin, who was running up front early, made a mistake in the whoops section and collected Vince Friese and his brother Jeremy as well. Moments later Matt Lemoine, who was running in third, made a mistake in the whoops as well and was unable to recover.Photo: Cudby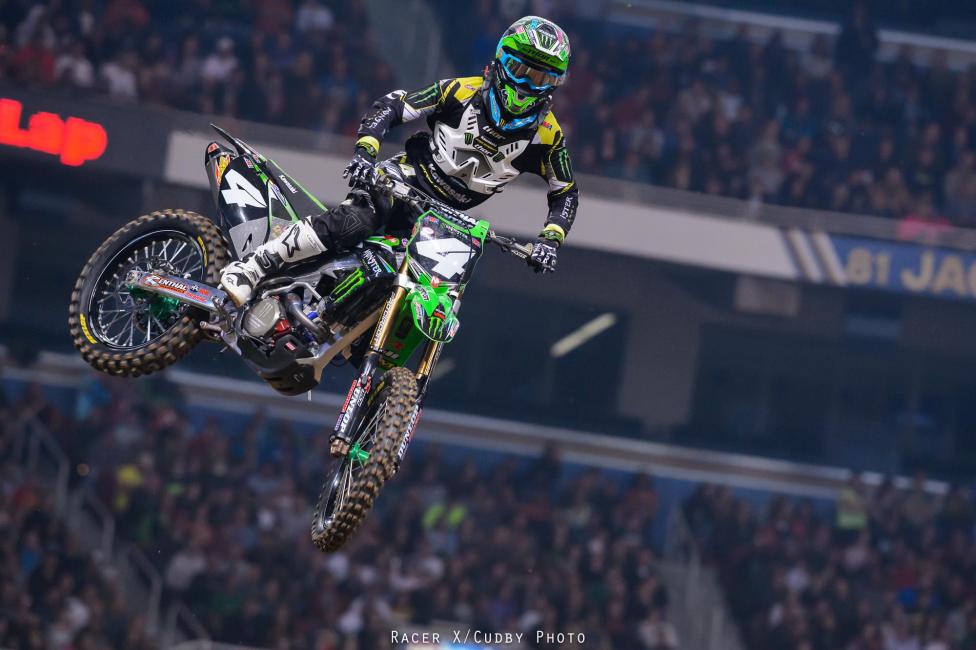 In the end it was a charging Blake Baggett, who overcame a terrible start, that would capture the final podium spot. Photo: Cudby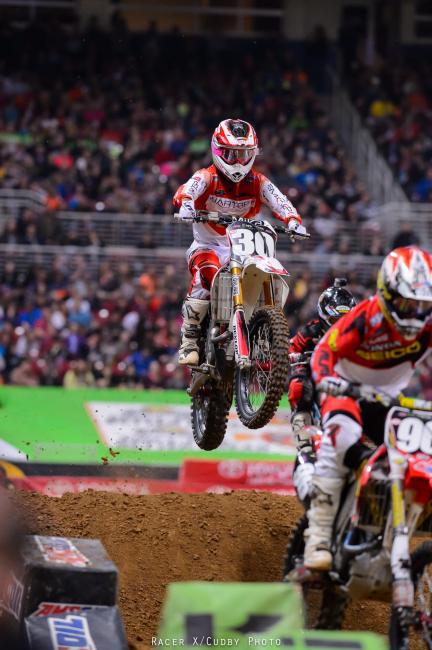 For the second time in three weeks, Kyle Cunningham rode to a strong fourth place finish.Photo: Cudby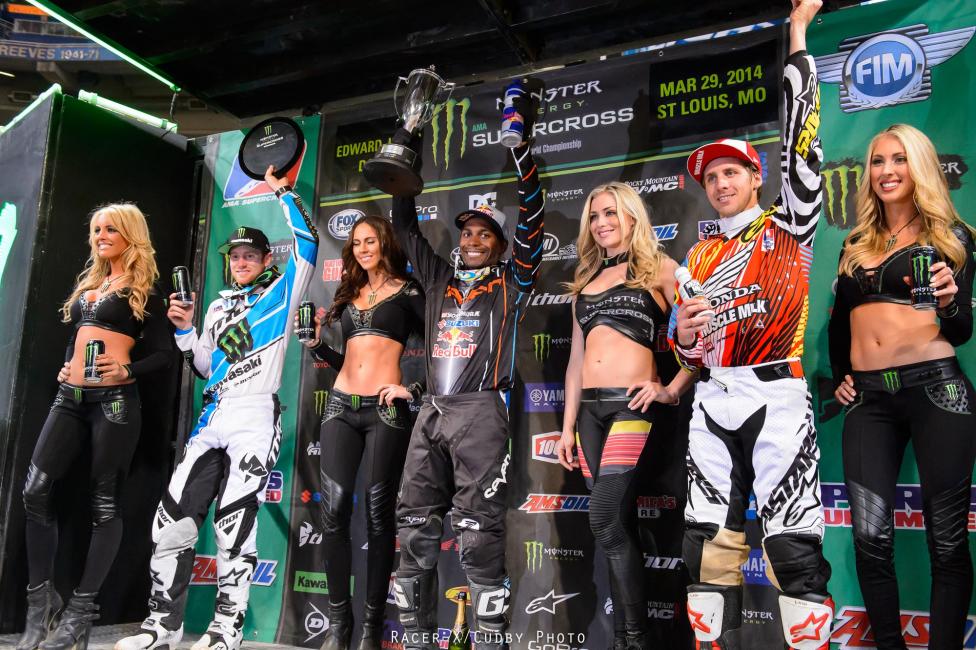 RV (left), Stewart and Barcia would make up the 450 podium.Photo: Cudby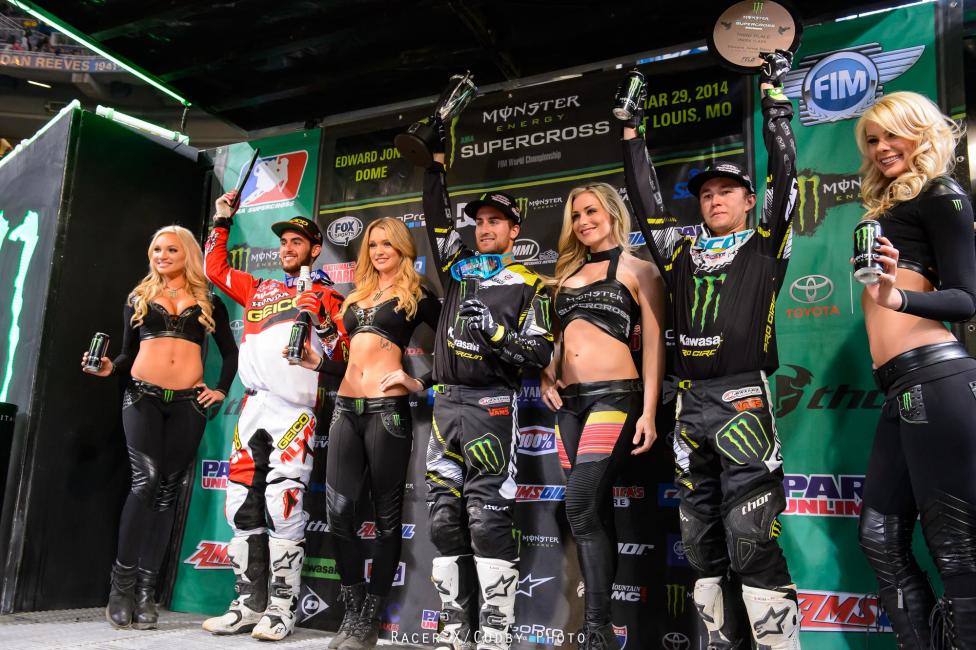 Bogle (left) would join Pro Circuit teammates Davalos and Baggett on the podium.Photo: Cudby
450SX Class Results: St. Louis
1. James Stewart, Haines City, Fla., Suzuki
2. Ryan Villopoto, Poulsbo, Wash., Kawasaki
3. Justin Barcia, Pinetta, Fla., Honda
4. Ken Roczen, Murrieta, Calif., KTM
5. Trey Canard, Edmond, Okla., Honda
6. Eli Tomac, Cortex, Colo., Honda
7. Josh Hill, Yoncalla, Ore., Suzuki
8. Andrew Short, Smithville, Texas, KTM
9. Ryan Dungey, Belle Plaine, Minn., KTM
10. Justin Brayton, Yamaha
450SX Class Season Standings
1. Ryan Villopoto, Poulsbo, Wash., Kawasaki, 268
2. Ryan Dungey, Belle Plaine, Minn., KTM, 233
3. James Stewart, Haines City, Fla., Suzuki, 232
4. Ken Roczen, Murrieta, Calif., KTM, 215
5. Justin Brayton, Cornelius, N.C., Yamaha, 196
6. Justin Barcia, Pinetta, Fla., Honda, 176
7. Andrew Short, Smithville, Texas, KTM, 166
8. Broc Tickle, Holly, Mich., Suzuki, 126
9. Wil Hahn, Menifee, Calif., Honda, 122
10. Chad Reed, Dade City, Fla., Kawasaki, 111
Eastern Regional 250SX Class Results: St. Louis
1. Martin Davalos, Cairo, Ga., Kawasaki
2. Justin Bogle, Cushing, Okla., Honda
3. Blake Baggett, Grand Terrace, Calif., Kawasaki
4. Kyle Cunningham, Aledo, Texas, Honda
5. AJ Catanzaro, Portland, Conn., Honda
6. Cole Thompson, Brigden, Ontario, KTM
7. Matt Bisceglia, Weatherford, Texas, Honda
8. James Decotis, Peabody, Mass., Honda
9. Alex Martin, Millville, Minn., Yamaha
10. Gannon Audette, Tallahassee, Fla., Kawasaki
Eastern Regional 250SX Class Season Standings
1. Martin Davalos, Cairo, Ga., Kawasaki, 149
2. Justin Bogle, Cushing, Okla., Honda, 141
3. Adam Cianciarulo, Port Orange, Fla., Kawasaki, 120
4. Blake Baggett, Grand Terrace, Calif., 100
5. Vince Friese, Cape Girardeau, Mo., Honda, 100
6. Kyle Cunningham, Aledo, Texas, Honda, 94
7. Cole Thompson, Brigden, Ontario, KTM, 89
8. James Decotis, Peabody, Mass., Honda, 65
9. Matthew Lemoine, Pilot Point, Texas, Kawasaki, 74
10. Alex Martin, Millville, Minn., Yamaha, 72