Red Bull Straight Rhythm
Qualifying
www.racerxonline.com By Jason Weigandt and Aaron Hansel
When Red Bull's Straight Rhythm first hit the internet almost a year ago it made quite an impression, and it seemed pretty apparent that it wouldn't be the last time we'd see the the concept of an unwound supercross track in action. That day has arrived, only instead of an exhibition it's a full on competition taking place at Auto Club Raceway at Fairplex in Pomona, CA. We'll be bringing the action from the half-mile course to you right here on the Race Day Feed, so be sure to check back frequently as the race unwinds. You can also check out the live feed right here.
As you might expect, racing on a track without turns is a whole new ball game, but riders are beginning the understand how it's played. We saw huge variations on times during Friday's first practice runs, but the field is starting to tighten now that the fast lines and rhythms have been established.
The lap times hover around the 50-second range, similar to a regular supercross track. Of course, without turns, they're going faster over a longer distance, and a few mentioned grabbing fourth gear and pinning it on a 450, which they don't ever do on a track with turns.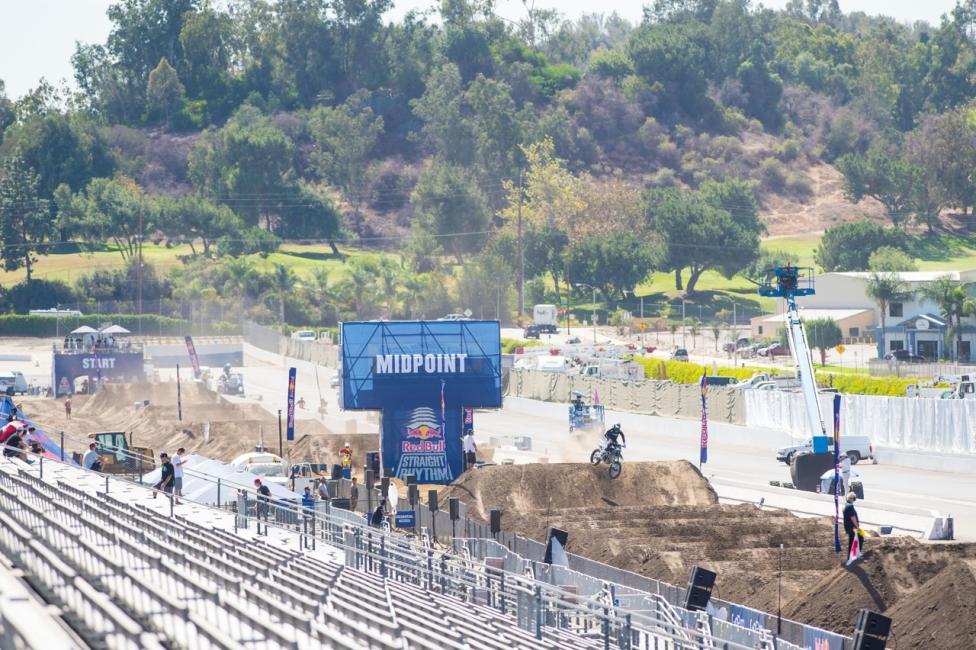 The toughest part of the track is the very first rhythm section, and nailing those jumps with perfect timing could change everything. Plus, riders have to take on a small set of whoops right out of the starting gate, so they're grabbing gears while also preparing to hit obstacles.
The rest of the track is a little less technical but faster, including a sand section, five-straight on off tables, and a ten pack of jumps that can be taken in a variety of double-triple patterns. But, in talking to riders and teams, it seems most will figure out the best combos, and the race will come down to tenths of a second--scrubbing harder, hanging it out more and figuring out a way to push harder. The races should be close and pretty exciting if it turns out that way.
Today's competition is separated into two classes, 250cc and Open, and each matchup consists of three, one-on-one races. For a racer to win his bracket and move on to the next round, he'll have to win two of those three races. In other words, if a rider makes a mistake in one race he'll have another chance to come back in the next.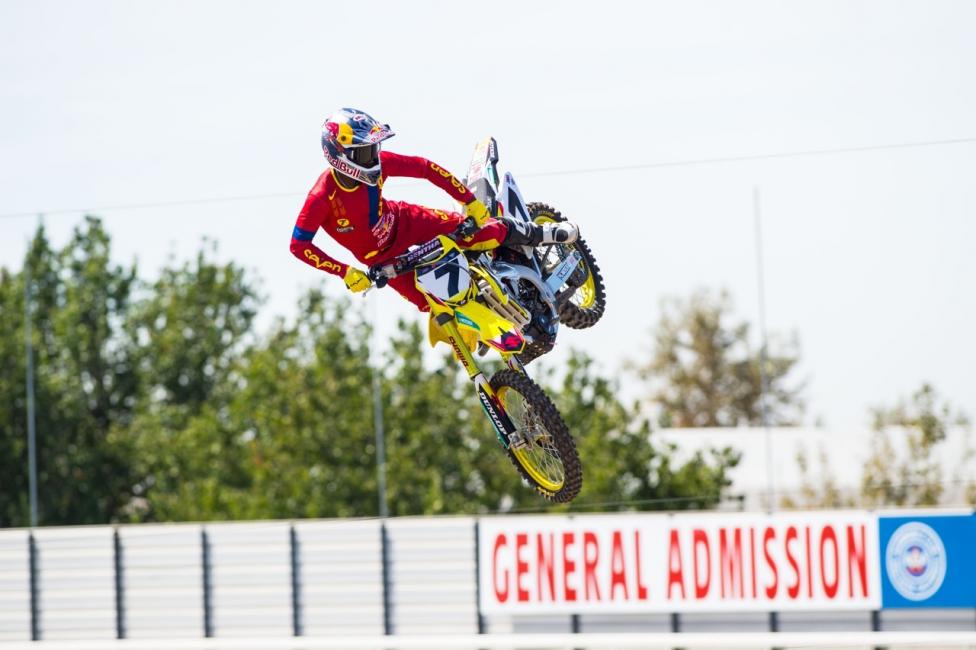 The initial matchups were determined by qualifying, with the fastest rider in each class going up against the slowest, second fastest against the second slowest and so on. James Stewart and Marvin Musquin were the fastest qualifiers in their classes, and veterans Grant Langston and Travis Pastrana, who is racing a 500cc two-stroke, looked fast too—if you didn't know any better you'd never guess that they've both been retired for quite some time. Check out the pictures below to see who will be going up against each other first.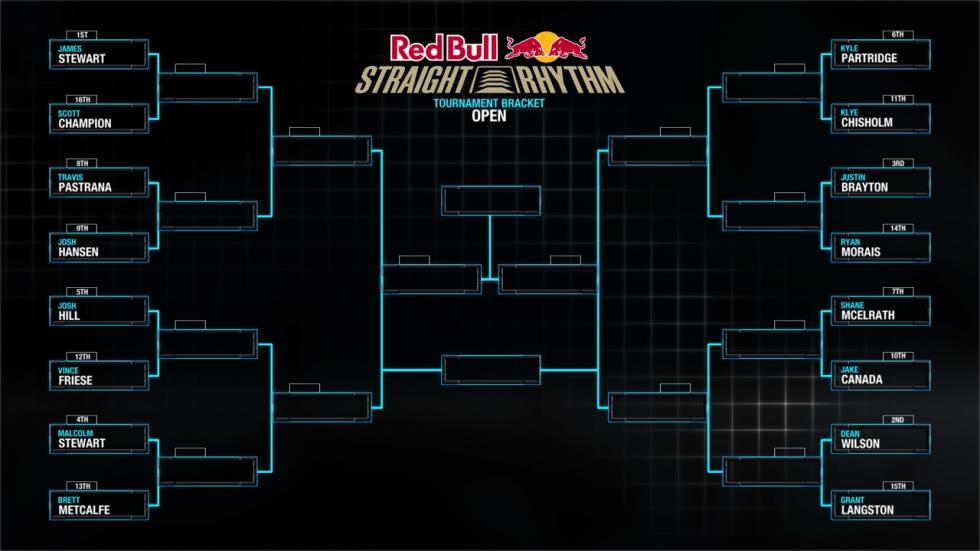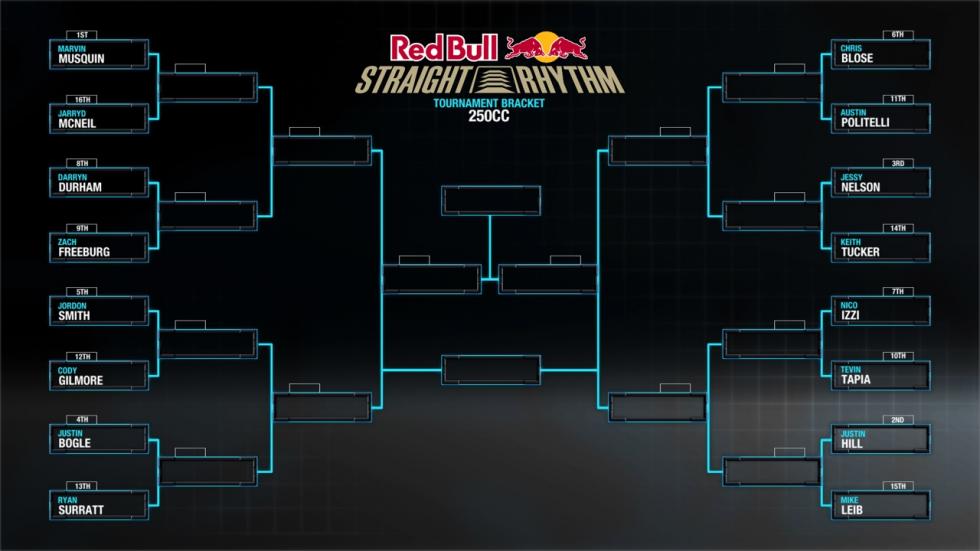 Qualifying
Open Class Times
1. James Stewart 50.766
2. Dean Wilson 50.926
3. Justin Brayton 51.313
4. Malcolm Stewart 51.424
5. Josh Hill 51.533
6. Kyle Partridge 51.638
7. Shane McElrath 51.938
8. Travis Pastrana 52.264
9. Josh Hansen 52.271
10. Jake Canada 52.840
11. Kyle Chisholm 52.987
12. Vince Friese 53.263
13. Brett Metcalfe 53.496
14. Ryan Morais 54.169
15. Grant Langston 54.365
16. Scott Champion 54.617
250 Class Times
1. Marvin Musquin 51.849
2. Justin Hill 52.448
3. Jessy Nelson 52.660
4. Justin Bogle 52.666
5. Jordon Smith 52.782
6. Chris Blose 53.863
7. Nico Izzi 53.992
8. Darryn Durham 54.009
9. Zack Freeberg 54.740
10. Tevin Tapia 56.010
11. Austin Politelli 56.046
12. Cody Gilmore 56.779
13. Ryan Surratt 58.175
14. Keith Tucker 58.408
15. Mike Leib 1.00.224
16. Jarryd McNeil 1.00.471