RedBud Recap
USA MX 2014
Click here for race highlights
Recap By Chase Stallo and Jason Weigandt
RedBud is typically hot, humid, stick and just down right hot. Today, it t'was not. Temperatures never left the 80s, and a cool breeze swirled throughout the day. Through six rounds, weather has played little factor. Depending on whom you ask, riders either like it or hate it—they want it hot to separate the field.
Red Bull KTM's Ken Roczen has extended his lead to twenty-four points over Ryan Dungey thanks to a dominating 1-1 performance Saturday. Roczen has now won three straight motos, and is slowly becoming the title favorite.
Not a good day for Ryan Dungey, and he admitted it himself post-race. "I don't know what to say I just had a really off day, I wasn't hitting my lines and stuff. It's important we start picking stuff up, we're halfway now. But I'm not really worried about that (points) as much as just trying to get back up on top and get some wins. I can't be too bummed because I feel like I had an angel with me, I cased LaRocco's Leap in the first moto and blew out six or seven spokes in my front wheel. I was lucky to hold on."
LaRocco's Leap was exceptionally tough this year, 250 riders basically had no shot at jumping it (sans for Christophe Pourcel making it over on the final lap of the last lap of practice) and even the 450 guys couldn't get it perfectly every time. The corner before it was shortened up, so riders couldn't get the same run as in the past, and then the main race line ended up on the inside, which gave everyone even less of a shot at making it.
GEICO Honda's Eli Tomac has announced himself in a hurry through two career 450MX races. A week ago at Muddy Creek, his 450MX debut, Tomac wasn't able to withstand the long motos and hold onto Dungey and Roczen. Well, it took only a week and Tomac was right there for the majority of the day—and even passed Dungey for third, which turned into second, in Moto2. He would finish second overall on the day. Look out, Tomac Attack is coming.
Jeremy Martin bounced back big time after two off-weekends, or, at least off-weekends compared to his absolute dominance of the first five motos of the season. "I overslept and took a little nap and missed the race last week," he joked in the post-race press conference. Last week he was trapped behind a first turn crash and a bad start. "It sucks, I'm not going to lie, one you get that taste of winning, and then you're down in turn one and you're like "Let's see what we can do."' Martin was on the gas immediately at RedBud, looking hyper aggressive early and pressuring early leader Christophe Pourcel. Once he got by he opened up a small gap, and Blake Baggett made a late run at him but came up short. In moto two, Martin was locked in a big battle for the lead with Justin Bogle when Cooper Webb snuck past. Bogle crashed, which gave Webb the lead. Martin could have cruised in second for the overall win, but he kept Webb honest all the way to the last lap—with 1-2 scores more than enough for his third win of the season.
Webb came together with Pourcel on a jump in moto one and they both went down. He fought back for 14th and then rode with great determination in moto two. "I was hurting but I had to get going," he told us post race. "After last week, it's definitely more chill leading these things. I got jacked up by some lappers so Jeremy [Martin] made it interesting on the last lap." After the race, on the NBCSN TV broadcast, Webb had the quote of the year regarding the relationship with his teammate Martin: "I won't be taking him out to dinner but I'll shake his hand."
Justin Bogle definitely had one of those "results don't show how he rode" days, leading a ton of laps only to crash in both motos and finish 5 with 12 scores. He had Martin and Webb on him in moto two before he crashed. "Bogle was definitely determined to stay in front of me," explained Martin, diplomatically.
"I was definitely going for the moto win," said Bogle. "Lost some points today, but I can't be too bummed on it, I'm getting closer and closer. I keep making my bike stiffer. My bike has never been this stiff before—and I think that's a good thing because it has to mean I'm going faster."
Martin might have won but Marvin Musquin seemed to be the happiest of any of the podium finishers, as this was his first trip to the box all year. Musquin says his knee—which has gone through two ACL reconstructions—still has pain, and then last week he tweaked his ankle at Muddy Creek. Then in moto one he somehow got his own leg caught between the swingarm and tire on his bike, which made the ankle worse. "I thought I was going to be stuck there on that jump all moto," he said. "Luckily someone helped me. I hurt my ankle late in the moto last week and it was that ankle again—but I'm used to some tough pain and I have to deal with it." Musquin still salvaged fourth in that race and then took third in moto two.
Jason Anderson made it two KTMs on the 250MX podium with a solid day. Anderson's still not entirely sure why his motocross campaign hasn't matched his supercross season, and he's especially bummed on his starts, which haven't been as good as they were indoors.
Trey Canard rode very well on his Honda Muscle Milk ride, even though he ended up short of the 450 podium thanks to two crashes. Canard said last week's race brought out the worst of his bike, and the team made big changes this week, which made a big difference.
Privateer Fredrik Noren made his debut for Honda Muscle Milk. Noren went down in Moto1 and came from outside the top 30 to capture 17th. In Moto2, Noren started fifth—he hadn't done any starts on the Honda prior to RedBud—and finished tenth. A solid day for the Cinderella story, after riding the Honda just once before Saturday. Noren will head to California this week to begin testing.
Josh Grant's 6-6 day for sixth overall doesn't seem flashy on paper, but he rode magnificent. After colliding with James Stewart early in Moto1, Grant was able to rebound and secure sixth late in the moto.
Speaking of Stewart, crashes would spell his demise for the second straight week. We mentioned the Grant collision above, which knocked Stewart out early in Moto1 with bike problems. In Moto2, Stewart went down off the start, was dead last and could only manage to recover for a 12th.
Scary moment for Malcolm Stewart at the end of Moto2, when he went down hard late in the race and appeared to be knocked a little silly. Stewart did eventually get up and leave the track. We will have an update this week on his status going forward.
Andrew Short just doing Andrew Short again. The ageless wonder had a second consecutive top five outing, going 5-5 for fifth overall.
Blake Baggett was sizzling coming into RedBud, having won four of the last five motos. He cooled off at RedBud. A late charge in Moto1—shocker, right?—allowed Baggett a chance at the overall. But starts were his undoing in Moto2. A horrid start left Baggett outside the top ten. Again, he made a furious charge, and actually had a chance to salvage third. Two small mistakes, which lead to two crashes, left Baggett grasping for seventh. Baggett now trails Martin by twenty-eight points.
It was a big day for the elder Martin as well. Alex went 6-9 for eighth overall. We assume he does not want to retire after this superb ride.
Dean Wilson looked a lot more like Dean Wilson in his second race back. A fifth in Moto2 helped the Monster Energy/Pro Circuit rider to a sixth overall.
On the day Race Feed
250MX moto 2 report
On Fourth of July weekend, RedBud produced a Star Spangled Battle. Star Racing Yamaha teammates Cooper Webb and Jeremy Martin traded blows down to the final corner, with Webb landing the final knockout. Webb would win the battle (Moto2), but Martin won the war (1-2 for the overall).
It was Rockstar Energy KTM's Joey Savatgy to the lead early in the moto, with GEICO Honda's Justin Bogle in tow. Savatgy, returning from injury, held on briefly before shuffling back to tenth. Bogle also had his troubles, crashing while leading, leaving the moto win to the Star boys.
Monster Energy/Pro Circuit Kawasaki's Blake Baggett recent surge came to a close in Moto2. Following a horrid start, Baggett, like we've seen in the past, drove hard to the front. This time, though, two late small crashes cost him. Baggett would finish seventh.
Marvin Musquin, who may have had third in Moto1 if not for a late crash, picked up the pieces in Moto2 en route to third. Jason Anderson, Dean Wilson, Cole Seely, Baggett, Justin Hill, Alex Martin and Savatgy would be the top ten.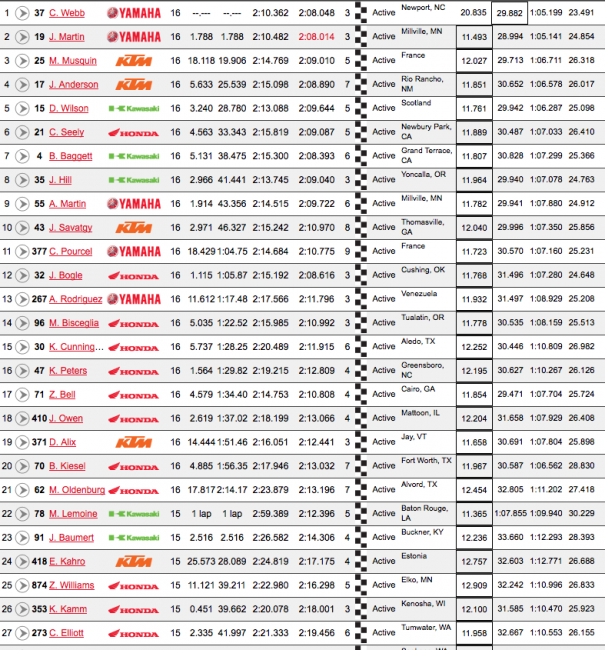 450MX moto 2 report
Ken Roczen had to work harder in the second 450 moto, but the result was the same—a dominating win. A 1-1 on the day for Roczen helped him extend his points lead over Ryan Dungey.

Roczen did secure the holshot, just edging Trey Canard—a much better start than his previous moto. Canard attacked back, and was able to reclaim the early lead. With Dungey in tow, Roczen tried to strike early and runaway. Canard resisted, though, giving Roczen troubles. Eventually Roczen was able to muscle past and make a pass stick at the 18-minute mark.
Dungey's struggles continued in Moto2. He was never able to make a serious run at Roczen, and relinquished third to Eli Tomac. Dungey received a gift from Canard late, when Canard lost the front end after the ski jump, giving Dungey back third overall on the day.
Tomac would claim second with Dungey rounding out the podium. Canard, Andrew Short, Josh Grant, Chad Reed, Brett Metcalfe, Jusint Brayton and Fredrik Noren would round out the top ten.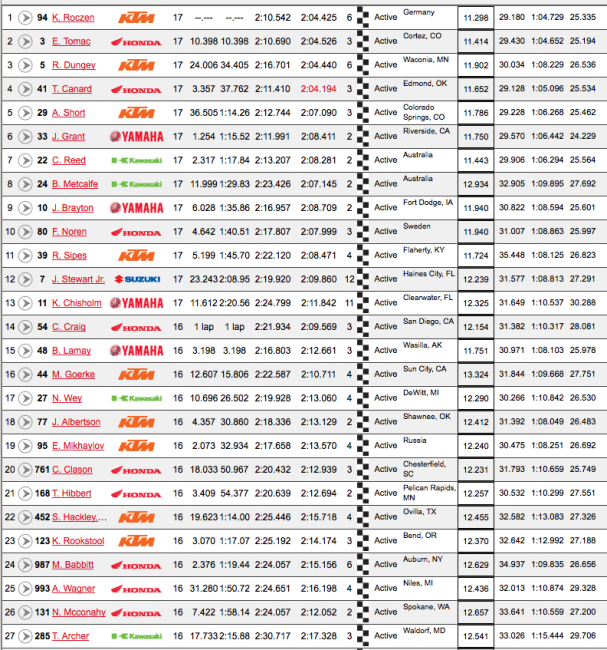 250MX Moto 1 Report
Could Blake Baggett do it again? Could he come from way back and make a race deciding pass on the last lap? He came close. In the end, though, it was Yamalube/Star Racing Yamaha's Jeremy Martin picking up a much needed moto win. Martin has now won six motos on the year.
In his first race back after missing Muddy Creek with an elbow injury, GEICO Honda's Matt Bisceglia would snag the Moto1 holeshot. Christophe Pourcel quickly snatched the lead, sending Bisceglia on a free-fall. He finished thirteenth.
Up front, Pourcel was mixing it up with Martin, who was looking for his first moto win since Moto1 at Thunder Valley. Pourcel made a costly mistake, dumping it in the corner, early in the moto. He would later crash again, ending his day early.
Meanwhile, Baggett was carving through the pack, making his typical late moto charge and with three to go had cut the Martin lead to just over two seconds. In almost a carbon copy to a week ago at Muddy Creek, where Baggett passed Martin's teammate Cooper Webb (who finished a disappointing 14th in Moto1) in the final corner, it appeared he was ready to do the same. With under a lap left, Baggett was within a second. He tried to make a few attempts at Martin, but in the end it was too little, too late.
In a wild battle for third place, Jason Anderson was the beneficiary of late mistakes from Justin Bogle and Marvin Musquin to capture third. Musquin, Bogle, Alex Martin, Kyle Cunningham, Cole Seely, Dean Wilson and Justin Hill finished out the top ten.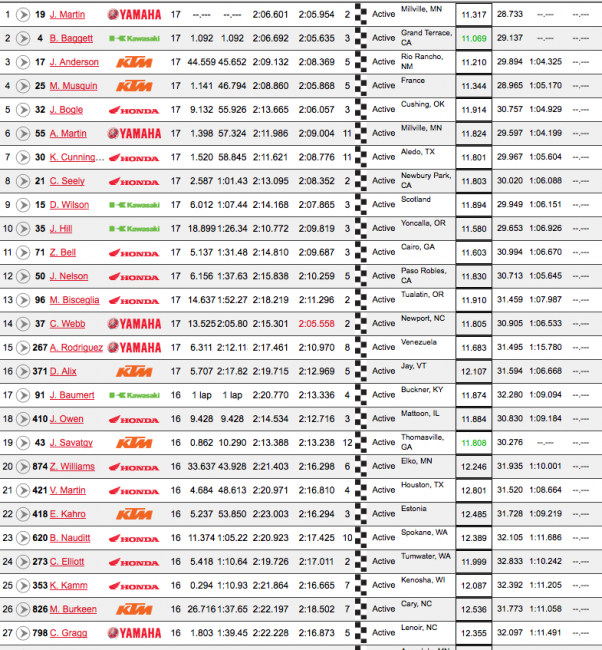 450MX Moto 1 Report
Ryan Dungey couldn't take advantage. Trey Canard couldn't take advantage. James Stewart couldn't take advantage. In a first moto which saw points leader Ken Roczen buried off the start, the lead pack failed to gain ground. In fact, they lost ground.
Rounding the first lap in around eighth, Roczen blasted to the front quickly. Helped by James Stewart and Josh Grant tangling and going down while running fourth and fifth, Roczen moved from eighth to third within moments. (Stewart was unable to finish the race due to bike problems. Grant bounced back to finish sixth.) He scrubbed hard passed Dungey for second and then capitalized on Canard's inability to do LaRocco's Leap to take the lead. He was never challenged again.
Roczen went on to win by over four seconds to capture his second straight moto win.
Dungey, reeling from being unable to contain Roczen, was in prime position for second after passing Canard after he—for the second time—was unable to complete LaRocco's Leap. Moments later, though, Dungey made a huge mistake in a corner— nearly laying it down—relinquishing second back to Canard. Dungey tried frantically to retake second down the stretch but was unable to make anything stick. Canard would hang onto second, with Dungey third.
In his second race back, Eli Tomac contested Dungey and Canard for moments, but had to settle for fourth. Andrew Short, Grant, Brett Metcalfe, Chad Reed, Malcolm Stewart and Justin Brayton would round out the top 10.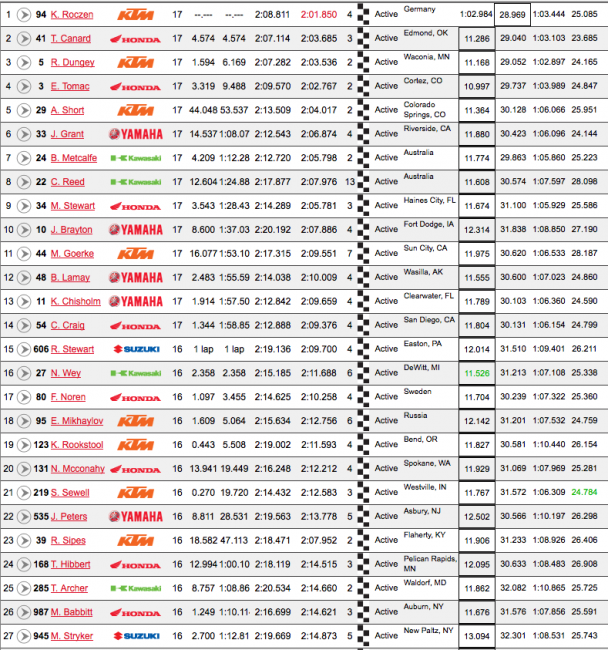 Practice Report
Another breezy, cool afternoon awaits for Round 6 of Lucas Oil Pro Motocross. The iconic RedBud facility in Buchanan, Michigan, has undergone a significant change—they've added a new triple. Aptly named the "Hammer of Thor" the 100' triple offers fans a close resemblance to the famous LaRocco's Leap.
"The goal of the track changes were aimed at improving the spectator experience by adding seating with some shade trees," said RedBud MX's Tim Ritchie in a recent press release. "So we updated the jumps a bit, throwing in a 70-foot double to 100' triple (Hammer of Thor) and a 90' table top with spectator access tunnel."
In other news: Michigan's own Nick Wey is back. Wey, with help from Traders Racing, is expected to race RedBud and next week at Budds Creek. Also returning is the now un-retired, well, maybe still retired, but racing, Christian Craig. Pitted under the GEICO Honda tent, Craig will be racing three of four rounds this summer. Finally, Ryan Sipes will be filling in for the injured Davi Millsaps under Rockstar Energy Racing KTM. Sipes will be under the tent for at least a few rounds, or possibly more depending on Millsaps' return.
In the 450 Class, Red Bull KTM's enters Round 6 sixteen points clear of teammate Ryan Dungey. And it would be Roczen with the fastest time in 450MX, with a 2:02.848 just edging GEICO Honda's Eli Tomac (2:03.131). James Stewart (2:03.502), Dungey (2:03.890) and Malcolm Stewart (2:04.141) would round out the top five.
Yamalube/Star Racing Yamaha's Jeremy Martin holds a slim eight-point lead over teammate Cooper Webb in the 250 Class. But it has been a struggle for the points leader since winning five straight motos to begin the season. Martin—on a track somewhat similar to Millville, his home track—can regain control with a strong performance today. Martin (2:04.020) was a close second to Yamaha counterpart Christophe Pourcel (2:03.517) in practice. The surging Blake Baggett (2:04.589), Jason Anderson (2:04.736) and Marvin Musquin (2:04.838) would cap the top five.
First motos begin at 1:00 pm Eastern on MAVTV and Promotocross.com. NBC will pick up the second 450 moto beginning at 3:00 pm Eastern, with NBC Sports carrying the second 250 moto directly after.