RedBud Race Day
US Pro Motocross 2016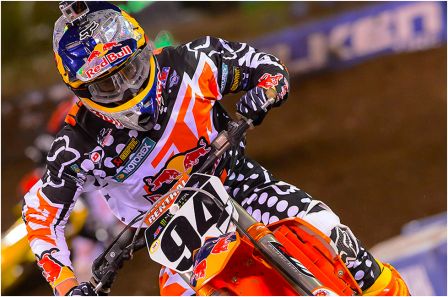 450 Moto 1
Get to the front (quickly) and sprint. It's been Ken Roczen's strategy all season. It's helped him to win nine of the first ten motos on the season. It proved a smart strategy (you have to execute, of course) again in the first moto at RedBud.
GEICO Honda's Justin Bogle was credited with the holeshot, but was quickly passed for the lead by AutoTrader.com/Monster Energy/JGR Yamaha's Justin Barcia, the winner of the 450 class at this same track a year ago. But it was Roczen quickly to the front. He made fast work of both Bogle and Barcia, which allowed him a clear track to build a fifteen second lead over Barcia and Eli Toamc, who'd moved into third. Here's how it happened:
After Lap 1
Roczen: up 2.3 on Barcia

After Lap 3
Roczen: up 5.6 on Barcia; 7 on Tomac
After Lap 4
Roczen: up 9.1 on Barcia; 10 on Tomac
After Lap 5
Roczen: up 12.8 on Barcia; 15.2 on Tomac
After Lap 6
Roczen: up 15 on Barcia; 16.2 on Tomac
No one presented a challenge to Roczen, who's clicking on all cylinders at the moment. He crushed the field en route a 13 second win (it was up to 19 with a couple laps to go). Roczen, who is off the best start since James Stewart's perfect season in 2008, has now won ten of eleven motos.
Tomac would eventually work past Justin Barcia, but nearly threw away a comfortable second, stalling in a corner after the rollers on lap 14. It allowed Barcia to close to within two seconds, but he wouldn't get any closer. Barcia would hold on for third, his first moto podium of the year.
Broc Tickle has been clicking the last two rounds. Following a 6-3 performance last weekend, Tickle finished a solid fourth. Marvin Musquin was the hard charger of the moto. He came from outside the top ten to finish fifth. Christophe Pourcel, the fastest qualifier, finished sixth. Blake Baggett, Matt Bisceglia, Andrew Short and Justin Bogle rounded out the top ten.

Quick Notes
Holeshot: Justin Bogle
Margin of Victory: 13.624 for Roczen
Fastest Lap: Roczen, 1:56.678
Podium: 1.) Ken Roczen; 2.) Eli Tomac; 3.) Justin Barcia
250 Moto 1
As the season gets longer in the tooth, it's getting more obvious that the 250 title will go through Joey Savatgy and Cooper Webb. It won't be the first time this year the two have battled for a title. Just one-point separated them at the end of the 250SX West Region—Webb holding on despite a broken wrist. Entering the weekend, Savatgy was just 12 points clear of Webb, who closed the gap with his first overall win of the season last weekend.
It was Savatgy's rookie teammate Austin Forkner grabbing the first holeshot of the weekend. A host of Yamalube/Star Racing Yamaha's were in tow, as they occupied five of the top seven spots early. Forkner led for a lap—the first of his young career—before Webb took the lead. Not wanting to allow him a clear track, Savatgy quickly moved into second. The gap remained around two seconds the entire moto—the gap fluctuating between the laps. On lap 14 (of 17) Webb put down the hammer, setting the fastest lap of the moto with a 2:00.882. It helped build his lead to 2.2 seconds. Savatgy wasn't giving up; he cut the gap to 1.06 the following lap. Savatgy made a few small mistakes on the final lap which allowed Webb to take the win by 1.6 seconds.
"I haven't led in a while, so I tightened up to be honest," said Webb.
Jeremy Martin wasn't able to get around Forkner early, which allowed his brother Alex to close the gap on both. On lap 10, following the rollers, Forkner got pushed wide, allowing both Alex and Jeremy through. Alex made his way around younger brother Jeremy as well, but it was too late to make a run at the top two. He finished third behind Webb and Savatgy. Jeremy would take fourth.
Zach Osborne worked his way from twelfth to pass Forkner for fifth late in the race. The fastest qualifier of the day, Adam Cianciarulo, took seventh ahead of Mitchell Oldenburg, Shane McElarth and Aaron Plessinger, who fell back after a top five start.
Quick Notes
Holeshot: Austin Forkner
Margin of Victory: 1.6 for Webb
Fastest Lap: Webb, 2:00.882
Podium: 1.) Cooper Webb; 2.) Joey Savatgy; 3.) Alex Martin
250 Moto 2
Mistakes were the theme of the second 250 moto from RedBud. Three potential winners all went down at various points throughout the moto, throwing the overall for a loop nearly every time. First, it was Joey Savatgy. The points leader quickly jumped out to the lead before losing the front end in a corner and dropping outside the top five. A bigger mistake would come later; costing Savatgy the red plate.
Shane McElrath inherited the lead when Savatgy lost the front end, but he too would make a mistake, giving the lead to Alex Martin. It was a family affair up front as Jeremy Martin had moved past Cooper Webb for second and began pressuring his older brother for the lead. At the end of a tough roller section, Jeremy lost the control of his bike and went down. He would climb back to fourth.
Alex Martin would led for a majority of the moto before Webb passed him after the finish on lap 13 (of 17). Alex would make another mistake down the stretch, giving Zach Osborne the opening he need to move into second. Alex would finish third, just 1.6 seconds back Webb.
Back to the points leader. Savatgy was trying to pass McElrath for fourth when they jumped side-by-side over the ski jump. Savatgy lost control and went down hard. He would get back up and score valuable points, finishing 16th.
McElrath finished fifth in the moto, followed by Arnaud Tonus, Martin Davalos, Adam Cianciarulo, Mitchell Oldenburg and Austin Forkner.
Webb would finish 1-1 on the day for the first time in his career and now leads Savatgy by 11 points.

Quick Notes
Holeshot: Shane McElrath
Margin of Victory: 1.22 seconds for Webb
Fastest Lap: Webb, 2:01.676
Podium: 1: Cooper Webb; 2.) Zach Osborne; 3.) Alex Martin