Reed on Fire
USA Supercross 2014
www.mxlarge.com Reed too good in A3
450 Highlights Chad Reed Roczen Villopoto
250 Highlights Wilson Seely Webb

Monster Energy AMA Supercross, an FIM World Championship, hosted its third and final 2014 stop inside Angel Stadium on Saturday night in front of 42,139 fans. Discount Tire Racing/TwoTwo Motorsports' Chad Reed led all 20 laps of the 450SX Class Main Event to capture his second win of the season and his second straight in Anaheim. Monster Energy/Pro Circuit/Kawasaki's Dean Wilson won his first race of the year in the Western Regional 250SX Class.
Yoshimura Suzuki's James Stewart grabbed the Nuclear Cowboyz® Holeshot Award to begin the 450SX Class Main Event, edging out Monster Energy Kawasaki's Ryan Villopoto with Reed close behind in third. Villopoto made a quick move to take over the lead in the second turn, bringing Reed with him. About halfway through the opening lap, Reed made his pass on Villopoto to begin a closely contested battle that spanned the entire Main Event.
Red Bull KTM's Ken Roczen asserted himself into third place, but pressured Villopoto on Lap 3 to take over second. He would maintain the position throughout the race, often pressuring Reed but not able to gain enough ground to make a pass. Villopoto lurked in third place for the bulk of the Main Event, awaiting the opportunity to make a move if it presented itself, but ultimately settled into the final podium spot in the closing laps.
Reed fended off a last-lap charge by Roczen when a lapped rider got between the duo to secure his 43rd career victory and tie the all-time record at Angel Stadium with eight wins.
"It was a tough racetrack tonight," said Reed. "It was about making smart choices and putting yourself in a good position to ride 20 solid laps. This win means more to me than the last one [on January 18] where I came from behind because it's tougher to go out there and lead all 20 laps. We had our bike dialed in tonight and it was one of those nights where it felt one with me."
"I tried to make one last push on the last lap but a lapper got in the way. I don't know if it would have mattered because Reed was riding well," said Roczen. "It was a fun race and I'm glad to come out in second. The track was really hard in the end, but it made for great racing."
Reed moved to within two points of Villopoto in the 450SX Class standings. Villopoto's third-place finish was his third podium result of the season.
"The track was super tough," said Villopoto. "I got a great start but Chad was able to get by me. Ken was running similar lap times and was able to get by as well, but to end up on the podium is always a good thing."
Fellow title contenders Ryan Dungey and James Stewart experienced misfortune in the Main Event. While battling with Dungey for the fourth position, Stewart went down in a turn and lost several positions. Just a lap later, Dungey lost control in the whoops and crashed out of the race. Stewart battled back to finish seventh, while Dungey finished in 20th.
Troy Lee Designs/Lucas Oil Honda's Cole Seely led the field of 22 riders through turn one with the Nuclear Cowboyz Holeshot Award in the Western Regional 250SX Class Main Event. Wilson quickly moved into second place with 51Fifty Honda's Jake Canada in third place.
Rockstar Energy Racing's Jason Anderson, who came into tonight's race with a six-point lead in the season standings, was working his way through the field when he collided with Troy Lee Designs/MAVTV Honda's Malcolm Stewart, who won his Heat Race earlier in the night, on Lap 2. Anderson dropped several positions and by Lap 8, had moved into eighth place.
On Lap 12, Seely ran into lapped traffic in a corner and crashed. This allowed Wilson to move into the lead and ride to victory. It was Wilson's seventh win of his career and his first since last year's season opening race of the Eastern Regional 250SX Class Championship in Arlington, Texas.
"This win really means a lot to me," said Wilson. "The race was shaping up to be exciting during those last few laps, but I received a break. This is really emotional for me. I gained some good points and we still have some races left. I am going to come out and do my best at those races."
The third race in Anaheim also signified the beginning of the Toyota Triple Challenge, which will continue at Race 7 in Arlington, Texas, and concludes at Race 16 in East Rutherford, N.J. With the win tonight Reed is in line to win a brand new Toyota Tundra and is the only rider eligible to win $250,000 if he were to win all three Toyota Triple Challenge races.
Monster Energy Supercross heads to San Diego's Qualcomm Stadium next Saturday, February 8.
Anaheim 3 RacerX Report
www.racerxonline.com
Story by Jordan Roberts and Jason Weigandt Photos by Simon Cudby
The previous Monster Energy Supercross round at Angel Stadium in Anaheim, California, was one for the ages, with Chad Reed winning in epic fashion on his Discount Tire Racing Kawasaki. This race turned out to be a battle between the ages--with Reed, the veteran contender, squaring off with Red Bull KTM's teenaged rookie sensation Ken Roczen for the win. And they went toe-to-toe for 20 laps, with Reed ultimately emerging with the win again, and Roczen a close second. With both distancing themselves from series points leader Ryan Villopoto by the finish, it confirmed a single theory--both the kid and the old guy are in this title fight, for real.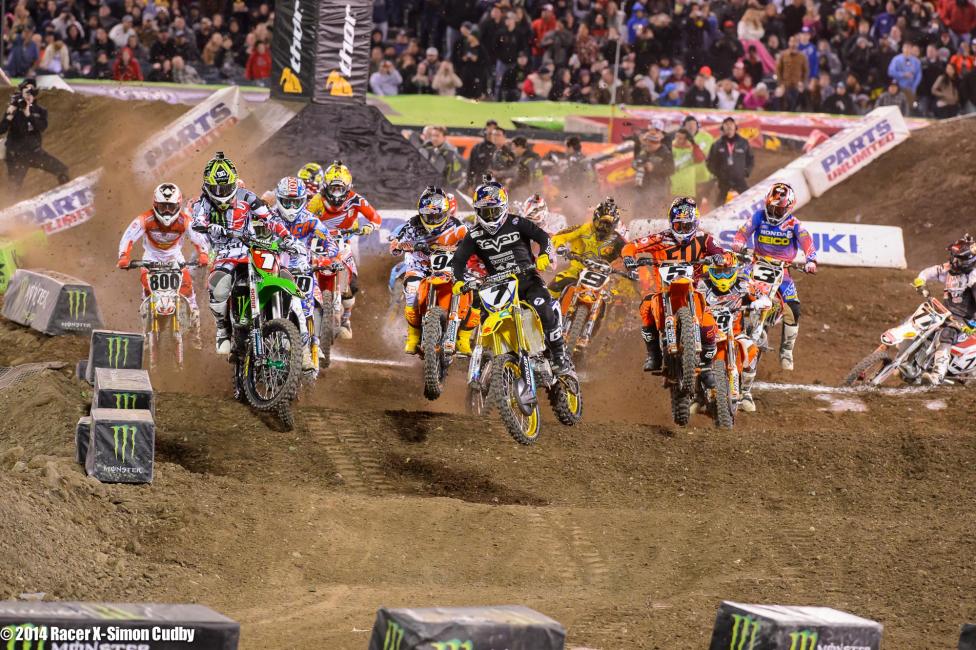 At the drop of the gate, Yoshimura Suzuki's James Stewart and Monster Energy Kawasaki's Villopoto went through the first corner of the 450SX main event side by side. Villopoto held onto first as Stewart was quickly shuffled to fourth. Villopoto had the lead, but wasn't able to hold onto it for long.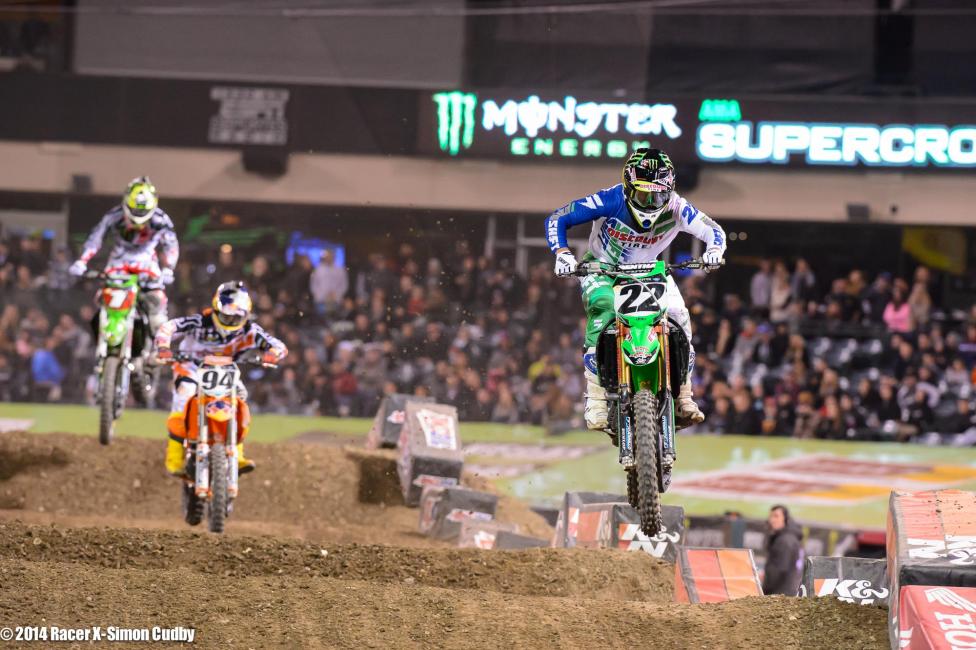 On the first lap, Reed made a charge through the whoops and got past Villopoto on the inside of the following corner. Roczen was also right there was able to get by Villopoto in the same spot on lap three.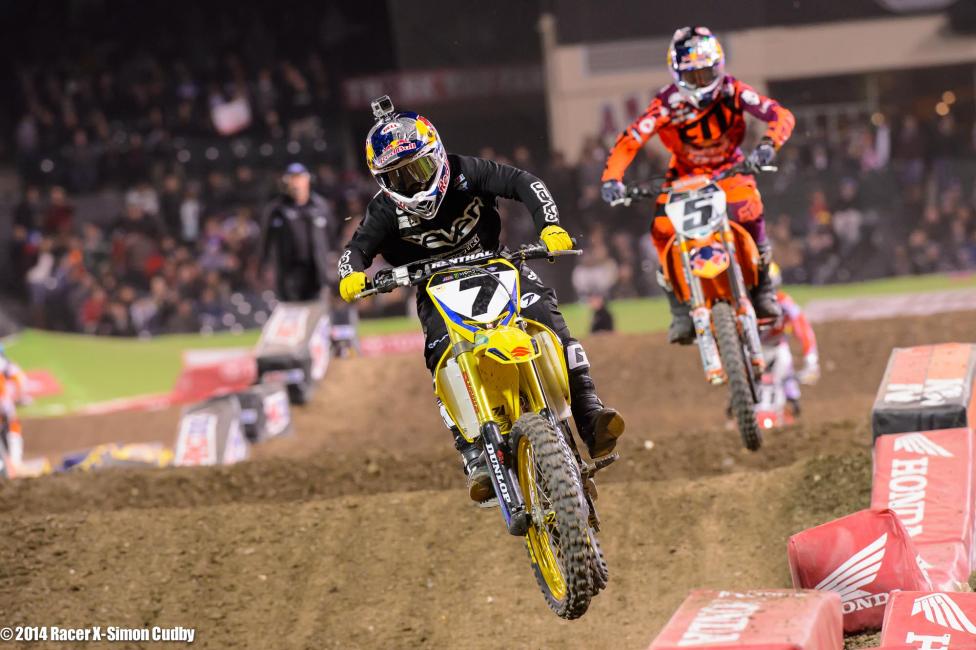 The lead trio pushed hard, but then a second battle materialized behind them with another three-pack. Stewart was the first of the front-runners to bust out the big triple-quad jump through a rhythm lane, and fifth-place Ryan Dungey (Red Bull KTM) soon followed suit. It might have been a slight advantage, but it didn't separate the riders by a lot. At the halfway point of the race, the top-six riders were all close: Reed, Roczen, Villopoto, Stewart, Dungey and Muscle Milk Honda's Justin Barcia. Then Dungey ran it in on Stewart in a 90-degree right-hander and took Stewart down and out of the mix.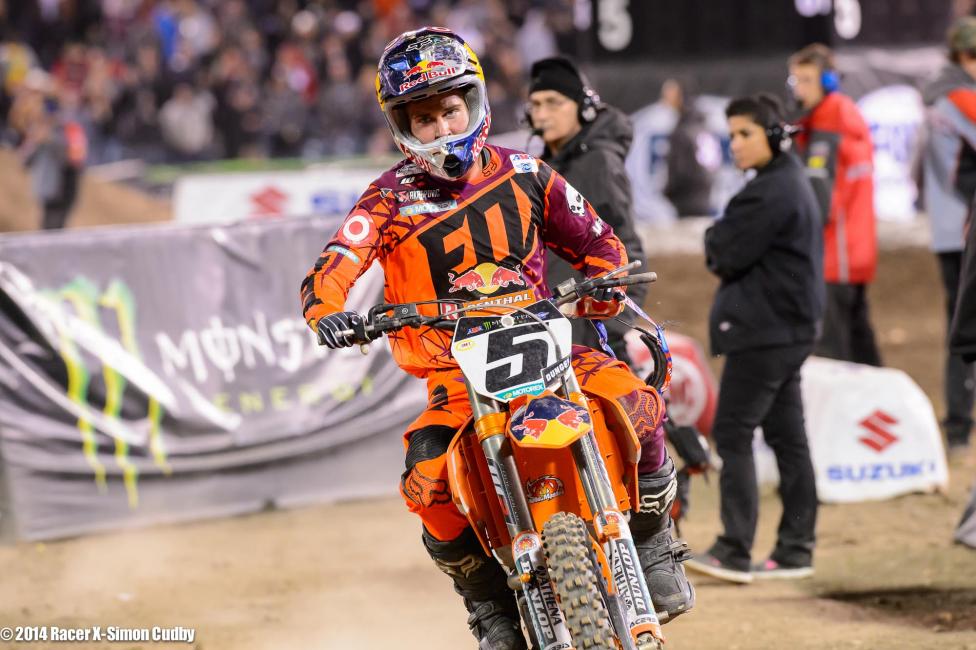 Dungey then crashed all by himself exiting the large whoop section the next lap. The crash resulted in a broken clutch lever—and possibly more—and gave Dungey a fit as he tried starting the bike. With the clutch lever hanging off of his bars, his night was done.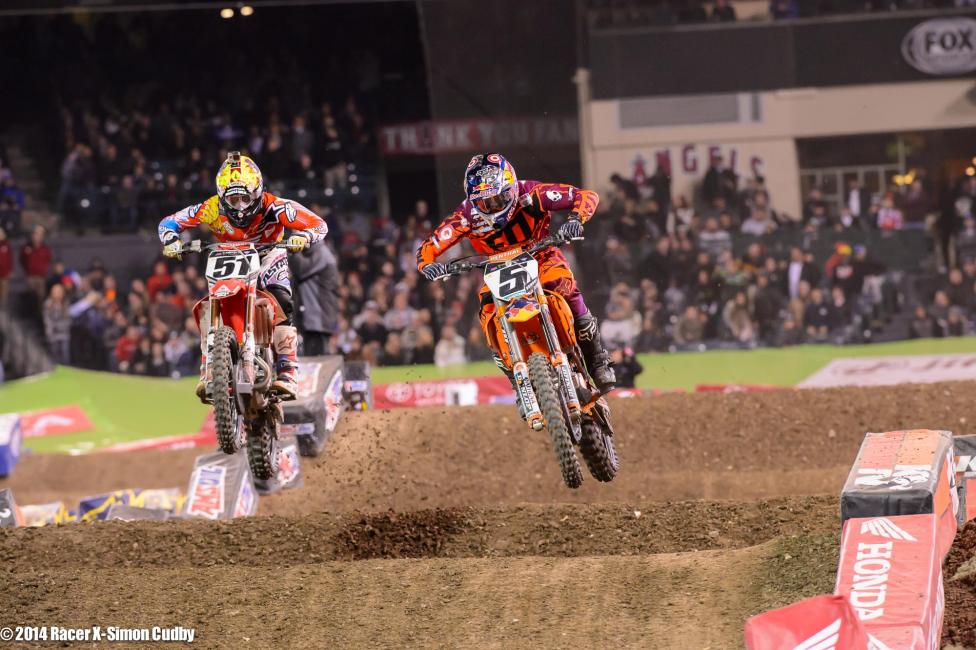 Before the Dungey crash, a resurgent Barcia was pressuring the KTM rider, and when Dungey went down, Barcia was set for a season-best fourth.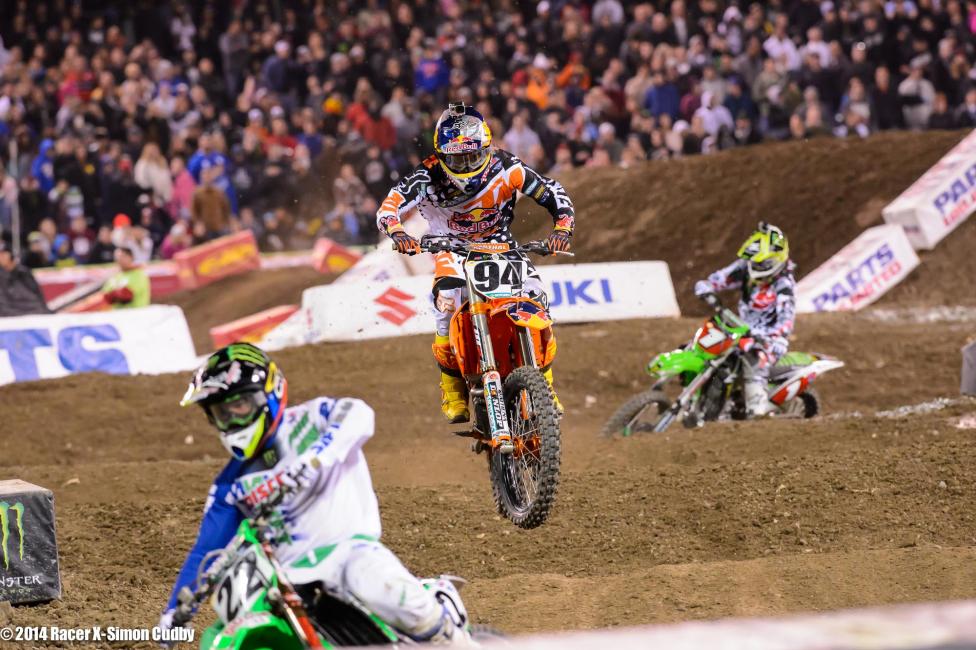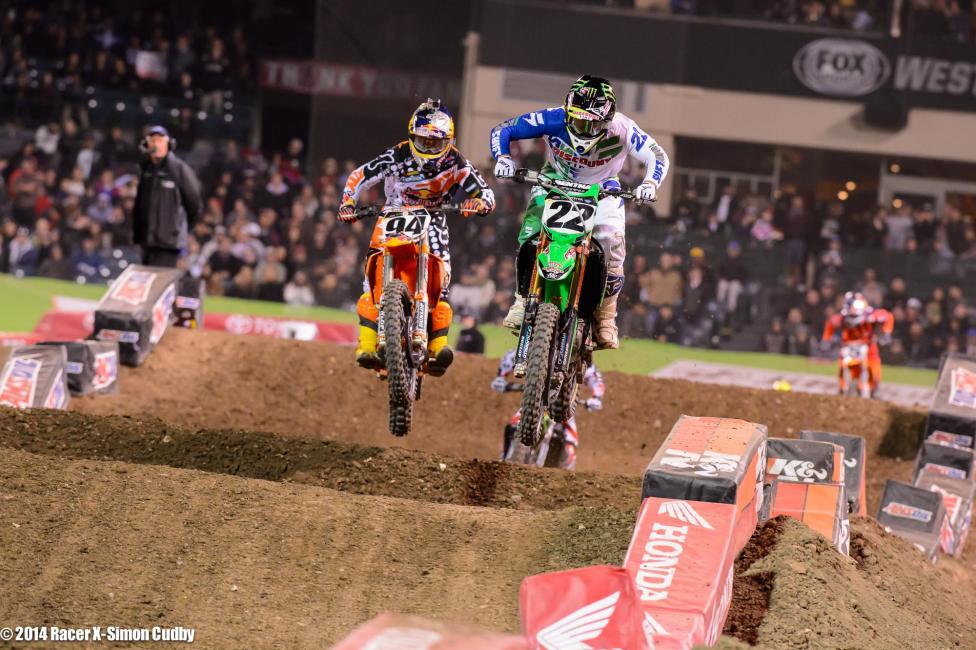 Up to about lap 15, Roczen continued to press Reed, and Villopoto would still get close enough at times to apply the heat. Then Villopoto finally fell off of Reed and Roczen's mark with three laps to go. Roczen closed in on Reed after every minor mistake, but Reed also capitalized on any flaws from Roczen. They seemed to have diferent sections on the track where each was faster, and things started getting ver close on the final lap.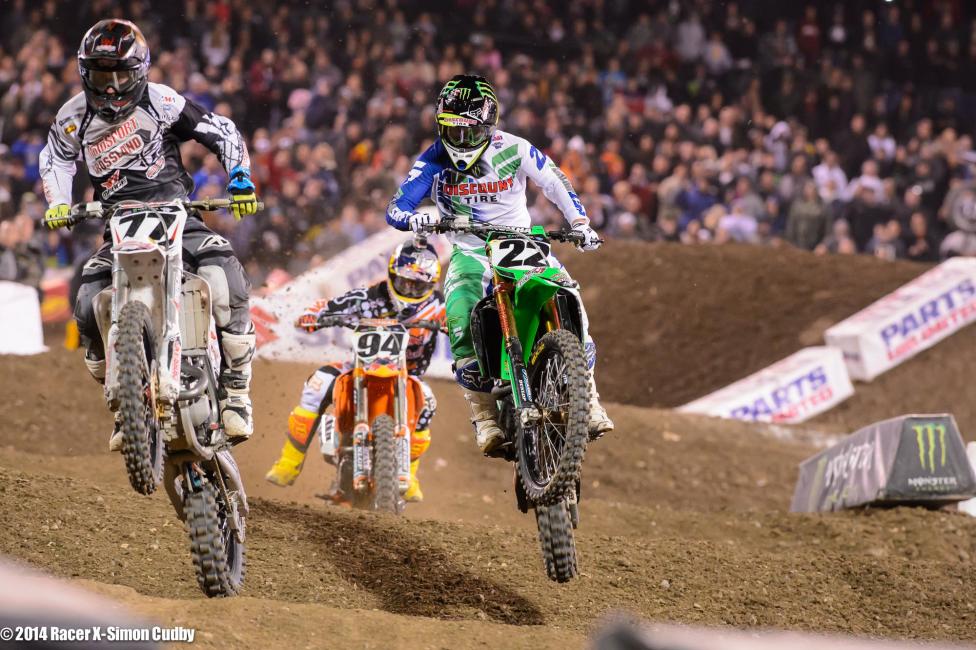 Reed almost had an issue getting by lapper Jimmy Albertson (who obviously had no idea what was going on behind him) through the last few corners, but it didn't affect the outcome of the race. Reed took his second win of the season with Roczen and Villopoto rounding out the podium.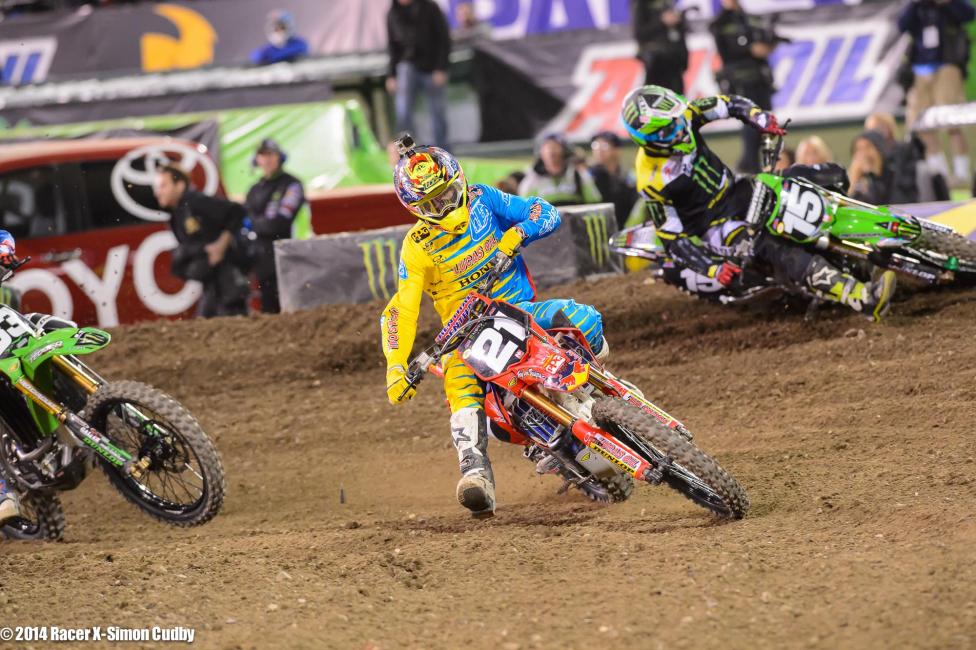 Lucas Oil/Troy Lee Designs Honda's Cole Seely kicked off the 250SX main event with the lead, but Monster Energy/Pro Circuit Kawasaki's Dean Wilson—the fastest rider in the class all day—pulled in behind Seely for second.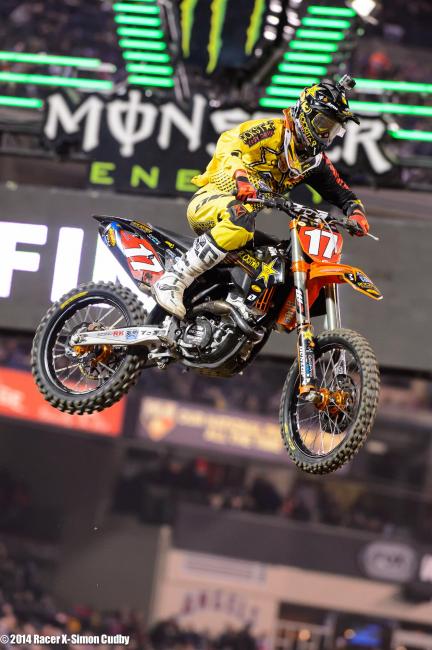 Points leader Jason Anderson started in sixth and began working his way through the pack, but Malcolm Stewart attempted a pass that ultimately sent both riders to the ground.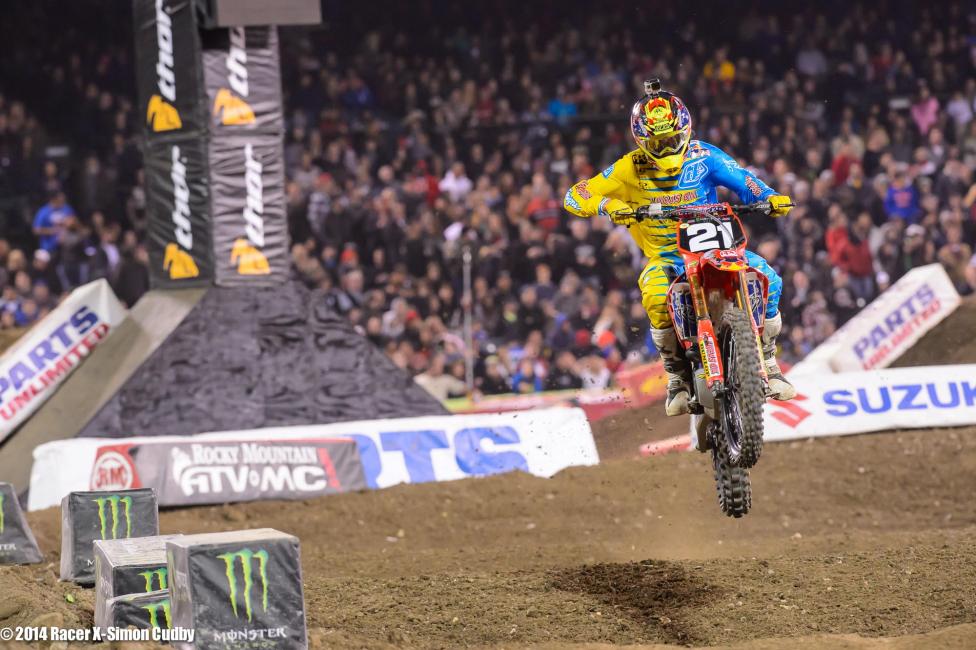 Seely began pulling out from Wilson and looked comfortable at the halfway mark.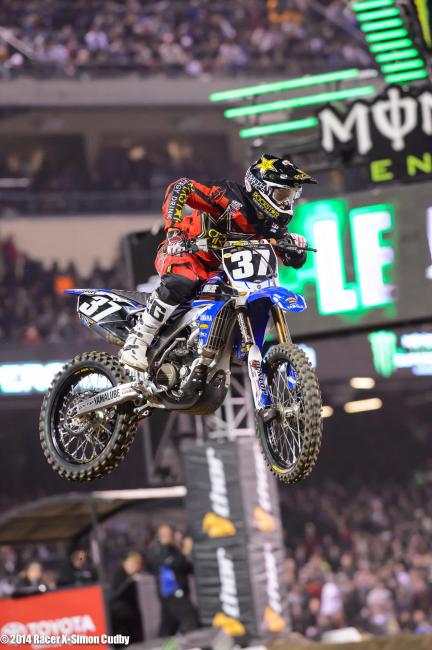 Jake Canada held onto third for some time before succumbing to pressure from Cooper Webb. Webb was too far back from Seely and Wilson to give any immediate challenge once he passed Canada. Wilson was slowly catching Seely, and the race looked like it could come down to the last lap, but Seely low-sided in the right-hander after the whoops and gave up the lead to Wilson.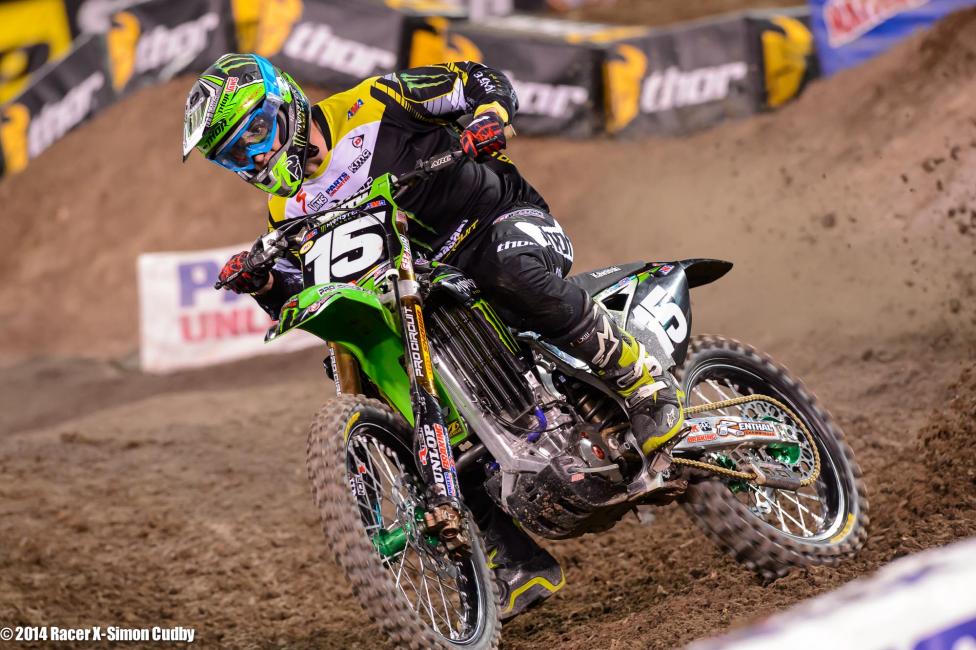 Wilson, who also got caught up in the ruckus a little bit, went on to take his and Monster Energy/Pro Circuit Kawasaki's first win of the season. Seely remounted for second and Webb took third. Anderson was able to salvage a fifth for his championship hopes.
250SX Class Results: Anaheim
Dean Wilson, Wesley Chapel, Fla., Kawasaki
Cole Seely, Lake Elsinore, Calif., Honda
Cooper Webb, Newport, N.C., Yamaha
Justin Hill, Yoncalla, Ore., Kawasaki
Jason Anderson, Rio Rancho, N.M., KTM
Malcolm Stewart, Haines City, Fla., Honda
Jake Canada, Sun City, Calif., Honda
Shane McElrath, Chesterfield, S.C., Honda
Jessy Nelson, Paso Robles, Calif., Honda
Dakota Tedder, Surfside, Calif., Kawasaki
250SX Class Season Standings
Jason Anderson, Rio Rancho, N.M., KTM, 109
Cole Seely, Lake Elsinore, Calif., Honda, 109
Dean Wilson, Wesley Chapel, Fla., Kawasaki, 97
Cooper Webb, Newport, N.C., Yamaha, 85
Justin Hill, Yoncalla, Ore., Kawasaki, 82
Zach Osborne, Chesterfield, S.C., Honda, 69
Malcolm Stewart, Haines City, Fla., Honda, 69
Jessy Nelson, Paso Robles, Calif., Honda, 61
Shane McElrath, Chesterfield, S.C., Honda, 55
Dean Ferris, Murrieta, Calif., KTM, 52
450SX Class Results: Anaheim
Chad Reed, Dade City, Fla., Kawasaki
Ken Roczen, Murrieta, Calif., KTM
Ryan Villopoto, Poulsbo, Wash., Kawasaki
Justin Barcia, Pinetta, Fla., Honda
Weston Peick, Wildomar, Calif., Suzuki
Justin Brayton, Cornelius, N.C., Yamaha
James Stewart, Haines City, Fla., Suzuki
Jake Weimer, Rupert, Idaho, Kawasaki
Andrew Short, Smithville, Texas, KTM
Ivan Tedesco, Murrieta, Calif., KTM
450SX Class Season Standings
Ryan Villopoto, Poulsbo, Wash., Kawasaki, 104
Chad Reed, Dade City, Fla., Kawasaki, 102
Ken Roczen, Murrieta, Calif., KTM, 97
Justin Brayton, Cornelius, N.C., Yamaha, 86
James Stewart, Haines City, Fla., Suzuki, 80
Ryan Dungey, Belle Plaine, Minn., KTM, 76
Justin Barcia, Pinetta, Fla., Honda, 74
Andrew Short, Smithville, Texas, KTM, 61
Wil Hahn, Menifee, Calif., Honda, 52
Jake Weimer, Rupert, Idaho, Kawasaki, 50
Toyota Triple Challenge Standings
Chad Reed, Dade City, Fla., Kawasaki, 25
Ken Roczen, Murrieta, Calif., KTM, 22
Ryan Villopoto, Poulsbo, Wash., Kawasaki, 20
Justin Barcia, Pinetta, Fla., Honda, 18
Weston Peick, Wildomar, Calif., Suzuki, 16
Justin Brayton, Cornelius, N.C., Yamaha, 15
James Stewart, Haines City, Fla., Suzuki, 14
Jake Weimer, Rupert, Idaho, Kawasaki, 13
Andrew Short, Smithville, Texas, KTM. 12
Ivan Tedesco, Murrieta, Calif., KTM, 11
KTM Junior Supercross Challenge
Lux Turner, Gardnerville, Nev., KTM
Parker Ross, Galt, Calif., KTM
Luke DeRoche Castle Rock, Colo., KTM
Kayleb Persel, Bakersfield, Calif., KTM
Luke Simpson, Aliso Viejo, Calif., KTM
Hudson Romfo, Clear Lake, Minn., KTM
Travis Long, Parachute, Colo., KTM
Carter Cooper, Capistrano Beach, Calif., KTM
Bryton Bluth, Mesa, Ariz., KTM
Destry Lanza, Beaumont, Calif., KTM